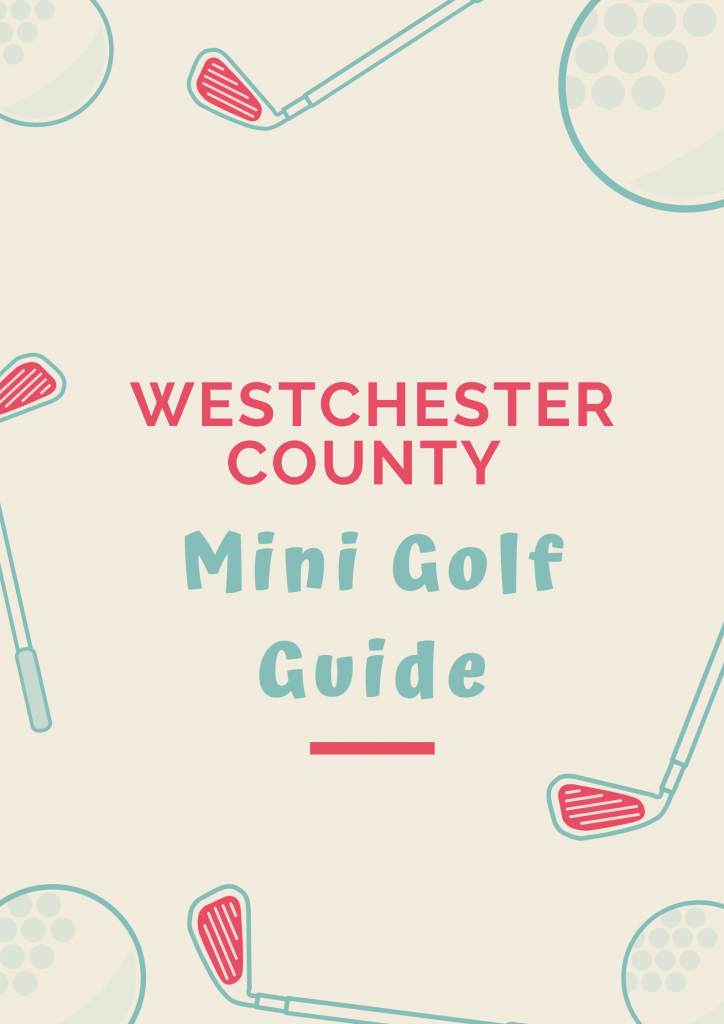 One outdoor activity that both my tween and teen are always up for is playing a round of mini golf. While it's often a vacation activity for us, there isn't much vacationing currently happening. Since mini golf is a fun, social-distance-friendly family activity, we decided to check out the various courses in Westchester County. Read on for information, ratings and our reviews of each of the courses we visited.
Please remember to check with the locations directly for the most up-to-date information.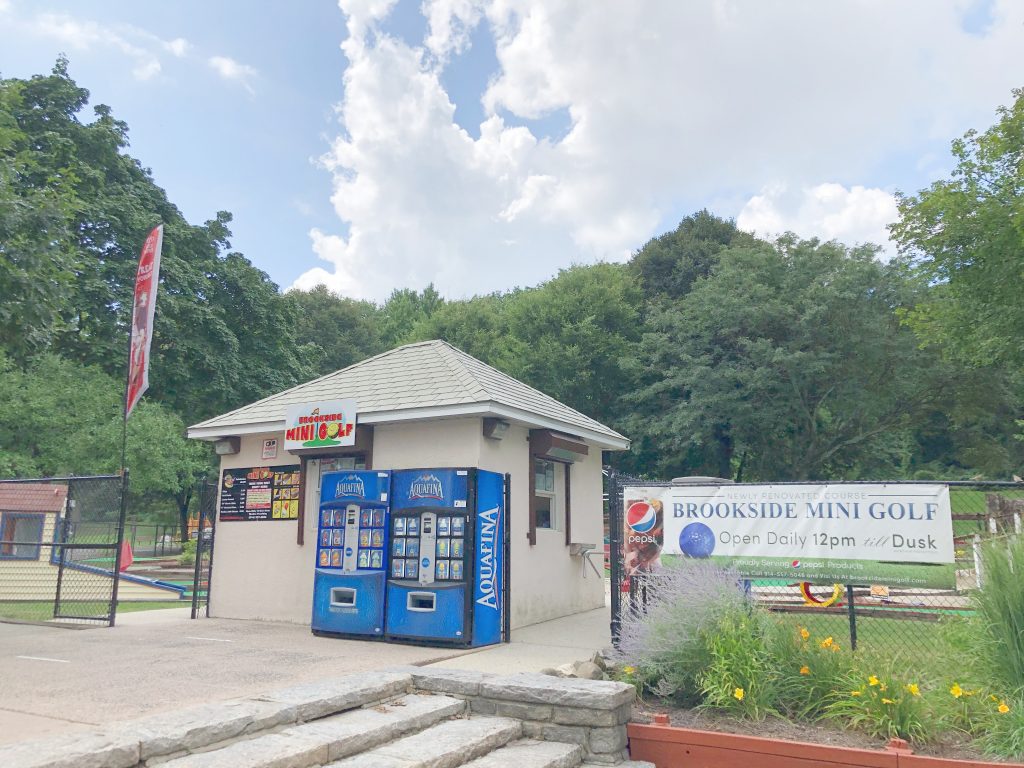 Brookside Mini Golf at Tibbetts Brook Park (Yonkers)
355 Midland Avenue
Yonkers, NY 10704
(914) 557-5046

Course: 18-hole mini golf course
Cost: $8/person (cash only!)
Hours of Operation: July – August – 12 PM to 6:30 PM (daily)
September – November – 12 PM – dusk (weekends)
Parking: $5

Rating:
Atmosphere: 4/5
Creativity: 3/5
Difficulty: 3/5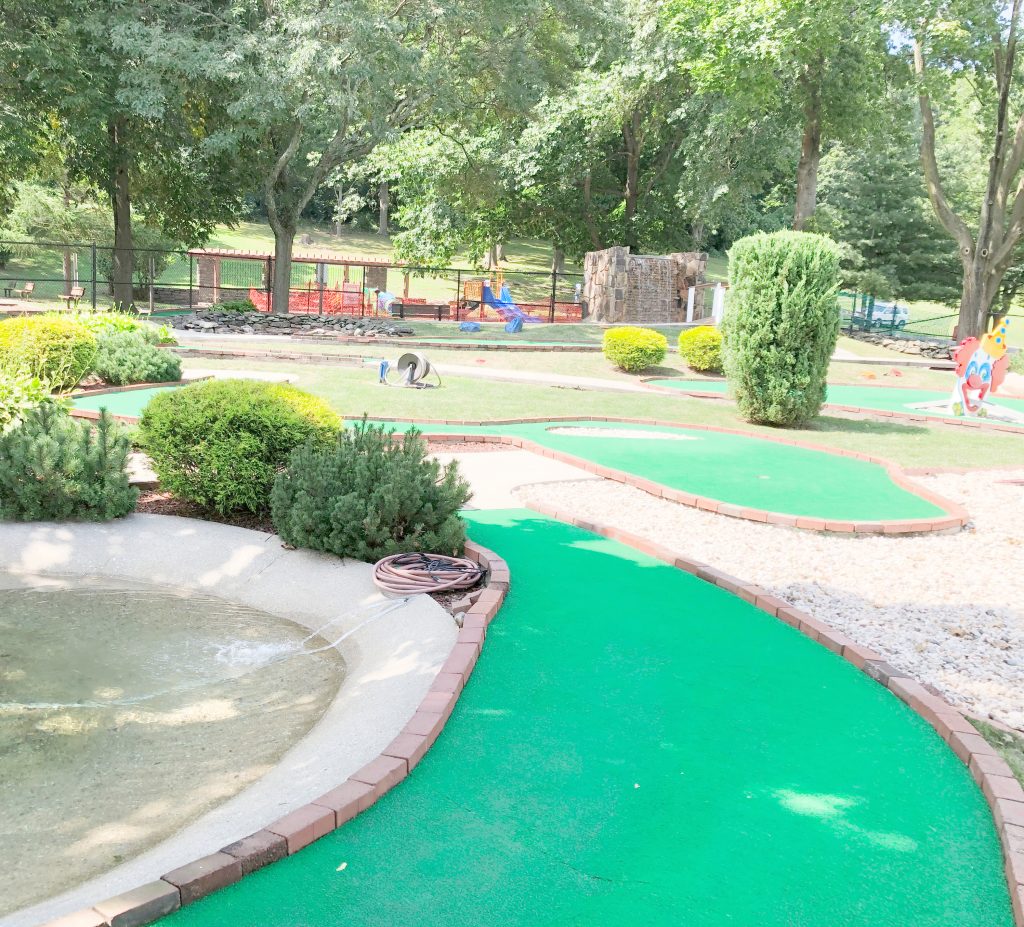 Review: The Brookside Mini Golf course is located in Tibbetts Brook Park, a Westchester County Park and has been operating since 2002. It is a short walk from the parking lot, past the pool house, to get to the golf course.
We visited on a Saturday and there was a constant flow of visitors.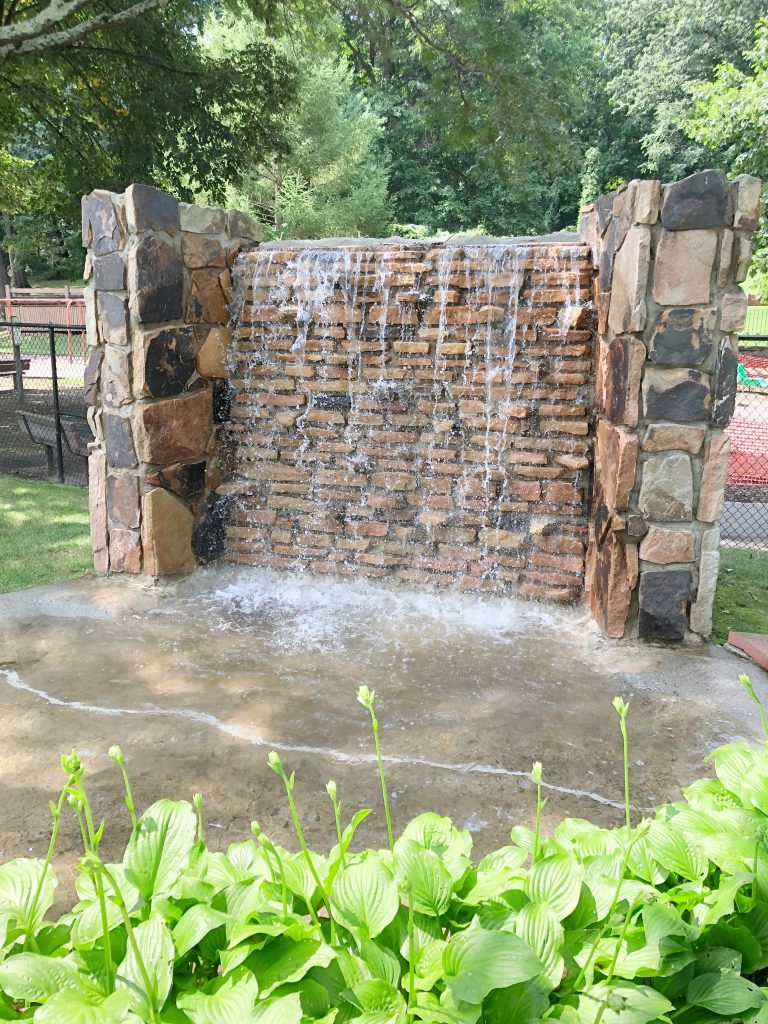 The course was recently renovated and it shows. The putting greens were in good condition and most of the waterfalls and water features were running.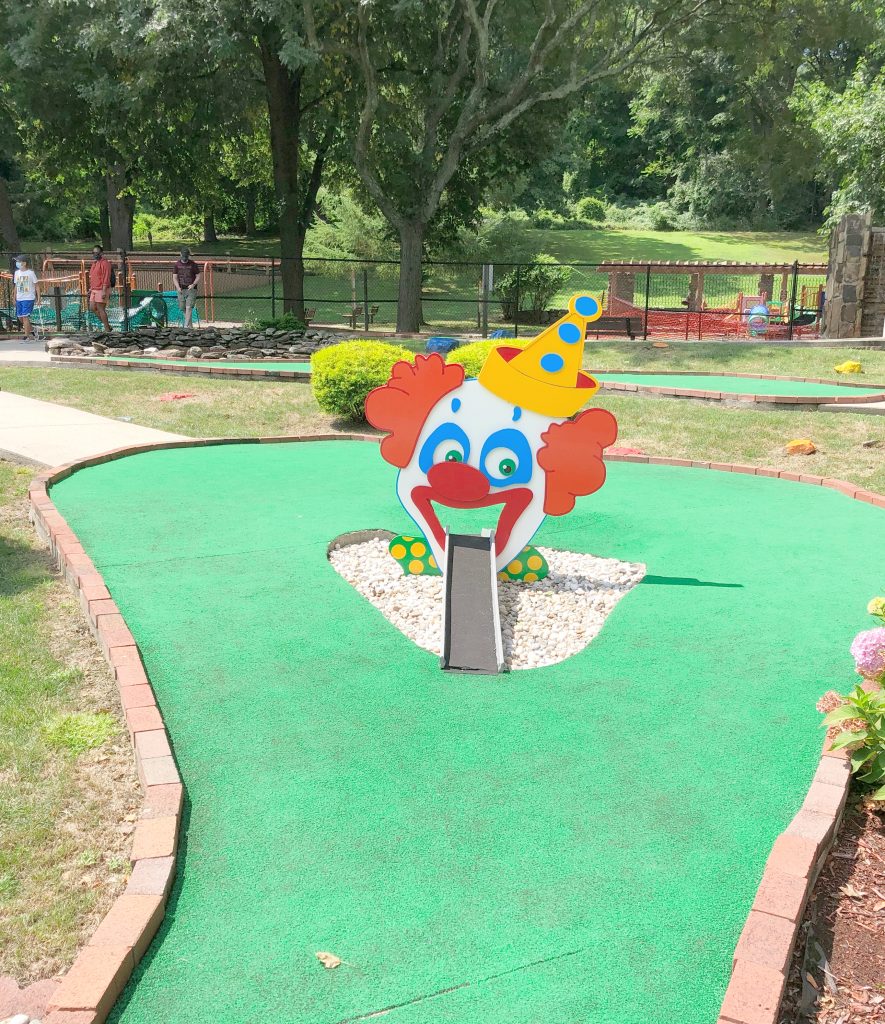 There were a couple of obstacles including the a loop (that we saw at every mini golf course!), a clown mouth and a bridge.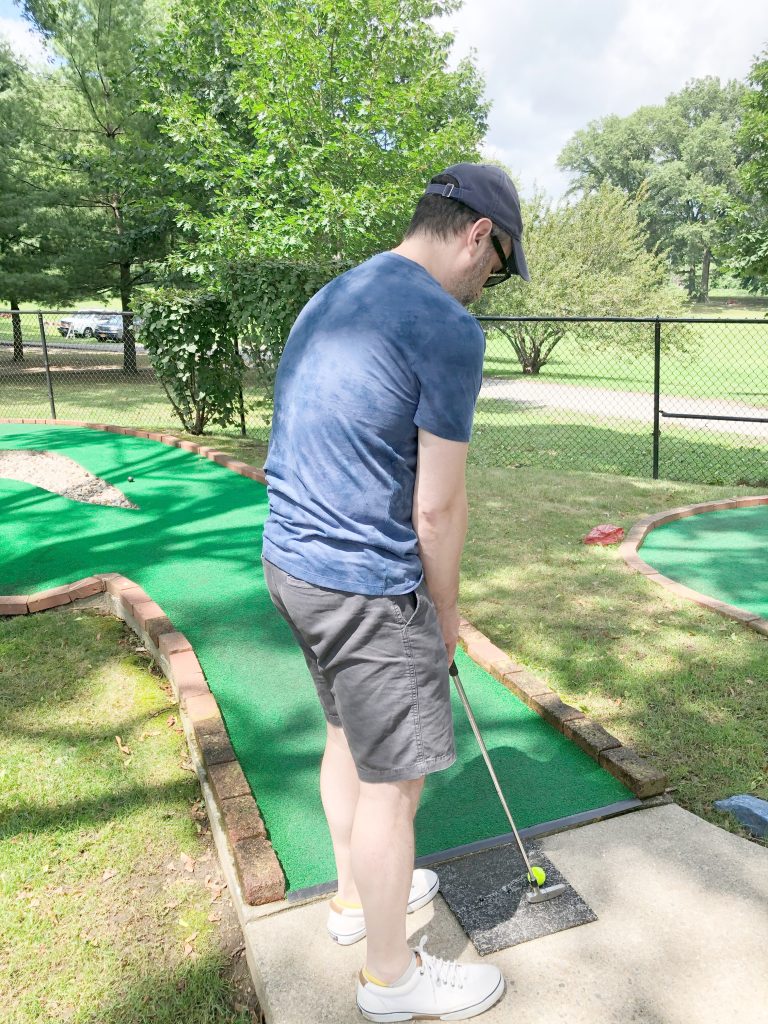 There was lots of plants and bushes planted throughout the course, giving the course a nice "curb appeal." This is the only mini golf course that has a par for each hole printed on the score card. Unfortunately, the holes are not numbered here. However, following the cement path leads you to each hole.

To keep germs to a minimum, you can choose the color ball you want, but the attendant hands the ball and club to you. Once you are finished playing, everything is wiped down with sanitizing wipes.


There is a limited food menu including pretzels, pizza and nachos as well as various frozen ice cream novelties. However, we thought $5 for a Chipwich or a SpongeBob ice cream pop was a bit steep.

If you want to make a day of it, bring your suits and enjoy the pool and slides (Be sure to check first if they are open. During our recent visit, the pool was closed. There is a separate admission for the pool).

Charles J. Cook Park (Cortlandt Manor)
293 Furnace Dock Road
Cortlandt Manor, NY 10567

Course: 9-hole mini golf course
Cost: Free, but only open to Town of Cortlandt (and Village of Buchanan and Croton) residents
Hours of Operation: Closed Mondays
Tuesday – Friday: 2 PM – 7:30 PM
Saturday & Sunday: 12 PM – 7:30 PM
Parking: Free
Review coming soon!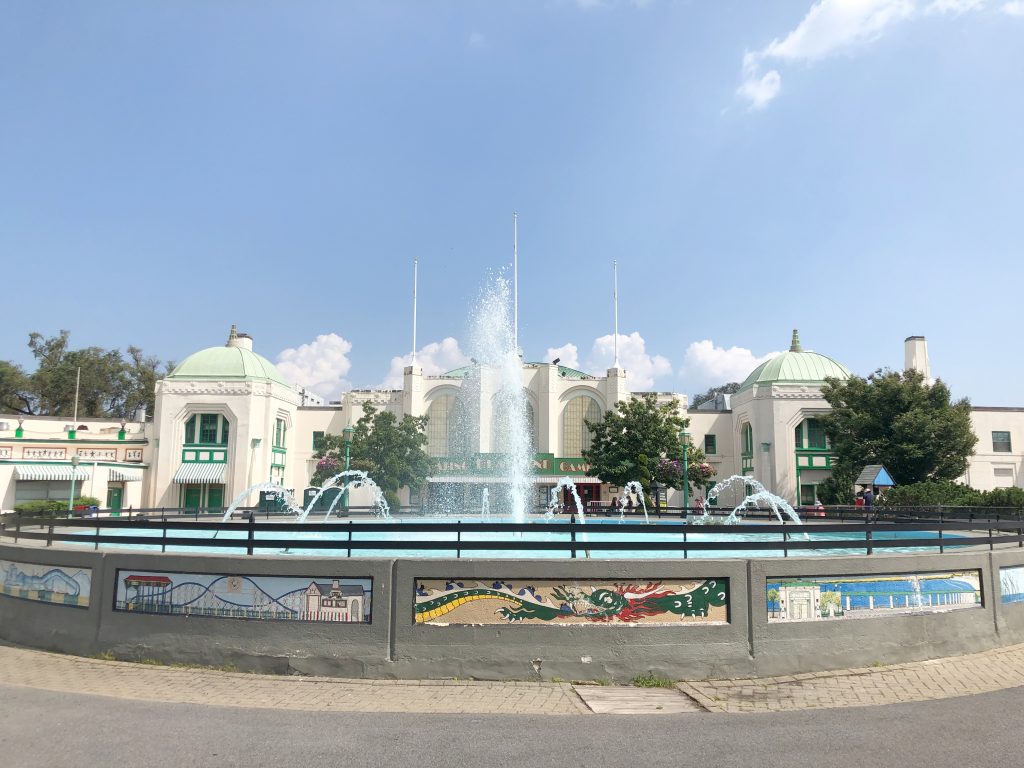 Playland Park (Rye)
1 Playland Parkway
Rye, NY 10580
(914) 813-7010

Course: 18-hole mini golf course
Cost: $5/per person
Hours of Operation: Tuesday – Sunday 10:00 AM – 6:00 PM
Closed Mondays
Parking: $10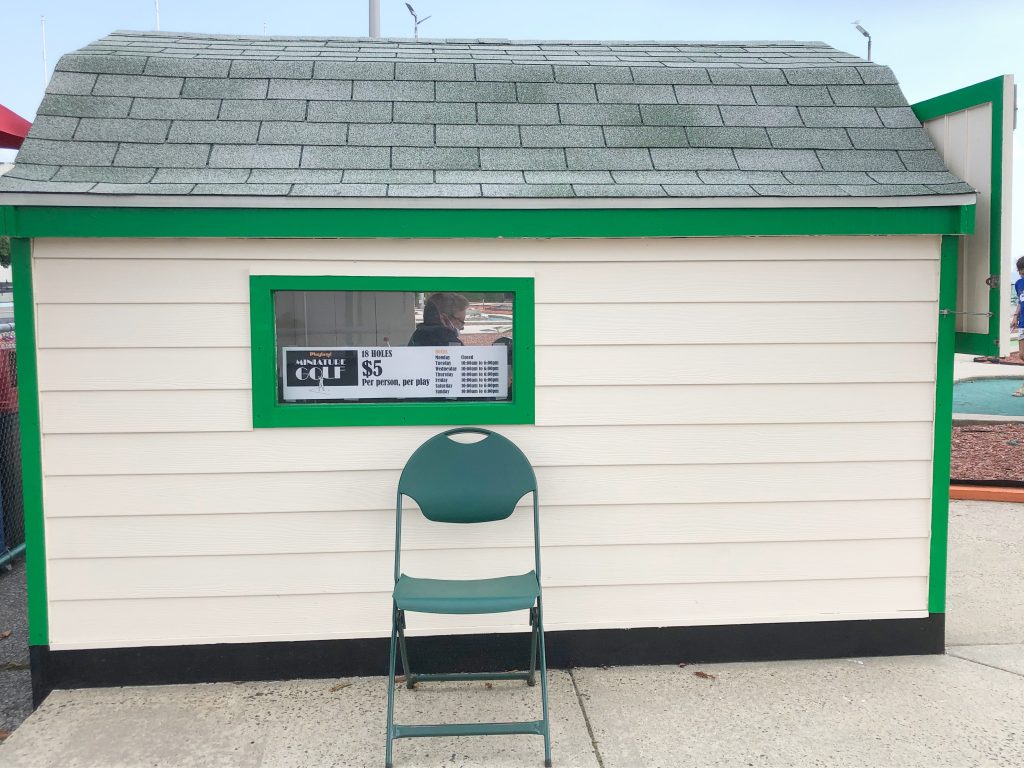 Rating:
Atmosphere: 5/5
Creativity: 3/5
Difficulty: 2/5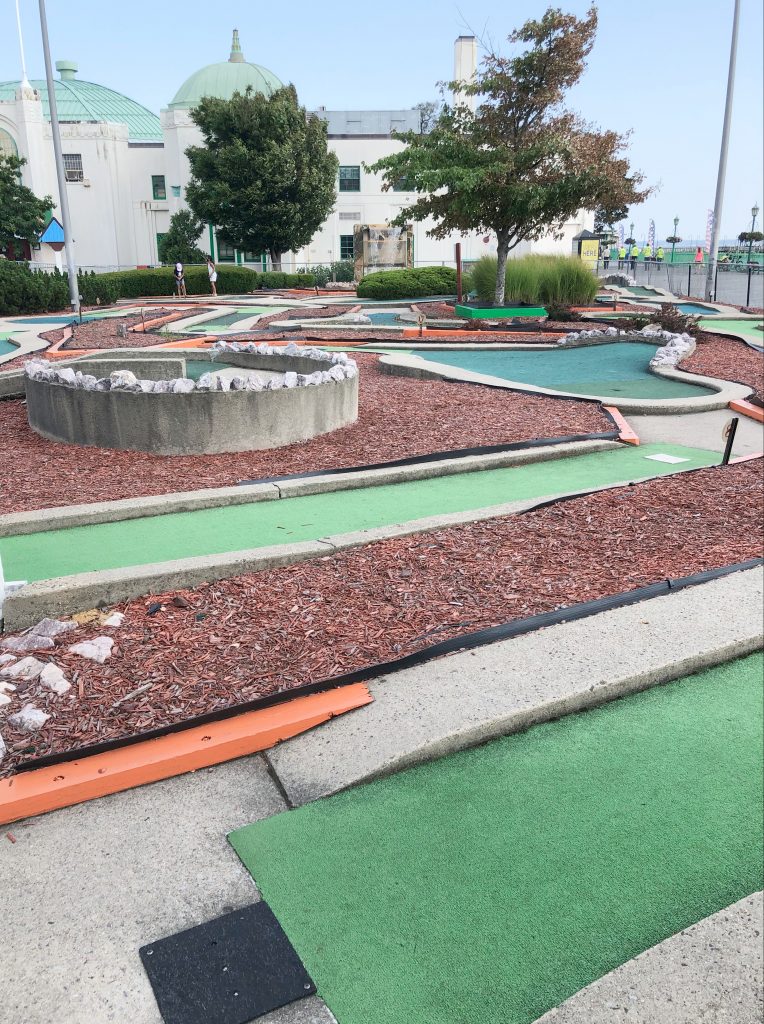 Review: Playland Mini Golf wins hands down for best atmosphere. Nowhere else in Westchester County can you play miniature golf with views of the Long Island Sound. With the boardwalk and the beach right next to the course, it feels like you're on a vacation.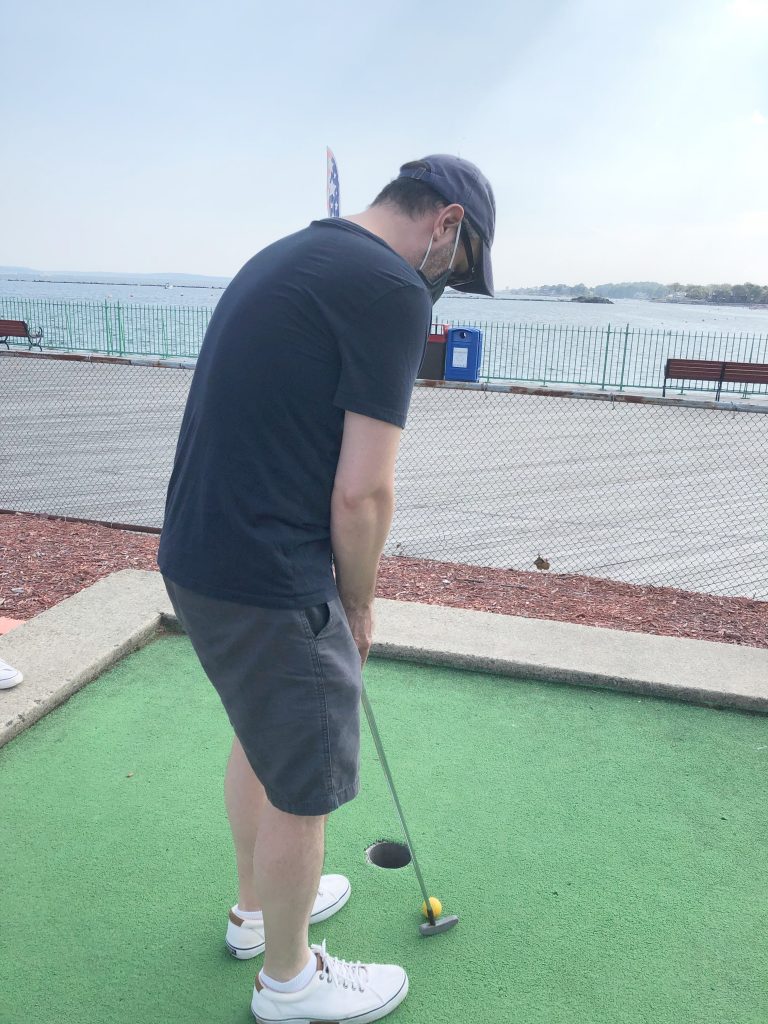 I mean, look at how close to the water you are! At $5 per person, it is also the cheapest miniature golf course. However, you do have to pay $10 to park, so the overall cost is comparable to the other courses.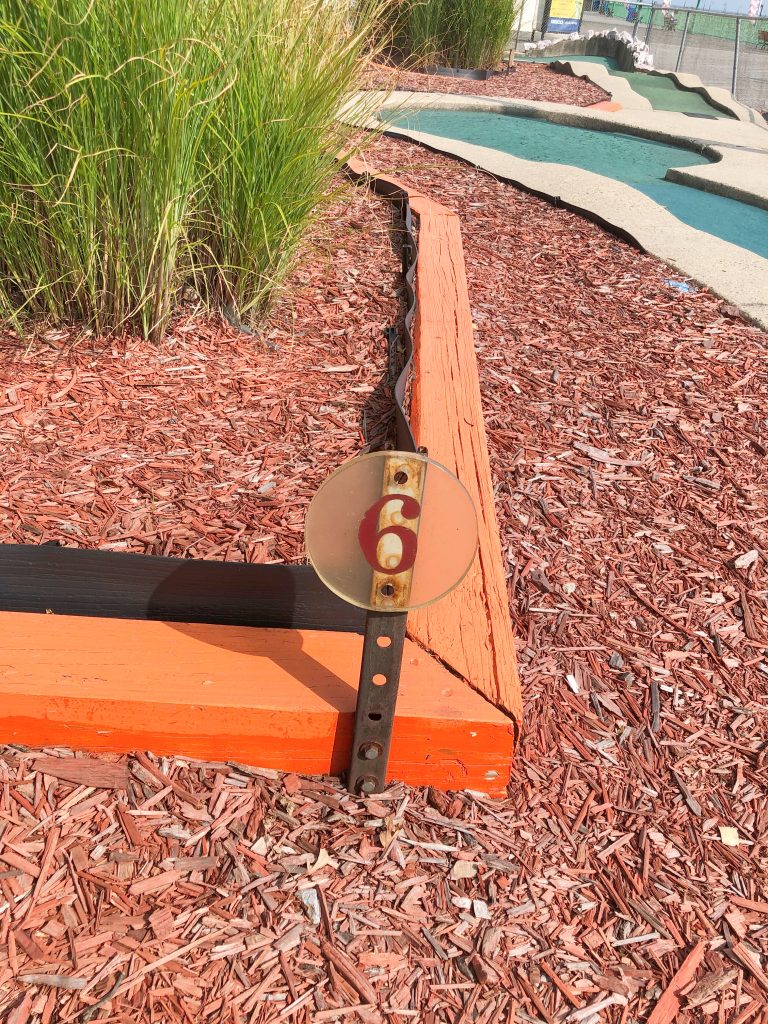 Each hole was easily identifiable by a number.
The course itself is a tad run down. Some of the holes had patchwork and mismatched putting green material. It was the easiest of the courses we visited though, with three of us getting holes in one.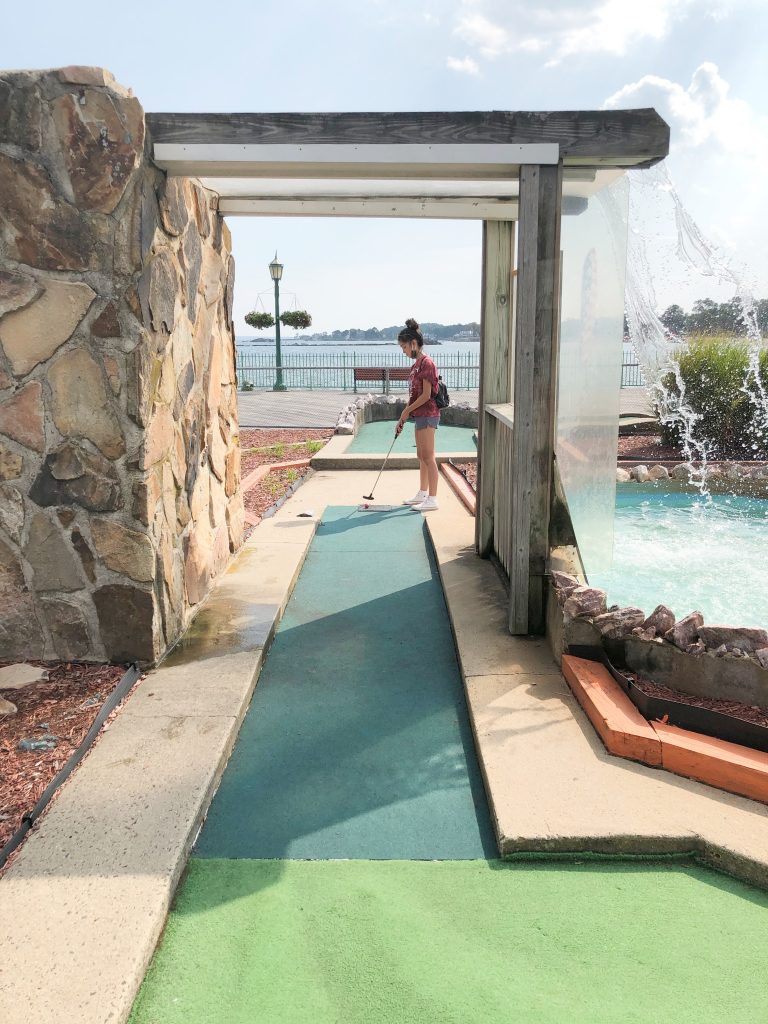 There are some fun features, like this waterfall, a gazebo and a well.
Playland Mini Golf is the only course that enforces social distancing. They only allow two to three groups on the course at a time. A new group cannot start playing until the previous group has gotten to hole 9, the waterfall. It is likely you will have to wait for a little bit to play. They also wipe down and sanitize the balls and clubs before you play.
Overall: This was a fun golf course with beautiful views. Definitely worth a visit.
Saxon Woods Park (White Plains)
1800 Mamaroneck Avenue
White Plains, NY 10605
(914) 924-4644

Course: 19-hole mini golf course
Cost: $9/adult, $7/children under 10 (Cash or credit)
Hours of Operation: June – September – 12 PM to 8 PM

Parking: Free

Rating:
Atmosphere: 4/5
Creativity: 3/5
Difficulty: 3/5

Review: The Saxon Woods Park Mini Golf Course is located in Saxon Woods Park, a Westchester County Park. It's part of the 700-acre property that includes the county's largest swimming pool, ball fields, an 18-hole golf course, playground and hiking trails and is run by Powell Catering Service.
We visited on a recent Saturday and there was a constant flow of visitors. There was even a birthday party that was being set up during our visit.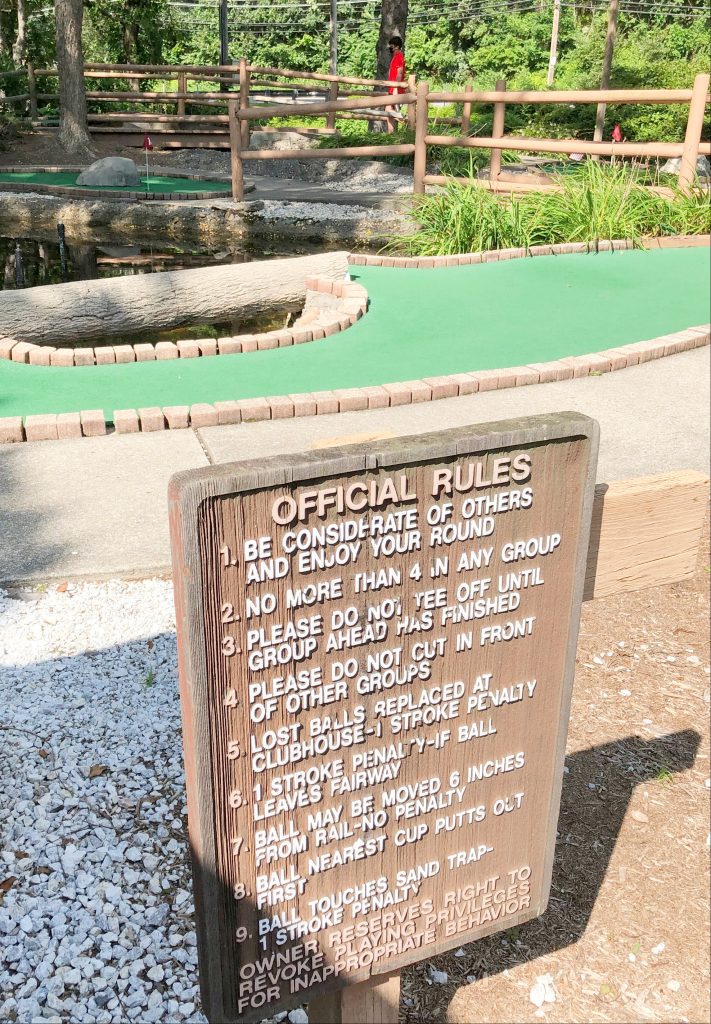 This was one of the few courses that we visited that had rules posted for play.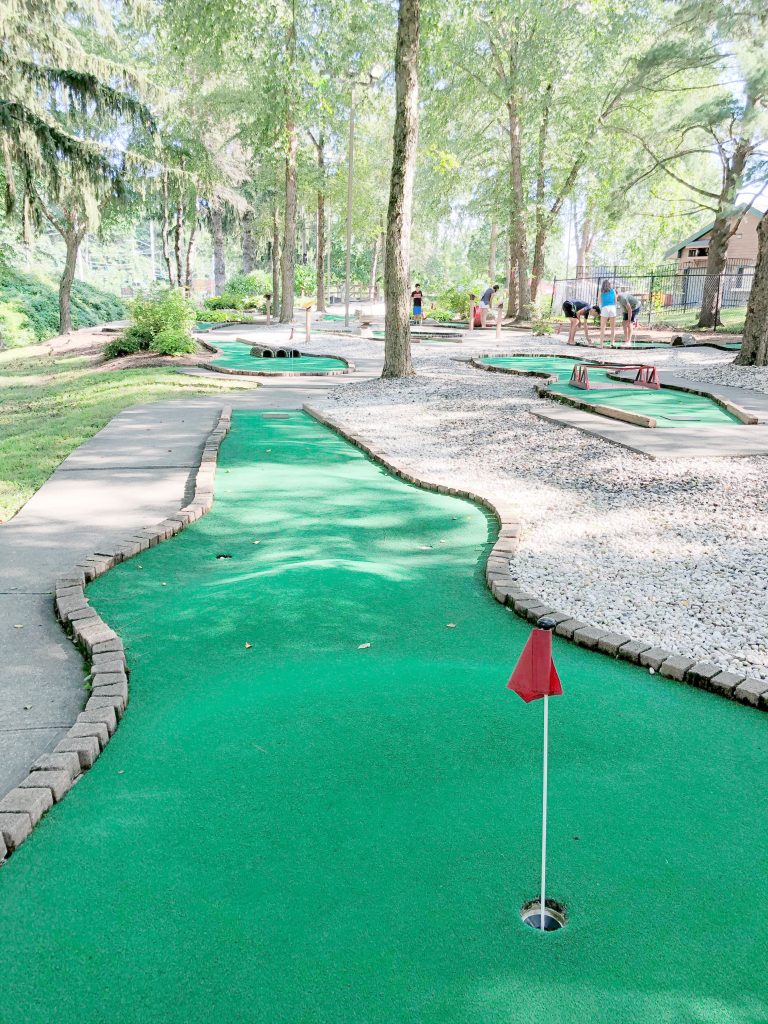 This mini golf course sits inside a natural forest and stream area and has the most shade of all the courses we visited. Unfortunately, it sits adjacent to Mamaroneck Avenue, so you see and hear all of the traffic going by.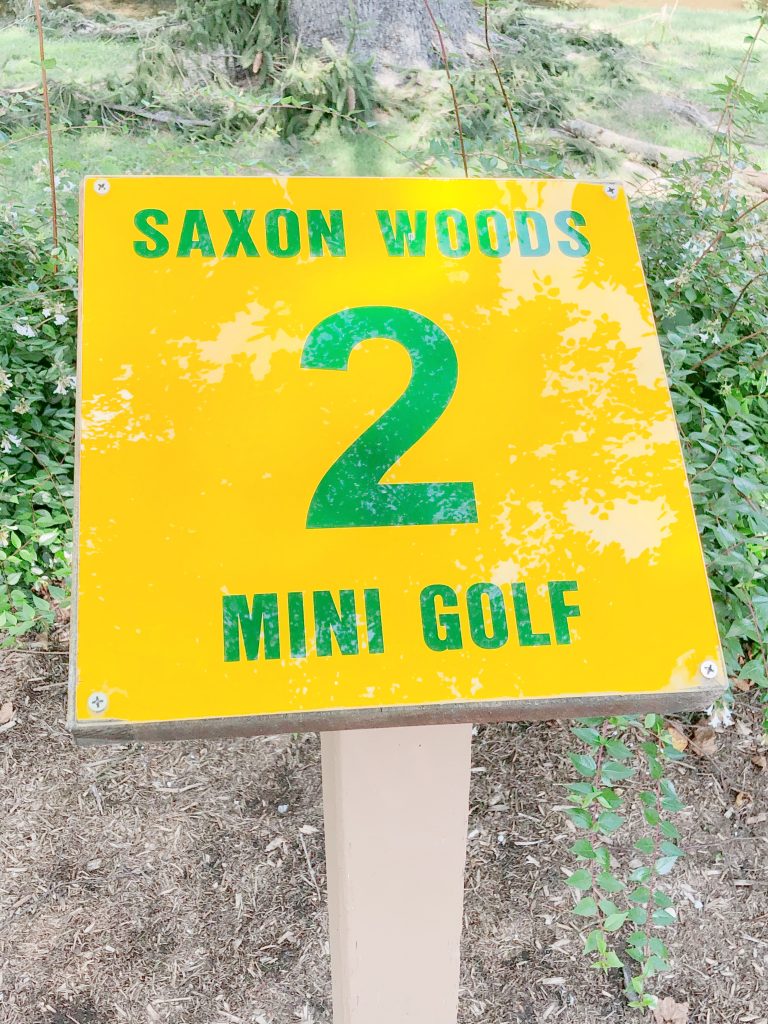 Each hole was labeled with a number. This was the only course we visited that had flags in the holes to help identify the target.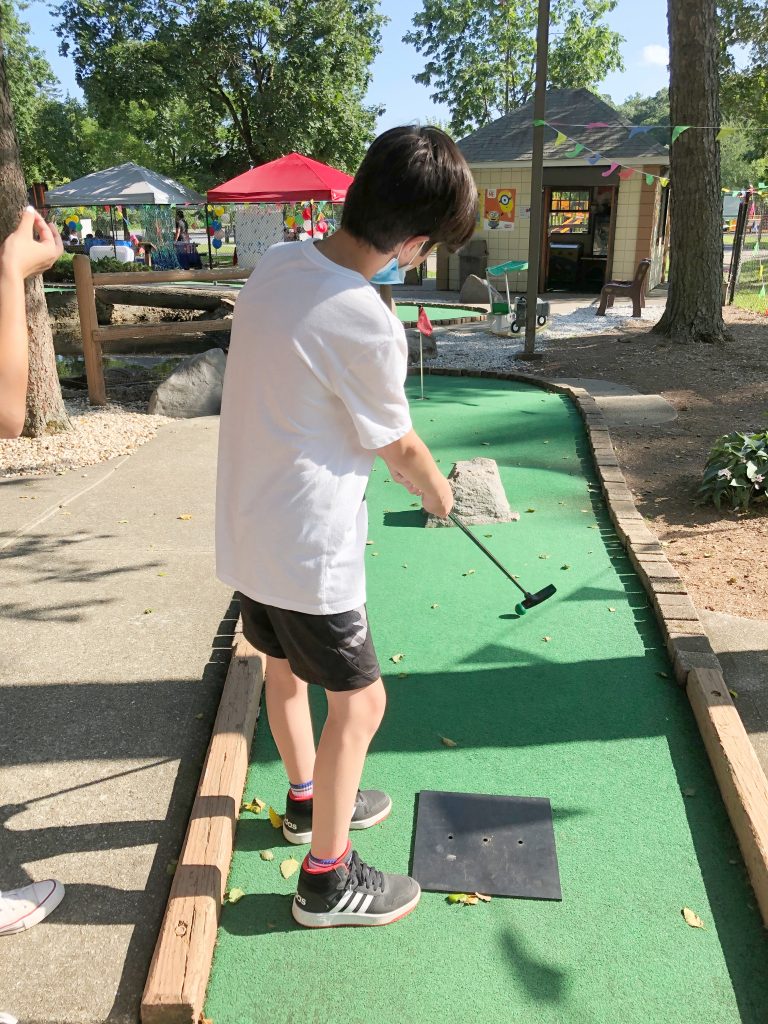 There are frozen ice cream novelties for purchase at the admission booth and a food concessions stand next door.
Overall: This was one of the nicer mini golf courses that we visited with a not-too-difficult course.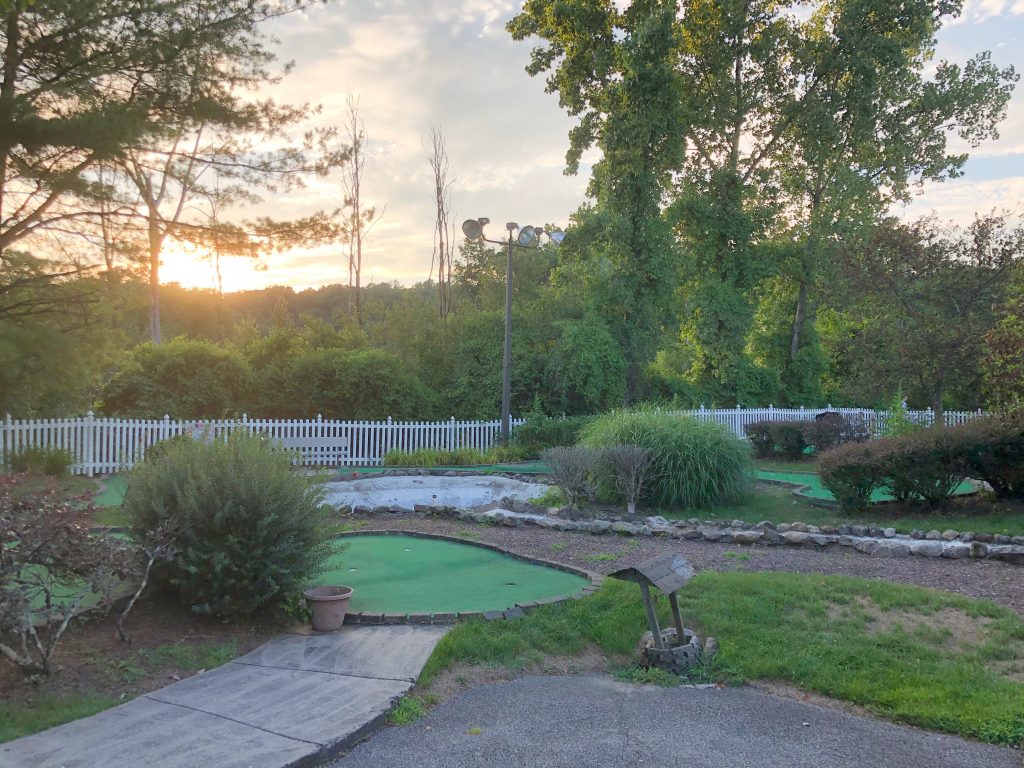 Yorktown Golf & Baseball (Mohegan Lake)
2710 Lexington Avenue
Mohegan Lake, NY 10547
(914) 526-8337

Course: 18-hole mini golf course
Cost: $7/adults, $5.50/children under 12
Cash or credit (4% credit card fee)
Hours of Operation: Spring & Summer – 10 AM – 8 PM
Ratings:
Atmosphere: 2/5
Creativity: 1/5
Difficulty: 3/5

Review: Established in 1994, this miniature golf course is only one of the attractions at the Yorktown Golf & Baseball Center. The facility also houses a 2-tiered driving range and eight batting cages. Unfortunately, the miniature golf course does not appear to have been updated since it was built. During our visit, the waterfall and ponds were not filled, leaving empty cement structures. The putting green is separated from the cement. The score cards do not have a par printed, nor did we see a maximum number of strokes. However, we limited ourselves to a 5 stroke max on each hole. We found some of the holes (1 and 15) especially difficult.

Overall: This is a bare bones, miniature golf course that is in need of some major upkeep. The course lacks fun features and was our least favorite of the courses we visited.