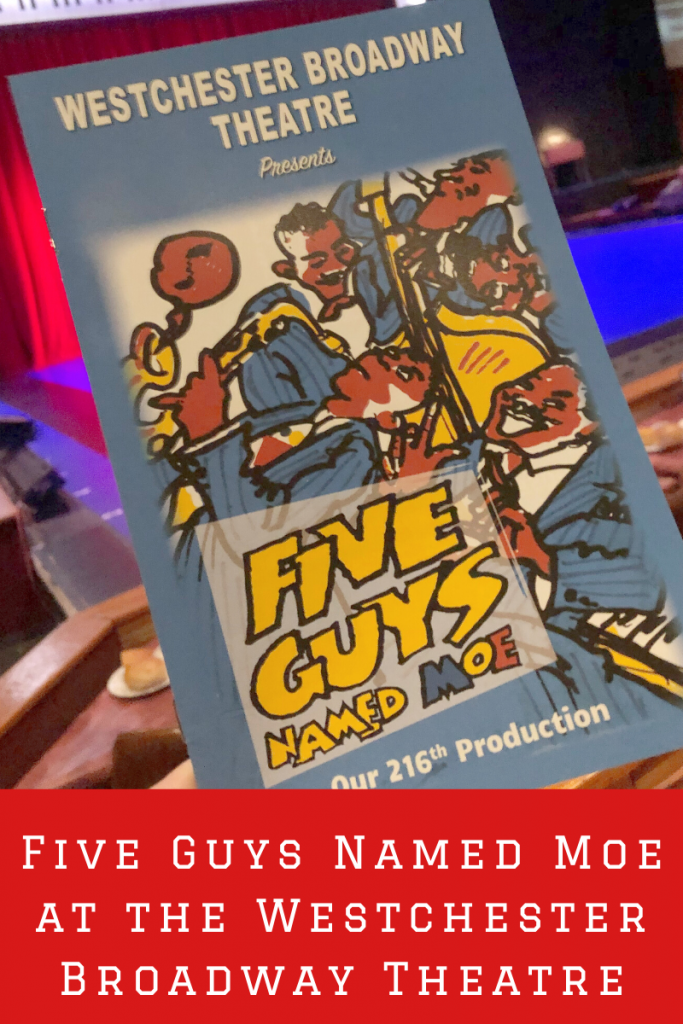 Westchester Broadway Theatre's newest production, Five Guys Named Moe, debuted January 30th and it's a must-see show!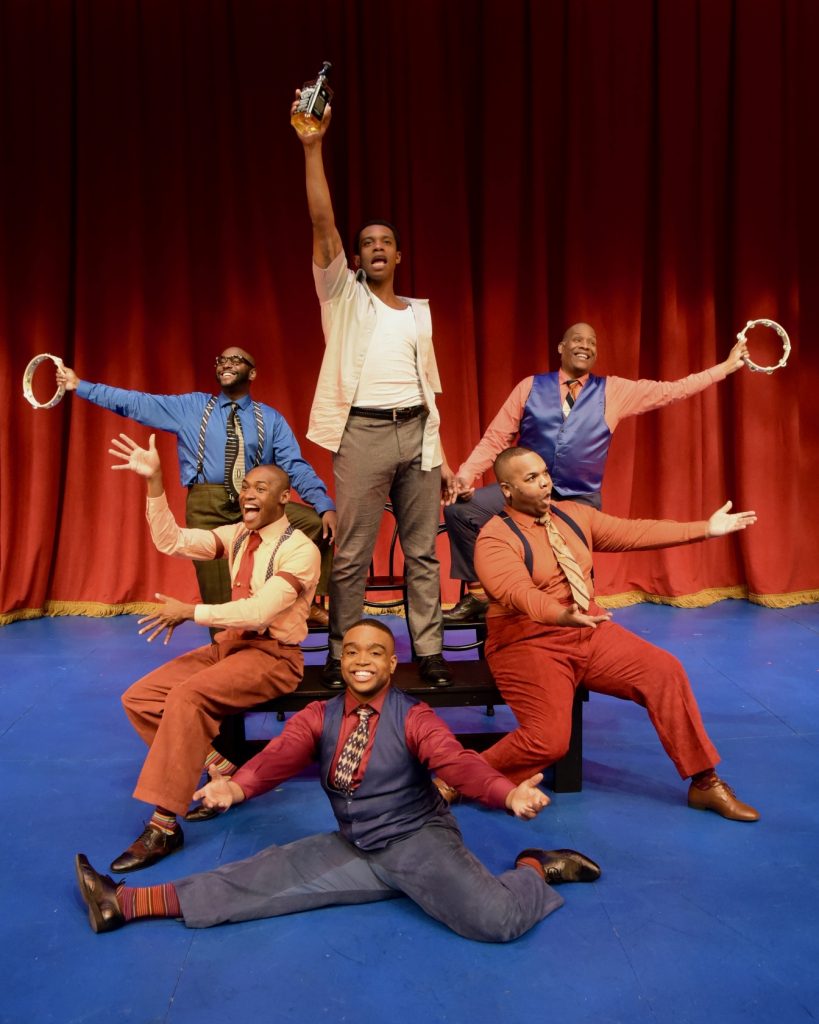 Five Guys Named Moe is set in an unnamed city and unspecified year. It tells the story of No Max, recently single and drowning his sorrows with alcohol. It's almost 5 in the morning when he's taken by surprise as five guys, all named Moe, emerge from his radio. Big Moe, Little Moe, Eat Moe, No Moe and Four-Eyed Moe give No Max lessons in love via song and dance in hopes of helping win his girl back.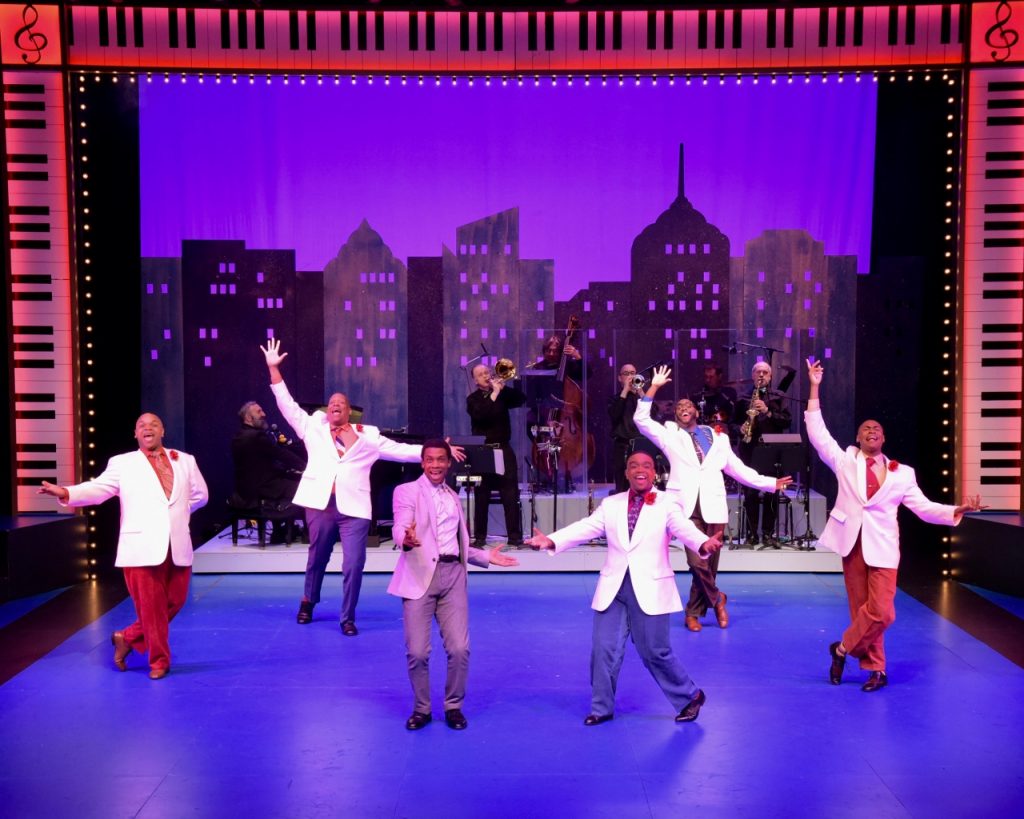 This musical pays tribute to American musician, songwriter and bandleader Louis Jordan, featuring over 20 songs, many of which are written by him. It originally debuted at London's West End Lyric Theatre in December 1990 and made its way to Broadway in 1992. Local residents can now enjoy this lively production at the Westchester Broadway Theatre through March 1st.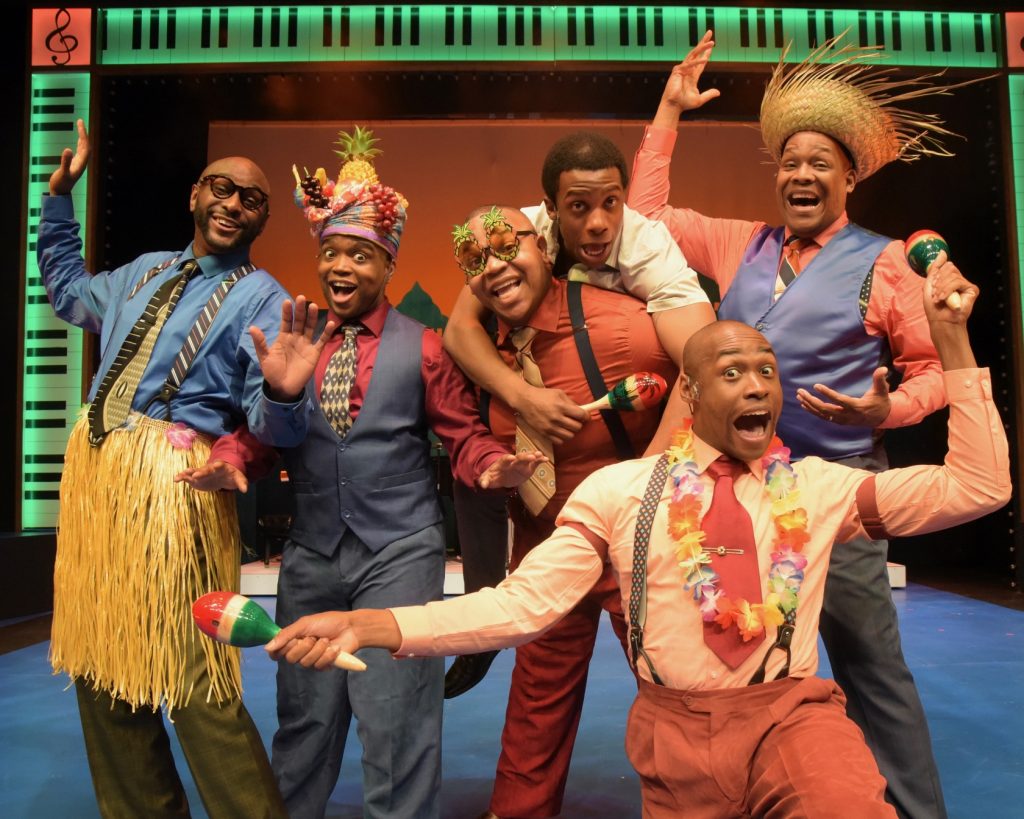 Dana and I knew nothing about Five Guys Named Moe prior to seeing the show. We were both pleasantly surprised at what a fun production it is. The small cast did such a great job of highlighting the unique personality of each Moe. There was lots of dancing and even some audience participation, including a sing-along. Yes, even we stood right up and joined in!
I recommend Five Guys Named Moe to families with tweens and older. Although the songs are catchy, I don't think the subject of the show will interest younger kids.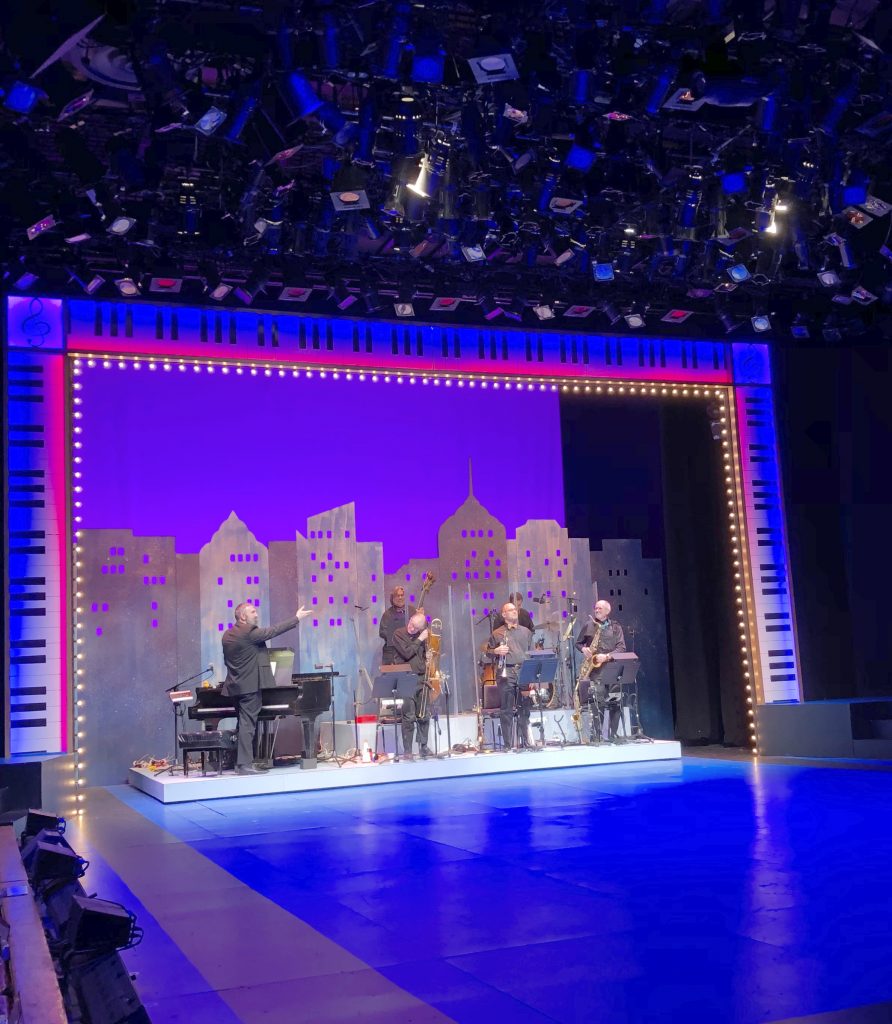 This was our first WBT production where a six-person band played on stage. There were even a few excellent instrumental solos. The music and songs are lively and will have you clapping your hands and tapping your feet along to the beat.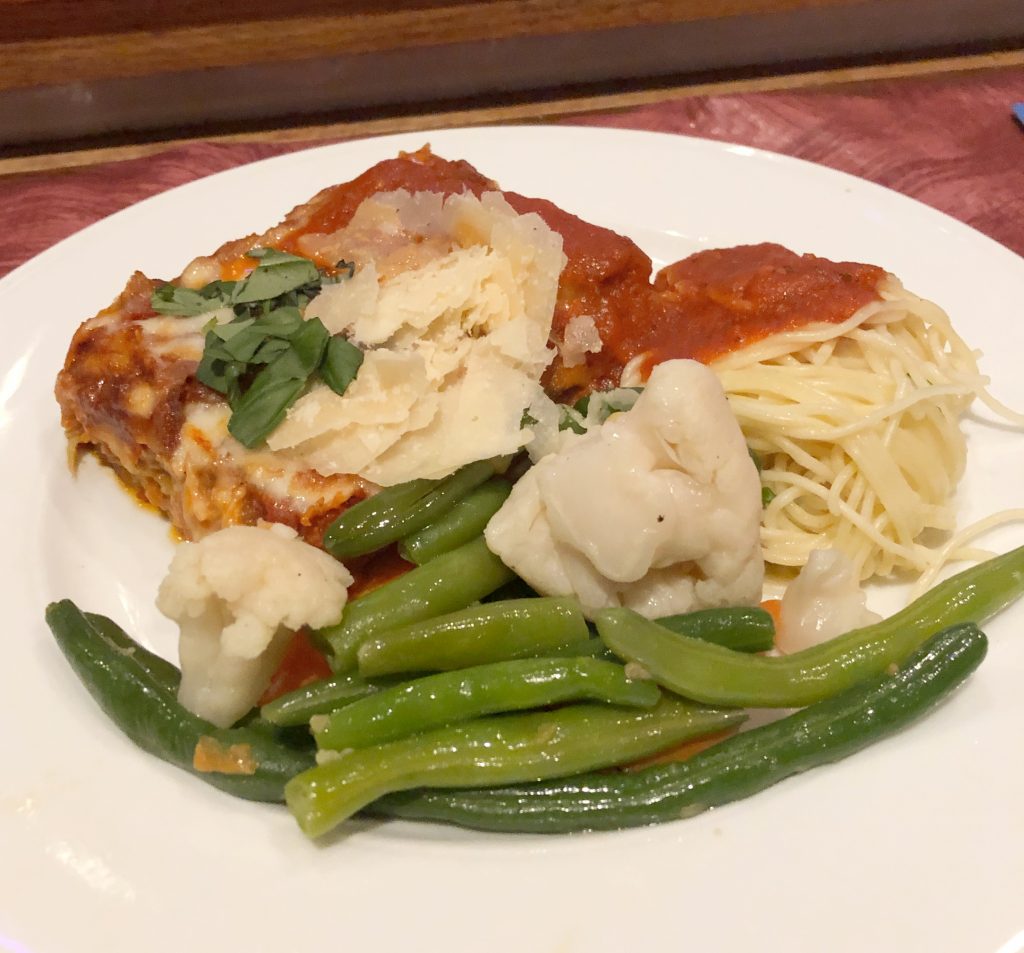 Since the Westchester Broadway Theatre is a dinner theatre, we can't write about it without mentioning the food. I've written in previous reviews that the food here is okay. They are cooking for the masses and I feel the meal is a bonus for the quality of the production you get to see.

This was our first time visiting the WBT since becoming vegan. We weren't sure if they could accommodate us, since we looked online beforehand and only saw a vegetarian option on the menu. Since we aren't strict vegans, we were okay with eating the Eggplant Parmesan. However, when we asked if they had a vegan option, our waitress mentioned that they usually have a veggie burger.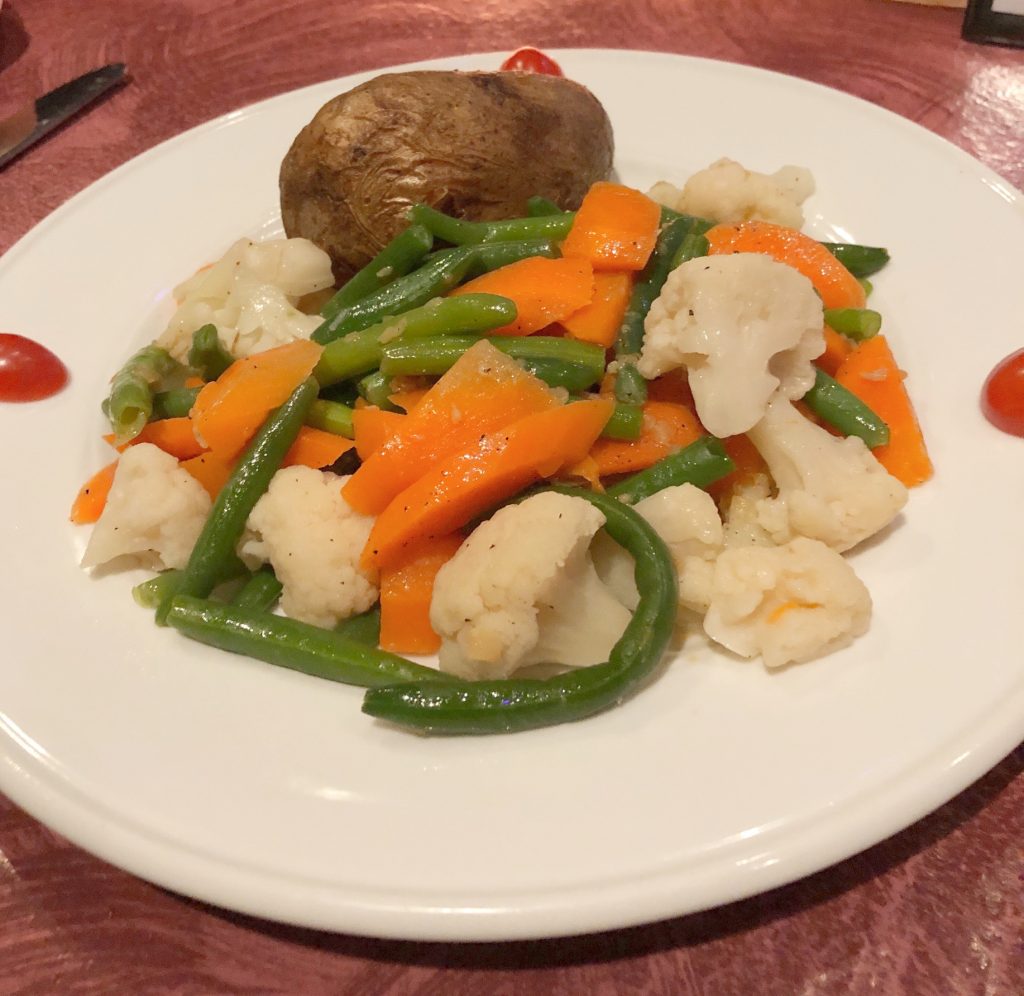 I opted for the Eggplant Parm and Dana ordered the veggie burger. When our entrees arrived, he got a GIANT plate of veggies and a baked potato, but no sign of the burger.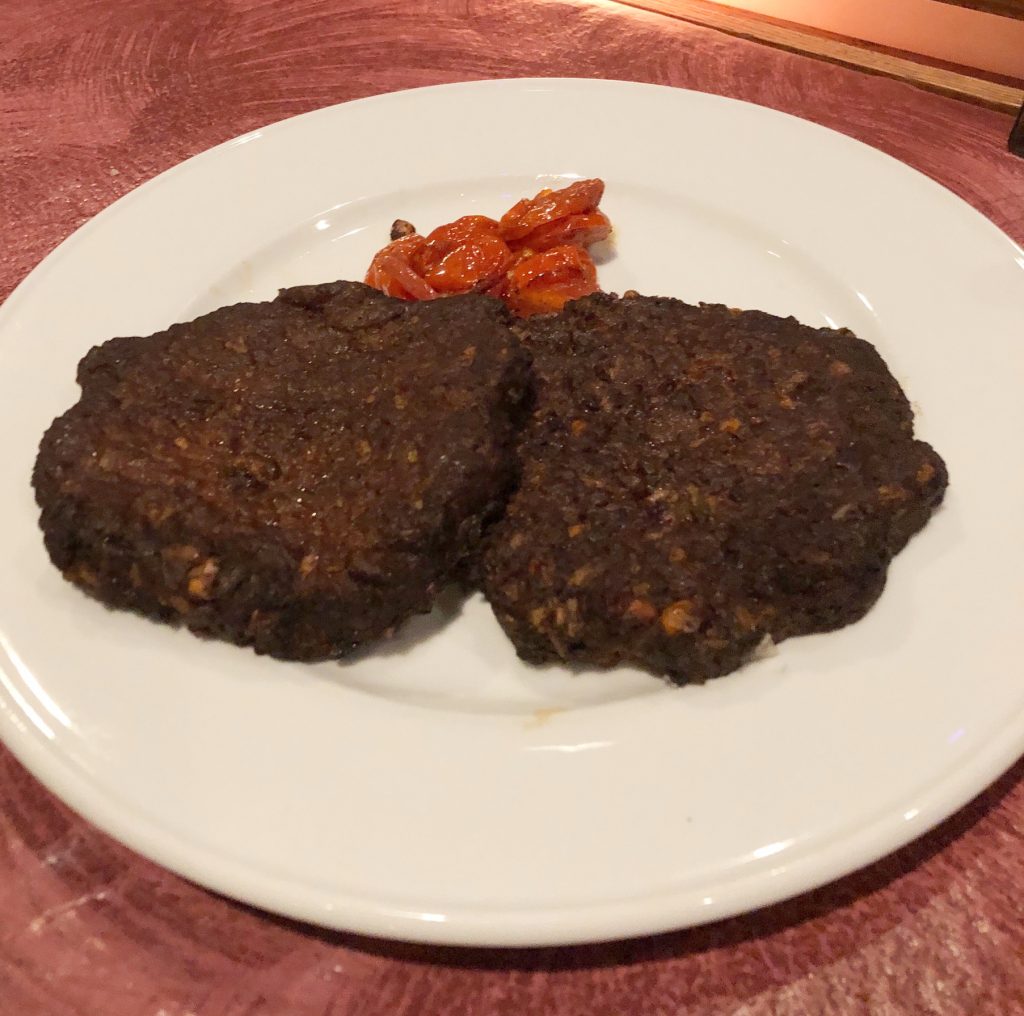 We asked our waitress if they had run out of veggie burgers. She was very apologetic for the confusion and brought out TWO veggie burgers. While these are not much to look at, they were larger than expected and actually very moist and tasty! They were a southwest chipotle type burger with a hint of spice. It is probably one of the best things we've eaten there. We didn't call ahead to alert them to our dietary needs, but our server did recommend doing so in the future and to let them know that we'd like to make sure the veggie burger is in stock!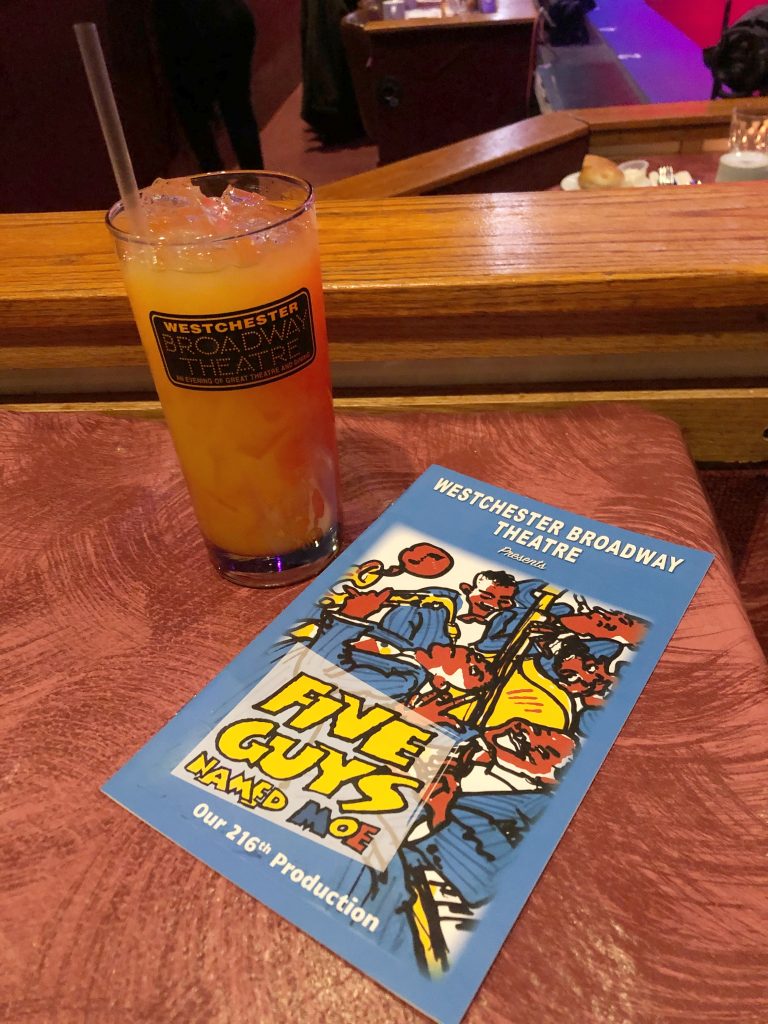 Every production at the WBT has a signature cocktail. "All That Jazz" is the signature drink for Five Guys Named Moe. Dana enjoyed this drink of citrus vodka, grenadine and orange juice. It costs $12 and comes in a souvenir glass that can be taken home.

Five Guys Named Moe is playing for a limited time at the Westchester Broadway Theatre! Be sure to get your tickets before it leaves!
The Details:
Five Guys Named Moe
Westchester Broadway Theatre
1 Broadway Plaza
Elmsford, NY 10523
(914) 592-2222

Tickets: (price includes dinner and the show) $61-$91 plus tax, beverages and gratuities, discounts available for children, students and senior citizens at select performances
Performances: January 30 – March 1, 2020
Show Times:
(The show runs approximately 2 1/2 hours, with a 30-minute intermission between acts)
Wednesday, Thursday and some Friday Matinees: 11:30 AM lunch, 1 PM show
Thursday, Friday and Saturday Evenings: 6:30 PM dinner, 8 PM show
Sunday Matinee: 12 PM lunch, 1:30 PM show
Sunday Evening: 5:30 PM dinner, 7 PM show
Tips:
* If you want to take home the souvenir glass, either be sure to hold on to it, or ask the staff for a clean glass to take home.

*They usually have a vegan meal option available. I recommended that you call ahead to make your dietary preference known so you can be sure they can accommodate you on your visit.

*Photos are not allowed during the show

*Check out the website for special offers

*There is a convenience fee for purchasing tickets online. There is no fee for purchasing tickets in-person or via phone.

*Up to 4 tickets can be purchased online.

* AAA members, AARP members, and military discounts are only given for phone or in-person ticket purchases.|

*All seat locations are the same price. The earlier you order, the better the seats.