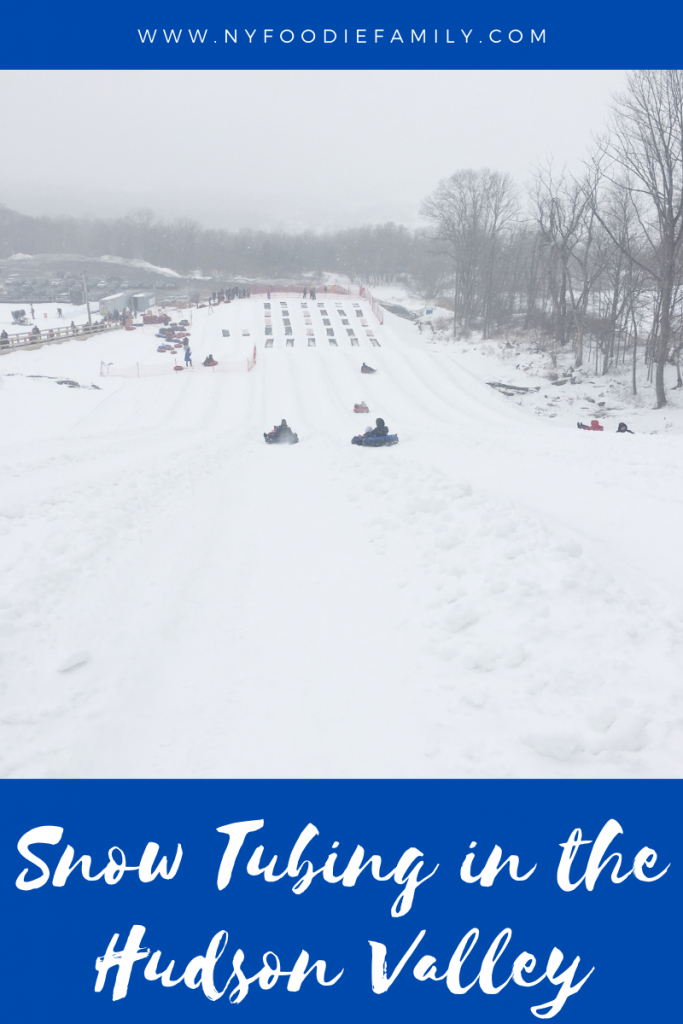 Winter has arrived in the Hudson Valley. The temps are cold and we did have some snow at one point! Even if you don't ski or snowboard, you can still enjoy some outdoor winter fun. Snow tubing is a fun activity that requires no special equipment or skills, just warm clothes!
We were planning on going snow tubing this past weekend, but the Christmas storm melted all the snow! We are going to hold off on going until we get more snow. However, most of these places make their own snow and are operating. As always, check directly with the location for up-to-date information. Here are some of the places we found where you can go snow tubing in the Hudson Valley.
Holiday Mountain (Monticello)
99 Holiday Mountain Road
Monticello, NY 12701
(845) 796-3161

Holiday Mountain snow tubing sessions sell out quickly. Be sure to call (845) 796-3161 to book your session. Snow tubers must be 44″ tall.

Cost: $20 for a 2 hour session. Tickets must be purchased in advance by calling (845) 796-3161.

Sessions: 2 hour sessions on Friday, Saturday, Sundays and holidays

Hunter Mountain (Hunter)
64 Klein Avenue
Hunter, NY 12442

Hunter Mountain has tubing lanes that are almost 1,000 feet long, the longest of any of the destinations listed. Children have to be at least 36″ to snow tube. Tickets have to be purchased 48 hours in advance of your intended date.

Cost: $25 for a single tube, available for any rider over 44″
$35 for a double tube, for an adult and child between 36″ and 44″
Sessions: 2 hour sessions on Friday, Saturday and Sunday

Mount Peter (Warwick)
51 Old Mount Peter Road
Warwick, NY
(845) 986-4940

Mount Peter has a multi-lane 600 foot snow tubing run with a carpet lift to get you to the top of the mountain. Riders must be at least 42″ tall to ride in a single tube. They have tandem tubes for those riders 36″ – 48″ that can ride with an adult. Online reservations/ticket purchasing is highly recommended. For children under 42″ tall, Mount Peter has a Little Tikes tubing hill.
We went snow tubing here several years ago and had a blast! You can read more about our experience.

Cost:
$35 for a 1.5 hour session weekends & holidays, $25 for the Little Tikes hill
$30 for a 1.5 hour session weekdays, $20 for the Little Tikes hill

Sessions: 1.5 hour sessions, Thursday – Sunday (check the website for sessions times)
Plattekill Mountain (Roxbury)
469 Plattekill Road
Roxbury, NY 12474
(607) 326-3500

Plattekill has two tubing lanes that are 500 feet long. A conveyor carpet lift to get you to the top of the mountain. Children have to be at least 3 feet tall to snow tube. Plattekill only has single tubes, but related parties can go tubing with the tubes together as conditions warrant.

Cost: $27 for a 2 hour session, $79 for a season snow tubing pass
Tickets must be purchased in advance online

Sessions: 2 hour sessions Saturdays and Sundays, 11 AM – 5 PM
Windham Mountain (Windham)
360 County Route 12
Windham, NY 12496
(518) 734-4300

Windham Mountain has six, 650 foot snow tube lanes in their Adventure Park. Enjoy a conveyor ride up the mountain.

Cost: $25/person. At this time, reservations and pre purchasing tickets is not available. It is recommended that you call ahead to check availability.

Sessions: 3 hour sessions, Friday, Saturday, Sunday and holidays