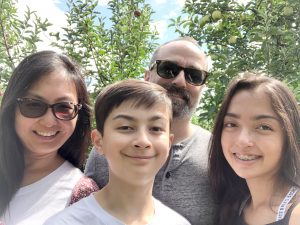 Welcome to NY Foodie Family!  We are a food loving family of four living in Northern Westchester County, New York.  We bring you the best in all things food, family and fun!  Follow along with us as we eat, travel and explore the Hudson Valley and beyond! For six months our family was vegan.  I have since become a vegetarian but both my husband and daughter still follow a mostly vegan diet.
My name is Nancy.  By day I work in the HR department of a local school district.  By night I'm a blogger. In my free time I love to read, cook and of course eat.
My husband works in the finance and insurance industry.  He enjoys cooking, when he gets the chance.  His "free" time is spent doing work around the house (there's always something that needs fixing or working on!).  He is also a big supporter of this blog and helps edit my posts and take pictures.
Our 14 year-old daughter is a freshman in high school.  She is an adventurous eater and will try almost anything at least once.  Her favorite foods include potatoes in any form, especially mashed.  She loves ice cream too much to become fully vegan.  She plays field hockey and is a cheerleader.  She prefers spending time with her friends, but will go on family adventures if food is involved!
Our 12-year-old  son is in 7th grade.  He is the more picky eater but his favorite foods include sushi and treats of any kind.  He has an interest in all things Japan including reading Manga and watching Anime.  He has recently gotten into skate boarding.  He plays the trumpet and piano and is a talented artist.