In a blink of an eye, it's Monday again!  The weekend always flies by much quicker than I want it to! We had a fun-filled couple of days, but now it's time to get ready for another week.  Monday  means that it's time for another weekly meal plan.  If you are looking for some dinner time inspiration, my weekly meal plan is the place for you. Each week I showcase what was on my previous week's meal plan, with pictures, recipe links and my family's review of each dish.  There are so many food blogs, cookbooks and recipes out there and I am always on the lookout for new family-friendly recipes to try.  If you are new to meal planning, read more about how I make my weekly meal plan. Just to note, this week's menu does not actually have any formal recipes as you will see.  But hopefully, it can provide you with some dinner ideas!  Here is a look at what was on our menu this past week.
Saturday: We were in Rhode Island for the weekend.  Saturday we spent the day in Providence.  We started the day at the Roger Williams Zoo and then went to see Water Fire.  Before Water Fire we ate at Fire + Ice, a restaurant nearby.  At this restaurant, you basically create your own meal.  You choose what starch, veggies, protein and sauce that you want.  You then bring it up to the grill and watch as it gets cooked.
Sunday: We got home from our long weekend in Rhode Island and we were exhausted.  We raided our freezer and cabinets to find something to make for dinner.  We ended up making a box of mac and cheese and some chickpea veggie burgers.  Nothing fancy or homemade and fortunately for you, no picture!  It was not photogenic at all!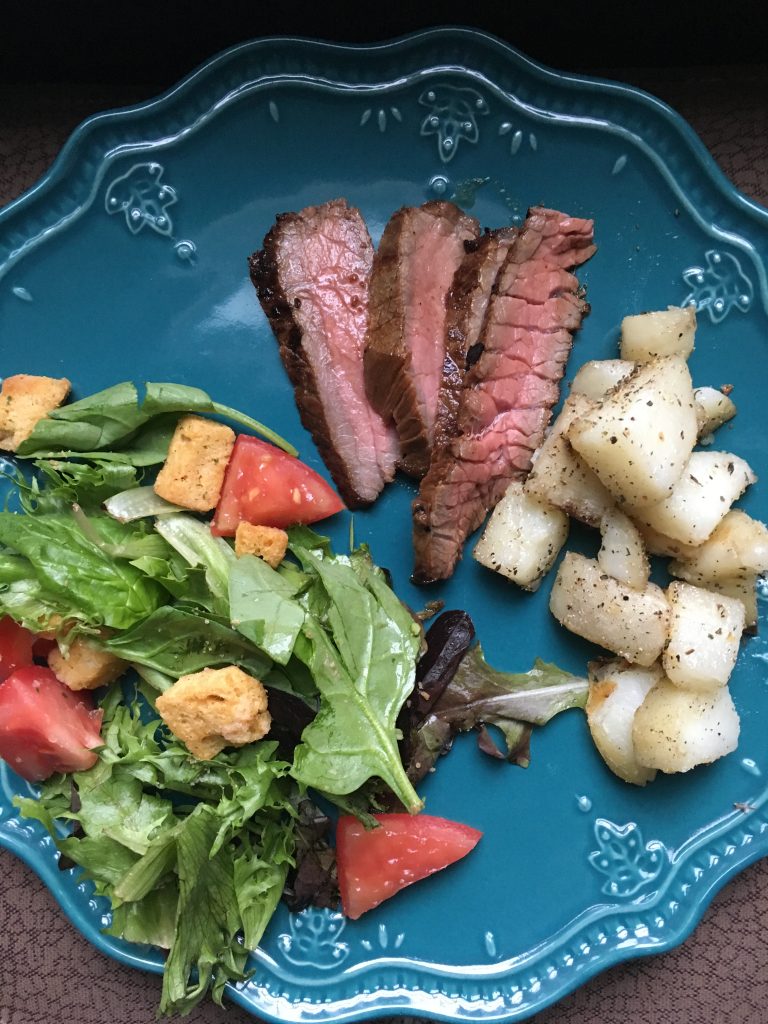 Monday: It was chilly and raining on and off for Memorial Day.  So, I marinated a London broil the night before in a mixture of Teriyaki sauce, Soy sauce, Hoisin sauce and garlic. My husband then cooked the London broil and roasted some potatoes, which we had with a garden salad.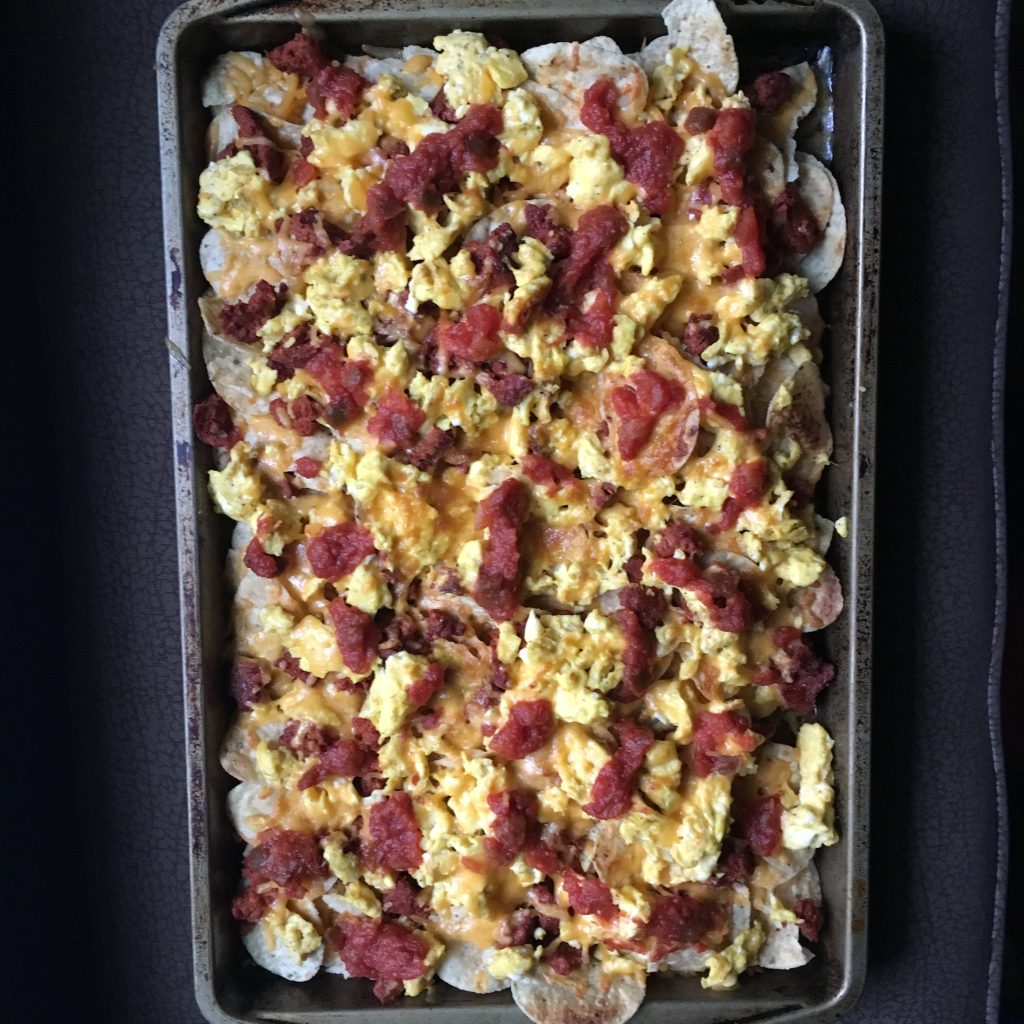 Tuesday: I made Chorizo Breakfast Nachos.  I cooked chorizo in a pan.  Once cooked, I took it out and then scrambled some eggs in the pan.  I put the scrambled eggs and chorizo on a pan of tortilla chips.  I then sprinkled some shredded cheddar on top and topped with salsa.  Then I broiled until melted and served with sour cream.  Breakfast for dinner is always a hit in our house.  I love breakfast nachos since they can be customized to whatever you want to put on or have on hand in the house.  I've made these before, as my kids pointed out.  I don't normally repeat recipes.  However, when you need quick and easy, this is a go-to recipe.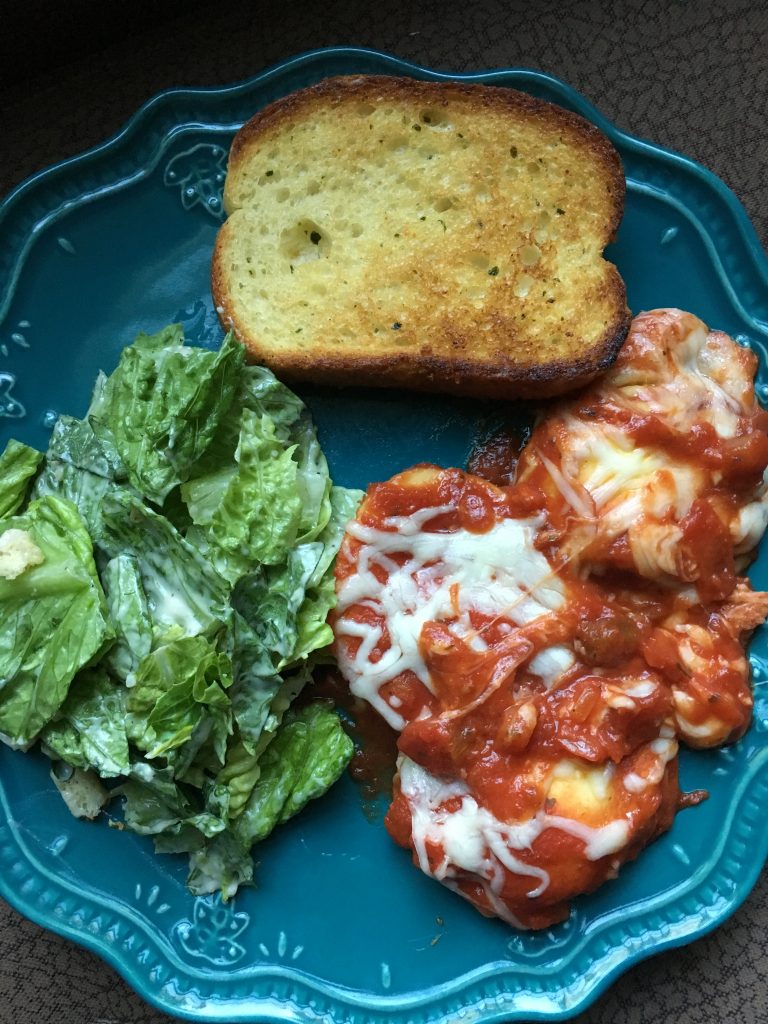 Wednesday: I made a Ravioli Bake, again no real recipe.  I put some jarred pasta sauce in the bottom of a baking pan.  Once I cooked the ravioli, I put them in the pan and covered them with sauce and mozzarella cheese.  Then I baked it in the oven for about 10 minutes until heated and the cheese melted.  I served the ravioli with garlic toast and Caesar salad.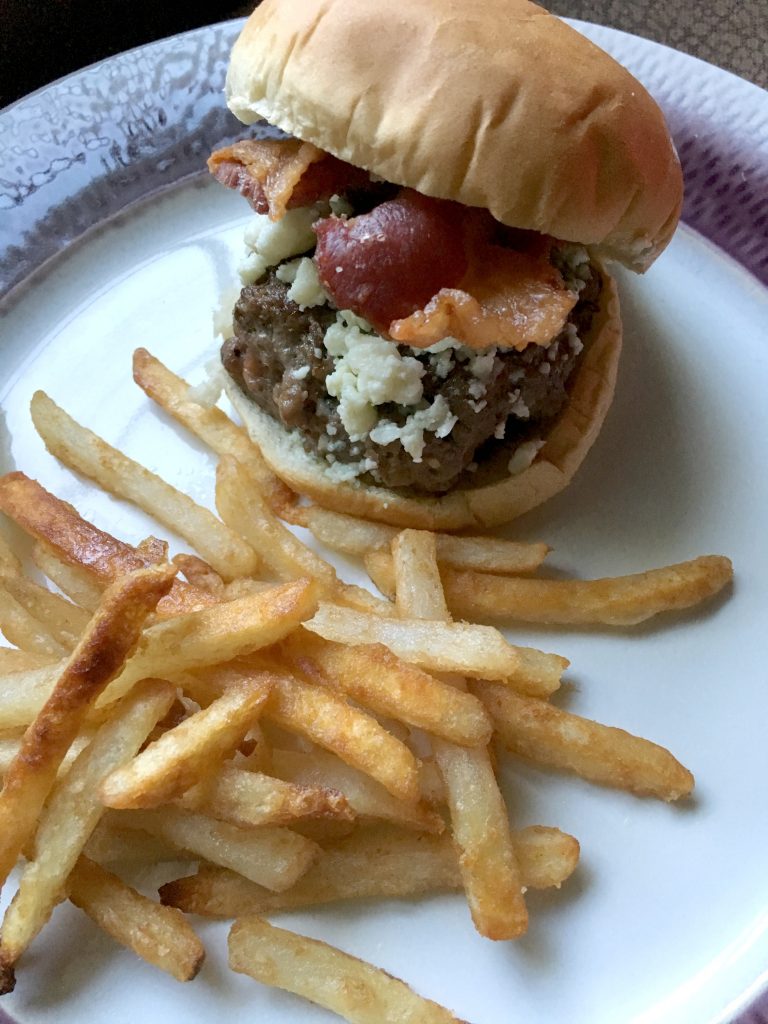 Thursday: I made Bacon and Blue Cheese Burgers which I served with fries.  I didn't use a recipe.  I took ground beef and added Steak seasoning that had salt and pepper in it.  I then cooked the patties in a cast iron skillet and once cooked, topped with slices of bacon and blue cheese crumbles.  Easy, but tasty!
Friday:  Friday was super busy with me shuttling my daughter back-and-forth between two different events.  I managed to make our regular homemade pizza and squeeze dinner in.