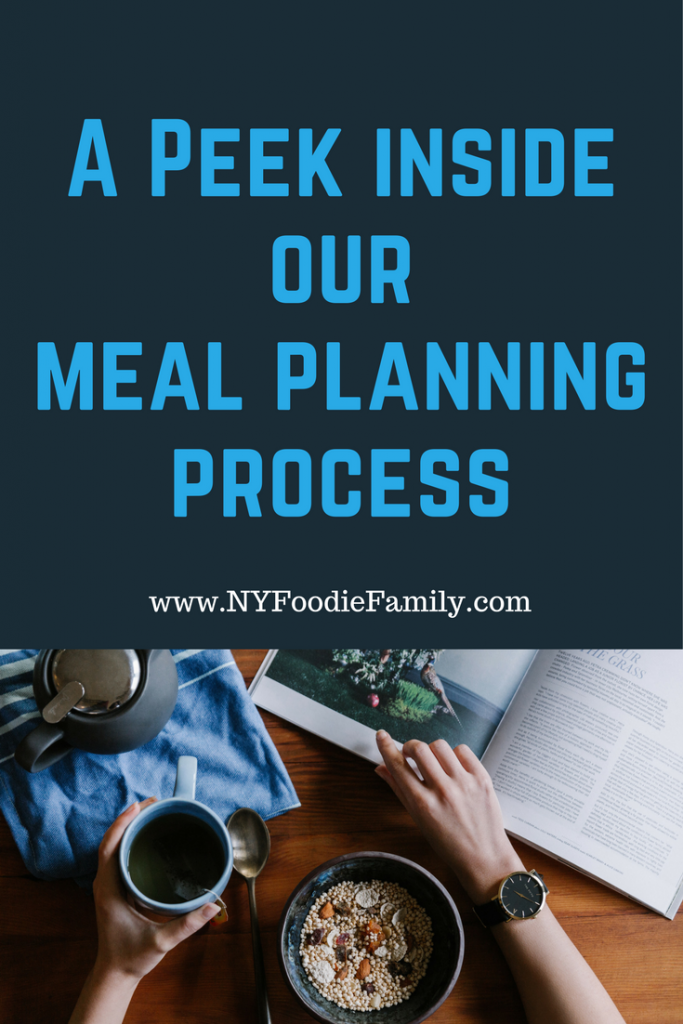 Meal planning is crucial in making our family dinner time run smoothly.  It also helps keep our grocery bill within a reasonable range each week.  There are many ways to meal plan and there is no one tried and true method.  You honestly have to figure out and do what works best for your family.  I am showing you how I create our weekly meal plan which will hopefully give you some tips and inspiration.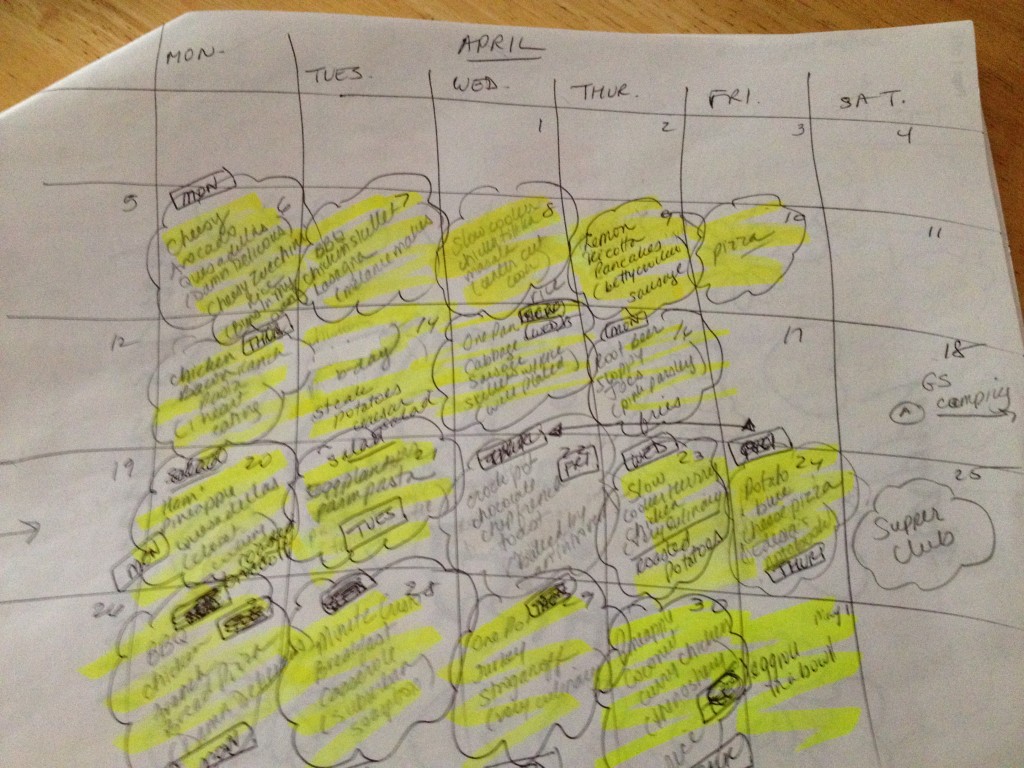 1.  The Calendar:  You can find fancy, online printables if that will help motivate you.  In our house we don't go the fancy route.  As seen above, I use the back of a piece of scrap paper and set up a monthly calendar.  I plan our menus weekly and write the meals in pencil, so I can erase and move things around if needed.
2.  The Day:  The grocery circular for Shoprite, where we do most of our shopping, comes on Saturday with our newspaper.  Over the weekend I write out the menu and make the grocery list.  Then I do the actual shopping Monday.
3.  Time:  I'm not going to lie.  Meal planning takes time.  Especially in the beginning if you have never done it before.  Even now, it sometimes takes me about an hour, but that's because I enjoy it.  I rarely, if ever make the same recipe twice.  So, it can take me awhile to go through all of my recipe resources (see below) and pick out the new recipes I want to make for the week.  Once you've been meal planning for a little bit and have found some recipes that your family enjoys, you can repeat them throughout the month.
4.  Resources:  So, where do you find recipes?  Well, you can start here on my blog, at the recipe index!  Really though, there are so many food blogs out there, ranging from family focused, quick and easy meals, to more involved recipe blogs.  It can actually be quite overwhelming!  I subscribe to several food blogs and get new posts e-mailed to me.  Here are a few blogs that I use often and recommend:
Closet Cooking – Some of the recipes can be a little more involved but Kevin posts recipes for dishes with a variety of flavors and different cuisines.
Damn Delicious  – For quick and easy, family-friendly dishes.
Melanie Makes – For more quick and easy, family-friendly dishes.
Half Baked Harvest and How Sweet Eats are both great blogs with consistently good recipes.  I've rarely made a recipe from these blogs that wasn't delicious.  However, some of these recipes can be a bit involved or require a bunch of ingredients.
Try cooking recipes from several different blogs.  You will eventually find you like certain bloggers' recipe choices, presentation, photographs, etc. over others.  You don't need to subscribe to all of them! I have two folders in my web browser favorites.  One is titled "Recipes" and anytime I see a recipe I want to make I bookmark it there.  If I decide to make the recipe, I bookmark it in the "Cooking This Week" folder, so it's easier to find when needed.
I also subscribe to Cooking Light and Every Day with Rachael Ray and highly recommend both magazines.  Instead of keeping piles of magazines lying around, I rip out the recipes that interest me and stick them in a folder.
For beginner cooks I highly recommend the website Allrecipes.com.  You can search for recipes by a number of different factors, including ingredients or name.  I've found most recipes that I've used from the site easy to make.  It's especially helpful since there are tons of ratings and reviews.  If a recipe has lots of five star ratings, it's probably going to be good.
Several bloggers post a "Meal Plan Monday" where they share their upcoming weekly menu, often with links to the recipes that they are making.  While you probably won't follow a blogger's exact weekly meal plan, it can be helpful for inspiration.  I recently stopped posting my weekly meal plan, but you can find over 85 of my past weekly meal plans for some ideas!
Here are some blogs that I've found that share a weekly "Meal Plan" post:
I'm an Organizing Junkie – Not only does Laura provide her weekly menu plan, she also hosts a link-up where other bloggers can link up their weekly menu plan.  Check this blog out for loads of inspiration!
Skinnytaste – for some lighter, healthier meals.
And let's not forget about Pinterest.  There are millions of recipes posted on that site.  Start creating boards of recipes that you see that interest you and you can refer to your board for inspiration when meal planning!
I've found that as much as I enjoy reading cookbooks, I don't use them very often, since most recipes can easily be found online.  I do have several older editions of the Cooking Light Annual Recipe collection cookbooks.  They have the whole year of recipes from the magazine bound nicely into one book.
Again, the recipes you choose will really depend on your family's food and dietary preferences.
5.  The Planning:  If you are new to meal planning, it might be easier to start with some recipes that you know your family eats and enjoys and maybe aim for one new recipe a week.  I recommend you use your grocery store circular to start your planning.  If chicken is on sale this week, I recommend making at least one chicken dish and buying some extra chicken that you can freeze for the future.  Some people prefer to have a themed dinner for each day, like Meatless Monday or Taco Tuesday.  This helps in keeping a consistency to meal planning.  My meal plan varies from week to week.  I try to have a meatless meal, a chicken dish a pasta dish, a burger/sandwich, etc.  Other weeks I sometimes plan by cuisine.  I will plan to have a Mexican-themed dish, an Asian-themed, breakfast for dinner, pizza, etc.  Sometimes, if I find a bunch of interesting chicken dishes at one time, I will pre-plan and space them out throughout my monthly calendar.  Once I find a recipe that I decide I'm going to make, I write it in pencil on the calendar, along with the name of the source (blog name, magazine, website).  Although I will have my five recipes for the week written in, I won't necessarily make them in that order.  When we eat each meal depends on factors like which dishes have produce that may spoil or how busy our schedules are.  I will then write in each box, what day I actually plan on making that dish.
6.  Grocery List:  I then take my grocery list and go through the recipes I plan on making for the week.   I write down the ingredients that I need for each recipe on the grocery list.  I circle the recipe on the calendar to know that I made sure I had everything I needed for that recipe.  Like I mentioned previously, I will stock up on proteins, chicken, ground beef, pork chops, etc. when they are on sale so I have them for the future.  I recommend stocking up on other staples when they are on sale as well.  There's nothing like having to buy something at full price for a recipe, when it was on sale last week!  Pasta, canned tomatoes, chicken broth, rice, etc. are all items that you will probably use a lot of.
I hope this helps give you a better idea on how to meal plan, if this is new to you!  Please feel free to leave any questions in the comments section or e-mail me.  I'd love to hear how others meal plan and am always looking for tips on how to make the process easier!