I hope everyone had a great weekend!  We had a super busy, but fun, jam-packed weekend.  You can read about some of the highlights later this week in my Five on Friday post.  Monday means that it's time for another weekly meal plan.  If you are looking for some dinner time inspiration, my weekly meal plan is the place for you.  Each week I showcase what was on my previous week's meal plan, with pictures, recipe links and most importantly, my family's review of each dish.  There are so many food blogs, cookbooks and recipes out there and I am always on the lookout for new family-friendly recipes to try.  If you are new to meal planning, read more about how I make my weekly meal plan. Here is a look at what was on our menu this past week:
Saturday: My husband made homemade Fish and Chips for us.  Except he did buy the fries from the grocery store!
Sunday: We hosted a joint Easter/birthday celebration for my daughter and had both sides of the family over.  We had ham, my mom's twice baked potatoes, mashed sweet potatoes, roasted asparagus and roasted honey carrots.  It was a pretty traditional holiday dinner for us and was easy for the number of people we had.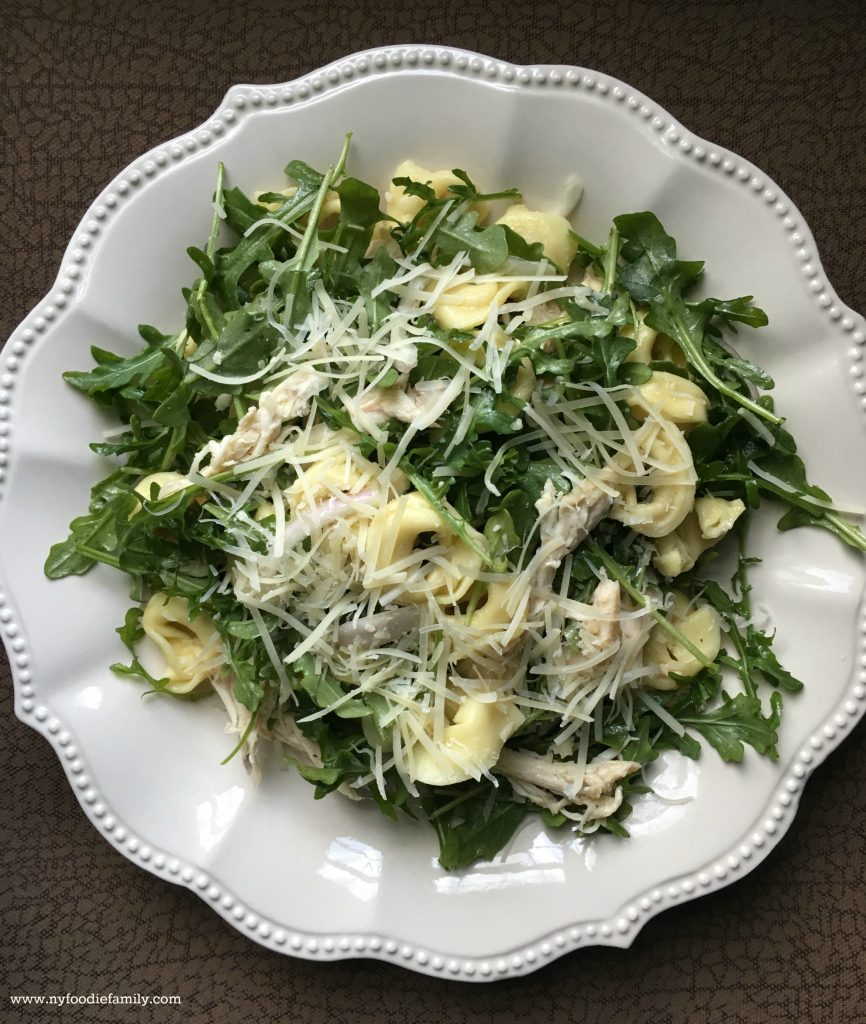 Monday: I made Tortellini Chicken and Arugula Salad from the April 2017 issue of Cooking Light.  This was so quick and easy to make since it uses a rotisserie chicken.  I only had to cook the tortellini and make the dressing.  This was tasty too and the kids enjoyed it.  The only thing I'd do differently is to double the dressing.  We would have preferred more and found the salad to be a bit dry.
Tuesday: We had straight up Easter leftovers.  My son hates leftovers and gave me a hard time about dinner tonight.  I let him have some of the leftover rotisserie chicken, even though I had a ton of ham, since he liked that "leftover" better.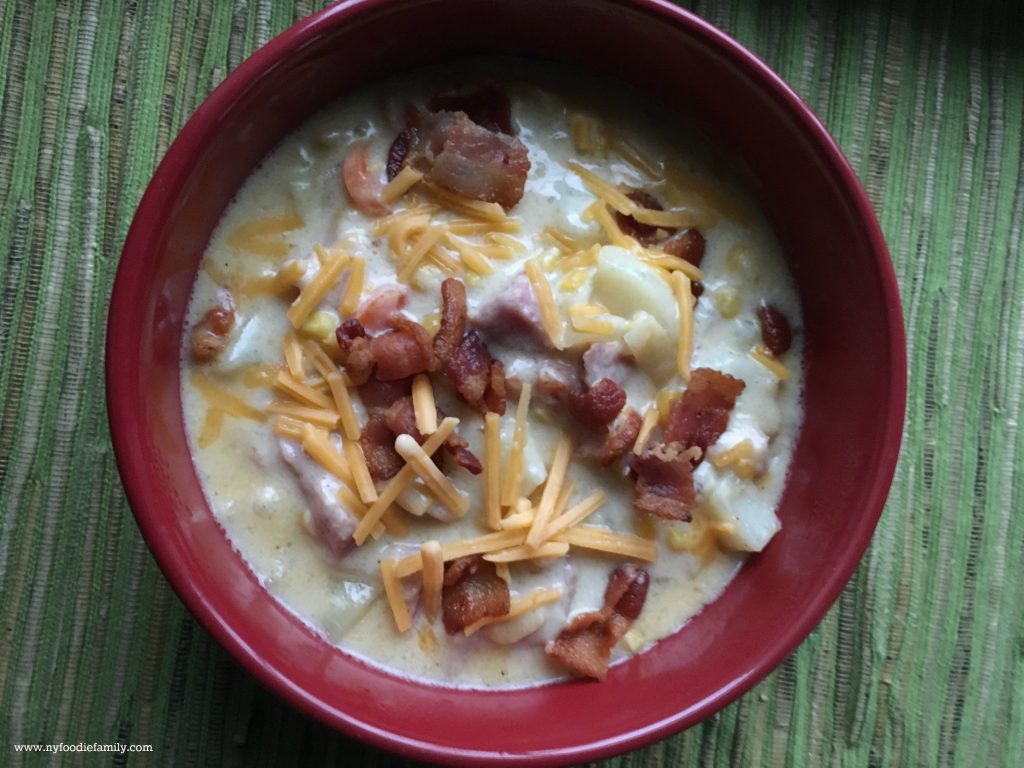 Wednesday: I made Cheesy Ham Chowder from Taste of Home.  We had a busy afternoon and evening.  So, I made the chowder early in the day and then once it cooled, stuck it in the fridge.  When we got home at 7 pm, we just reheated bowls of the chowder in the microwave.  Don't worry, my son pointed out that this was technically a leftover since we weren't eating it hot the first time.  "Food tastes different when you have to reheat it in the microwave!"  Welcome to my world!  The chowder was tasty and we all enjoyed it.  I mean, c'mon, is anything really bad if it has bacon?!!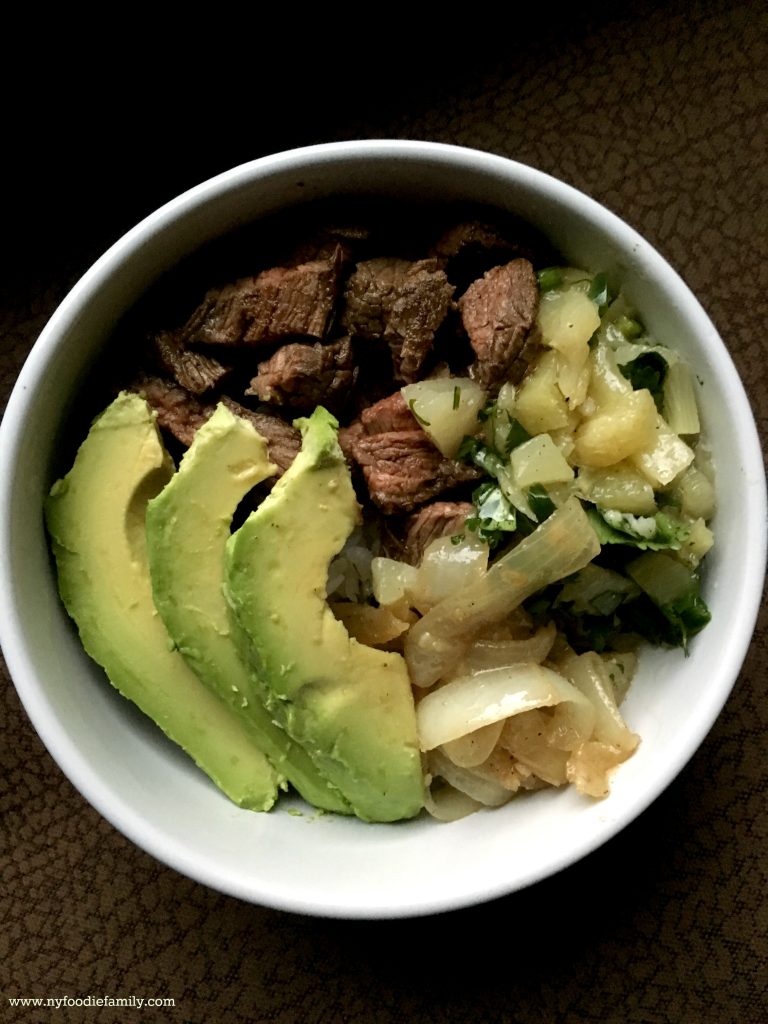 Thursday: I took a ham break and made Cuban Style Steak and Avocado Rice with Pineapple Chimichurri Bowls from Half Baked Harvest.  This recipe called for 2 pounds of skirt steak. Well, I wasn't spending $11.99/pound for skirt steak, and picked up a 1.5 pound top shoulder blade steak (I think that was the cut I bought) for $4.49/pound.  I marinated the steak the night before, omitting the fresh oregano and I made the chimichurri earlier in the afternoon the day of.  I used diced, canned pineapple and a jalapeno pepper instead of fresh pineapple and a Fresno chile pepper.  I cooked the rice in the rice cooker when we left for piano lessons.  So, when we got home, I just had to cook the onions and the steak.  The kids weren't a big fan of the pineapple chimichurri, saying it was too tangy (from the red wine vinegar).  My husband and I really liked this dish and honestly, I think this was restaurant quality.  My presentation may not be the best, but this dish is something you could find on a restaurant menu.  I made it for a quarter of the cost and we even had leftovers for lunch.  So overall, a little labor intensive, but definitely worth it!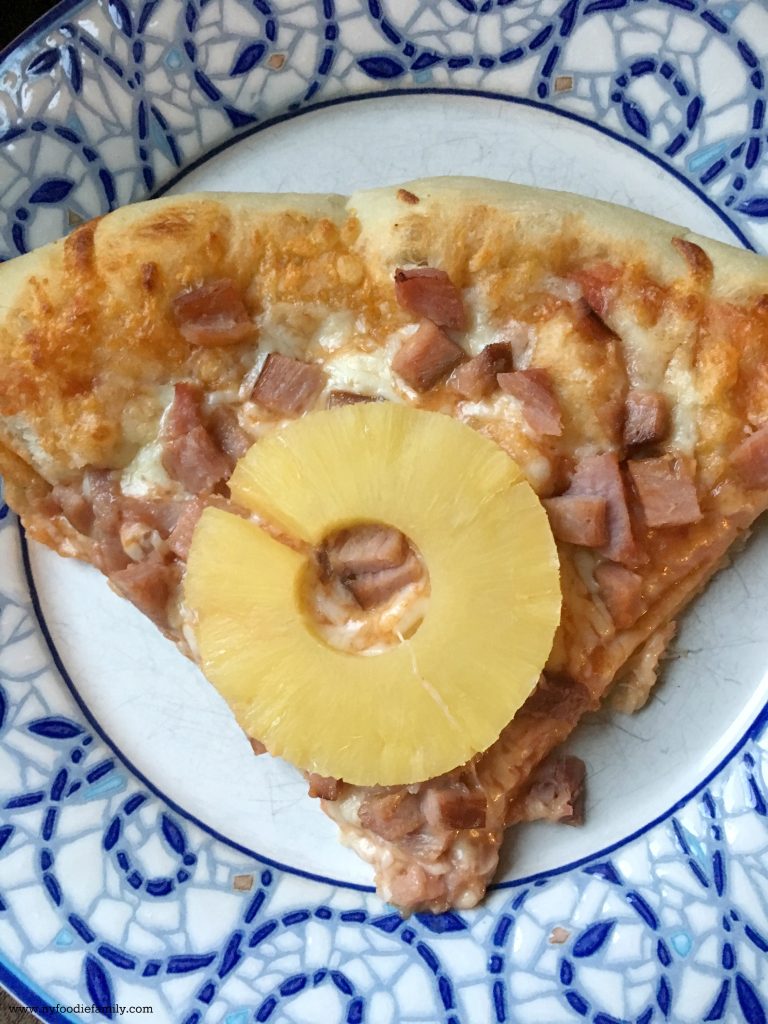 Friday:  To use some more of the leftover ham I made Hawaiian Pizza.  Actually, my husband made the pizza, but I had scheduled it on the menu! There was no recipe.  He just put chopped ham and pineapple rings on an otherwise cheese pizza.  Next time I'd cut the pineapple into pieces and spread them out.  Although the rings looked nice, when you took a bite of the pizza, the whole thing fell off the slice.
What are you having for dinner this week?