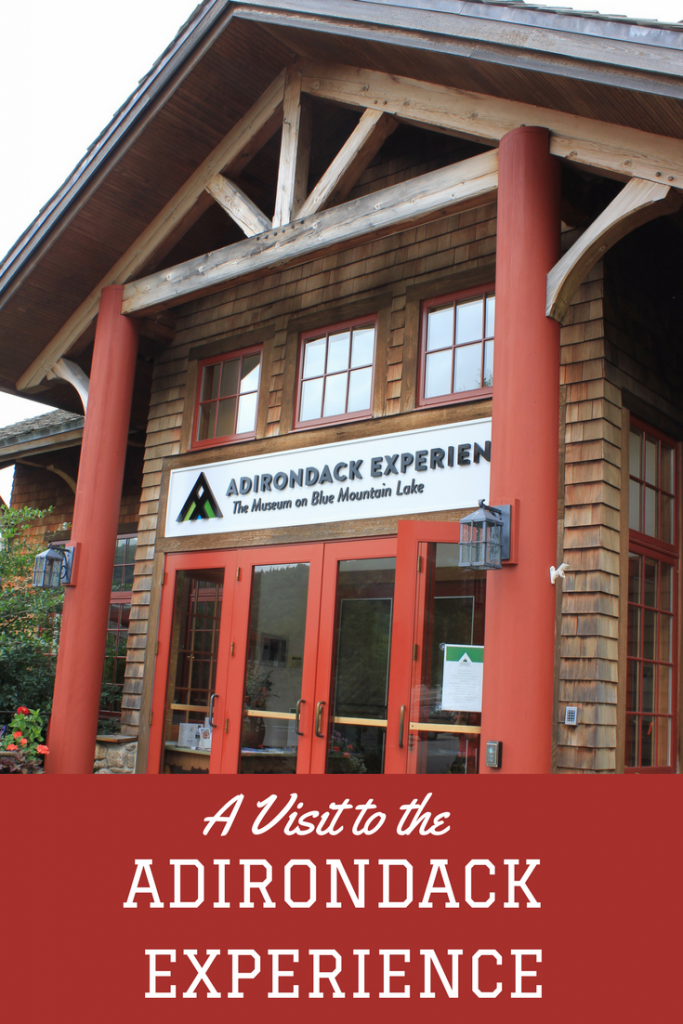 *I received complimentary admission tickets.  However, all opinions are my own.
Recently, our family visited the Adirondack region of New York. Spanning more than 6 million acres, seeing all of the region in one visit is impossible.  When researching our trip, one of the places that I wanted to visit was Adirondack Experience (formerly known as the Adirondack Museum), located in Blue Mountain Lake, NY. Encompassing over 121 acres, it includes  24 galleries and historic buildings with tons of hands-on learning and fun. An "experience" it is!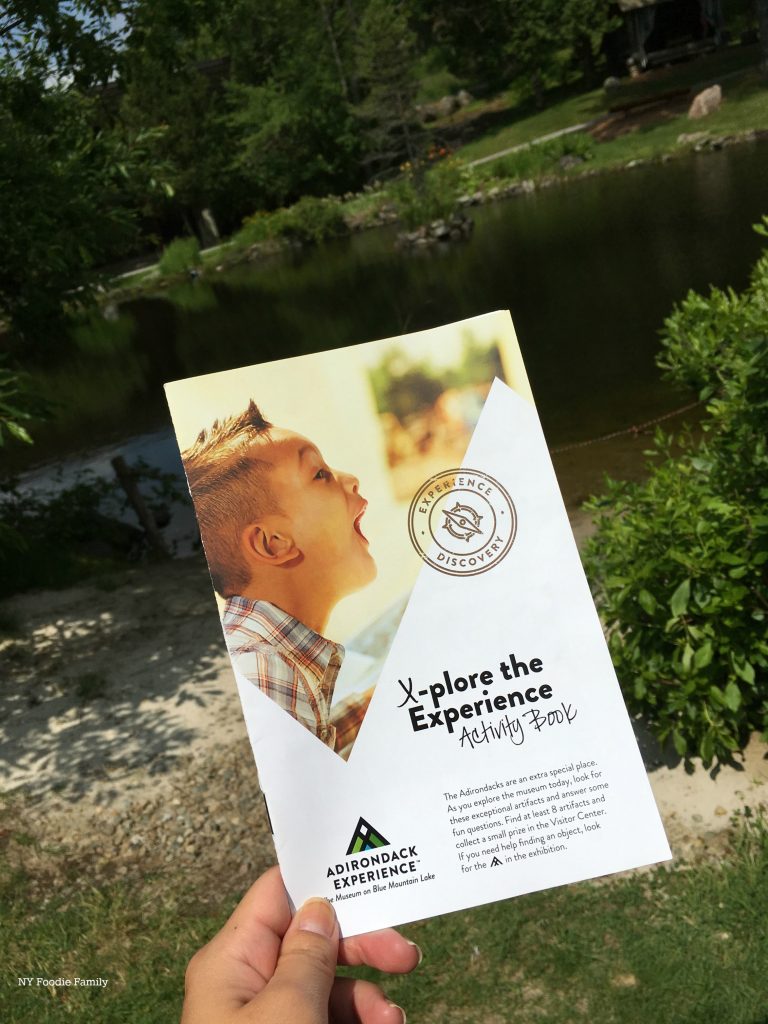 We arrived at Adirondack Experience at the 10 AM opening.  We made sure to take the activity book they offered, since the kids (and I) are big fans of these.  This gave the kids some focus as we wandered around and they were motivated by the small prize they'd receive if they completed it.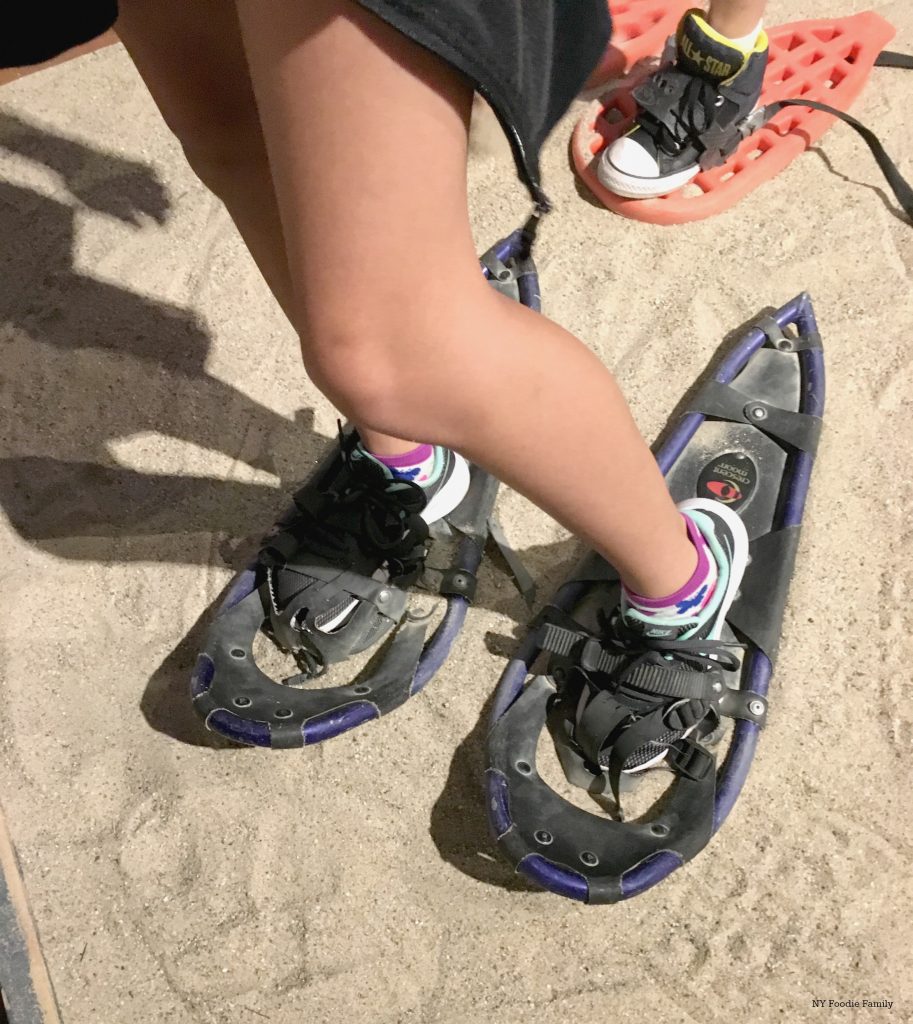 The first building we entered was The Great Outdoors. This is a play and adventure exhibition geared specifically towards children.  Here the kids did some fishing, climbed a rock wall, walked in a pair of snow shoes and so much more.  We spent a lot of time in here as the kids explored.
Next, we visited the Work in the Woods building.  We learned all about logging in the Adirondacks, from past to present.  Outside the building there is a climbable fire tower, relocated here from Whiteface Mountain, New York's fifth tallest peak.  From the top of the tower, you can see great views of the mountains.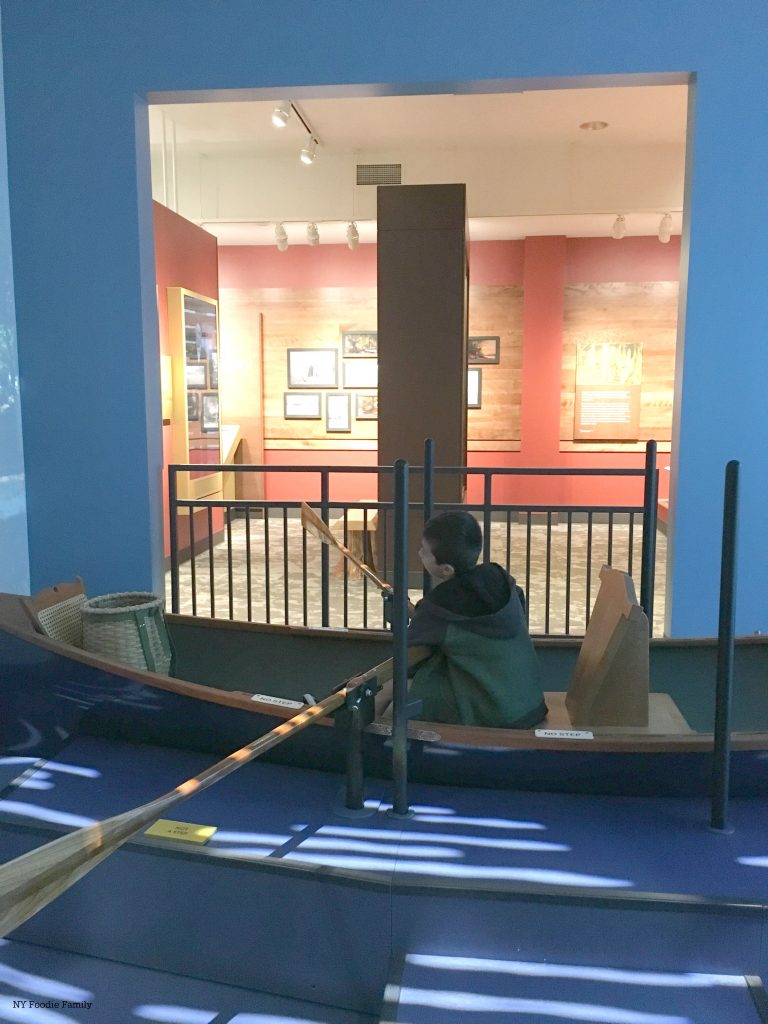 The highlight of the visit was the new "Life in the Adirondacks" exhibition which opened in the beginning of July.   The exhibit includes 19,000 square feet of interactive fun.  When we first entered the exhibit, we saw a short film about the Adirondacks.  There are hundreds of artifacts housed here, including a canoe, stage coach, snow mobiles, a totem pole and many objects used in everyday life.  We walked through the Oriental, a private railroad car, and the kids dressed up in time period clothing, blasted a rock in the mine, cleared a virtual log jam and rowed a guide boat.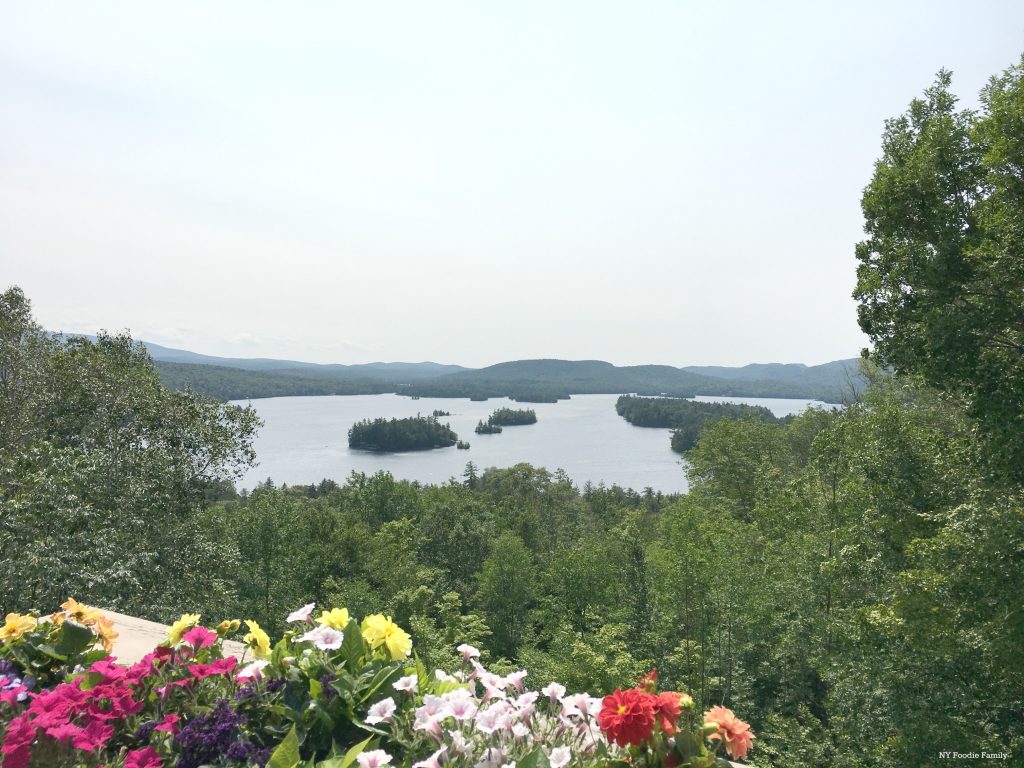 When leaving the "Life in the Adirondacks" exhibition, we made sure to pause and take in the beautiful view of Blue Mountain Lake!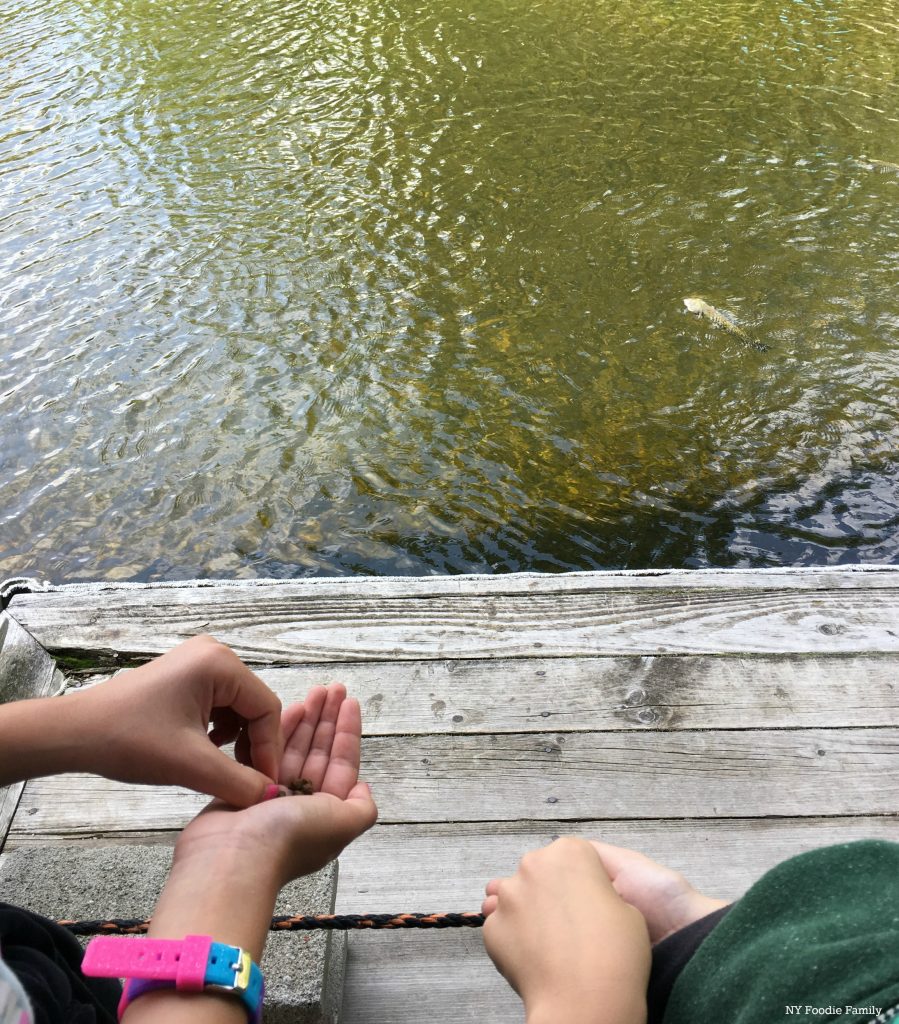 The only scheduled activity on the day of our visit was the trout feeding at 12:30 PM.  The kids really enjoyed throwing the food pellets into the pond and watching the fish pop up and eat them.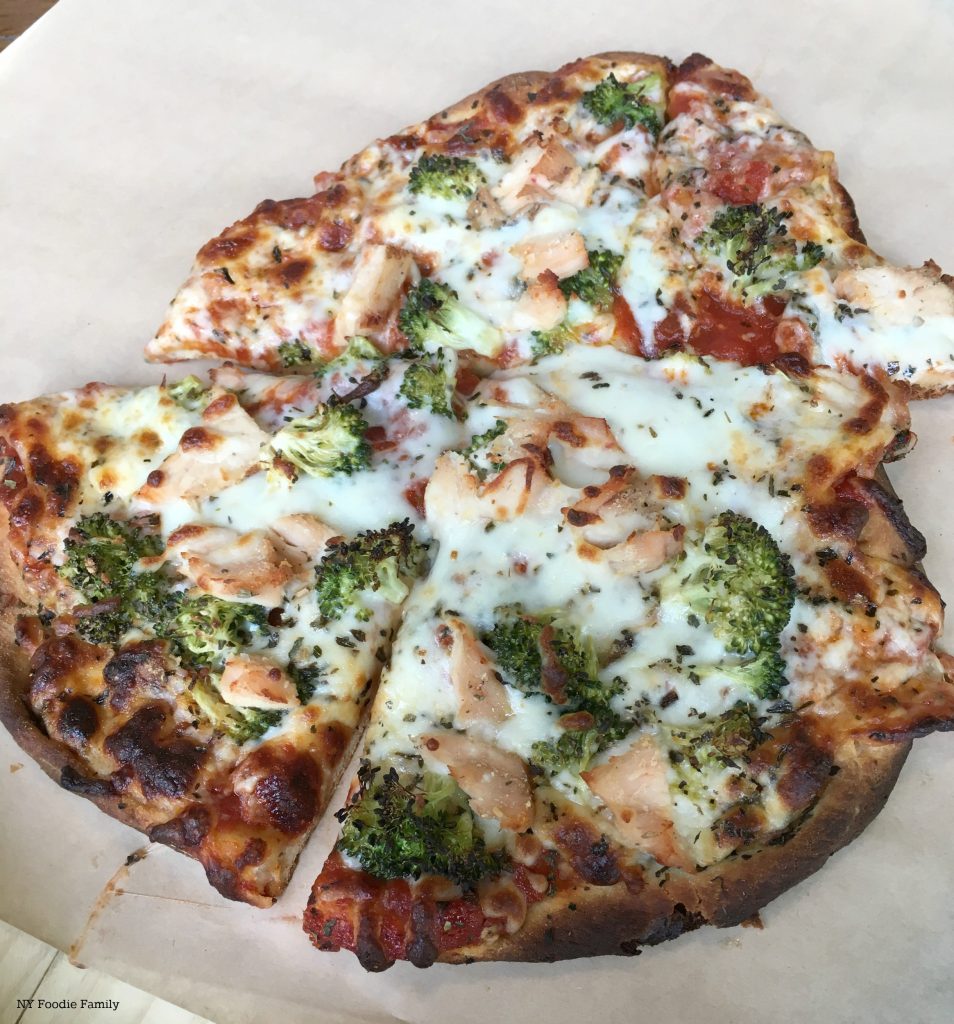 After feeding the trout, we were getting hungry ourselves.  Adirondack Experience has a great eatery right on property, the Lake View Cafe.   David, owner of The Well Dressed Food Company and his culinary team provide a great dining experience.  They have an espresso bar and serve bagels and breakfast sandwiches for those eating earlier in the day.  We arrived at lunchtime and had difficulty choosing from the selection of flatbread pizzas, burgers, salads, sandwiches and more.  My daughter ordered the White Garlic Basil, Chicken and Broccoli Flatbread pizza ($9.95/individual pizza), my son had the Fried Cod Sandwich ($9.95) and I opted for the Gyro Wrap ($9.95).  Portions were generous and everything was delicious.  They have a children's menu for kids 12 and under with choices of a hot dog, chicken nuggets or grilled cheese served with chips and pickle ($6).  They also serve a selection of wine, domestic and imported beer and craft beer and cider.
After lunch we headed to the Reising Schoolhouse and Kids' Cabin.  Here the kids played old-fashioned games, like top spinning, Jacob's ladder and ring toss.  Then they helped with Wash Day, scrubbing pieces of cloth and hanging it to dry.  Afterwards, they played in the cabin kitchen. Before wrapping up our visit, we did a quick walk-through of the Boats & Boating exhibit and the recent art acquisitions in the Lynn H. Boillot Art Gallery.
If you have the time, I highly recommend taking advantage of the second day free admission.  There was plenty more that we didn't see and time-wise I focused on kid-friendly exhibits and activities. There is really not enough time in one day to fully see and do everything that Adirondack Experience has to offer. Unfortunately, we didn't have the time to spend another day visiting and we had to rush through the end of our visit to make sure we got to see everything before our target 4 PM departure.  After six hours of walking around, the kids were pretty tired.  I would have loved to have done the self-guided hike to Minnow Pond if we had more time and energy.  Fortunately, this gives us a reason to go back for another visit!
The Details:

The Adirondack Experience
9097-NY 30
Blue Mountain Lake, NY 12812
(518) 352-7311
Hours: 10 AM – 5 PM, seven days a week (May 26-October 9, 2017) 10 AM – 7:30 PM Mondays in July and August
Parking:  Free, large parking lot
Admission:  $20/adults, $18/seniors, $12/students (with ID and children 6-17), Free/children 5 and under Active Military Personnel are free
*Free second visit with paid admission within a one-week period
Food:  Available for purchase at the Lake View Cafe or you can bring your own food and drinks.