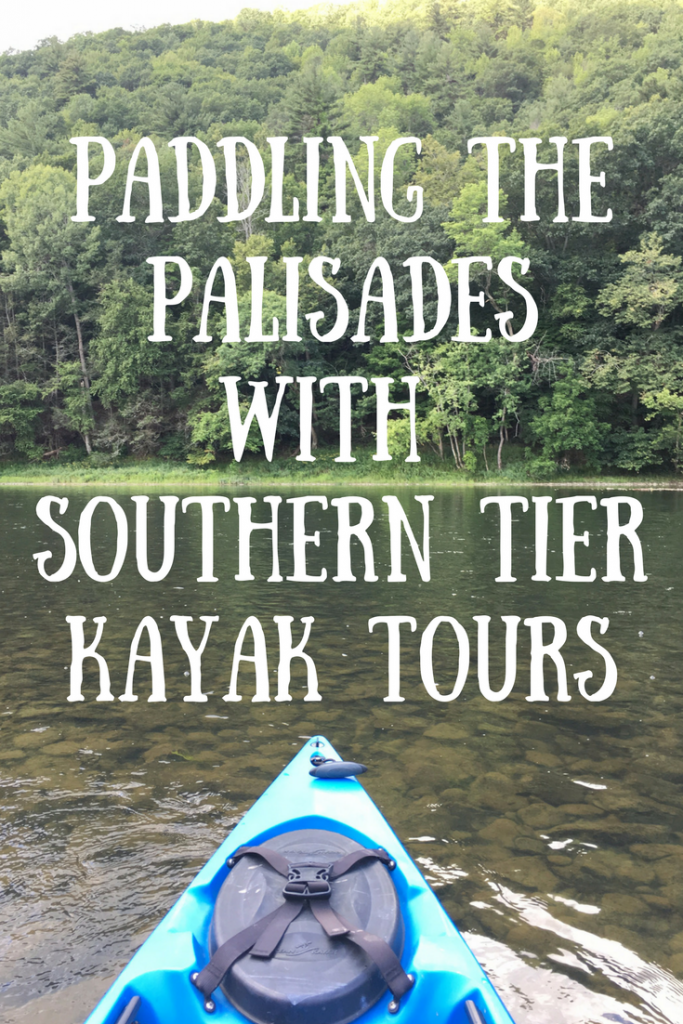 (Thank you Southern Tier Kayak Tours (STKT), Corning and the Southern Finger Lakes and the Chemung County Chamber of Commerce for hosting us!  All opinions are my own.)
My kids have surprised me this summer with their adventurous spirit and have been all about trying new things. Although kayaking isn't new to us (the kids love kayaking around the lake near our friends' house) we had never taken a guided tour before.
On the day of our kayak tour we arrived at the Senator William Smith Launch in Big Flats, NY a little earlier than our expected 9:45 AM meeting time.  I wanted to make sure we had on proper foot attire (i.e. water sandals and old sneakers) and had time to apply suntan lotion.  There were eight of us on this tour, plus our professional guide, Aaron from Southern Tier Kayak Tours (STKT).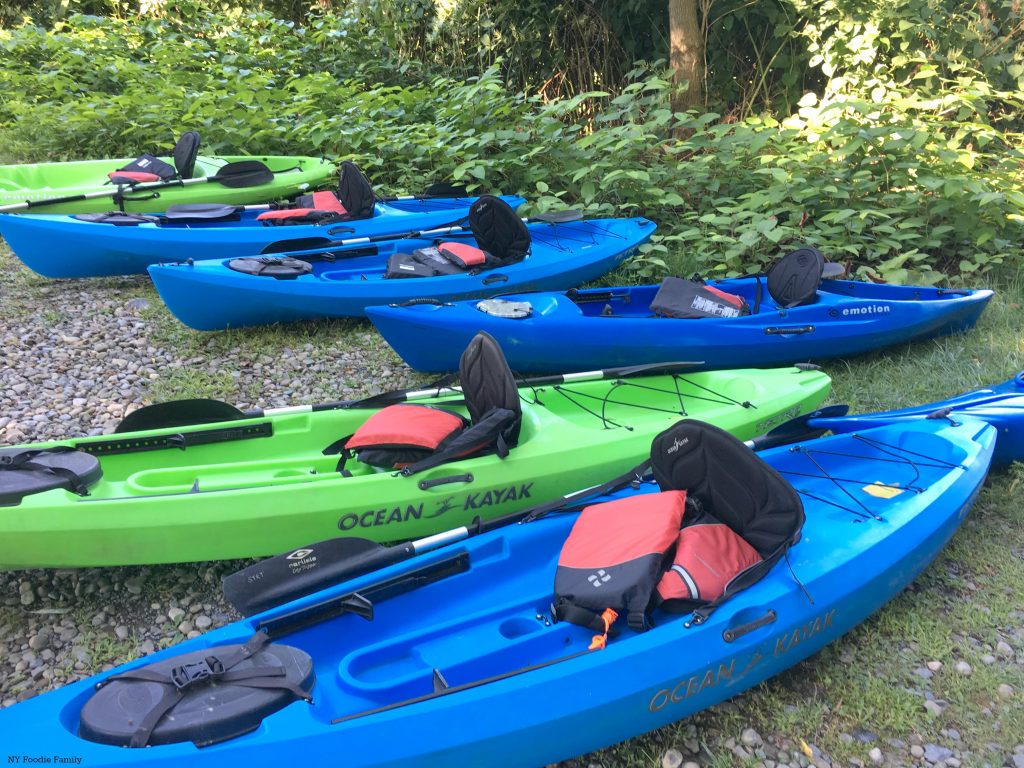 Prior to our kayak trip, we were asked heights and weights so we could be fitted with the appropriate size kayak.  We had the option of getting a tandem kayak so I could paddle with one of the kids, but they both wanted to paddle their own. STKT provides the kayaks, paddles and life jackets.  On this trip we used sit-on-top kayaks, but they also have sit-in kayaks.  Although most of us on the tour had previous kayak experience, Aaron gave us a quick paddling lesson and safety talk.  Like most outdoor and adventure excursions, a waiver must be signed before setting off.  We helped carry the kayaks down to the river and Aaron ensured everyone got into their kayak safely before our tour began.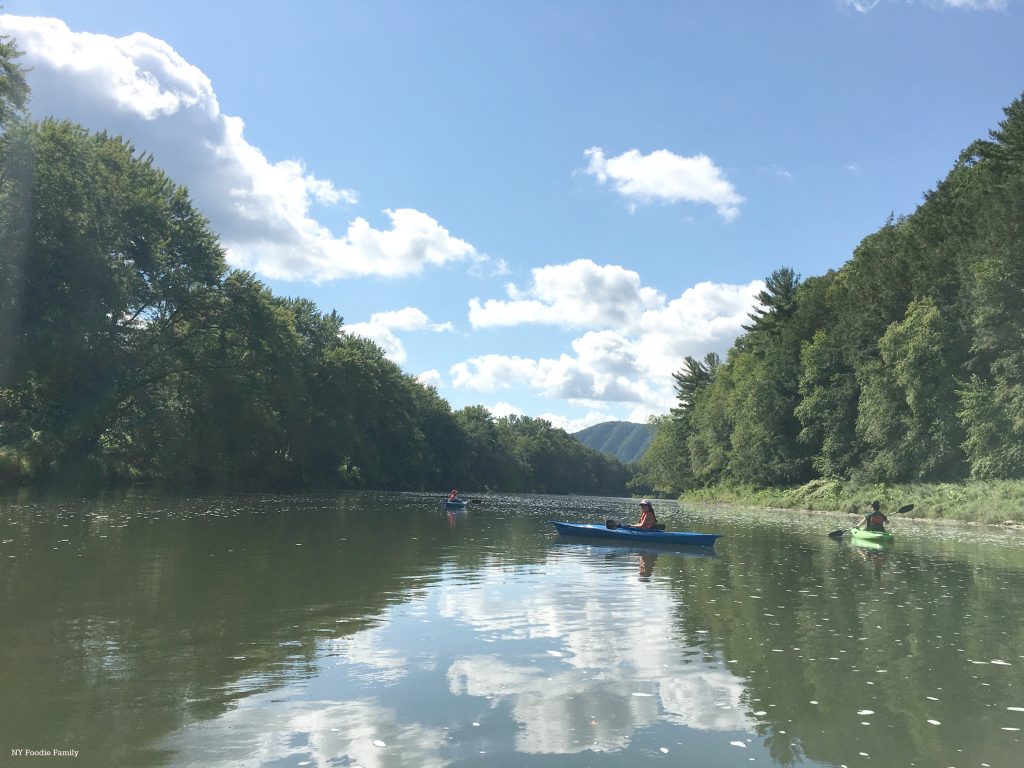 The Chemung River was surprisingly calm and peaceful and our tour provided beautiful views of the palisades.  Aaron was a very knowledgeable guide and pointed out various killdeer, herons, ospreys and eagles.  On our journey we saw several eagles perched in trees and flying above us.  He also pointed out the invasive species of plants that are growing rampant along the river banks.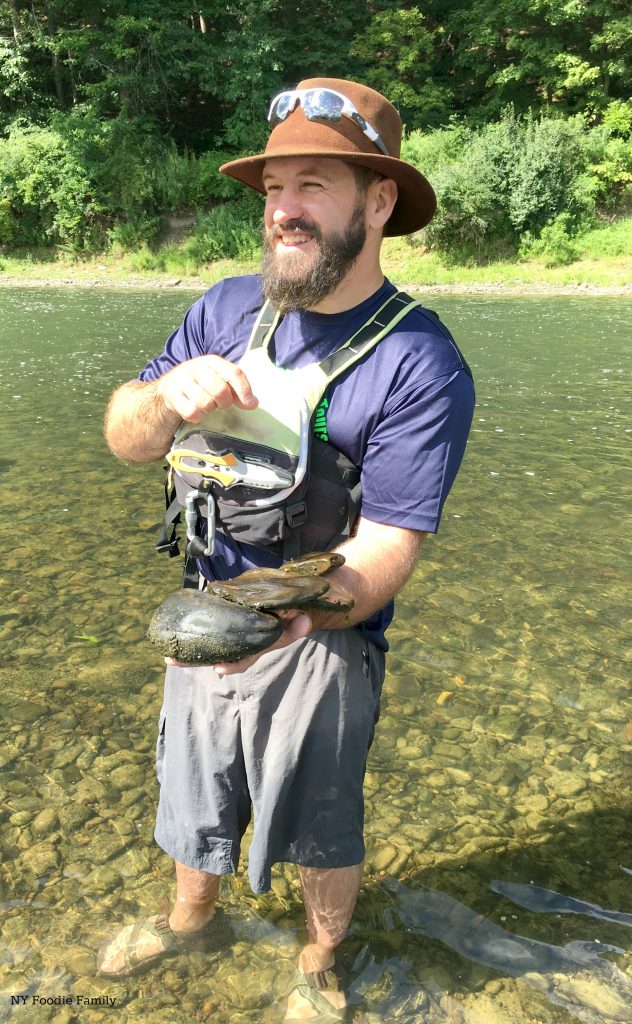 A couple miles into our paddle we stopped at a shallow area and took a stretch.  We spent a few minutes skipping stones (or in my case, attempting to).  Then Aaron showed us how you can tell the health of the river just by examining the wildlife growing under the rocks.  Picking up rocks he pointed out the variety of water pennies and snails that were thriving, indicators that the river is doing well.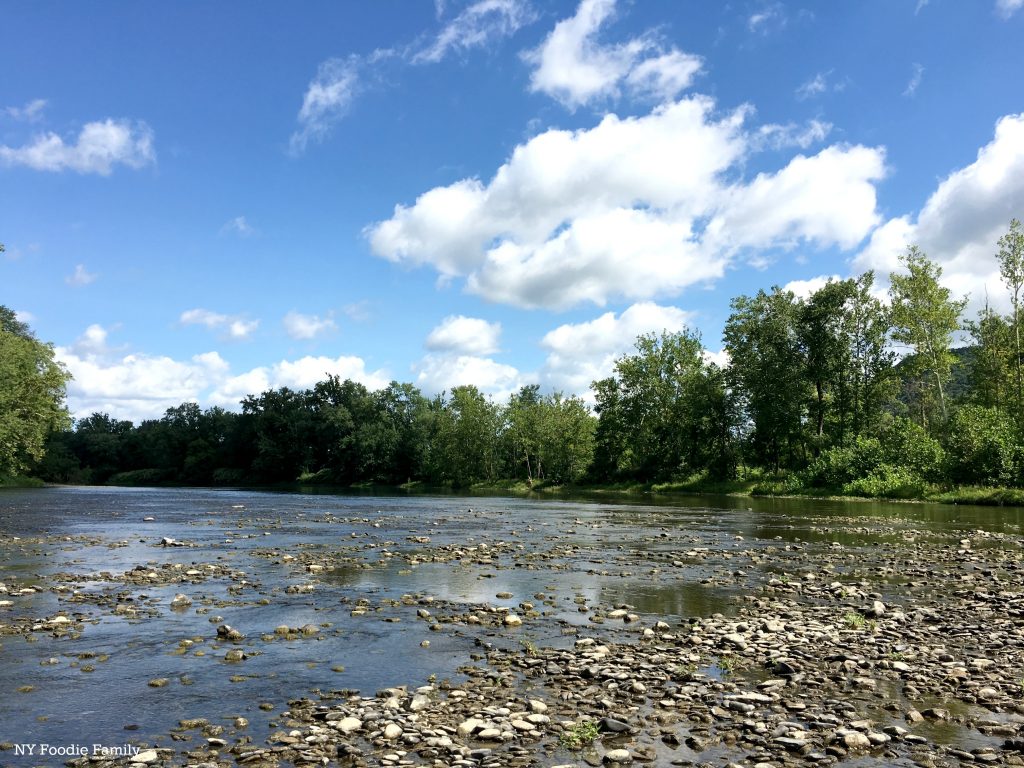 After our little respite, we got back into the kayaks and continued our tour.  As you can see, some parts of the river were very shallow that day.  Paddling the river several times a week, Aaron is very familiar with it and he directed us to paddle towards certain sides of the river to avoid the rocks.  In one part of the river, there was a very small rapid we needed to navigate to continue onward.  Aaron got out of his kayak and stood in the water, ensuring that everyone made it safely through the rapid and was headed in the correct direction.
I have to note that I did not realize how tiring a five mile kayak paddle is!  By the last mile, our arms were tired!  After my son complained about his arms, Aaron took pity on him.  He attached my son's kayak to his and towed him the last mile or so.  Although they make exceptions, these kayak tours are recommended for children 9 and up.  While my son turned 9 over the summer, I see why they have the age recommendation. FYI, this tour is usually six miles, but our tour was shortened by a mile to keep us on schedule for horseback riding (review on its way soon).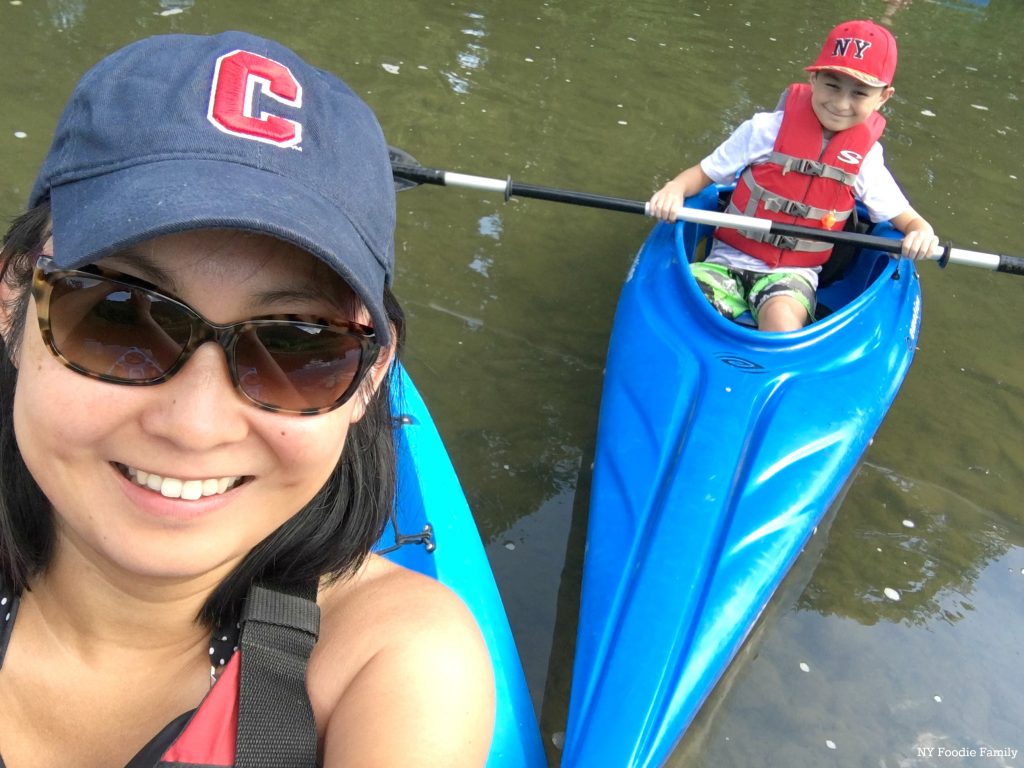 We had a great time kayaking down the Chemung River with STKT.  It is a calm paddle with beautiful, scenic views. Most of our enjoyment can be attributed to Aaron, our amazing guide.  His passion for kayaking is evident through the tour, ensuring everyone is having a fun and enjoyable ride.  If you are in the Southern Tier region, I highly recommend taking a kayak tour with STKT!
The Details:
Southern Tier Kayak Tours (STKT)
P.O. Box 293
Lansing, NY 14882
(607) 220-3642
Tours and Prices:
Paddle the Palisades (6 mile tour down the Chemung River, $55/person)
Chenango Charm (7.5 mile tour down the Chenango River, $55/person)
Sample the Susquehanna (6 mile tour down the Susquehanna River, $50/person)
Tours run April through October.  Check the STKT calendar for exact dates and times of the tours.
Tips:
Wear water shoes or old sneakers.  You will be walking in the water and it's rocky in some areas.
Bring a water bottle.  There is a place to store a water bottle or two.  You will get hot and thirsty, especially on a warm, summer day.
Remember to apply sunscreen and wear a hat and sunglasses.  You are out on the water with no shade.
Bring phones and cameras at your own risk!  I put my cell phone in a Ziploc bag and then stuck it in a waterproof, athletic waist bag belt.
If you had a great trip, tip your tour guide.  Tips are not required, but your tour guide will appreciate it!