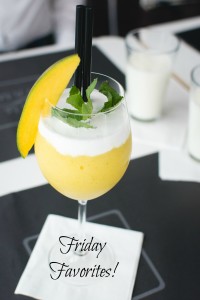 Happy Friday!  This was a crazy week here.  We had some snow earlier in the week causing an early dismissal and a 2 hour-delay, throwing everyone's schedules off.  The kids were busy with activities and now finally, they are off for a week!  We are heading up to Rhode Island for the weekend after our Saturday morning activities and then the kids are spending a few days up there alone with their grandparents.  So, the husband and I are looking forward to a few, quiet, child-free days together.  However, I am not looking forward to the -25 degrees it's supposed to feel like along the East Coast.  Have I mentioned how much I hate the cold?!!!  Here are some of our favorites from this past week:
1. Super Bowl Food – I am not a football fan, so the Super Bowl doesn't interest me.  I do like watching the commercials (though this year, there weren't really any faves) and the half-time show.  My husband ended up making fried ravioli and chili and my son had picked out some chili con queso dip that we had with tortilla chips.  So, yummy eats were had while half-watching an uninteresting game.
2.  Preparing Valentines – The husband and I don't celebrate Valentine's Day.  I hate that there's a holiday to "force" people to profess their love for one another.  Maybe it's my cheapness but I have told my husband he should NEVER buy me roses on Valentine's Day!  I'd like to think that we show our love to each other all year round.  However, I do enjoy seeing the enjoyment that the kids get in celebrating Valentine's Day.  I have tried to not get Pinterest-envy at all those moms out there making creative, homemade Valentines for their kids.  I just hate devoting that time (21 and 23 kids in each class!) to a card that will be thrown out as soon as a child gets home from school.  So, off to Walmart we went, where the kids got to pick out their Valentines and candy of choice for their classmates (Skylanders for my son and kittens and puppies for my daughter, and Tootsie Pops for both).  So, one of my kids' favorites of the week was picking out and writing their Valentines.  Today they will be having celebrations at school and be bringing home lots of Valentines from friends.
3. Favorite bookmarked recipe of the week – These Spicy Fish Taco Bowls with Cilantro Lime Slaw from Pinch of Yum.  I have been enjoying making burrito/taco bowls and these sound so tasty!  These might even make an appearance on next week's menu when the kids don't have crazy Friday afternoon/evening schedules.  It will make a nice change from our usual pizza Fridays and will fit in with no meat Lenten Fridays.
4. Better Call Saul – My husband has been binge watching this show all week.  We watched the first one together, but I wasn't all that into it. He has been a fan of the lead actor Bob Odenkirk since the mid 90's and the HBO comedy sketch series Mr. Show with Bob and David. Better Call Saul is the prequel series of Breaking Bad where the character Saul Goodman made his debut. Saul is a lawyer with pretty low moral standards and worse television spots on late-night TV. It's a pretty serious and complex role but there's always an underlying wink of comedy. He'll surely finish the series this week because he clearly enjoys it.
5.  Yoga Camp – I found Yoga Camp from YouTube channel Yoga with Adriene from another blogger's Friday Faves.  Unfortunately, I don't remember and can't give proper credit.  I've taken yoga classes over the years at different gyms that I've belonged to.  I've been meaning to get back into it and after seeing another blogger's post about this Yoga Camp, it was the perfect motivation to get started.  So far, I have completed five of the 30 days.   I really like Adriene.  She's very down-to-earth and relatable.
ICYMI on the blog this week:
Monday I shared our weekly meal plan.
Tuesday I shared my January reads with the Show Us Your Books link-up.
Wednesday I linked up for the first edition of The Kids Behind the Blog.
Linking up with Tif @ Bright on a Budget, Amanda at Meet @ the Barre and Andrea @ Momfessionals!  Have a great weekend everyone!