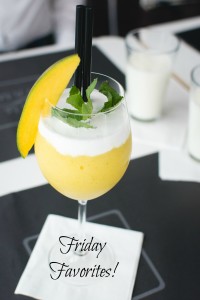 Happy Friday!  I can't believe that we are halfway through May already.  The days seem to be flying by and summer will be here soon!  Luckily, the kids still have over a month of school left, while I try to figure out what we will be doing all summer when they are home with me.  As the school year is winding down, so are the kids' activities.  This weekend is filled with a school fair tonight, soccer and Supper Club tomorrow and then a hopefully relaxing, family fun Sunday.  This week's favorites include:
1.End of year Tae Kwon Do demonstration – Last Friday night the kids had their end of year TKD demonstration.  This included lots of board breaking and showing all the skills that they have learned.  Unfortunately, my daughter did not participate, since she hurt her ankle in gym that afternoon and we didn't want her aggravating her injury and making it worse.  I didn't feel too bad though, since she was wearing her Converse sneakers in gym and I've told her that those aren't good gym day shoes.  I think the lesson was finally learned…..the hard way.
Geocaching – We went geocaching for the first time last weekend.  I will be writing a future post about it, but it was lots of fun and we are addicted!  I definitely see more of this happening over the summer.
3. Indian Food – After our geocaching trip we went out to an Indian restaurant for lunch.  The kids weren't all that into it, but I love me some Indian food.  I especially love the weekend buffet, where I can fill my plate and try everything, versus going for dinner and having to commit to only one dish!
4.  Angry Orchard Summer Honey – I'm not a big drinker, but when I do, my beverage of choice is a hard cider.  I'm happy that the Angry Orchard seasonal cider is back, Summer Honey.  I prefer a sweet cider over a dry one and this is a great summer drink!
5. Series Book Recommendations for Young Readers – Yesterday I posted about this book, Jelly Bean, the first in the Shelter Pet Squad series as well as other series book recommendations that might interest young readers.  With summer coming, my kids will have plenty of time for reading and we are always looking for new books and series to read.
ICYMI on the blog:
Monday  I shared our weekly meal plan.
Tuesday I shared Summer Family Fun:  Movies on a Budget.
Thursday I shared Chapter Book Series Recommendations for Young Readers.
I'm linking up with Tif, Andrea and Amanda.  Have a great weekend!