Happy Friday!   Summer is in full swing and we are enjoying every minute of it.  As you read this, we are currently on our way up to Rhode Island for our annual 4th of July family get-together.  We will hopefully have nice weather and a fun, relaxing couple of days filled with good food and family!  Here are five from this week:
Watching – This past week I watched Office Christmas Party.  It had some funny moments, but overall wasn't worth my time!  I also took the kids to the Regal Summer Movie Express.  We saw the movie Ice Age: Collision Course for $1/ticket!  Neither of the kids had seen it before and they both  enjoyed seeing it on the big screen.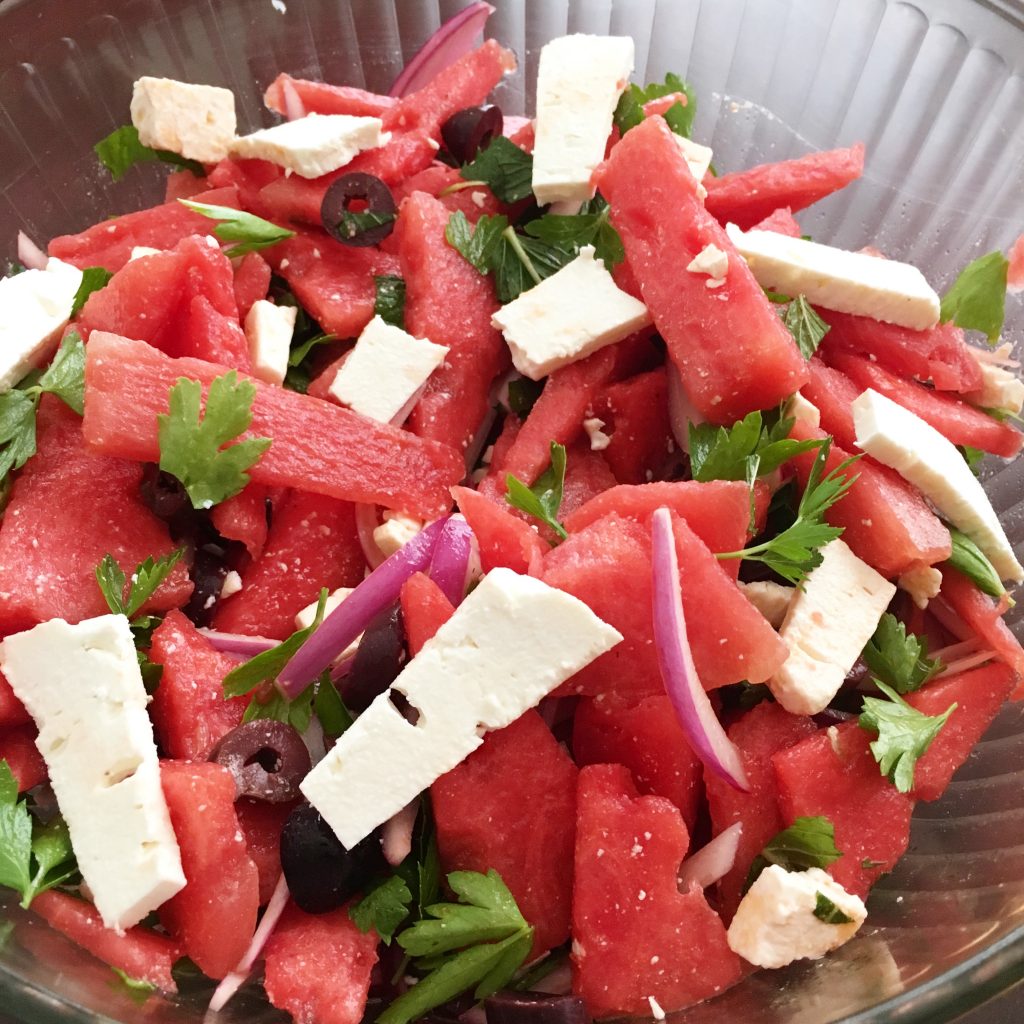 Eating – We had our monthly supper club this past weekend.  This month's theme was Nigella Lawson recipes.  Although I know who she is, I don't think I ever cooked one of her recipes.  I finally decided to prepare her Watermelon, Feta and Black Olive Salad.  I say prepare, since there was no cooking involved!  However, this was such a light, refreshing salad, perfect for summer!
Reading –  I just finished the book The Hope Chest by Viola Shipman.  This was an emotional, but really great read! It's the second book in the "heirloom novel" series.  Although I've packed several books for our Rhode Island vacation, I know I'll get very little actual reading done over these next couple of days!
Farmer's Markets – Summer means farmer's markets are in full swing.  We have so many farmer's markets around us and I'd like to try to visit as many as I can.  Not only do they sell fruits and veggies, but there are lots of prepared food for sale (pies, jelly, pickles, honey, cheese, meat, etc.) as well as coffee, baked goods and hot food.  Last weekend I visited one in Cold Spring and bought the tasty beef empanada pictured above and some New York made cheese.
Baking –  Since writing my 5 Questions with Joel Gamoran, I've really been trying to reduce my food waste.  I bought buttermilk last week for a chicken recipe but had a lot left over.  I picked up some blueberries this week and my daughter and I baked Buttermilk Blueberry Muffins this week.  I apologize, but no pictures were taken of the muffins before we ate them and I stuck the leftovers in the freezer for future breakfasts!
Monday I posted my summer 2017 reading list.

Wednesday I shared Fun Gifts from UncommonGoods.
I hope you have a great weekend!  Linking up with Katie, Andrea and April!