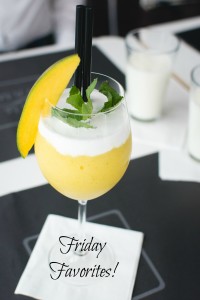 It's officially Fall!  I am excited for all things apple and pumpkin, the leaves changing colors and wearing sweaters and boots!   I've already started sleeping with my down comforter since it has been getting pretty chilly at night.  This week wasn't too exciting.  Our son had his late seven year-old well visit.  Although his birthday is in July, his well visit gets pushed back later and later (darn you health insurance for making us wait a year and a day!  I was late once in scheduling and now pay for it yearly!).  He checked out healthy and the kids got their flu shots.  The kids had no school Wednesday for Yom Kippur.  They relaxed and played, which they don't get a chance to do a lot now that school and activities have started! We are slowly settling into our new, very busy, weekday school  routine. Here are some of this week's favorites: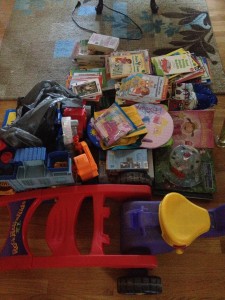 1. Fall Cleaning –  Our town hosts an annual Community Swap.  You can bring any "stuff" you don't want and drop it off so others can take it and you can peruse the tables and take anything that you'd like, all free of charge.  It's a great way to give a good home to all the books, toys and knickknacks that we don't want in our house anymore but are in great condition for someone else to enjoy.  Pictured above is a small pile of the stuff that we are bringing tomorrow to the swap.  It was nice to start our fall cleaning by getting rid of stuff!
2.   Favorite bookmarked recipe of the week:  These Mushroom and Goat Cheese Ravioli have two of my favorite foods right there in the title…..goat cheese and mushrooms.  Unfortunately, these are not something the kids will enjoy eating since they both dislike mushrooms A LOT!
3.   Netflix – How To Get Away With Murder.  I was watching this show online for awhile when it first debuted, but then got caught up in other things and forgot about it.  I had just gotten Season 1 on DVD from the library last weekend when I saw it was finally on Netflix!  I have since binge-watched the last eight episodes of this show this past week.  The season 2 premiere just aired last night.  I'm going to try to keep up with this one online.  I was happy to hear that Viola Davis won the 2015 Emmy for Outstanding Lead Actress in a Drama Series for her role in this show.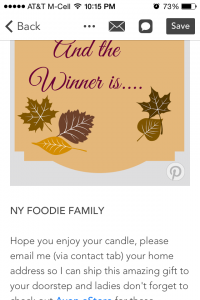 4. Winner, winner! – I found out that I was the winner of an Avon Whipped Pumpkin scented candle from Charmed Crown Blog! I've never tried Avon's candles and a pumpkin scented candle for fall is perfect!
5.   The Slow Cooker – This week I made three slow cooker recipes!  I plan to make a whole lot more, seeing how busy our weekday schedule is looking.  Check out Monday's weekly meal plan posts for the recipes and reviews!  And if you have any slow cooker recipe recommendations, please send them my way!
ICYMI – Posts from this past week:
Weekly Meal Plan
Hoisin Burgers with Peanut Slaw
Road Food Down South
All the Podcasts
Linking up with Tif @ Bright on a Budget, Amanda from Meet @ The Barre and Andrea @ Momfessionals!  Have a great weekend!