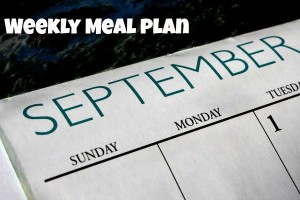 School has started and we are in "go" mode!  Expect to be seeing lots of slow cooker meals and quick and easy dinners! Here's a peek at last week's menu.
Saturday:  The Weekend Chef made London broil, mashed potatoes and swiss chard.
Sunday: We went out to Savannah's Southern Restaurant for my birthday dinner.  The Weekend Chef and I shared the above Shrimp with Parmesan Grits and Chicken Cutlet with Collard Greens and Dijon Cream Sauce with Red Beans and Rice.
Monday: I made Hoisin Burgers with Peanut Slaw. My daughter helped me prepare these.  They were easy and tasty.  The peanut slaw was really good and added a nice crunch to the burgers.  I served these with some fries.
Tuesday: I made Crock Pot Lemon Pepper Chicken Thighs and served them with some roasted broccoli and roasted potatoes.  I was surprised at how flavorful these were.  The lemon flavor really came through.  The broiling at the end gave the skin a nice crunch.  While I don't really enjoy eating chicken off the bone, since it was cooked in the slow cooker, the meat literally fell off the bone.  I can see this being a repeat dinner.
Wednesday: I made Cheese Ravioli with Lemon Basil Butter Sauce and served it with a Caesar salad.  This was a super quick and easy dish to make!  Plus, I got to use some of my home-grown basil.  This is another dish worth repeating.  Especially on super busy weeknights.
Thursday:  I made these Copycat California A.M. Crunchwraps.  My kids have never seen or eaten the Taco Bell crunchwrap.  However, they LOVED these AM Crunchwraps!  (Although breakfast for dinner is always a winner with them.)  As soon as the Weekend Chef saw dinner, he recognized the famous crunchwrap and was in awe that I was able to make the folds.  (It was super easy by the way!)
Friday: I made Potato Kielbasa Skillet.  I adapted the original recipe, which required more cooking time.  I didn't mind though, since it was a rare Friday evening where I had the time to cook and didn't have to rush the kids off someplace.   This was a hearty and tasty meal that we all enjoyed!