Happy Monday!  Summer has sadly come to an end and we are done traveling for the time being.  This means that the weekly meal plan posts will return to the blog.  If you are looking for some dinner time inspiration, my weekly meal plan is the place for you. Each week I showcase what was on my previous week's meal plan, with pictures, recipe links and my family's review of each dish.  There are so many food blogs, cookbooks and recipes out there and I am always on the lookout for new family-friendly recipes to try.  If you are new to meal planning, read more about how I make my weekly meal plan. Here is a look at what was on our menu this past week:
Saturday: We were in Rhode Island for Labor Day weekend.  My parents cooked steak, chicken, baked potatoes and sauteed veggies for dinner.  It was delicious, but sadly no pictures were taken.
Sunday: We were in Rhode Island last weekend and made a stop at Foxwoods before we came home.  My kids love the Wizard of Oz game at the arcade there and requested we stop so they could play.  While we were there we decided to eat dinner at California Pizza Kitchen.  Between the three of us we shared a Chicken Cobb Salad as well as a Spinach Artichoke Thin Crust Pizza and this Thai Chicken Pizza.  This is our favorite pizza there!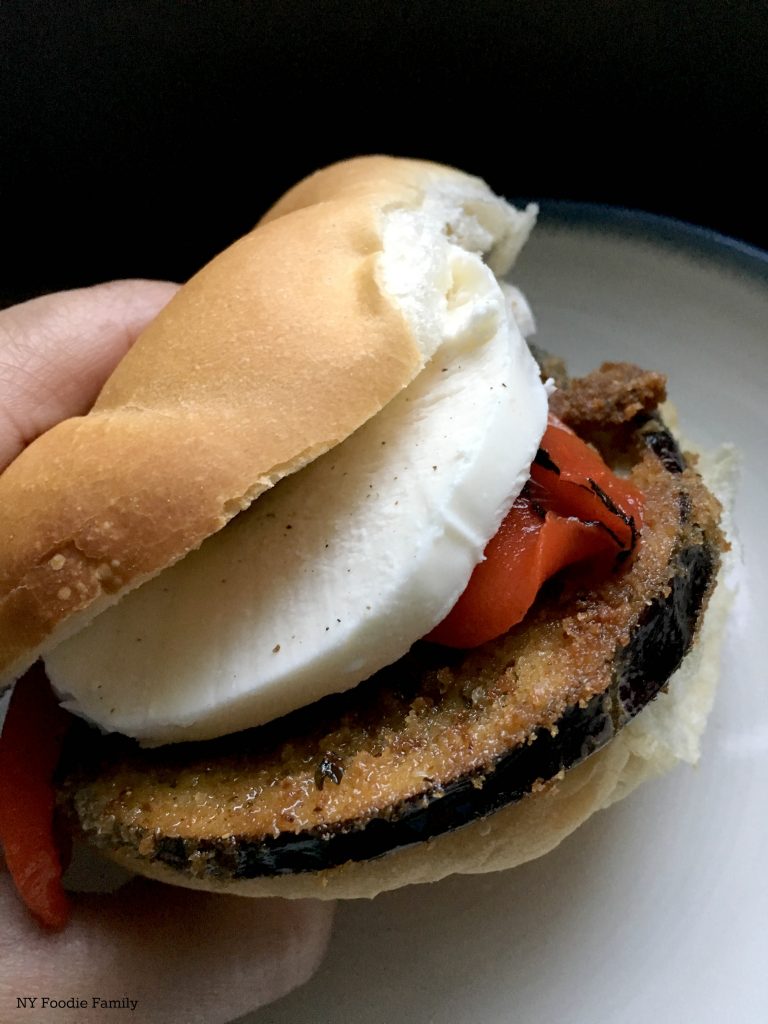 Monday: My husband made breaded eggplant sandwiches with fresh mozzarella and roasted peppers.  No recipe but really tasty! Even though the kids normally don't like eggplant, they will eat it when it's breaded and fried.  There was enough for some leftover sandwiches for lunch as well.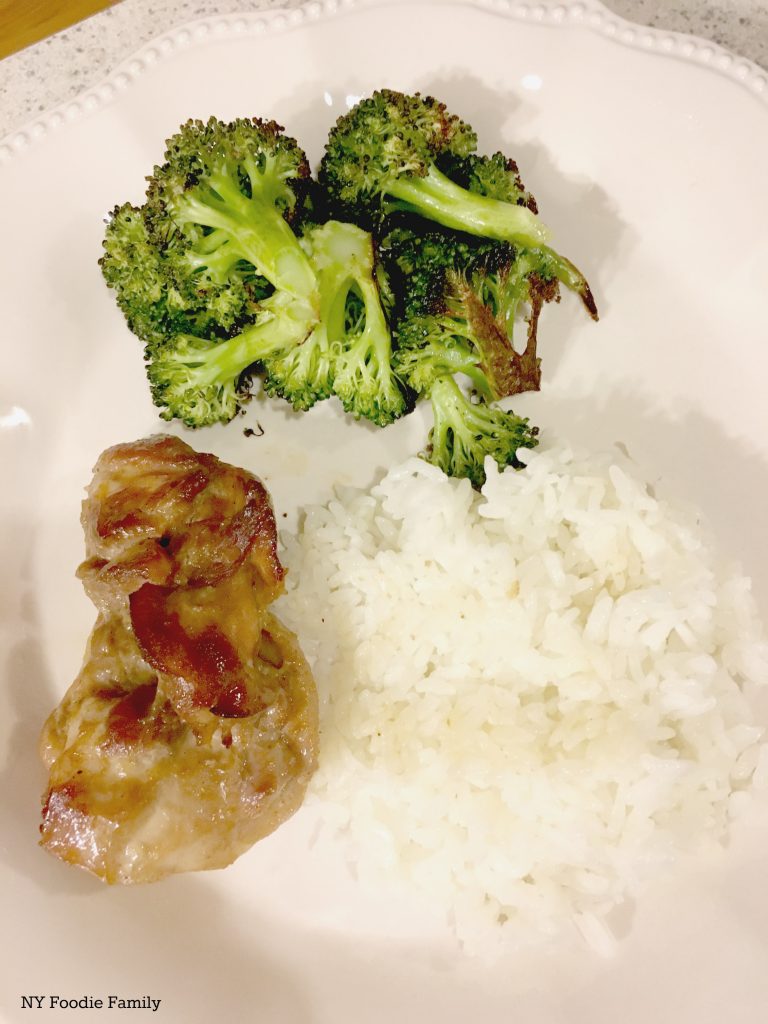 Tuesday: I made Honey Soy Chicken from Table for Two.  I made the honey soy sauce early in the morning and marinated the chicken in it all day.  Otherwise, I made the recipe as directed.  The chicken was very flavorful, I think from marinating all day.  I thought the leftover liquid in the pan was pretty greasy so I did not pour it over the cooked chicken, as directed.  I served the chicken with rice and roasted broccoli. The chicken bakes for 40 minutes, but otherwise is super easy to prepare.  To cut down on cooking time, next time I think I'll cut the chicken up into bite size pieces and cook it in a pan on the stove.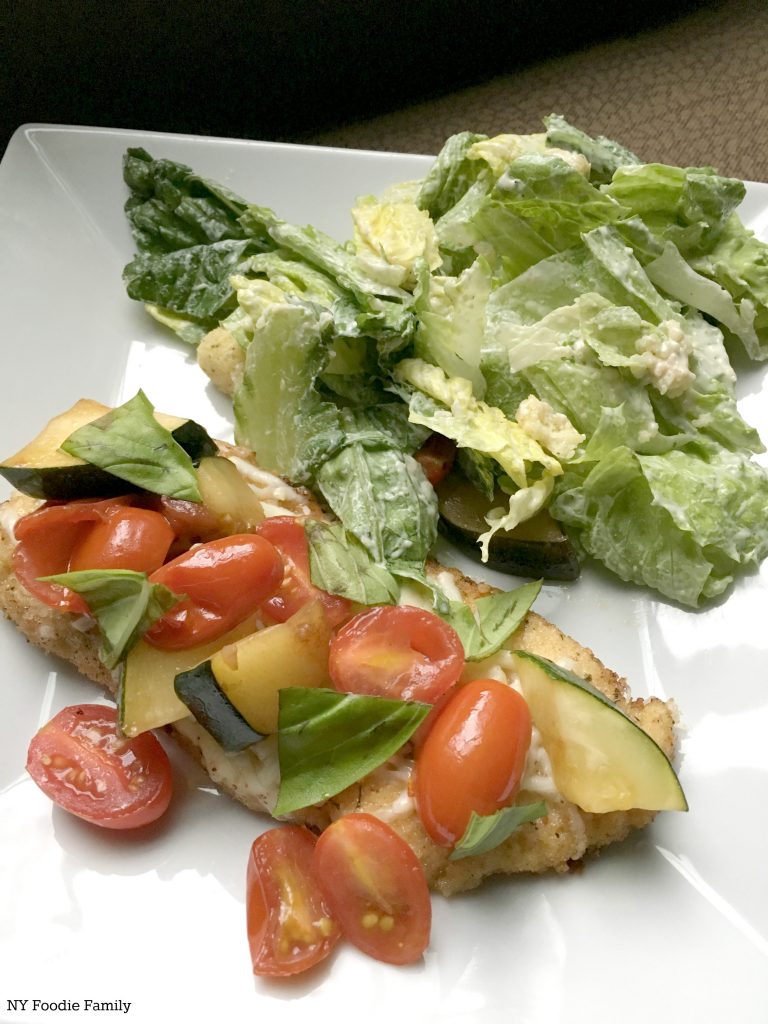 Wednesday: I made Summer Chicken Parmesan from Cooking Light, July 2017.  Instead of baking the cutlets, I fried them.  I also added a dash of balsamic to the zucchini and tomato mixture.  Chicken cutlets are always a hit in our house and we all enjoyed these.  The kids even ate all the veggies.  I cooked up some extra cutlets which we ate for lunch during the week.  I served this with a Caesar salad and some garlic toast.
Thursday: I made Sausage and Peppers Pasta Supper from Epicurious.  This was a fairly quick and easy dinner.  Instead of cutting the sausage into 1-inch pieces, I removed it from the casing and crumbled and browned it.  I apologize for the lack of a picture.  Imagine a plate of penne pasta with sauteed peppers, onions and sausage crumbles, sprinkled with some shredded Parmesan cheese.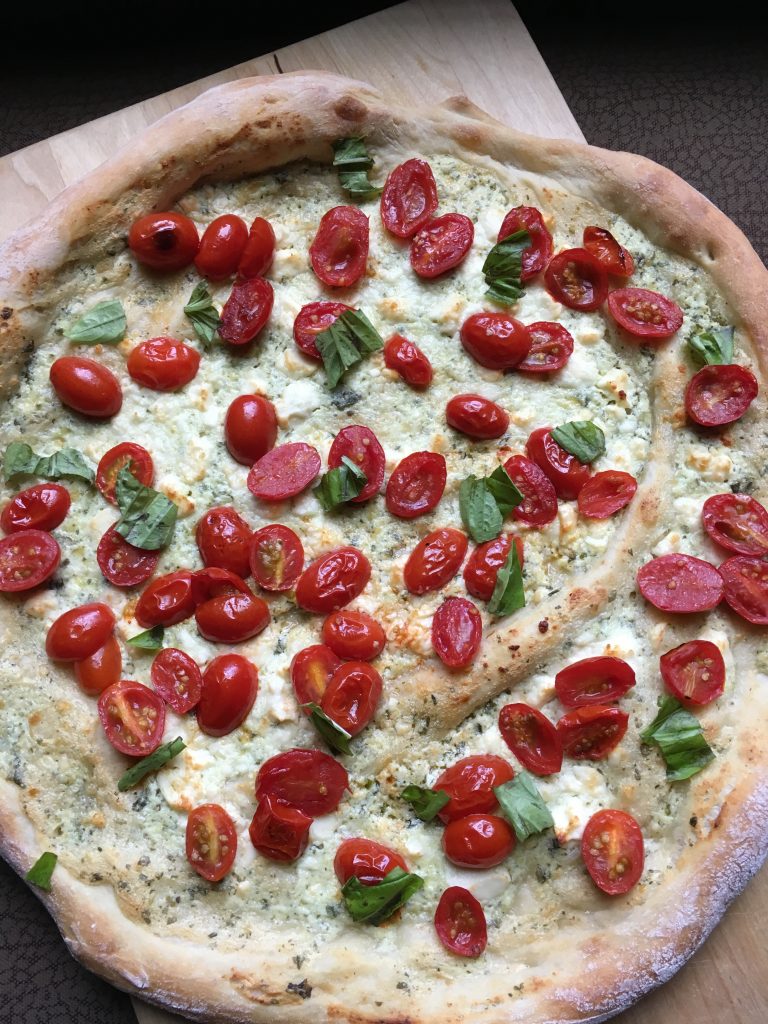 Friday: I made Tomato-Ricotta Pizza from Cooking Light, May 2017.  This was a tasty vegetarian pizza and a change from the normal cheese pizza that we usually make.  My husband made a cheese pizza for the kids, since they don't like ricotta cheese.  But they both voluntarily ate a small slice of this one.
What is on your dinner menu this week?