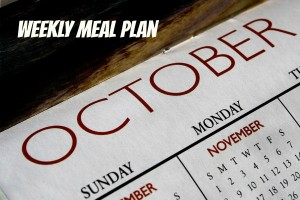 Here is a look at what was on our menu last week.  You can read all about how we meal plan and hopefully get some inspiration and cooking ideas from these weekly posts!
Saturday – My sister and her family were visiting and we ordered Chinese takeout.
Sunday – We went to my parent's house for dinner and had Spaghetti with Meatballs and Sausage.
Monday – The Weekend Chef was off from work for Columbus Day and made a Slow Cooker Whole Roasted Chicken which he served with homemade French Onion Soup and Buttered Egg Noodles.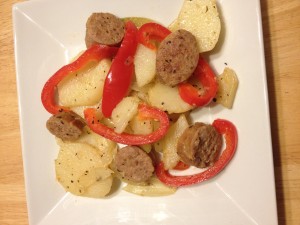 Tuesday – I made Creamer Potatoes with Sausage and Peppers from The Cookie Writer.  Except, I didn't use creamer potatoes.  I used Eastern potatoes that I had in a bag in my pantry.  This dish wasn't difficult to make but it took awhile to cook everything.  Overall, we found it just okay.  I wouldn't bother remaking this one.
Wednesday – I made Slow Cooker Cola Barbecue Beef from Melanie Makes.  We don't eat a lot of beef and this was my first time cooking with a chuck roast.  Even with me adding the ketchup to the slow cooker and not making the recommended sauce, this came out really great!  The meat was really tender and flavorful.  I served this with mashed potatoes and veggies.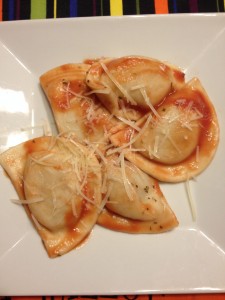 Thursday – I was going to make Pierogis a la Sobieski Voda from Living the Gourmet.  However, I realized that I didn't have the cream for the vodka sauce.  I was tired and lazy, so I threw a can of tomato sauce with some Penzeys Pasta Sprinkle over Mrs. T's Mozzarella, Tomato and Basil Pierogies and voila, dinner was served.  I had never thought of pairing a tomato based sauce with pierogies before, but I think the flavored pierogies worked really well with the tomato sauce.  My son, who's not a huge pierogi fan even enjoyed these!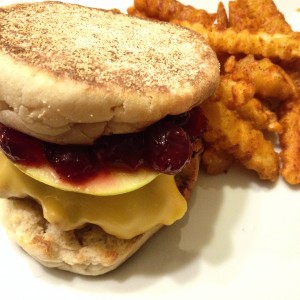 Friday – I made Apple Cheddar Turkey Burgers from Rachael Ray Magazine, August 25, 2008.  This is a recipe repeat, meaning that I've already previously made these before.  It was several years ago, but regardless, they are good and worth repeating.  I served these with fries.
What was cooking in your kitchen this week?