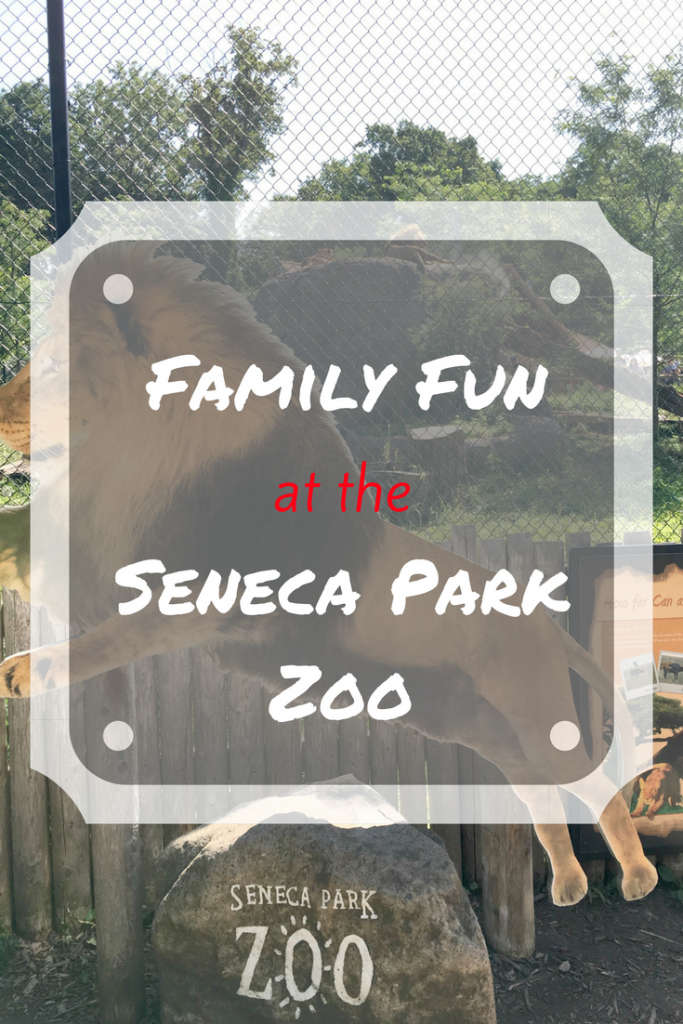 (Thank you Seneca Park Zoo and Visit Rochester for hosting us.)
The kids and I visited the Seneca Park Zoo this past summer.  Located in Rochester along the Genesee River, this 15.5 acre zoo is home to over 90 species.  If you are expecting a gigantic zoo, this is not it.  Despite its small size, it offers plenty to see and do for several hours of enjoyment.
We visited on a Sunday and arrived at the 10 AM opening.  While at the admission booth, we learned it was "Funday" and we each received a ticket for a free small popcorn.  This was a tasty surprise!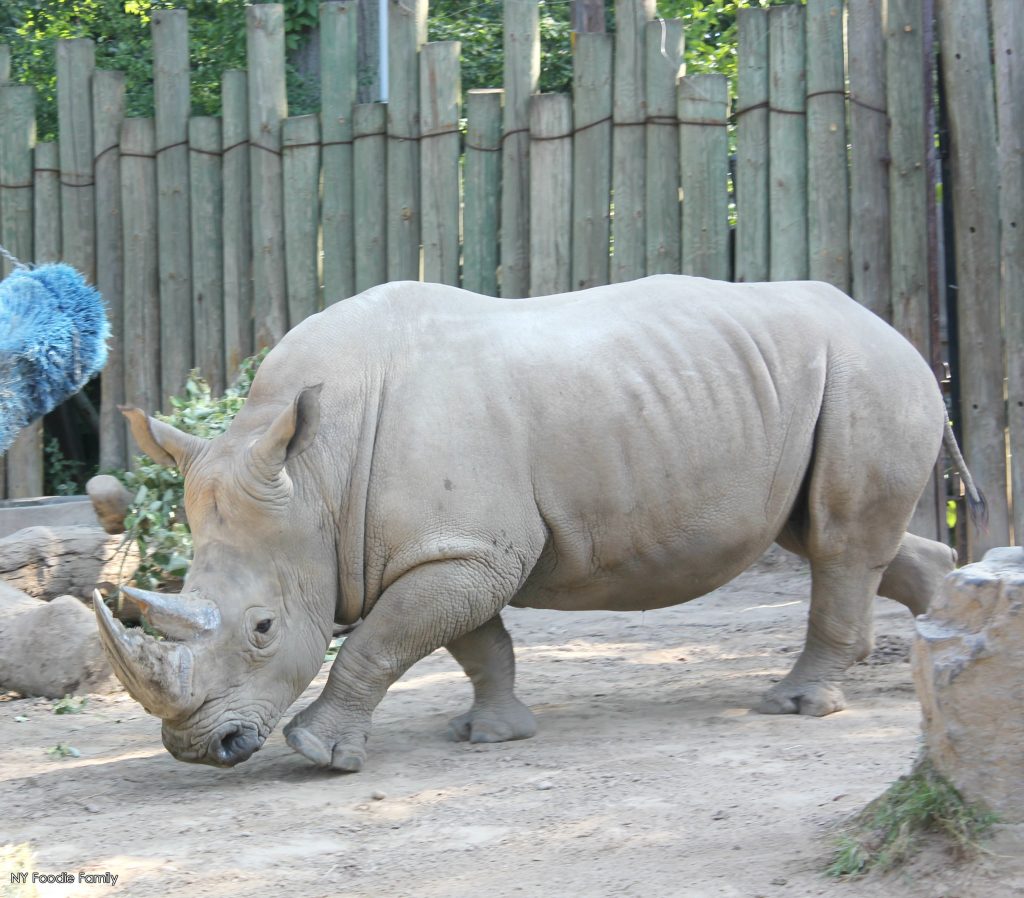 The zoo's layout is a straight path.  As you walk from the admission booth, the first building you see is the main building.  This is where you will find animals like the orangutans, lemurs,and white rhino. During our visit we were able to see a snake in the midst of shedding its skin, something we had never witnessed before.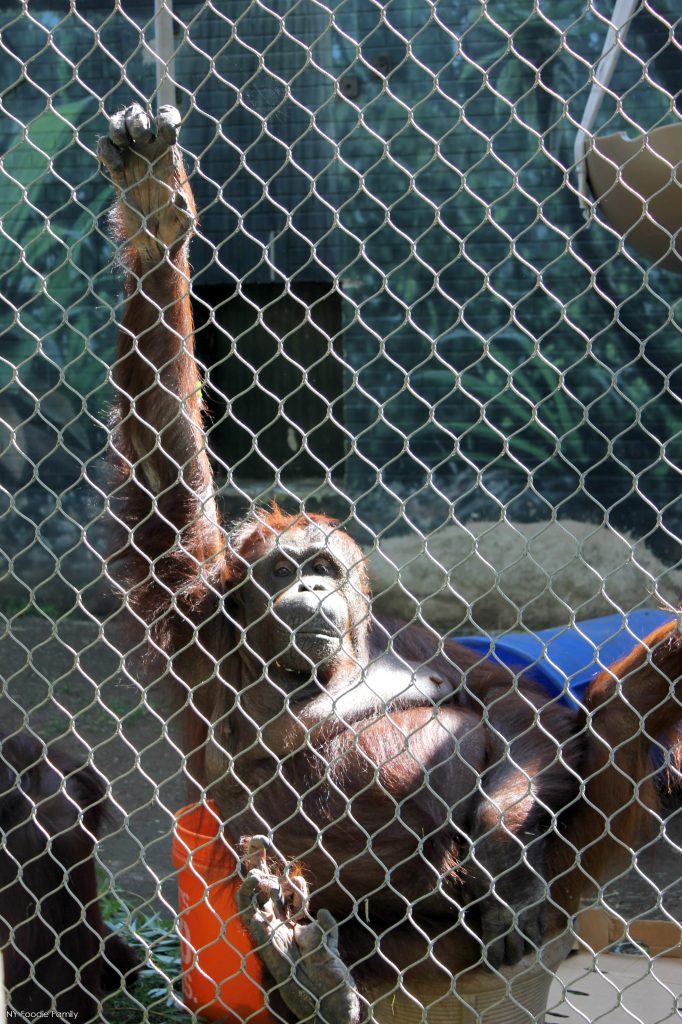 While visiting this area we attended the orangutan experience.  We got to see four-year-old Bella playing around outside while her mom Kumang, pictured here, sat and watched.  I might have a love of orangutans and could have stood here all day and watched these two.  Denda, the dad, was inside the main building.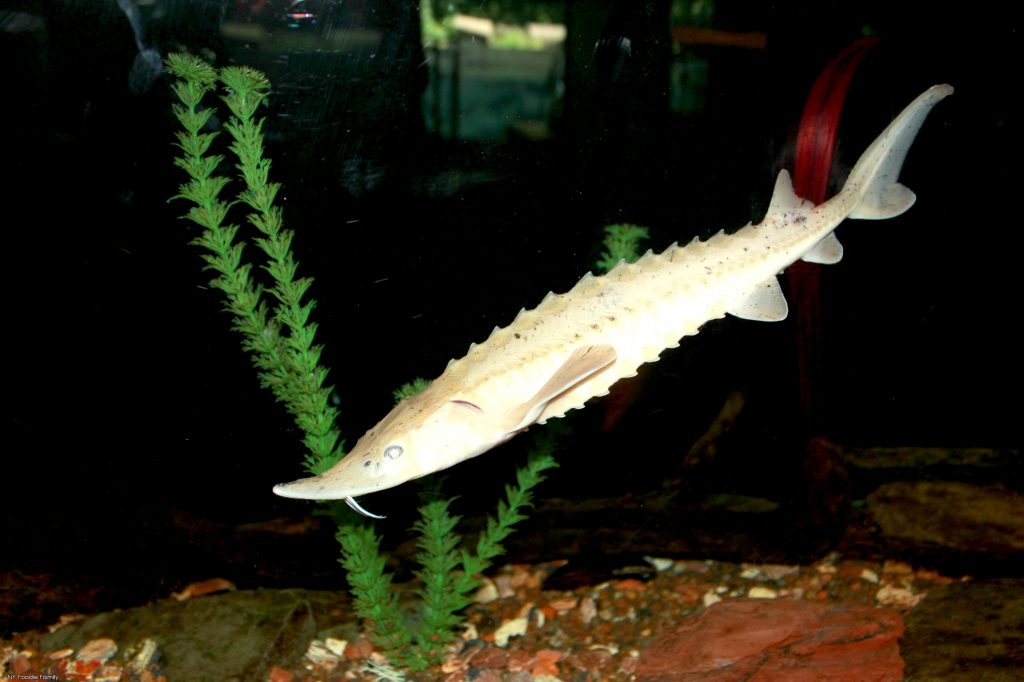 After leaving the main building, you can walk the Genesee Trail, which leads to the Eco Center.  The fish, reptiles, amphibians and otters live here.
From the Eco Center, you will next visit the Rocky Coasts.  As you walk, you will pass several animals including the Spotted Hyena, Gray Wolves, and Amur Tigers.  The Rocky Coasts area houses the Sea Lions and the Polar Bear habitat.  Sadly, Aurora, the zoo's only polar bear, didn't make an appearance while we were visiting.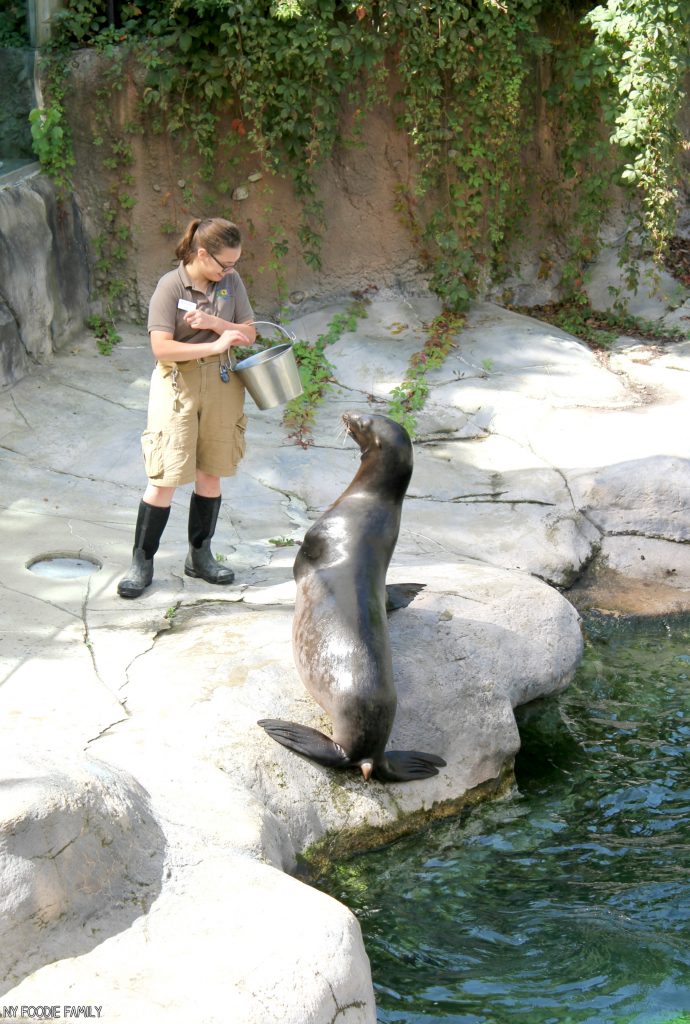 Personally, I don't think a visit to the zoo is complete without watching the sea lion feeding. For the best view, I recommend standing along the railing above the rocks.  We got to see 8-year-old Sea Lion, Lily, being fed and given her daily check-up from the zoo keeper.  Lily's two-month old baby, Bob, sat on a rock sleeping in the sun for the duration of her feeding.  Bob was born in June 2017 and named via an online poll.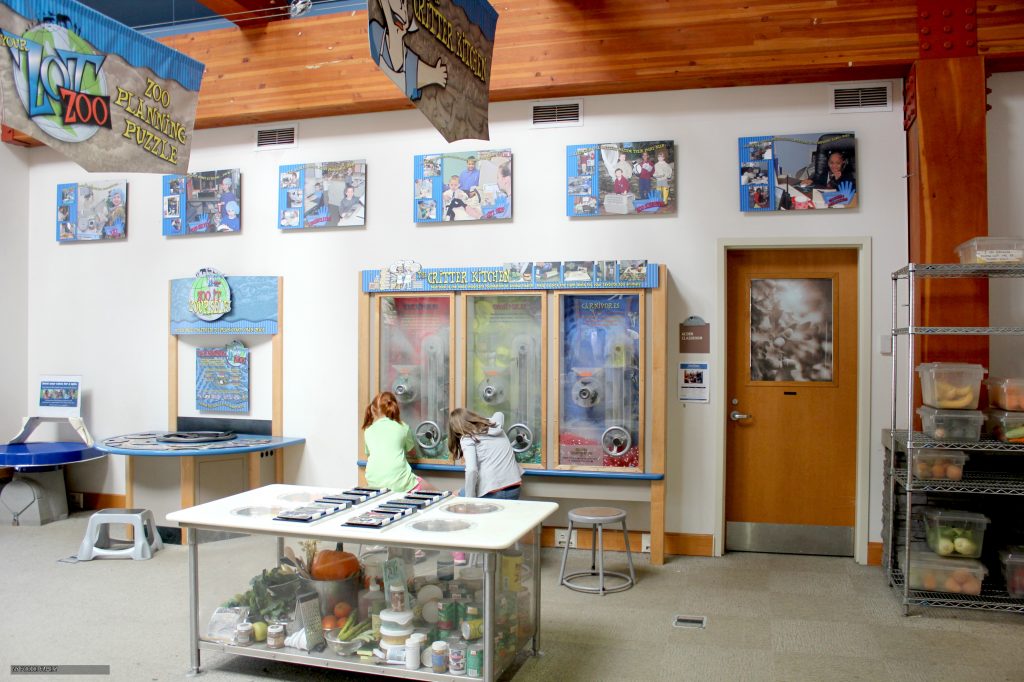 In the Center for Biodiversity Exploration you will find the  Z.O.T. (Zoologists of Tomorrow) Zone.  This is a hands-on display with different areas of zoo exploration for kids to engage with including zoo planning puzzles and Critter Kitchen (choosing the correct diets for different animals).
The "A Step Into Africa" exhibit is at the far end of the zoo.  This is where the baboons and the zoo's four female elephants are housed. During our visit, we were able to see one of the elephants being scrubbed clean.  It was funny to see her being fed treats of whole ears of corn, heads of cauliflower, zucchini and peppers while she was bathed.  The elephants know over 50 verbal commands, which was impressive to see in action.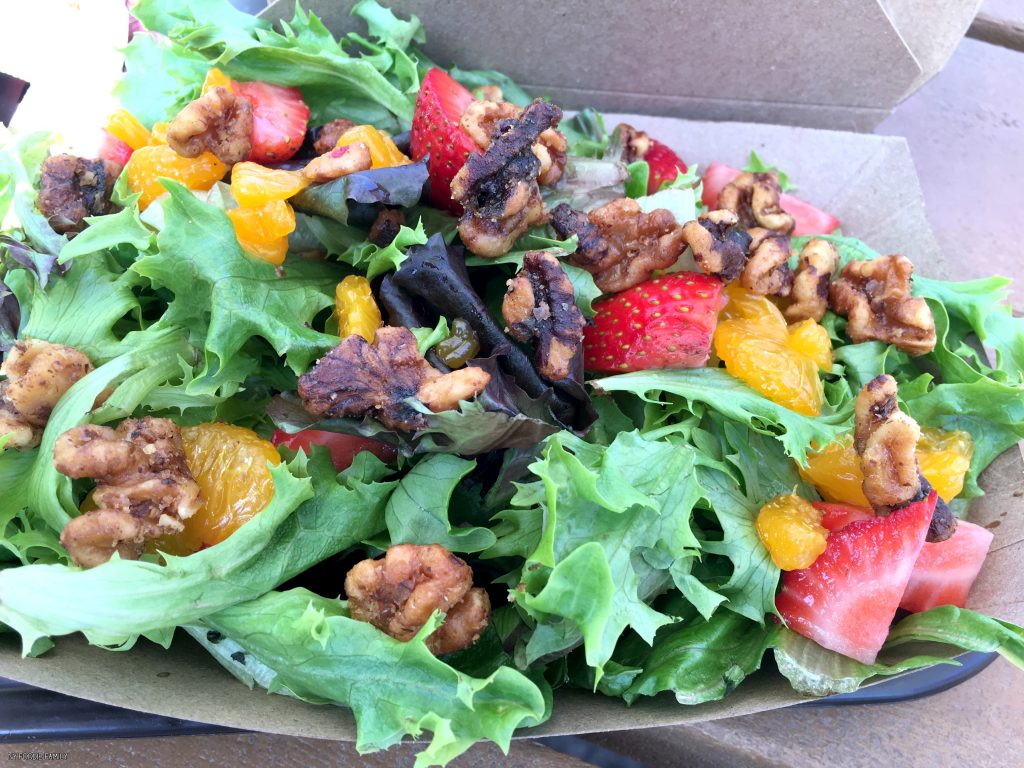 We ended our visit eating lunch at the Crater Canteen.  I was impressed by the food selections available as well as the reasonable prices.  The three of us shared a Strawberry Fields salad ($8.50) and a Canteen Panini (smoked turkey with pesto, fresh Roma tomatoes, and fresh mozzarella on sourdough bread for $8.50).  For those not as adventurous, they have burgers, hot dogs and chicken tenders as well as "Little Cubs" kids meals.  In the Crater Canteen area, there are several umbrella-covered tables for eating.
For me, one of the key features of the zoo isn't the animals.  It was the docents standing at several of the exhibits.  These volunteers are there to answer any questions and inform visitors about the animals that they are viewing.  There is also a ZooTeens program where students in grades 8-12 act as zoo ambassadors.  During the summer, the teens make presentations and engage guests in interactive learning activities.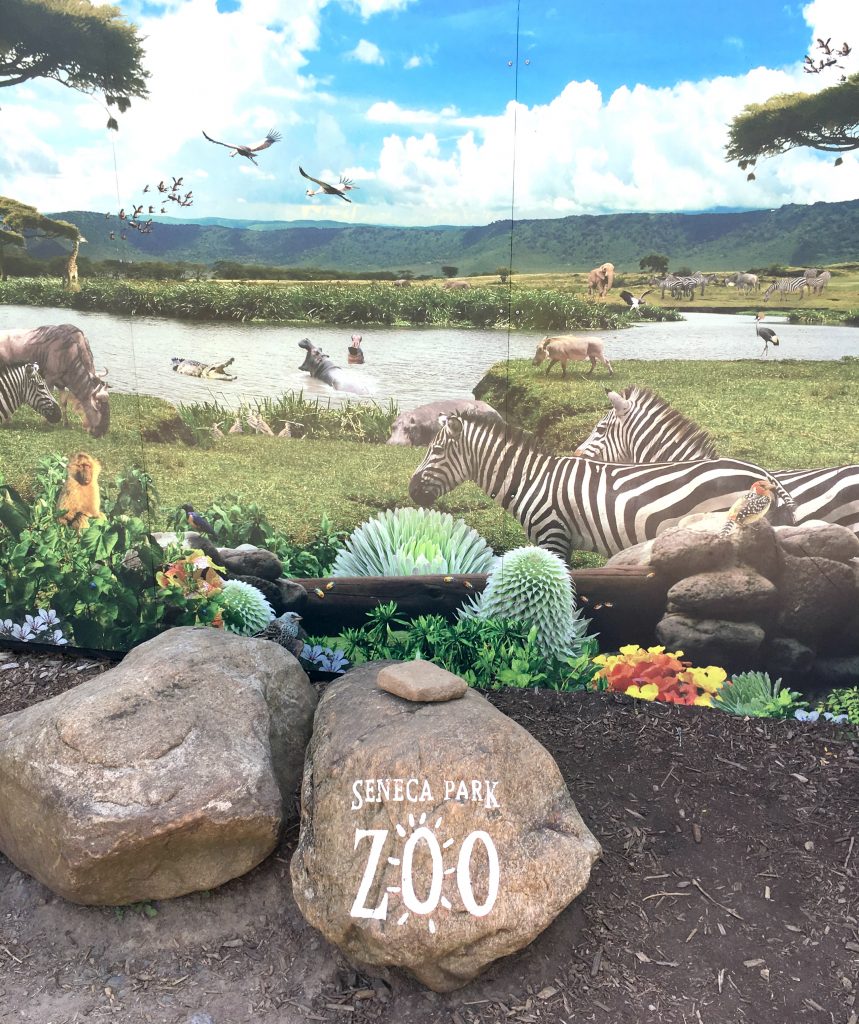 The Seneca Zoo is currently undergoing extensive renovations, which are expected to be completed sometime in 2018.  Construction is underway for new habitats for the White Rhino and the Snow Leopard.  Plus, there will be an "Animals of the Savanna" exhibit, as well as Red Panda, Giraffe and Zebra exhibits.  A new eatery, the Trailside Cafe, will also be opening.  When all the new construction is completed, the zoo looks to be an even better place to visit.
As I mentioned, this is a small zoo.  In approximately three hours we visited all the animal exhibits,  watched a couple of demonstrations, and ate lunch. There are animal experience programs occurring throughout the day and a small playground. Depending on the attention span and temperament of your children, you can make a longer or shorter day of it. This is a great family attraction to visit when in Rochester.
The Details:
Seneca Park Zoo
2222 St. Paul Street
Rochester, NY 14621
(585) 336-7200
Hours:  10 AM – 4 PM (April – October) 10 AM – 3 PM (November – March)
Parking:  Free parking
Admission:
April – October –  $12/adult, $11/seniors (63+), $9/youth (3-11)
November – March – $10/adult,  $9/seniors, $7/youth
Food:  Two food service areas Eagle's Landing Cafe and Crater Canteen  (most entrees cost between $5.75-$8.50, most beverages, sides and snacks are priced between $2.25-$4.75)
Tips:
*The zoo is stroller-friendly.
*You can bring your own food and snacks.
*Make sure to check out the daily program to plan out what animal encounters you want to see.  Each experience only occurs one time each day.
Sharing this post with: