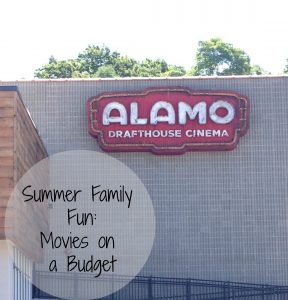 Summer vacation is quickly approaching!  My kids have opted not to go to camp this summer and I am trying to fill up our calendar with fun activities.  Who doesn't love movies?!! As much as our family loves going to the movies, I don't love the cost of taking our family of four to go see one!  Four tickets and a large popcorn and soda later and we've spent close to $75!   However, summer is the perfect time for me to take the kids to the movies.   We get to escape the heat for a couple of hours and get to see a movie on the big screen.  If you're looking for the most recent blockbuster release, then you might want to stop reading here.  If you're like my kids, who don't mind seeing older movies that they might have already seen, then keep reading, because I've found some summer movie deals!
Alamo Drafthouse Kids Camp – Movie and restaurant chain Alamo Drafthouse is again offering their Kids Camp.  You choose your ticket price between $1 – $3 and all proceeds get donated to a local nonprofit.   The movies offered this summer include classics like A League of Their Own and Babe, as well as older, but more recent films like The Lego Movie and Shaun the Sheep.
Regal Cinemas Summer Movie Express – Regal Cinemas offers movies every Tuesday and Wednesday at 10 AM for only $1 each.  Two movies are offered each week and both movies play on both days.  So if you really wanted to, you could go to the movies twice each week!  Sitting in an air conditioned theater watching a popular family fun movie for $1 is my kind of movie fun!  This summer's movie line up includes Goosebumps, The Smurfs 2, Home, The Peanuts Movie and many more.
Local Movie Viewings – Check your town's recreation department website, or local neighboring towns, to see if they are offering free "Movies Under the Stars" night.  Several towns in our area offer such a night.  Bring a blanket or some chairs and some snacks and you can have yourself a free family movie night.  Just don't forget the bug spray!
Drive-In – Nothing says summer to me more than a drive-in movie theater.  Do a quick internet search for your nearest drive-in movie theater.  If it's a bit of a drive, possibly make a day of it and go out to lunch or dinner, see if there's a local park and then go watch the movie.  Or, if you are taking a summer vacation, see if there's a drive-in theater near your destination.  Drive-in theaters often play current releases and often have discount nights or special deals going on.