With the kids visiting their grandparents over their winter break, the Mr. and I were able to dine out for the first time ever during NYC restaurant week.  Running from February 16 through March 6, over 300 restaurants throughout the city are participating.  The list of participating restaurants can be found here.  Of course many of the restaurants that I'd like to eat at in the city are not participating (I'm talking about you Eleven Madison Park!).   And some restaurants were already booked up for Wednesday, the only night that we were available.  There were too many restaurants to look through all of their menus.  However, I spent some time perusing the menus and felt like a lot of the restaurants only offered about three or four similar choices for appetizers (soup, salad, roasted beets) and main courses (salmon, chicken, braised short rib).  I had seen David Burke on Top Chef Masters and was excited to see that reservations were available for Wednesday at his restaurant David Burke Kitchen.  The restaurant is located in SoHo at 23 Grand Street.  It was a bit of trek from Grand Central but we made it!  When you enter the building the restaurant is located on the lower level.  Our table was ready when we arrived and after checking our coats we were seated.  We were first offered a wine and cocktail menu.  I had a glass of winter sangria and the Mr. had a "Rabbit Hunter" cocktail consisting of bourbon, lime juice and mint.
The wait staff were dressed casually in jeans with blue button down collar shirts tucked into their jeans.  Our waitress was friendly and explained the menu to us.  The menu we received looked a little different than what is published on the website.  It was a specially printed Restaurant Week menu.  For $35 you choose an appetizer, main and dessert.  They also offered some other shareable dishes like mushrooms and homemade ricotta for an additional cost.  Each section of the menu had the list of choices and included the original menu prices.  The one negative that I noticed on this menu (and many of the other restaurant week menus I looked at) were that several options had a supplemental fee of anywhere from $5 (kale salad) to $39 dollars (ribeye steak).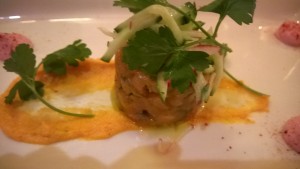 For appetizers I chose the Crisp Chicken & Tallegio Grilled Cheese and the Mr. started with the Skuna Bay Salmon Tartare (pictured above).  I think I was expecting more of a sandwich type dish, but was surprised at what I received.  It looked like an egg roll filled with lots of veggies and tender chicken served over a sour cherry sauce and a tarragon jus served with a small frisee salad. The Salmon Tartare was served over carrot puree and topped with strips of radish and cucumber. The corners of the plate had little dollops of tangy pomegranate yogurt. For the entrée, I had a braised short rib over red wine cabbage with a crisp saffron and gruyere risotto cake.  The Mr. chose the Grilled Berkshire Pork Chop with crisp potato croutons and honeycrisp apple and mustard glazed carrots and turnips.  For dessert we had the Mocha Mousse Bar and the Toasted Coconut Custard Tart.  The chocolate dessert was rich and super chocolaty with layers of chocolate, chocolate mousse and chocolate praline crunch with a side of vanilla bean ice cream.  The custard tart on the other hand was light and tangy with a lime custard and roasted pineapple.  We shared everything but the appetizer.  I of course tasted the tartar, but am not a big fan of raw fish.  All of the dishes were well plated and delicious!  The portion sizes were decent.  By the end of the three courses I was on the brink of being uncomfortably full!  I apologize for the lack of pictures, but my iPhone does not take good pictures without a flash.  The Mr.'s phone usually takes decent pictures without a flash, but for some reason, it kept going off and we decided against attempting anymore photos.
The only criticism I have of the restaurant is that it is a bit noisy.  Background music was playing and with the tables so close together and lots of conversations going on, it got pretty loud.
We really enjoyed our meal and, for the price, we thought it was a great deal!  We highly recommend the restaurant, if you can still get reservations during Restaurant Week!