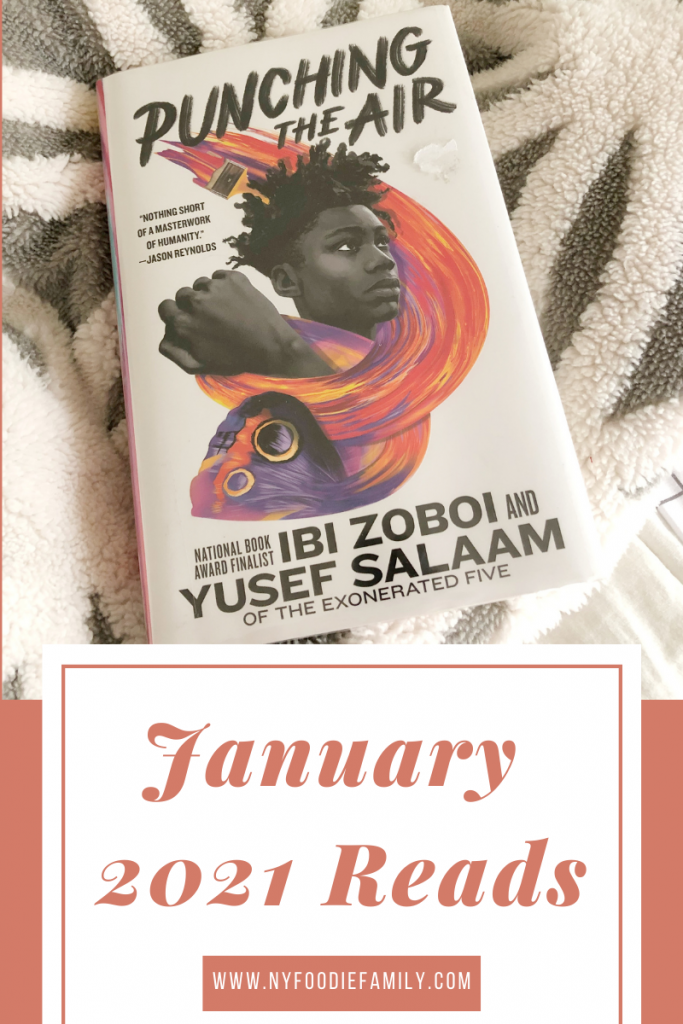 January was a great reading month for me! I read ten books and most were 4 and 5 star reads! This will hopefully be a preview of the rest of my reading year! I read several YA books, written by authors of color, that are doing a great job of showcasing social justice issues. I am trying to be more educated on issues of race and I know there is always more to learn. As always, I'm sharing my book reviews with Steph and Jana's Show Us Your Books linkup! Check out my January reads:
4 stars:

Don't Ask Me Where I'm From by Jennifer DeLeon – (August 2020, YA/Social Justice) A teen from the inner-city is accepted into a minority program at a wealthy school in the suburbs, where she is one of a handful of students of color. At the same time that she is struggling to adjust to her new school, her father is deported back to Guatemala. This book touches on many current issues of immigration and racism. My daughter is currently reading this book.


Family For Beginners by Sarah Morgan – (May 2020, Contemporary Romance) A lonely, single woman working at a flower shop meets a recent widow. The two hit it off, but he has two children, one a teen who does not want a replacement mom. This book does a great job of showcasing the intricacies in family relationships.


The Good Sister by Sally Hepworth – (April 2021, Thriller/Mystery) I received an ARC of this book from Netgalley. Twin sisters, who are complete opposites, are super close to each other. Raised by a single mother who had mental issues, the sisters have kept a secret from childhood. One sister is desperate to have a child and will do anything to do so. Told from alternating points of view, this book has several plot twists and surprises. It had me engaged and wanting to keep reading. I have read all but one of Hepworth's books and have yet to be disappointed.
Insignificant Events In The Life of a Cactus by Dusti Bowling – (September 2017, Middle Grade Fiction) A young girl born with no arms, moves with to a western theme park that her parents will operate. She has to navigate her new life and ends up trying to solve a mystery. Aven is a spunky, likable character. This is a well written book about children with disabilities.


Rick by Alex Gino – (April 2020, Middle Grade Fiction) A middle school student explores his identity and deals with a toxic friendship. Our family did a read-aloud of George together by the same author many years ago and enjoyed it. While I didn't love this book as much, I think it has some great messages for kids and introduces them to the LGBTQIAP+ community.


The Tourist Attraction by Sarah Morgenthaler – (May 2020, Contemporary Romance) A girl goes on her dream trip to Alaska, which turns out anything like she envisioned. While there, she is introduced to the man who runs a local food joint, "The Tourist Trap." His one rule is to not get involved with tourists. This was a fun read and Graham and Zoey made such a cute couple. There's a second book in the series that I'm putting off reading until November/December, since it's a Christmas themed read.
5 stars:

Firefly Lane by Kristin Hannah – (February 2008, Contemporary Fiction) Two girls meet in the summer of 1974 and become fast friends. The book follows their friendship from the teenage years to adulthood. This was a reread for me. I read it when it was first published back in 2008 but wanted to read it again before the show came to Netflix. I have watched several episodes of the show now and think it's okay, but really loved the book.
The Girls at 17 Swann Street by Yara Zgheib – (February 2019, Contemporary Fiction) A former professional dancer is admitted to a residential home for women with eating disorders. Not everyone will enjoy this book. However, I found it interesting to see the realities and struggles that individuals with eating disorders endure.


Punching The Air by Ibi Zoboi and Yusef Salaam – (September 2020, YA/Poetry) This is a YA novel told in verse, reminiscent of Ellen Hopkins. A teen is convicted of a crime he didn't commit and is sent to prison. He ends up finding refuge in his art. I read this book before watching When They See Us on Netflix. The show tells the story of the Central Park jogger case and the five boys who were falsely accused and imprisoned for the crime. One of those boys was Yusef Salaam, the co-author of this book.


This Is My America by Kim Johnson – (July 2020, YA/Social Justice) A teen has been writing letters to Innocence X, trying to help her father, an innocent black man on death row, with less than a year to live. When her older brother is arrested and accused of murdering a white teen, Innocence X decides to help her case. In the meantime, she tries to figure out what really happened on both those nights that her family members were falsely accused of crimes.
You may also enjoy reading: