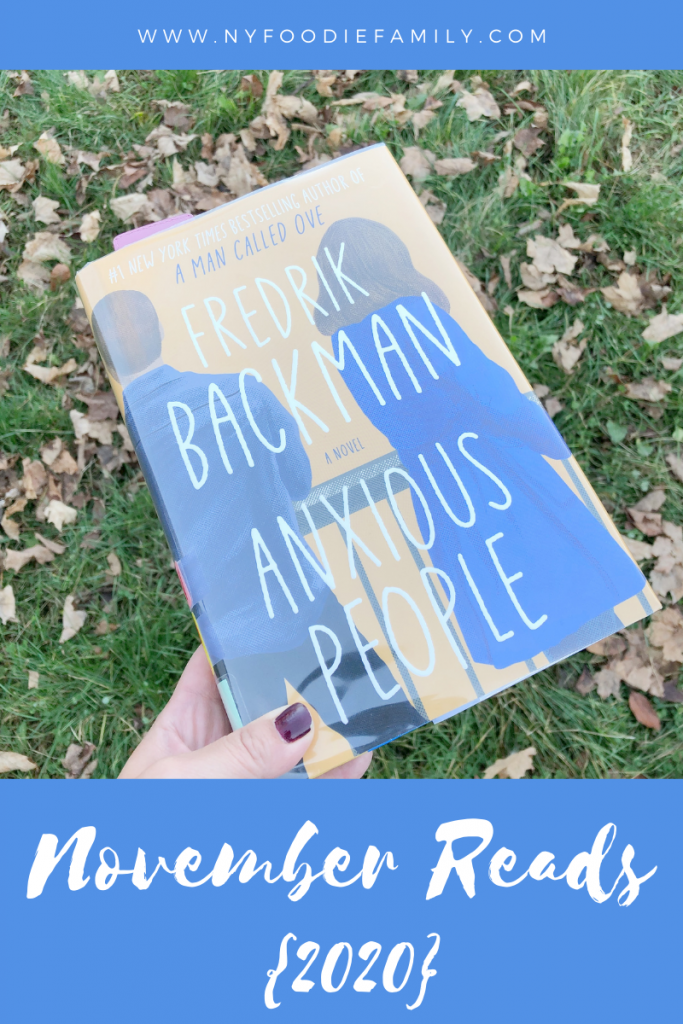 It is almost the end of the year and I am 9 books away from reading 100 books this year! I likely won't reach that goal, however, I surpassed my 75 book goal with flying colors. Thank you quarantine! Today I'm sharing my November reads with Steph and Jana's Show Us Your Books linkup. If you are looking for something new to read, I highly recommend checking out this linkup. Book lover/bloggers share their monthly reads and I always get tons of new book recommendations!
3 stars


Followers by Megan Angelo – (January 2020, Contemporary/Science Fiction) This book shows the power of technology and social media and its dangerous effects. The story switches between 2015 and 2055 as it follows two characters. This was a pretty slow read for me that I thought was just "eh."


Jingle All the Way by Debbie Macomber – (October 2020, Christmas/ Romance) A vacation booking mistake leaves a busy real estate executive on a guided tour down the Amazon River instead of a relaxing beach resort she had requested. During the vacation she ends up forming a friendship with the ship's naturalist. Will it lead to more? This was an okay holiday romance read.


Room-maid by Sariah Wilson – (October 2020, Contemporary romance) Madison Huntington has decided to live her own life, which means being cut off from her wealthy family. Since she can't afford her own apartment on her teacher's salary, she ends up agreeing to be a "room-maid" for Tyler Roth. Since he travels so often, he needs someone to help keep his apartment clean while he's away and look after his dog. The only problem is, that she has no idea how to clean. This was a light, fluffy read. Madison and Tyler's characters were very likable. However, Madison's lack of real life skills was a bit annoying.


The Twelve Dates of Christmas by Jenny Bayliss – (October 2020, Christmas/Romance) Kate Turner signs up for a dating agency's "The Twelve Dates of Christmas." However, each holiday themed date seems to be worse than the one before. Will she find love before Christmas?
4 stars


Anxious People by Fredrik Backman – (April 2019, Contemporary Fiction) During an apartment open house, a bank robber takes the group hostage. The bank robber and hostages all have a story and learn more about themselves through the situation. I'm a Backman fan and this book didn't disappoint.


Book Scavenger by Jennifer Chambliss Bertman – (June 2015, Middle Grade/Mystery) Garrison Griswold, creator of Book Scavenger, an online book hunt, is planning an epic new game. However, he is attacked and hospitalized right before the debut. When a 12 year old girl discovers a book, she believes it may be the first clue to the new game. She and her new friend James have to work to try to solve the puzzles. This was a fun, middle grade read. I borrowed it from the library in hope of getting my 7th grade son to read it….which he hasn't yet.
The Book of Two Ways by Jodi Picoult – (September 2020, Contemporary Fiction) A woman surviving a plane crash reexamines her life and the two different paths that her life could have taken. There has been a lot of criticism and negative reviews for this book due to the textbook heavy information on Egyptology. I will agree that a lot of the info on the mummies, tombs and the actual The Book of Two Ways did not interest me. However, I give Picoult credit for writing a well researched book. Aside from the Egypt stuff, I also enjoyed the storyline. Picoult still remains one of my favorite authors, this book just wasn't a favorite.


Slider by Pete Hautman – (September 2017, Middle Grade) David mistakenly charges $2,000 to his mother's credit card. To pay his mom back before she finds out, he enters a pizza eating contest. While training for the contest he also has to watch his autistic brother. This was a fun read. I got this for my son to read, which he did and enjoyed.
You may also enjoy reading: