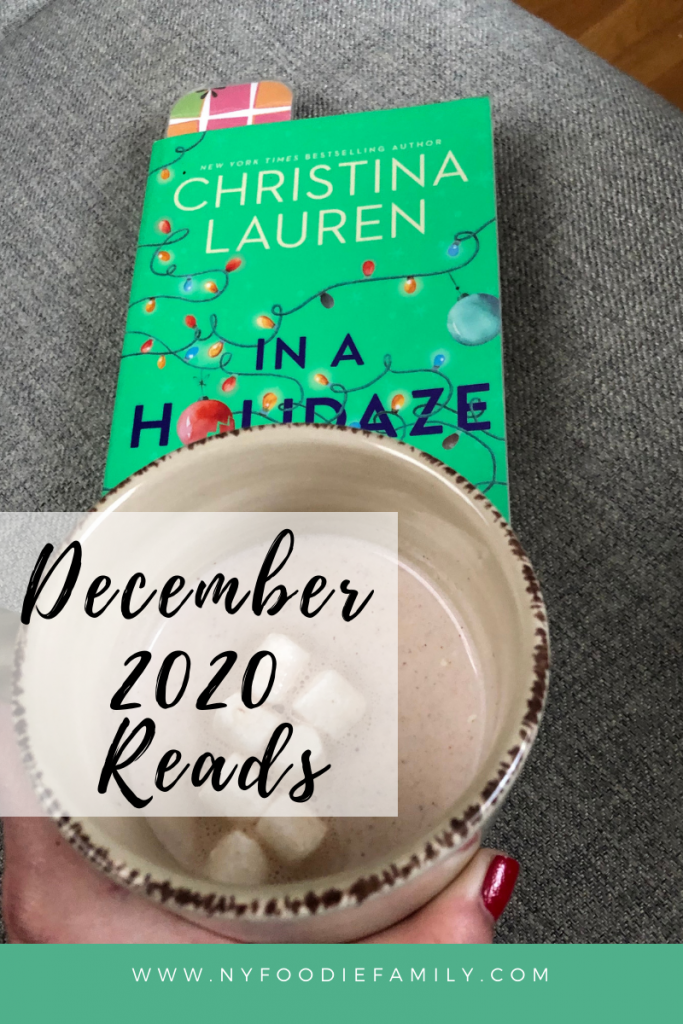 It's a new year, with hopefully lots of good books in my future! I ended my year reading a total of 98 books, which surpassed my 2020 book goal of 75. I again set this year's goodreads goal for 75 books, which seems doable. While December seems so long ago, I'm sharing my reads from last month. It was a mixed bag of different genres and mostly good reads. Here are my December reads that I'm sharing with Steph and Jana's monthly book linkup:
3 stars:

Leave The World Behind by Rumaan Alam (October 2020, Suspense/Thriller) – A family leaves NYC for a week and rents a house out in a remote part of Long Island. A few nights into their stay the couple who owns the house arrive on the doorstep with news of a blackout in the city. Strange things start happening, but with no TV, internet or cell service, no one has any idea what is going on. This book was disappointing. I have no idea why it's labeled suspense/thriller and even horror on goodreads. I'm not going to give away spoilers, but I hated the ending.
The Girl In The Mirror by Rose Carlyle (October 2020, Suspense/Thriller) – Two identical twins, one who has always been jealous of the other. Now she has the opportunity, to live her twin's life and gain a huge inheritance. But can she keep the truth from being exposed? This was an okay, not very believable read for the most part. But it did have some interesting plot twists.
White Ivy by Susie Yang (November 2020, Contemporary/Suspense/Literary Fiction) – A coming age of story of a young Chinese girl who tries to fit in white suburban American. She develops a crush on a classmate, who ends up making a reappearance in her adult life. There are several plot twists, but I would not categorize this as a suspenseful read. In fact, it was such a slow read for me that I wish that I had given up on it earlier than making myself finish it.
4 stars:
In a Holidaze by Christina Lauren (October 2020, holiday/romance) – A young woman makes a plea to the universe, "Please. Show me what will make me happy." At the annual family and friends holiday get together at a cabin in Utah, she ends up in a loop where she relives the same holiday vacation over and over. This was a cute holiday romance read. I hadn't read a Christina Lauren book in awhile and think I'm ready to get back into some of their more recent books that I had skipped.


Nevermoor: The Trials of Morrigan Crow by Jessica Townsend (October 2017, Middle Grade/Fantasy) – On the night she is supposed to die a young girl finds herself being whisked away to Nevermoor. There she discovers that she has been selected to compete for a spot in the exclusive Wundrous Society and must pass the four trials. This book has been compared to Harry Potter and I can vaguely see the connection. It's a fun and whimsical read. I couldn't interest my son in reading it, but I may continue the series.
When We Believed in Mermaids by Barbara O'Neal (July 2019, Contemporary Fiction) – A woman thinks that her sister is dead. But then she sees her on a news clip. So she travels from California to New Zealand to try to track her down. Will she find her? The book alternates between the two sisters POV as we discover their tragic past and secrets that they are keeping. This was an engrossing and enjoyable read.


You Should See Me in a Crown by Leah Johnson (June 2020, YA/LGBT) – A poor, black teen has big plans to go to college to become a doctor and continue playing music. But financial aid is not providing enough money for her to attend. One of the few options she has is to try to win the scholarship for Prom Queen, despite the fact that there has never been a black or queer queen in the school's history. This book portrays modern teen life in a realistic manner. I'm jealous of the diverse YA books available to teens today, so I have to read some of them!