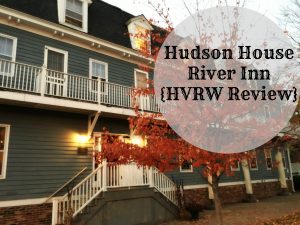 I am a Hudson Valley Restaurant Week Grazer.  In exchange for posts about my HVRW experience, part of this meal may have been compensated.  However, all thoughts and opinions are my own.
This past Saturday my husband and I dined at Hudson House River Inn, with two other couples, for Hudson Valley Restaurant Week (HVRW).  This historic inn is located at 2 Main Street on the waterfront in the picturesque town of Cold Spring.
The inn was built in 1832  and in 1982 was placed on the National Register of Historic Places.  It has 11 guest rooms and 2 suites for overnight stays.  There are two dining areas, the Tavern, for more casual dining, and the main dining room, the River Room, which is where we dined.  The River Room has a veranda that offers outdoor seating with amazing views of the Hudson River.  While a bit chilly for November, this would make for a great dining experience in warmer weather!
Executive chef John Guererro leads the culinary team at the Hudson House River Inn.  The restaurant normally specializes in steak and seafood, with poultry, pork and vegetarian options as well.
For HVRW Hudson House River Inn serves both lunch and dinner, with different menus for each.
The restaurant had an extensive cocktail menu, which our group sampled.  My husband had a Maker's Old Fashioned while I had a Watermelon Margarita.  Before we even ordered, bread baskets were placed on the table with dishes of tomato and bean bruschetta.
For starters I had the Homemade Maryland Crab Cakes and my husband had the Lobster Bisque.  Three crab cake balls were served with a dijon mustard sauce for dipping.  The crab cakes were crispy on the outside and sweet and flavorful on the inside.  The bisque was smooth and creamy.  These starters turned out to be our favorite parts of the meal.
For our main dishes I ordered the Chianti Braised Short Ribs and my husband had the Coriander Seared Sashimi Tuna.   The short rib was tender and flavorful, topped with caramelized onions and Maytag bleu cheese.  I enjoyed the mushroom risotto that accompanied the short ribs as well.  However, I found the carrots and string beans to be unexciting.
My husband ordered his tuna rare and was surprised to get a piece of fish that was well done around the edges and pink in the middle. It's possible that his dish had a stop at the heat lamp as the kitchen looked quite busy. His tuna was topped with crab meat accompanied by wasabi mashed potatoes.  His dish also came with the same uninspired vegetables.
There are only two dessert options, Bourbon Chocolate Pecan Pie and New York Style Pumpkin Cheesecake.  We of course had to try them both!  The cheesecake, topped with fresh whipped cream, was good but not memorable.  I preferred my husband's chocolate pecan pie that was served with Maple Walnut Ice Cream. It was much more unique and flavorful.
The dining room was full throughout our entire dinner.  My husband and I were part of a group of six diners.  Unfortunately, the extra-long rectangular table set up, paired with the poor acoustics of the room, made for difficult conversation.  Our server Tara was friendly and attentive.  Dessert service was slow, which Tara apologized for, but fortunately, our group wasn't in a rush.
Overall, we had a nice dining experience at the Hudson House River Inn for HVRW.  I'd love to come back in the spring or summer when it's hopefully not as busy and I can eat out on the veranda.