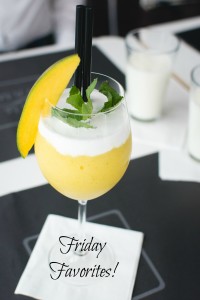 Yes, it's that time again!  Friday! We had a really fun Halloween last weekend.  Our daughter went with a friend trick-or-treating and then to the party her friend's family was hosting.  We ended up having a couple of our son's friends and their families over for some pizza and trick-or-treating.  We first went trick-or-treating at a nearby townhouse community.  We ended up enjoying this a lot.  The community was really big so there was lots of trick-or-treating.  It was nice that  the houses were close to one another and the kids appreciated less walking!  When we got back to our house we then walked the boys around our neighborhood until they wanted to go home because their feet were so tired!  We spent Sunday at a 1st birthday party. This week the kids had off Tuesday for Election Day and today for parent-teacher conferences.    Otherwise, it's been a pretty uneventful week.  Here are some of our favorites:
1. A day off or two for the Weekend Chef – I had a staff development day for work, so the Weekend Chef stayed home Tuesday with the kids.  It's amazing how much stuff he can get done!  He raked and bagged all the leaves in the front yard.  Let me tell you there were a TON of leaves too!  He also prepped the slow cooker for dinner and took one of the cars in for an oil change.  Today, he's home again with the kids and he's tackling the backyard!
2.  Netflix – The one thing I really miss about not having cable television is reality TV.  I'm talking Real Housewives and The Bachelor/Bachelorette.  I was really in the mood for some reality TV and found The Great Food Truck Race collection on Netflix.  It's not exactly what I was looking for, but I watched the first season of the collection (really Season 3 of the show) this week.  The Weekend Chef watched a few episodes with me.  Yes, you can tell it's staged, but I like Tyler Florence and I didn't have many options, so,  it had to do.   And now, it's really gotten me in the mood for some food truck food!
3. Favorite bookmarked recipe of the week: These Halloween Stash Devil Food Cookies from Frugal Foodie Mama.  I already have the ingredients and recipe for this Halloween Candy Apple Crisp from Melanie Makes…..but I think we have more candy we need to use up.  So, these cookies may also be making an appearance in our kitchen soon!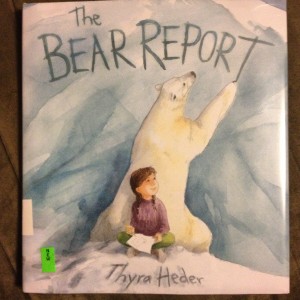 4.  Children's book:  The Bear Report by Thyra Heder.  We read this before bedtime this past week and both the kids and I enjoyed it a lot!  It's a fun, imaginative book about a girl who doesn't want to write her report on polar bears.  She ends up learning about the animal, right from the source, as she's taken on an educational adventure in the Arctic.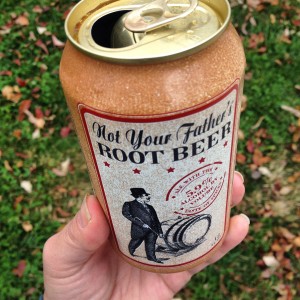 5. Not Your Father's Root Beer – I'm not sure that this is a favorite, but I'm glad I FINALLY got to try it this weekend!  It wasn't bad, but not my fave.  I'll stick to my hard ciders.  I've heard that this tastes good in a root beer float though, so I may have to try that!
ICYMI:
Monday we posted our weekly meal plan.
Wednesday we joined Anne and Jenna's monthly Currently link-up.
Thursday we reviewed snack subscription box MunchPak.
Linking up with Tif @ Bright on a Budget, Amanda from Meet @ The Barre and Andrea from Momfessionals!  Have a great weekend!