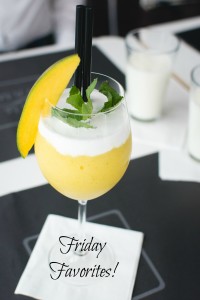 Happy October!  It is really starting to feel like fall around here with cooler temperatures.  We also finally got some much needed rain this week and are expecting some more this weekend.  Highlights of this weekend include our daughter going to a sleepover, our son going to a birthday party,  and the Weekend Chef and I going to our monthly supper club.  Here are some highlights of this past week:

1. Chaperoning a field trip:  I chaperoned my daughter's first class trip this year to Constitution Marsh.  It's an Audubon Center and Sanctuary right on the Hudson River where we did a water study, went on a hike through the marsh and went on a bird watching hike.  It was a fun and educational day!
2.  Favorite bookmarked recipe of the week:  Blackened Broccoli Pasta with Charred Lemon and Goat Cheese because goat cheese, of course!
3. Piano Lessons – Not for me.  Been there, done that!  But my daughter just started piano lessons and is off to an amazing start!  We inherited our piano from my parents when they sold their house.  She is playing on the same piano that me and my siblings grew up playing on.  She's flying through the first set of books and loves playing!
4.  Watching this week:  I borrowed Season One of The Affair from the library and have been binge-watching it this week.  It's not available on Netflix and I was curious after hearing that it had won the Golden Globe Award for Best Drama Television Series.  Ruth Wilson also won the Golden Globe for Best Actress in a Drama Television Series.   I'm almost through the first season and let me warn you this is a dark and depressing show!  Yes, it's about an affair, told from the two perspectives of the main characters, Noah and Alison.  Have you seen this show?
5. A Giveaway!  – Angie from My So Called Chaos is featuring me tomorrow on her Saturday Spotlight!  Stop by her blog tomorrow to find out a little bit more about me and enter to win a $25 Target gift card!
Not so Favorite:
I've only had Chick-fil-A twice now, the latest being on our recent road trip to Disney World.  They have great chicken sandwiches.  I can't complain about that.  However, I just saw this article on Yahoo! Finance via Business Insider regarding a promotion they are running.  In honor of the opening of their new Manhattan location, the chain is giving away free Chick-fil-A for a year to 100 people.  The catch?  Selected "winners" have to sleep on the selected NYC street corner and have a valid government-issued ID.  I agree with some of the critics, NYC has enough homeless people involuntarily sleeping on the city streets.  How about giving some free food to them?!
ICYMI:  This week on the blog-
Our Weekly Meal Plan for some meal plan inspiration!
I'm guest co-hosting this month at the weekly Turn It Up Tuesday at Epic Mommy Adventures.  Stop by every Tuesday and link-up your posts!
I also posted this Ravioli with Lemon Butter Basil Sauce.  It's a quick, easy weeknight meal!
The Weekend Chef posted some of his September monthly favorites.
I also posted our Children's Monthly Entertainment Review.  Check it out to see what our kids were watching, playing and reading this month!
Have a great weekend!  Linking up with Tif @ Bright on a Budget, Amanda from Meet @ The Barre and Andrea @ Momfessionals.