Happy Friday!  I can't believe how quickly this week flew by.  Did everyone have a Merry Christmas?  The beginning of our week was super busy, cooking, cleaning, wrapping presents, etc. to get ready for Christmas. We got to experience a white Christmas with a small accumulation of snow early in the morning.  After Christmas, it was nice to relax a bit and enjoy some quality time together.  It's crazy that this weekend is New Year's Eve and 2018 will be here.  We are having our pizza-themed Supper Club and cookie exchange on New Year's Eve and the kids go back to school Tuesday.  They've been staying up super late these past few days so it's going to be a rough couple of days getting back into the school routine.  Here are five from this week: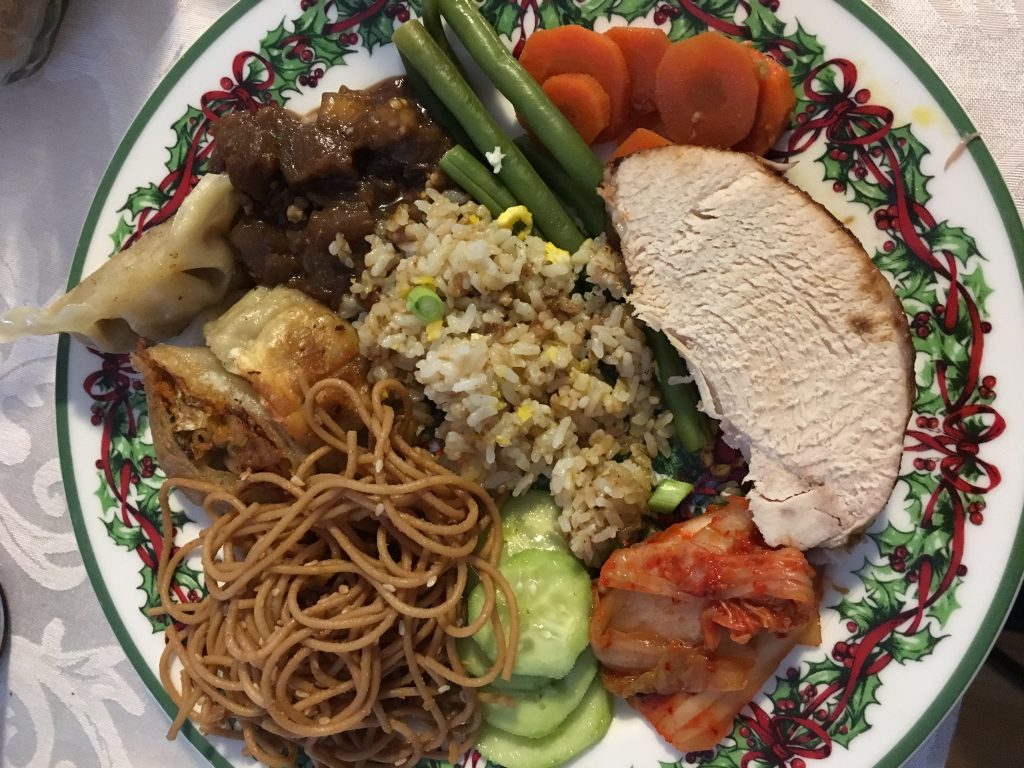 1. Christmas dinner –  We host Christmas every year. This year we had an Asian-themed dinner with dumplings, sesame peanut noodles, Asian eggplant, honey-soy glazed carrots, fried rice and kimchi.  It was delicious and a nice change from the usual turkey, mashed potatoes, etc. Delegating dishes for family members to bring also cut down on our cooking and stress!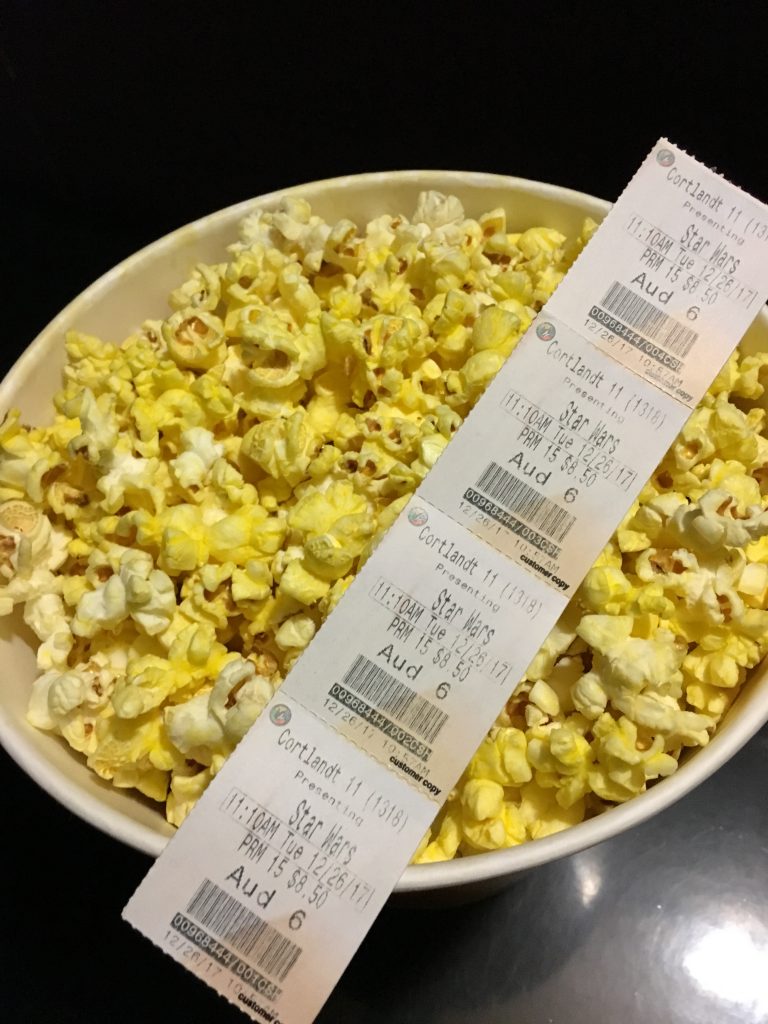 2. Star Wars: The Last Jedi – We don't go out to the movies very often.  But this week we went to see Star Wars: The Last Jedi.  For someone who's not a big Star Wars fan, I really enjoyed it.  We got a nice surprise too, when we went to buy our popcorn and discovered it was half-off for Regal members.
3. Currently Reading –  I am currently reading The Good Daughter by Karin Slaughter.  I'm about halfway through and enjoying this mystery/thriller.
4. Shopping – We hit the mall this week for some after-Christmas shopping.  The kids received several gift cards for Christmas that they really wanted to spend.  Bath & Body Works is having their semi-annual sale.  My daughter stocked up on some 75% body lotions.  I bought a couple of honey hand soaps at a deal for $1.88 each (regularly $7.50)!  Unfortunately, we were disappointed with this particular Target's stock of Christmas supplies.  We usually stock up on wrapping paper, tissue paper and tags for next year. But we left with nothing this trip!  This week we also all got calendars for 50% off at Barnes & Noble.  I'm just hoping the kids will actually use them!
5. Relaxing – I know the kids only have a couple more days of their holiday vacation.  Instead of going out and doing lots of things, we are spending these last few days relaxing.  The normal school week is filled with so many activities and homework that they have very little time to just relax.  They are getting to sleep in and enjoy their Christmas presents.  They have been making slime, we have been playing games together, reading and more.  January 2 will be here soon enough and we'll be back to the regular routine.
ICYMI this week on the blog: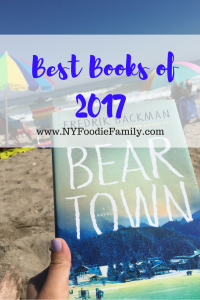 Tuesday I shared my favorite reads of the year.
Thursday I posted 31 Days of January Fun.
I'm linking up with Andrea, April and Katie.  Have a great weekend and a happy new year!  See you in 2018!