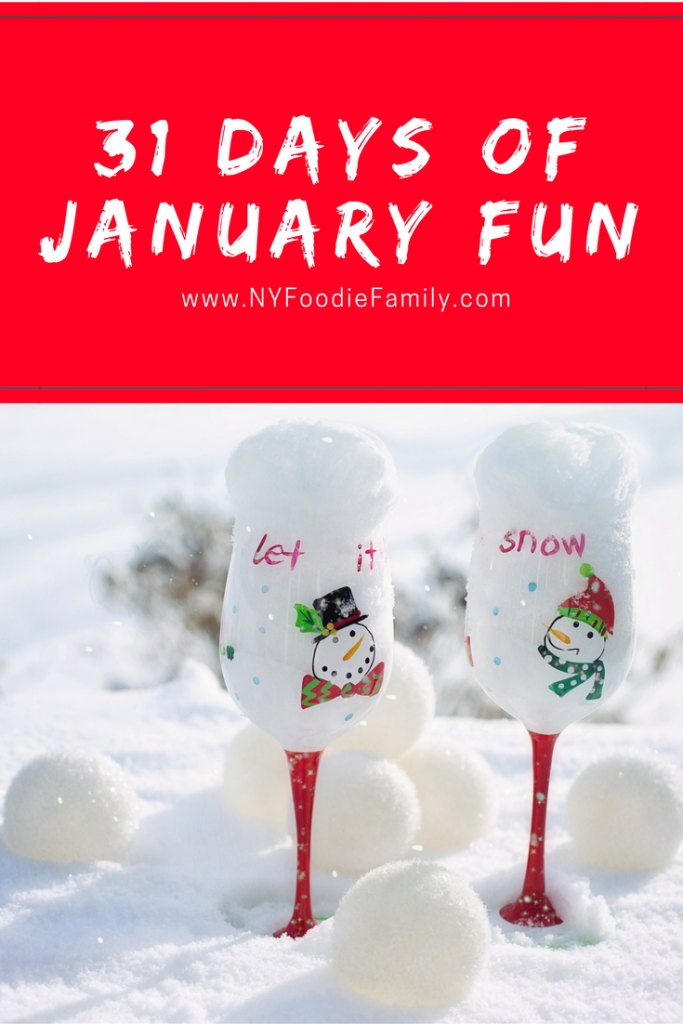 (This post may contain affiliate links.  Please read our Disclosure Policy for details.)
It's hard to believe that 2018 will be here soon.  Check out this calendar with 31 days of January fun!  Make the most of the month with some family fun, good food and more!
1.  Happy New Year!  If you're like me, you don't make resolutions.  However, I like to reflect on the past year and make goals for 2018.  What are you going to work for this year?
2. Check out what's new to Netflix in January.  You can also check out what's coming to Amazon Prime and hulu this month!
3.  Get to the gym!  It's going to be packed with all the new members who joined for the new year.  It's winter and it's cold.  I need motivation too.  But we can do it!  If you don't want to join a gym or prefer to exercise at home, this workout dvd set looks like a good one.
4.  Happy Trivia Day!  Play a game of Trivial Pursuit or check out a trivia night at a local restaurant or bar.
5.  Have a winter scavenger hunt.  Visit a local park and try to find the items on this list!
6.  Sleep in!  When was the last time you turned the alarm off and let yourself wake up naturally?
7.  Try a new winter sport.  If you've never been snow shoeing, tubing, skiing or snowboarding, now's the time to give it a try!
8.  Any fellow bookworms out there?  Check out the books being published this month!  Still Me ,The Perfect Nanny and The Girlfriend are making it to my to read list!
9. Have a movie night!  Make some popcorn and rent a movie.  Some movies coming out on dvd this month include American Made (January 2), Battle of the Sexes (January 2), It (January 9) and My Little Pony:  The Movie (January 9).  Check here for a complete list.
10. If you didn't make room for all your new holiday gifts before the holidays, now is the time to declutter.  Have everyone in the family donate 5 pieces of clothing, 5 books and 5 toys or other items.
11.  Try making at least one meatless dinner this week. Pizza, pasta are always good choices.  This recipe looks like one that my kids will approve of.
12.  Today is National Hot Tea Day and January is National Hot Tea Month!  I'm not a huge tea drinker, but when I do, I love using this teapot when using loose tea leaves.
13.  If you haven't already, it's time to take down the Christmas tree and holiday decorations.
14.  Practice gratitude.  Every night this week name three things you are grateful for.
15.  Happy Martin Luther Kings, Jr. Day.  Today is  the MLK Day of Service.  Find a project to volunteer at and honor his legacy today.
16.  New York City Broadway Week begins today through February 4.  Find 2-for-1 tickets on many shows!
17.  Anyone else get an Instant Pot for Christmas?!! Check out all of these recipes that you can make in it!
18.  Are your kids always telling you jokes?  Check out this site and tell them a joke today!
19.  It's National Popcorn Day!  Make your own popcorn with a popcorn maker and then sprinkle with some of these fun seasonings!
20.  It's time for family game night!  This month we are playing Mexican Train.  It's an extended family favorite and we now own the game.
21. Have an at-home spa day.  Do your nails, put on a face mask and relax.
22.  Give your brain a workout!  Try to complete a Sudoku or a crossword puzzle.
23.  January is the best time to stock up on winter apparel and linens!  If you are looking to buy new sheets and towels, now is the best time to find the best deals.  If you can guesstimate your children's clothing and shoe sizes for next winter, you can find boots, winter jackets and clothing on deep discount.
24. Pack a note in your child's lunchbox.  Tell them how much you love them or wish them good luck on their test.
25.  Do your kids love slime?!  Enjoy making some with them with a kit or make your own with ingredients you may have in the house.
26.  Clear the paper clutter.  Cancel any magazine subscriptions that you don't read.
27.  Many of us in snow regions should have gotten snow by now!  Bundle up and go play in the snow! Have a snowball fight, build a snowman, make snow angels…..then come in and warm up with a big mug of hot cocoa!
28.  Let your kids plan a day of fun and enjoy a day of doing what they want!
29.  Happy Library Shelfie Day!  Take a picture of your bookshelves and post on social media!  #LibraryShelfieDay
30.  Not many fruits and veggies are in season in January.  However, you will find citrus like oranges and grapefruit and root veggies and kale.  Try eating lots of these foods this month!
31. It's the last day of the month!  Celebrate with a winter cocktail or mocktail!