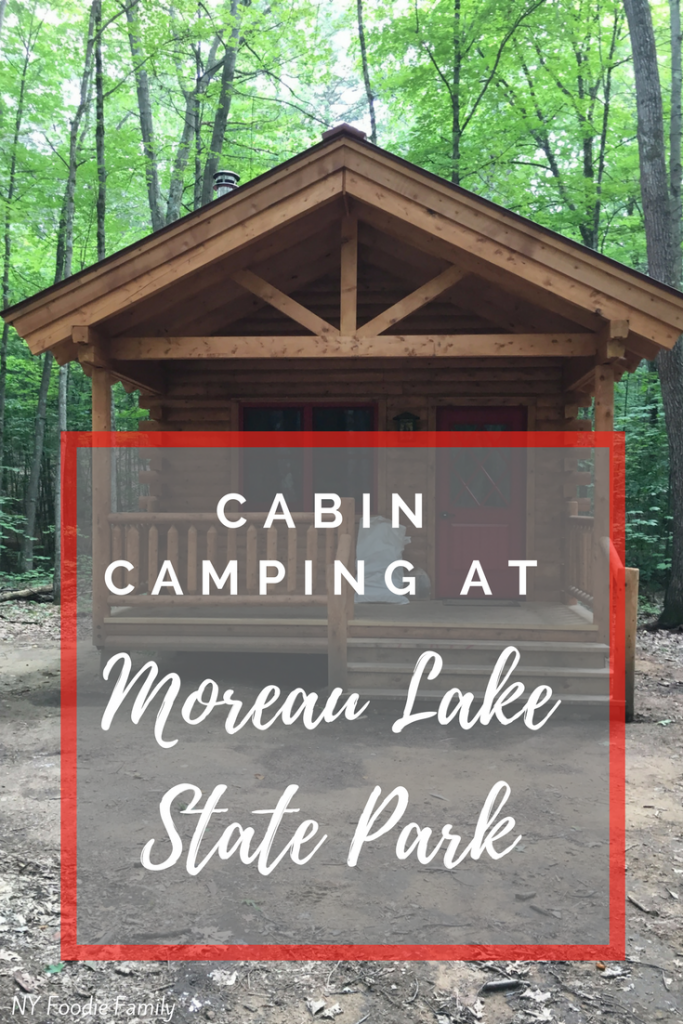 When I was planning the first leg of our #NYSummer2017 road trip, deciding on lodging was a big concern.  Convenient location and a reasonable price were my two top criteria.  Although we were visiting several different towns, I didn't want to have to pack up and move every couple of days.  Plus, with over 21 nights on the road throughout the summer, I couldn't afford to spend $150+ a night for a hotel room.
I was happy to discover that Moreau Lake State Park is pretty centrally located to Lake George, Saratoga Springs and Lake Placid.  Located in Gansevoort, the New York State Park recently added six cabins as a camping option. Three of the cabins sleep four people, while the other three cabins sleep six. I grew up camping all throughout my childhood.  However, since I was going to be alone with the kids for most of the trip, I wasn't quite up to roughing it in a tent for a week.  The cabins can only be reserved weekly, from Thursday to Thursday during the summer at a rate of $550 for the four person cabins and $575 for the six person cabins.  Reservations are made online through reserve america.  You can see what cabins, or campsites, are available during the time period you want to stay and choose your specific site or cabin.
I booked Cabin 2, Pinetree, a four-person cabin.  Check-in is 3 PM or later and I arrived close to 5 PM. Before I arrived, I pre-registered online which helped speed up the check-in process.  Only one key is given out to the cabin, with a warning that there is a $50 lost key fee.  I was also told to keep the key on me at all times, as many people have been accidentally locked out of their cabins.
It is an approximately five minute drive from the park office to the cabin loop with a 15 m.p.h. speed limit around the park.  Unfortunately, you cannot park right at the cabin.  Instead, I was directed to park in the small parking lot outside the shower house.
The women's shower house has five showers and one toilet.  At the time of our visit, one of the shower doors was broken, as in not there at all, and only two out of the three sinks were working.  Plus, two out of the three overhead lights were out, leaving the shower area a bit dark.  There's an outdoor sink attached to the side of the shower building as well as an eco-friendly, compostable bathroom.  The bathroom and shower appeared to be cleaned daily.  However, the room filled up with all kinds of insects, both alive and recently alive, at night.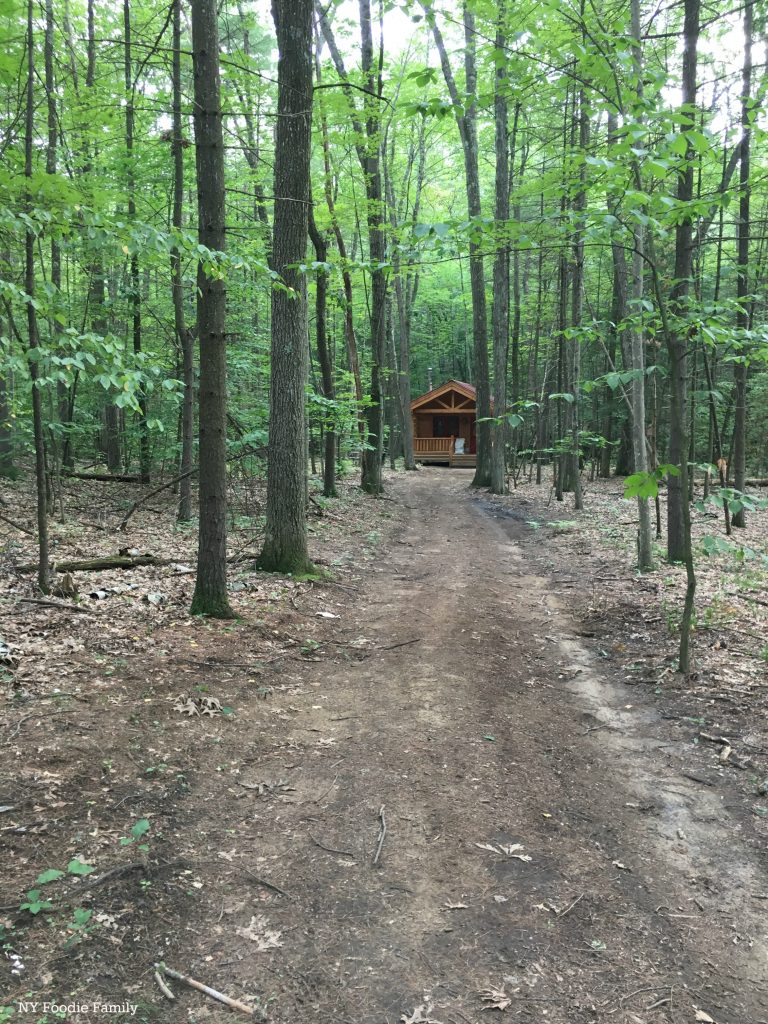 From the parking lot there's a hill that leads down to the cabins.  After a short walk, imagine my surprise when I saw this walk to our cabin!  For reference, out of all of the cabins, Pinetree Cabin has the longest distance from the main pathway.  I wasn't too happy about this when making my middle-of-the-night bathroom trips!  Nor, did this make unpacking and packing up the car easy!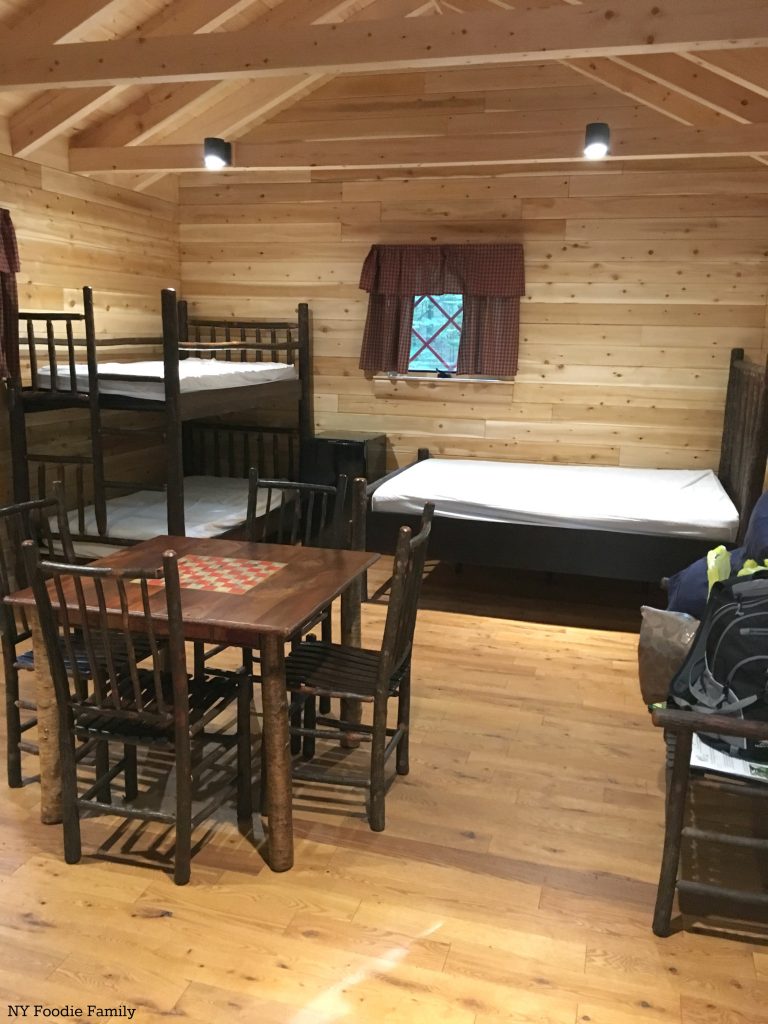 The cabin was cozy with both a queen-size bed and a bunk bed.  Although the cabins are only a few months old, the mattress covers were quite stained and gross.  Luckily, we had our own sheets.  There was also a small table with four chairs.  As you can see in the picture, the table has a built in checker board.  Hanging on a hook in the cabin is a small bag with checker pieces.  The cabin also has a bench to sit on, a wood-burning stove and a small refrigerator (think college dorm size).   It was small, but cozy inside and definitely beat being in a tent!  The lights had a dimmer, which I thought was a nice feature, and the windows had curtains, which helped give privacy.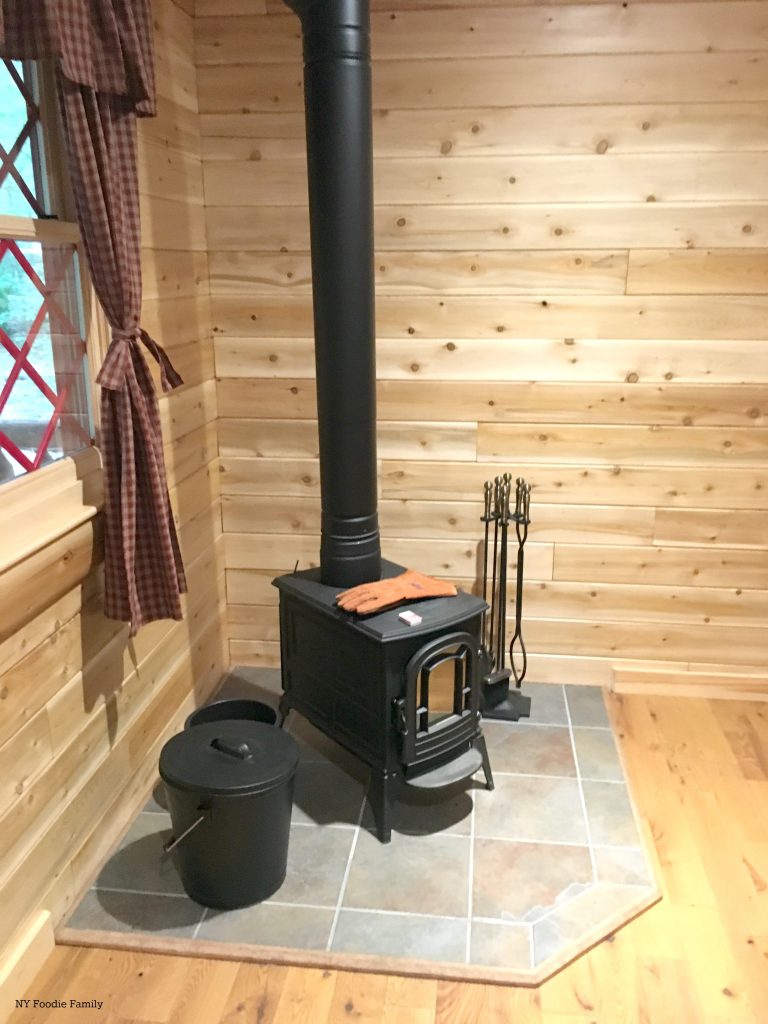 How cute is this stove?! Although I didn't use it, I definitely thought about using it a couple of nights when we were freezing cold!  I can see this being used a lot in the fall when the temps get much cooler.
We were using the cabin only as a place to sleep.  However, outside the cabin is a picnic table and fire ring.  Our neighbors had a canopy set up outside their cabin with a camp stove.  They had a fire going every night in their fire pit and were having a real camping experience.
The park has a carry-in, carry-out policy and does not do a garbage pick-up.  Instead, garbage must be taken to the garbage/recycling area near the entrance of the park.
Overall, we had a good experience cabin camping at Moreau Lake State Park.  It's a beautiful park and I would definitely go back.  However, next time I'd pick the Bear Cabin (01), which is closest to the bathroom as well as pack heavy blankets for sleeping at night.
OUR CABIN CAMPING PACKING LIST: (some things we found useful to pack for a cabin camping trip)
*sheets and heavy blankets (queen size and (2) twins) – even in July we found it very cold at night and wish we had more/heavier blankets for sleeping
*bath towels (extra if you shower daily and are camping in the summer – we laid our towels over the chairs in the cabin to dry, but they never fully dried between uses)
*hand towels – the bathroom in the shower house only had a hand drier.  A towel was handy when washing my face, brushing my teeth, etc.
*plastic basket/shower caddy – to hold and transport all of your toiletries
*flip flops to wear in the shower
*garbage bags – size depends on how much garbage you have, we used plastic grocery bags
*disinfectant wipes – we brought a container of Lysol wipes which we used to wipe down the table before/after eating
*camp chairs (great for sitting outside your cabin or for sitting at the lake)
*flashlight(s) – although the cabin has electricity, the paths are dark at night
*bug spray – there are lots of bugs and mosquitoes in the woods
*antibacterial hand wipes – to use before eating or after applying suntan lotion when we didn't want to make the walk up to the sink
*plastic tub for carrying and washing dishes in – if you plan on cooking/eating at the cabin
*sponge & dishwashing soap to wash the dishes
*sand toys & goggles for the beach (FYI snorkel masks with a covered nose piece are not permitted – as we discovered)
You may also enjoy: