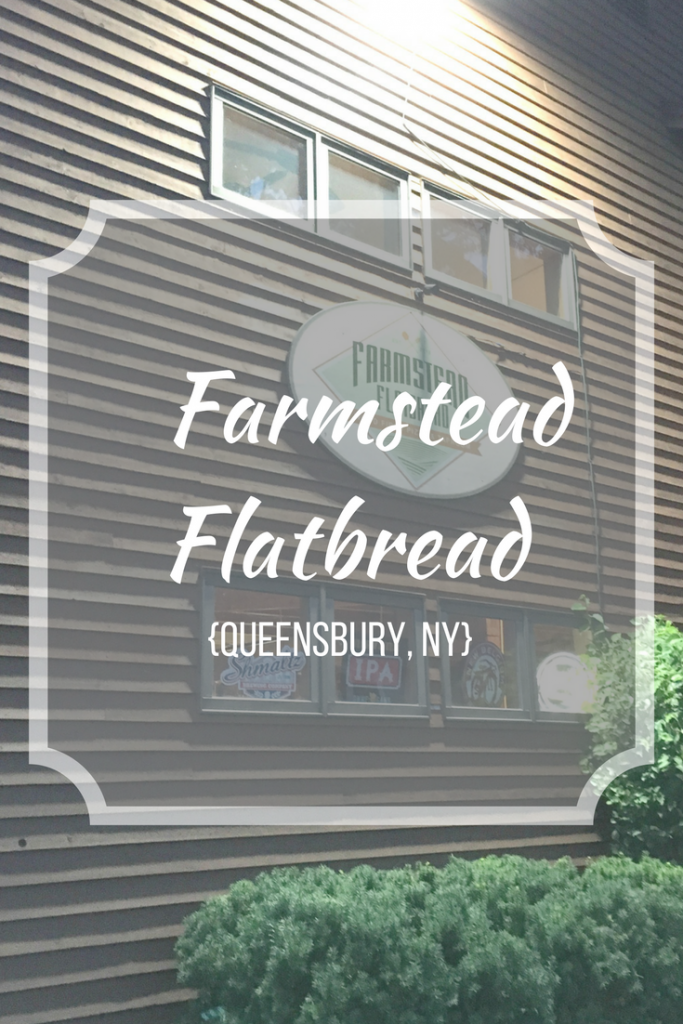 We were hungry after a long, fun-filled day at Six Flags Great Escape in Queensbury, NY.  In an attempt to avoid another amusement park meal, we stumbled upon Farmstead Flatbread.  The restaurant, located on Rt. 9, is only a few blocks south of Great Escape.  Originally known as Sutton's Marketplace, after 40 years the restaurant re-branded and became Farmstead Flatbread.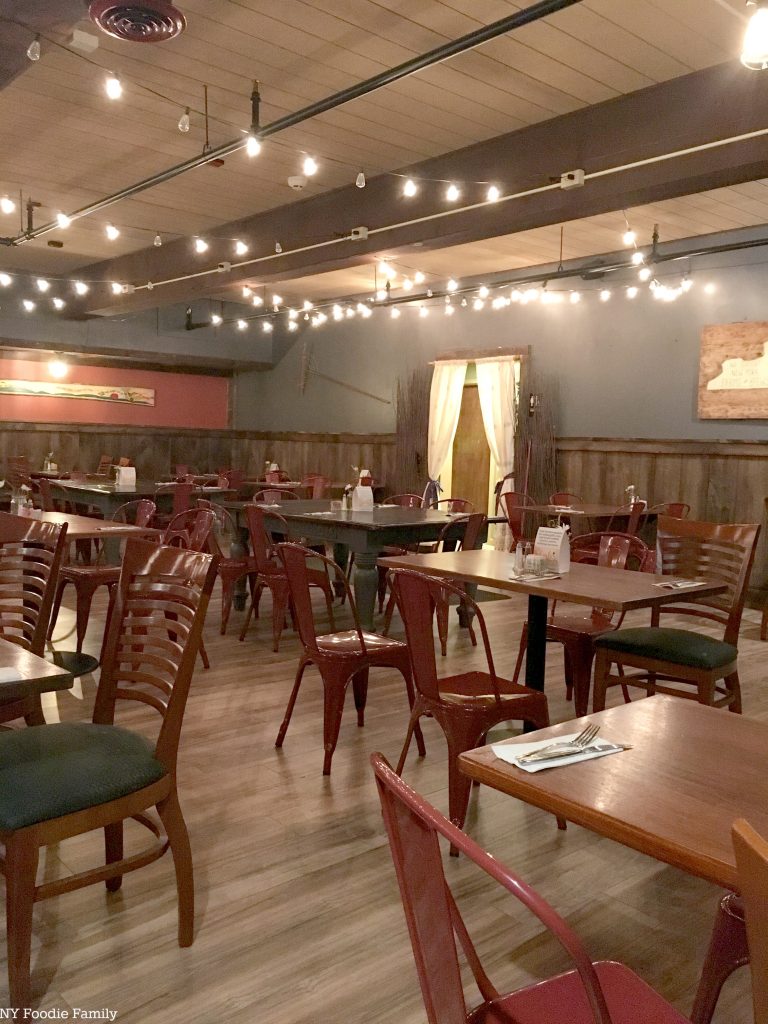 When you enter the restaurant, you encounter a large bar and pool table.  It's a great space for hanging out and grabbing a drink.  Outdoor seating is available and perfect for dining al fresco. The main dining area is spacious and has a casual vibe.  Strands of lights are strung across the ceiling and the deep gray walls are adorned with a mix of farm tools and wall hangings.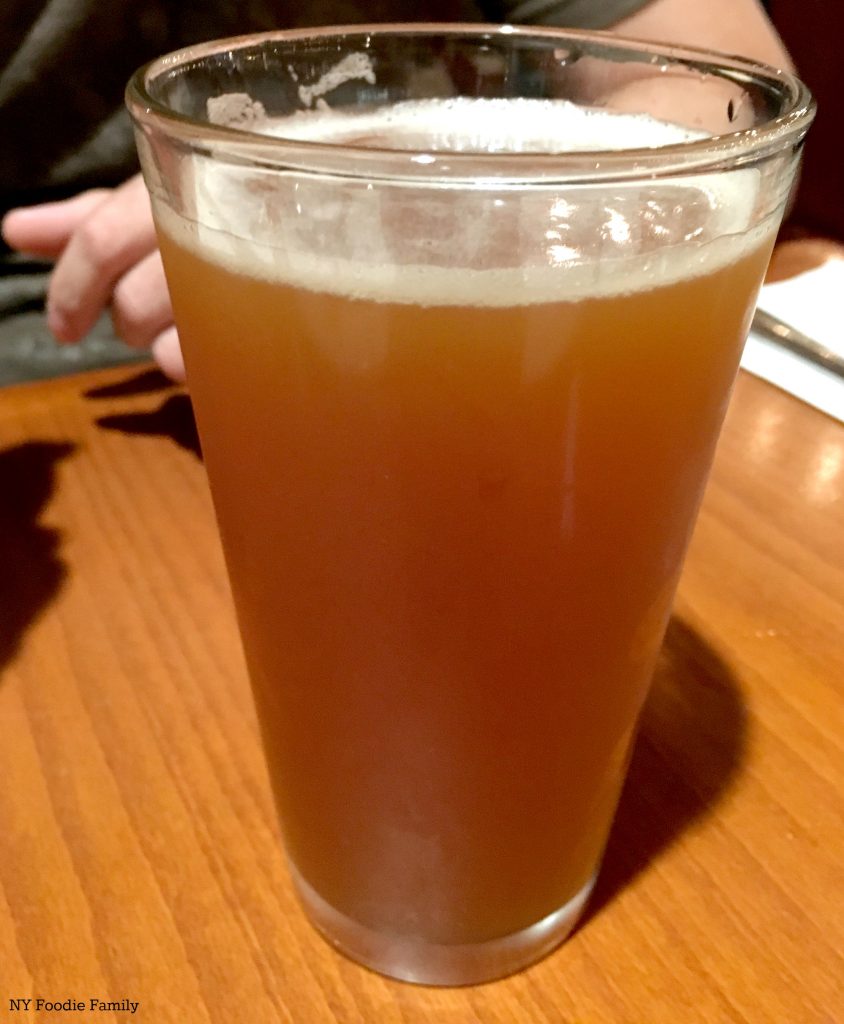 As soon as we saw the regional beer and locally-sourced dinner menus, my husband commented that this was "our kind of restaurant!"  Their extensive beer menu has 20 craft beers on tap that change regularly.
The real star of the restaurant is the hearth oven located in the dining area of the restaurant.  Guests can watch, either up close or from their table, as the chefs assemble and cook their flatbreads.  The menu features nine different flatbreads to choose from.  Or, you can create your own.  The restaurant uses organic and locally-sourced ingredients on the flatbreads including Lake George Olive Oil Company olive oil, organic tomato sauce, house made nitrate free sausage, and Nettle Meadow goat cheese.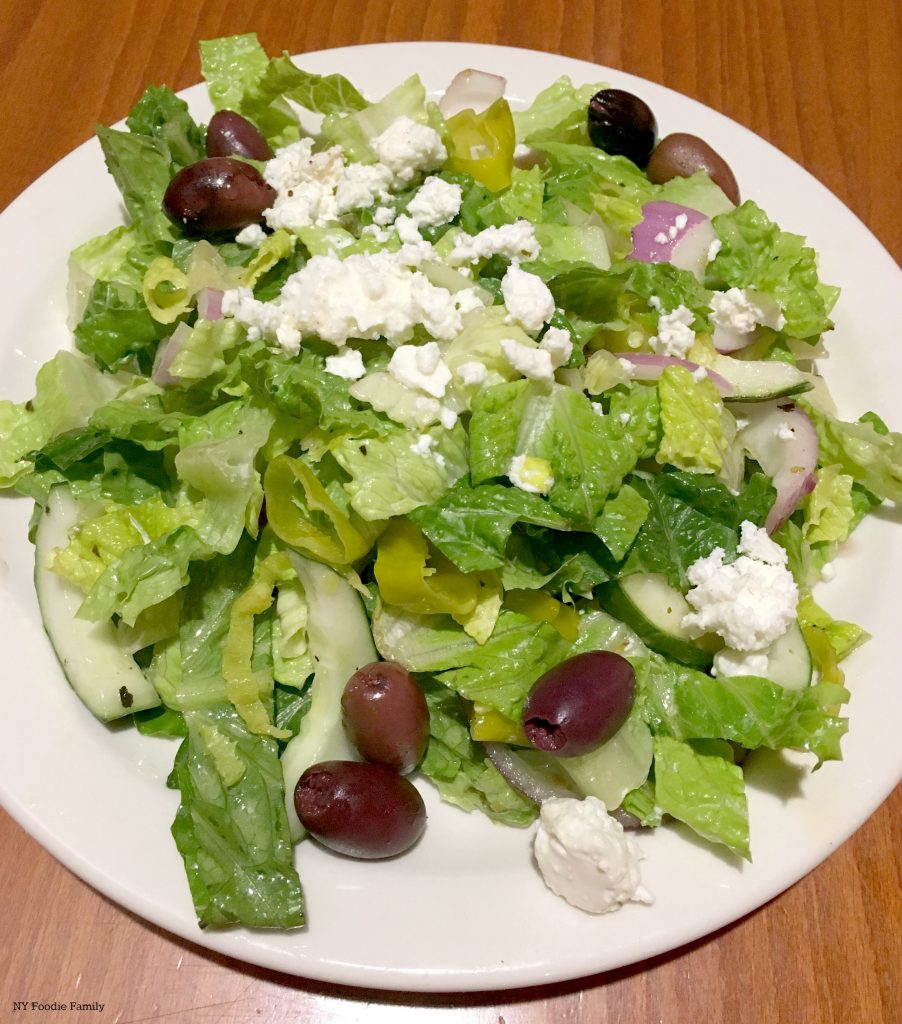 Between the four of us, we shared the seasonal salad, and two small flatbreads. The seasonal salad at the time was a Greek Salad with romaine, Greek-style feta cheese, peppercinis, red onions and local cucumbers tossed in a house-made Greek dressing.  The salad tasted really fresh and the crumbled Greek-style feta was amazing!  If you aren't in the mood for a salad, Farmstead Flatbread also serves wings.  They are lightly fried and made with a house rub.  You only have to choose the number of wings you want and the type of sauce (mild, medium, hot, BBQ or the flavor of the day).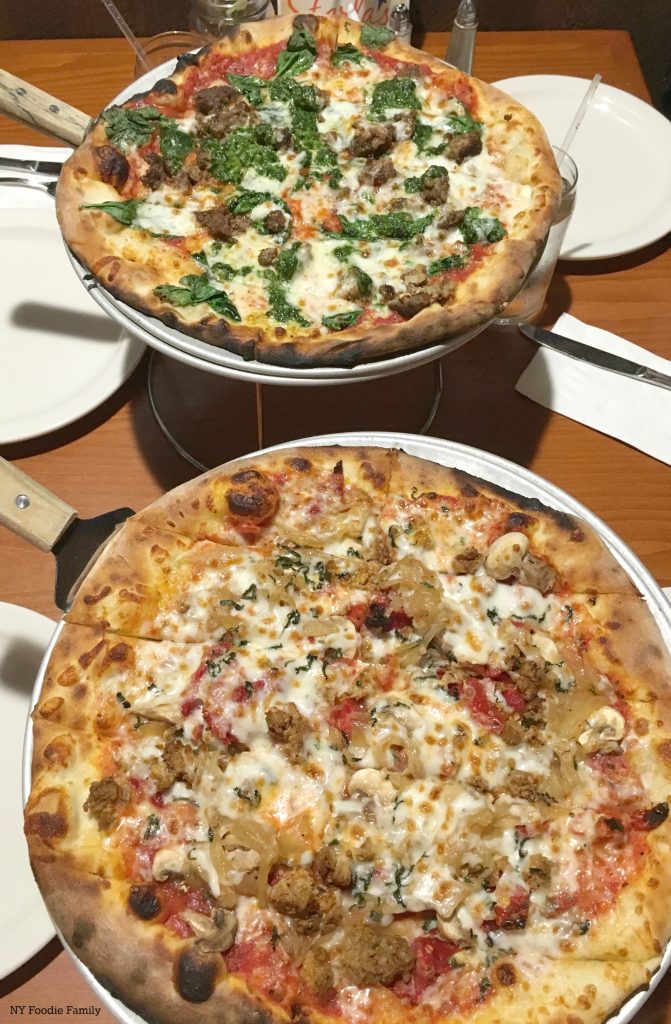 The flatbreads come in two sizes, small and large.  It was difficult deciding which ones to get, but we finally agreed on a small "Cultivator" and a small "Grazer" flatbread.  The "Cultivator" (pictured at the top of the above picture) included organic tomato sauce, Italian cheeses, house-made meatballs, basil pesto and spinach.  The "Grazer" included organic tomato sauce, Italian cheese, peppers, red onions and nitrate free sausage.  Let me tell you, we were not disappointed with our decisions.  Both flatbreads were delicious with great combinations of flavors!  Unfortunately, when traveling, we can't take leftovers with us.  So we might have finished both flatbreads.  It was a tough job, but someone had to do it!
We were too full after dinner to even think about dessert and just requested the check.  The staff were friendly and attentive throughout the meal, checking in and refilling water glasses. On Sundays, they have an amazing looking brunch menu that is served from 10 AM to 3 PM.  I wish I lived closer so I could try it out!  If you're dining between the hours of 11:15 AM – 5:30 PM you can head upstairs and check out Starla's Shoppe for gifts, jewelry, unique toys and more.
If you are looking for a family-friendly, delicious dining experience in the Queensbury/Lake George area, I highly recommend Farmstead Flatbread.
The Details:
Farmstead Flatbread
1066 State Route 9
Queensbury, NY 12804
(518) 741-6911
Hours:  11:30 AM – 9:00 PM, Monday – Thursday
11:30 AM – 10:00 PM, Friday – Saturday
10:00 AM – 8:00 PM, Sunday
Parking:  Free parking in lot adjacent to restaurant
Cost:  Small flatbreads range from $9.25 – $13.75, large flatbreads range from $15.00 – $22.75.  Beers range in price from $5-$7 per 16 oz. draft. (Credit cards are accepted)