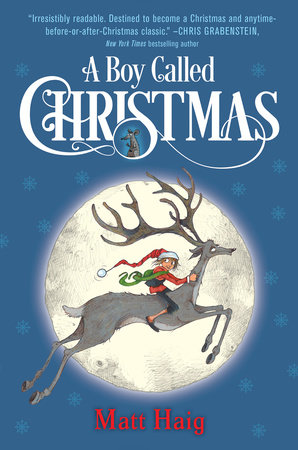 A Boy Called Christmas by Matt Haig
Illustrated by:  Chris Mould
Published by: Alfred A. Knopf (division of Penguin Random House) on November 1, 2016
Genre:  Children's Middle Grade Fiction, Christmas
Pages: 240
Price:  $16.99
Source: borrowed from the library
From Penguin Random House:
Before there was Santa Claus, there was a young boy who believed in the impossible. . . . Lemony Snicket meets Elf in this warmhearted Christmas caper.
 
Eleven-year-old Nikolas—nicknamed "Christmas"—has received only one toy in his life: a doll carved out of a turnip. But he's happy with his turnip doll, because it came from his parents, who love him. Then one day his father goes missing, and Nikolas must travel to the North Pole to save him. 
 
Along the way, Nikolas befriends a surly reindeer, bests a troublesome troll, and discovers a hidden world of enchantment in the frozen village of Elfhelm. But the elves of Elfhelm have troubles of their own: Christmas spirit and goodwill are at an all-time low, and Nikolas may be the only person who can fix things—if only he can reach his father before it's too late. . . .
 
Sparkling with wit and warmth, A Boy Called Christmas is a cheeky new Christmas classic-in-the-making from acclaimed author Matt Haig and illustrator Chris Mould.
Review: This book begins with Nikolas, an eleven year old boy, living with his father in the woods of Finland.  They are very poor and the only presents Nikolas ever received in his life were a wooden sleigh and a doll carved out of a turnip.  The only friend he has is a mouse he named Miika.  His father, Joel is a woodcutter and spends his days chopping wood.  One day a hunter named Anders asks Joel to accompany him on a trip north to find Elfhelm, the Elf Village.  The king is offering a huge monetary reward for anyone who can bring back proof of the village's existence.  While his father's away, Aunt Carlotta comes to take care of Nikolas.  She doesn't like Nikolas very much and treats him badly.  After some time, Nikolas fears his father might be missing and goes on a journey to find him.  On the way, he befriends a reindeer whom he names Blitzen.  The two find them themselves on an adventure where they eventually find Elfhelm and reconnect with Nikolas's father.  However, tough choices must be made and Nikolas must stand up for what he believes in.
This book is a fictional story of Father Christmas.  While reading we discover the origin of Santa's red hat, the elves and reindeer and the delivering of presents on Christmas eve. It's a magical story filled with adventure that will appeal to most readers.  Nikolas was a very likable character who perserveres through some difficult times. On the other hand,  Aunt Carlotta was very unlikable and the way she treated Nikolas reminded me of how Cinderella was treated by her stepmother.  This book included several memorable quotes including, "An impossibility is just a possibility you don't understand yet," "You can't see something you don't believe in,"  and"We must never let fear be our guide." This book has short chapters that are filled with Mould's black and white sketched illustrations.  I'm looking forward to reading the sequel, The Girl Who Saved Christmas.
Overall Review:  Recommended Read