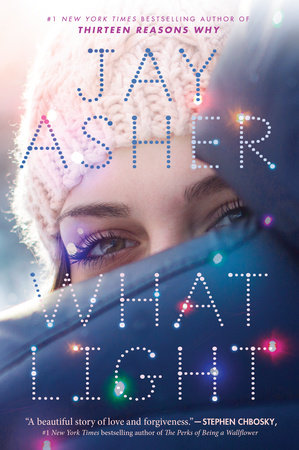 What Light by Jay Asher
Published by:  Razorbill (an imprint of Penguin RandomHouse), October 18, 2016
Genre:  Christmas, Young Adult
Pages: 272 (hardcover)
Price:  $18.99
Source:  borrowed from library
From Penguin RandomHouse:
Review:  We made it!  The 25th book in my 25 Books of Christmas!
Sierra lives two lives.  Most of the time she lives in Oregon on her family's Christmas tree farm. She has her best friends Elizabeth and Rachel and attends a regular high school.   From Thanksgiving until Christmas she travels to California and helps sell Christmas trees on her family's lot.  She has her best friend Heather and participates in online classes, when she's not busy working at the tree lot.
This year, while working the tree lot she meets Caleb. While her dad has a rule about her not dating any of the workers, who are mostly from the high school baseball team, Caleb doesn't work on the lot.  He's a waiter at a local diner.  He collects his tips and purchases Christmas trees for families who visit the local food pantry and would like real trees but can't afford them.  While Caleb has a kind and generous heart he also has a disturbing past.  He made a mistake years ago that is still haunting him.  Not everyone's convinced that he's changed.  Sierra has to figure out if Caleb has really changed and if their relationship is worth the long distance.
I read Jay Asher's Thirteen Reasons Why over five years ago and loved it.  Although it dealt with a dark topic I thought it was written well. What Light is a much lighter, but enjoyable read.  This book deal with the angst of first loves and navigating relationships (friendships, family, dating) while also capturing the spirit and festivities of Christmas.  Without giving spoilers away, I think that Caleb's mistake was a little far-fetched.  However, the effects of it play a huge part of the plot line in his story.
I think that this is a great holiday read for teens.  While it is a YA book, the subject matter and language are tame enough for older middle school readers.   There were not many Christmas themed holiday reads for teens published this year.  While this book is not technically classified as a "Christmas" book, the setting and holiday celebrations qualify it as a holiday read to me!
Overall Rating:  Recommended Read