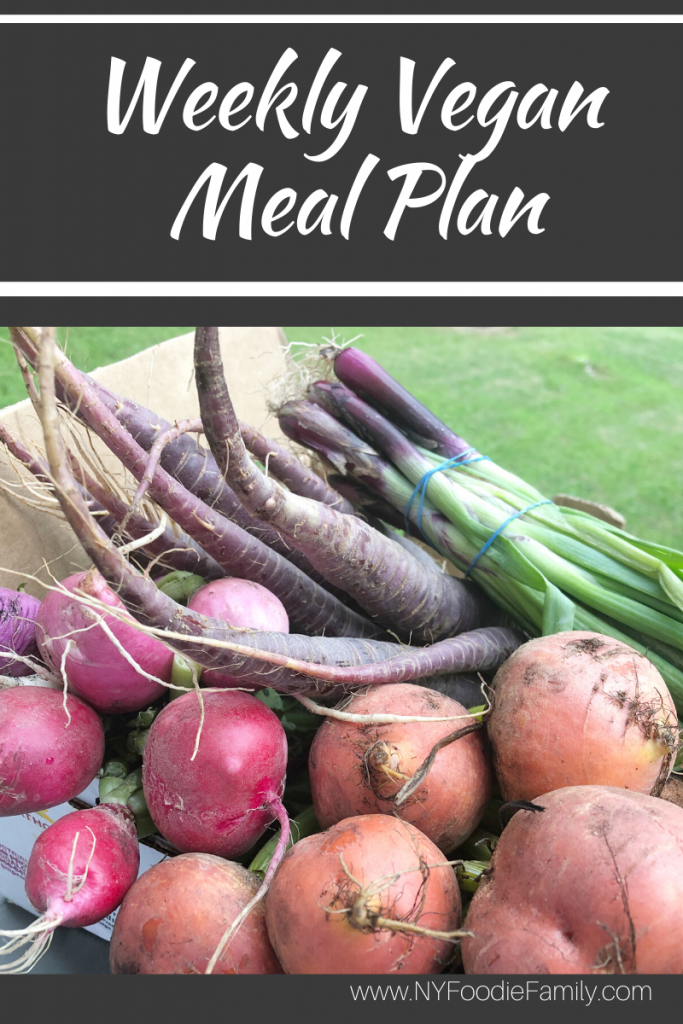 Check out this week's vegan meal plan. With pictures, recipe links and reviews, hopefully you will find something tasty to make! This week's menu includes a pizza, ramen soup, a veggie burger and more….and a lot of fries!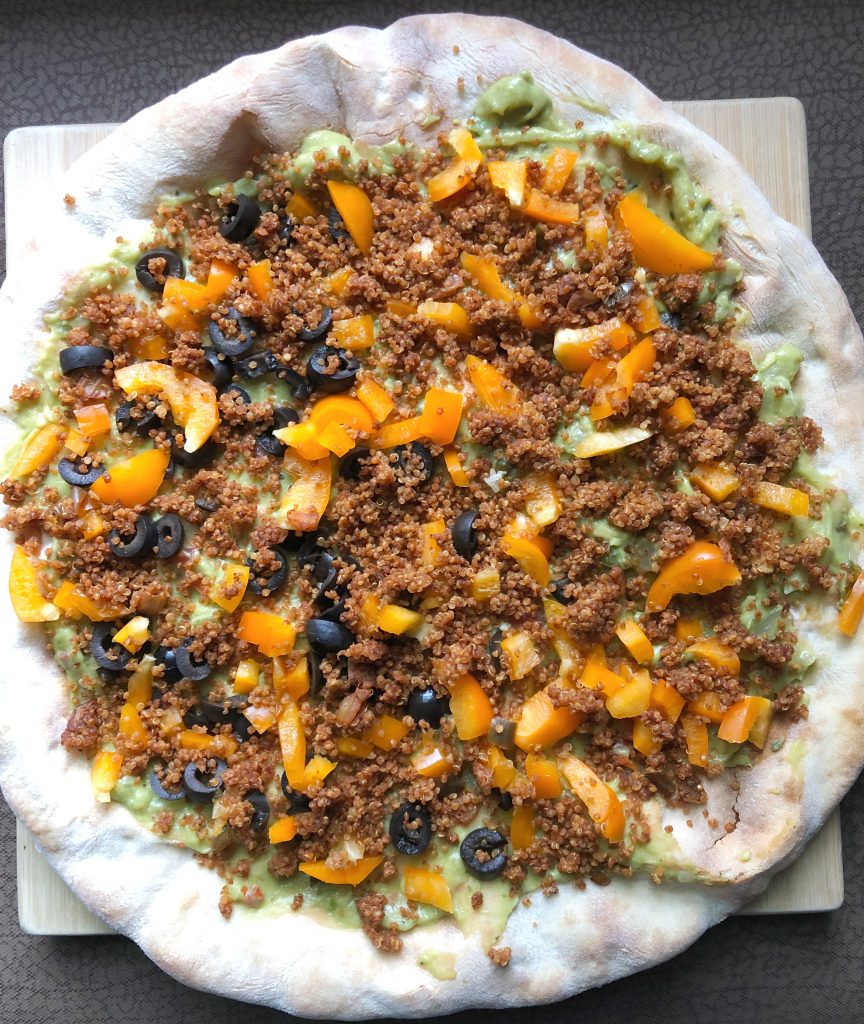 Sunday: Nacho Pizza – Our Nacho Pizza was inspired by this recipe, but we really didn't follow it all. Instead of homemade guacamole, we used prepackaged guacamole from Aldi's. We topped the guacamole with the leftover quinoa taco "meat" from earlier in the week instead of using the taco meat recipe. We were due for a grocery trip and didn't have many veggies left, so we topped it with some bell pepper and olives (on half – for Dana and me). Overall, this was just "eh" for us. It was more of a use-it-up recipe. However, with more toppings, I think it has potential.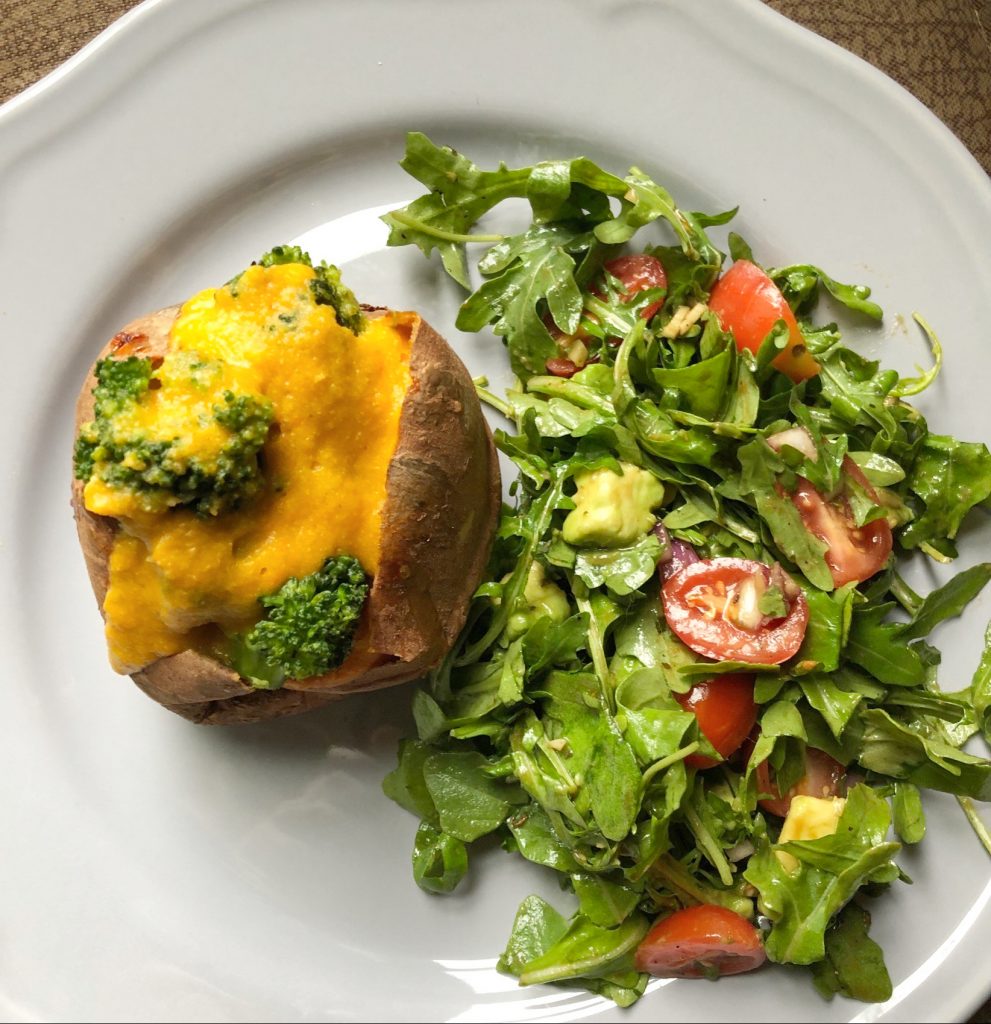 Monday: Broccoli Stuffed Potatoes with Cheese Sauce and Avocado Arugula Cherry Tomato Salad – I chose these two recipes from the same blog. While the potatoes were baking, I made the cheese sauce and started the salad. I used frozen broccoli that didn't roast very well in the oven. I recommend using fresh broccoli. The recipe made a ton of cheese sauce. The potato recipe was just okay. The kids don't like sweet potatoes, but with the broccoli and cheese didn't complain too much about eating it. The salad was a great complement to the potatoes. We all loved the salad and I see it being made a lot over the summer. I only used one carton of cherry tomatoes and one avocado, instead of the recommended two of each, and I thought the salad had enough "stuff."
Tuesday: Spicy Sofritas Tofu Bowls – Have you had the Sofritas from Chipotle? This recipe is supposed to be a copycat of that. I was cautious in not making the sofritas too spicy, since I wanted to make sure the kids could eat it. I only used one chipotle pepper in adobo sauce and one tablespoon of the adobo sauce in the sofritas sauce. This ended up being the perfect amount of heat for them. I may have broken the tofu up too much, as it looked like mush. But it was very flavorful! I made rice bowls with black beans, lettuce, tomato and salsa. Guacamole would have been a great addition, but we used it up on the Nacho Pizza.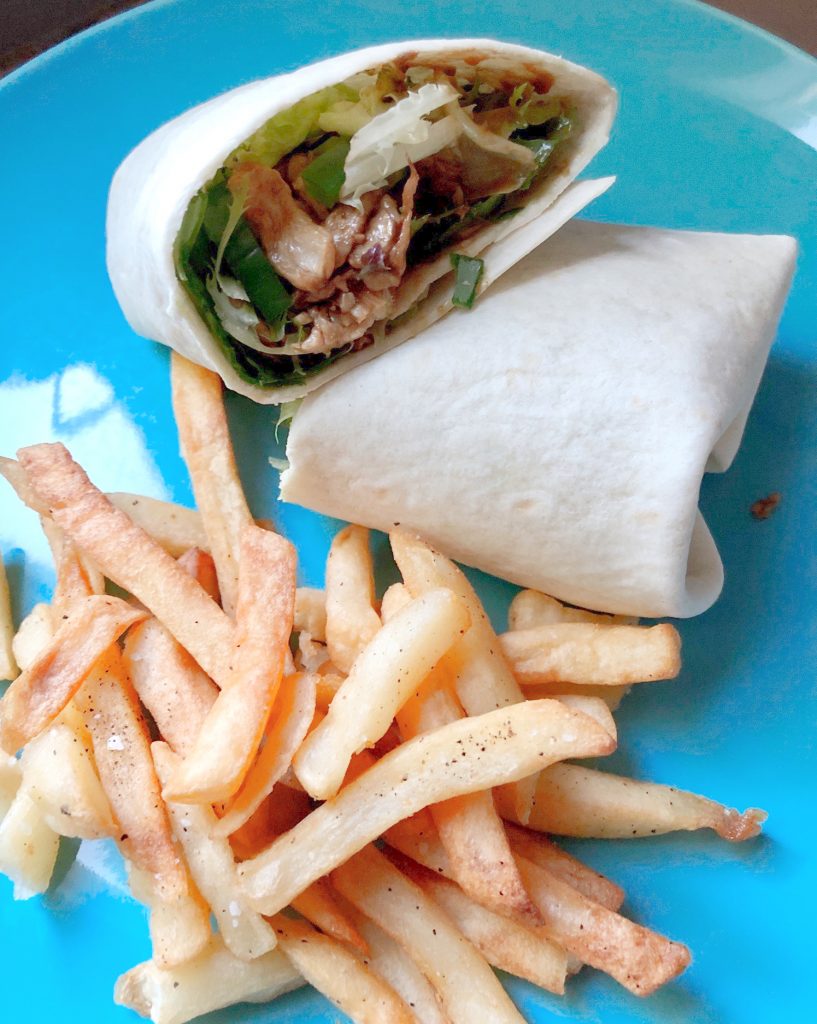 Wednesday: Asian Chick'n Wrap with Spicy Tahini Sauce – This was a quick and easy, barely any cooking type of recipe. The original recipe called for Beyond Meat "Chicken" strips, but I have never seen these at my grocery store. I used Franklin Farms Chickenless Seitan. We realized only when putting the wraps together that we should have gotten two packages. So, these wraps were heavy on the salad and light on the "chicken." Shoprite was out of tahini when we went grocery shopping and we never made it back this week to try and get more. We made the sauce with peanut butter instead and it was still delicious. We served the wraps with fries.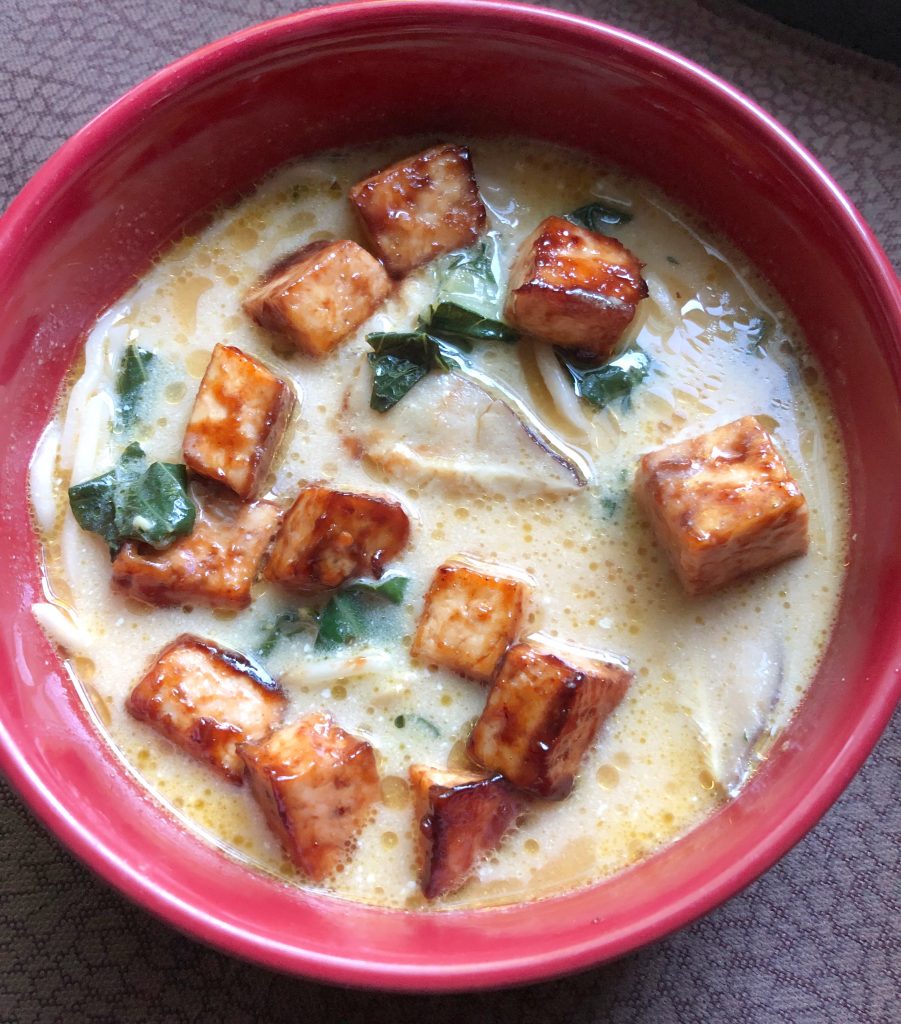 Thursday: Coconut Curry Ramen – Dana took a trip to HMart this week and picked up the noodles, shiitake mushrooms and bok choy that I used for this recipe. While the tofu baked, the rest of the recipe came together. So, this was made in about 30 minutes. We have made ramen before, but the addition of curry powder gave this ramen a unique flavor profile. We all enjoyed this dinner!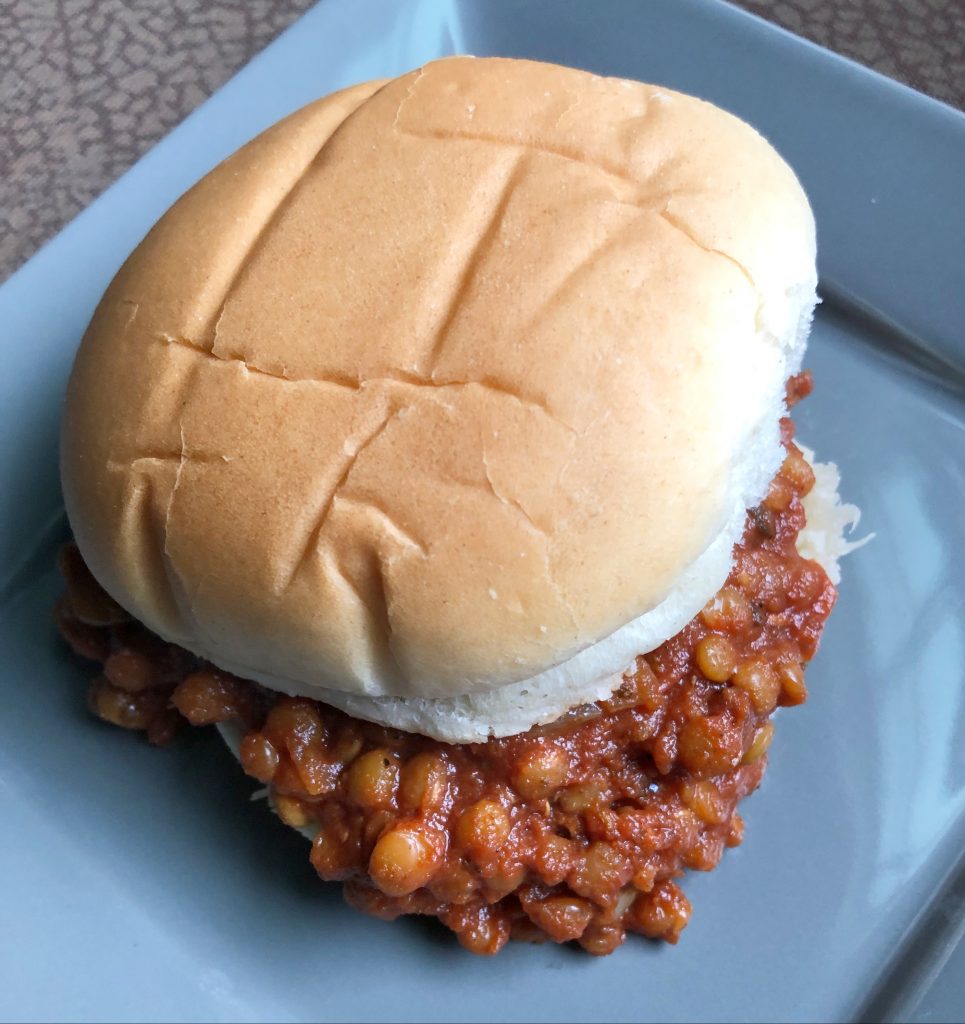 Friday: Lentil Sloppy Joes – Dana chose this as his recipe for the week. Neither me nor the kids really like lentils. But, when it's your night to cook you get to pick the recipe. Dana made this in the Instant Pot, but there are also directions for cooking it in a slow cooker or on the stove top. We do not have liquid smoke so ours were missing the smoky flavor. When we did the grocery shopping Shoprite didn't have coleslaw mix, so our sloppy joes were missing that as well. These weren't bad, but we weren't raving about them, as 3/4 of us don't like lentils. We had these with some kettle potato chips.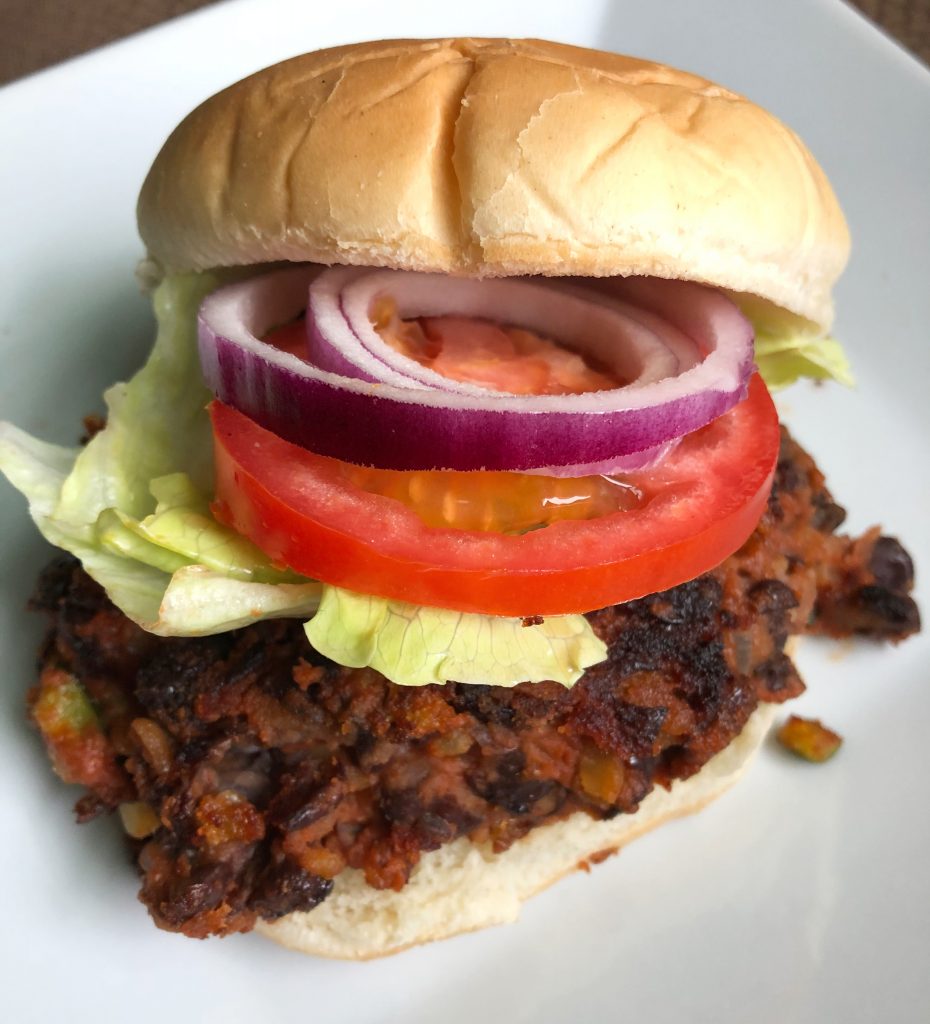 Saturday: Veggie Burgers – We have eaten A LOT of veggie burgers over the past couple of months. However, my son was the first of us to tackle making homemade ones. This recipe was easy to make with a black bean base. Since any diced veggies of choice can be added, we added sauteed onion and zucchini. The recipe says it makes 4-6 burgers. However, we only got 3 burgers out of it. Luckily, we had enough ingredients to double it, so we ended up with 6 burgers. The burgers are good. They are soft and were falling apart a bit. But, they were tasty! We served these with fries.
Recommended Dinners of the Week: Coconut Curry Ramen, Asian Chick'n Wraps and the Avocado Arugula Cherry Tomato Salad.