School is starting again and calendars are getting busy. Fall is the perfect time to go for a weekend getaway to the Catskills. Villa Roma Resort is an all-inclusive family resort in Sullivan County. A little over an hour and a half drive from northern Westchester County, Villa Roma Resort has everything you need for a relaxing vacation.

This year, the Callicoon, NY resort is celebrating its 50th anniversary.  What started as a small boarding boarding house with a pool and 2 bocce courts has since expanded into an 430 acre property.  Besides the resort area, Villa Roma also has an 18 hole PGA Golf Course and a downhill ski area and Chalet. 

I first heard about Villa Roma from a colleague who would visit every summer with her family. With COVID, we have been wanting to travel while staying in New York State. I thought a visit here would be a perfect way to end our summer.
The Room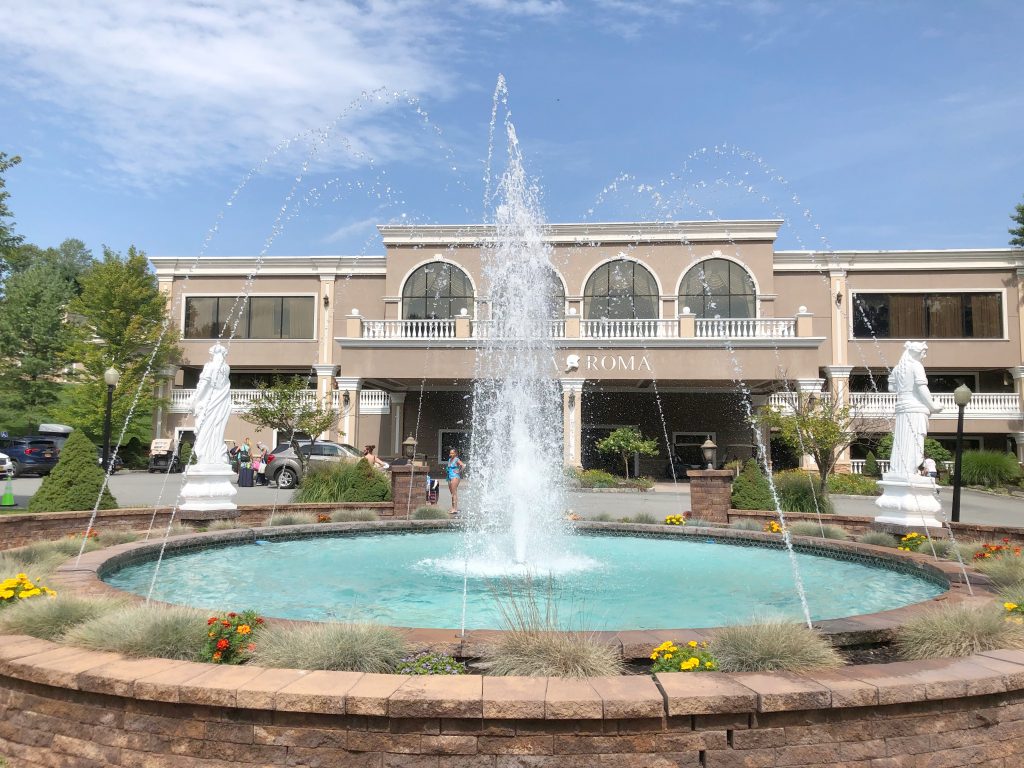 As you can tell from both the name and the décor, Villa Roma is an Italian-themed resort. Villa Roma includes timeshare condo units, with 140 guest rooms in the main building. There is a variety of guest rooms from traditional rooms to two bedroom suites.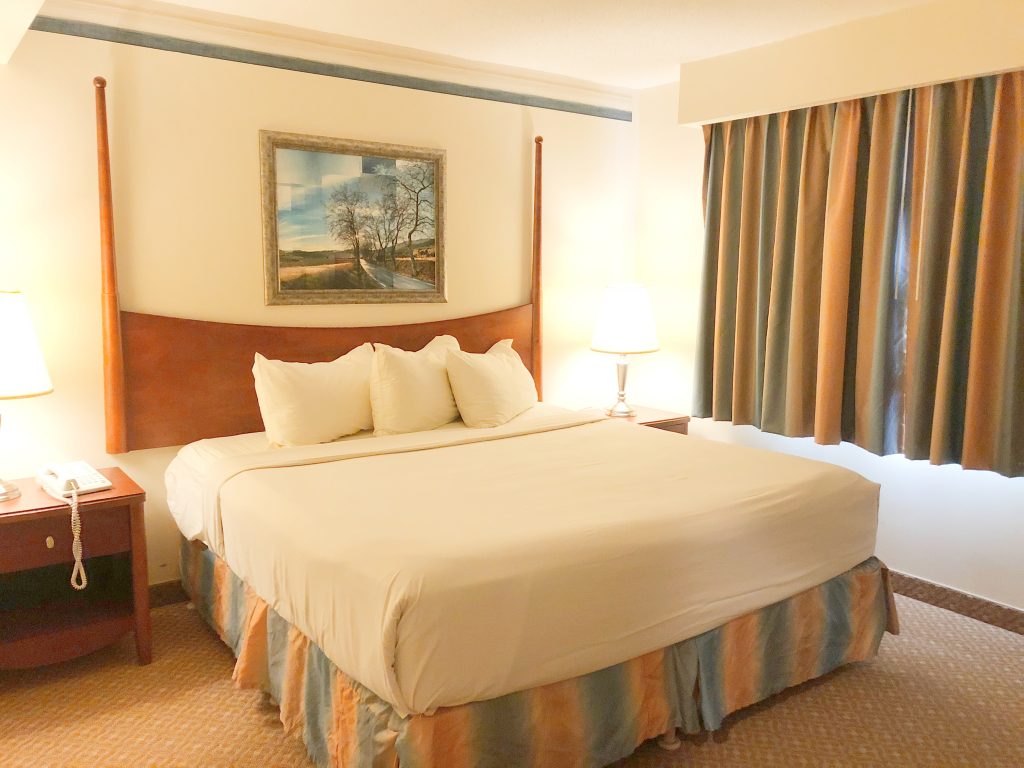 We stayed in a 2 bedroom efficiency room that had a sitting area, kitchen, two bedrooms (one with a king size bed and one with a queen) and a bathroom with a separate tub and shower.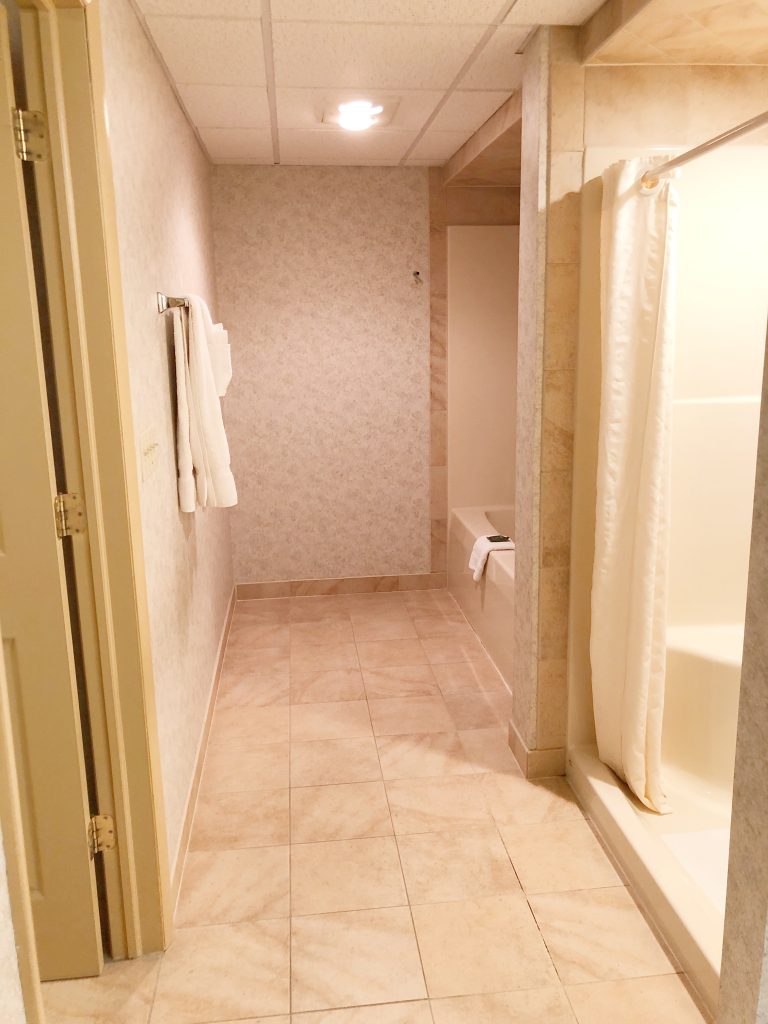 I have to admit that the bathroom was one of the best features of the room! With a teen daughter who loves to spend a lot of time in the bathroom, it was nice that there was enough space and privacy that multiple could use the bathroom at the same time
Activities & Entertainment: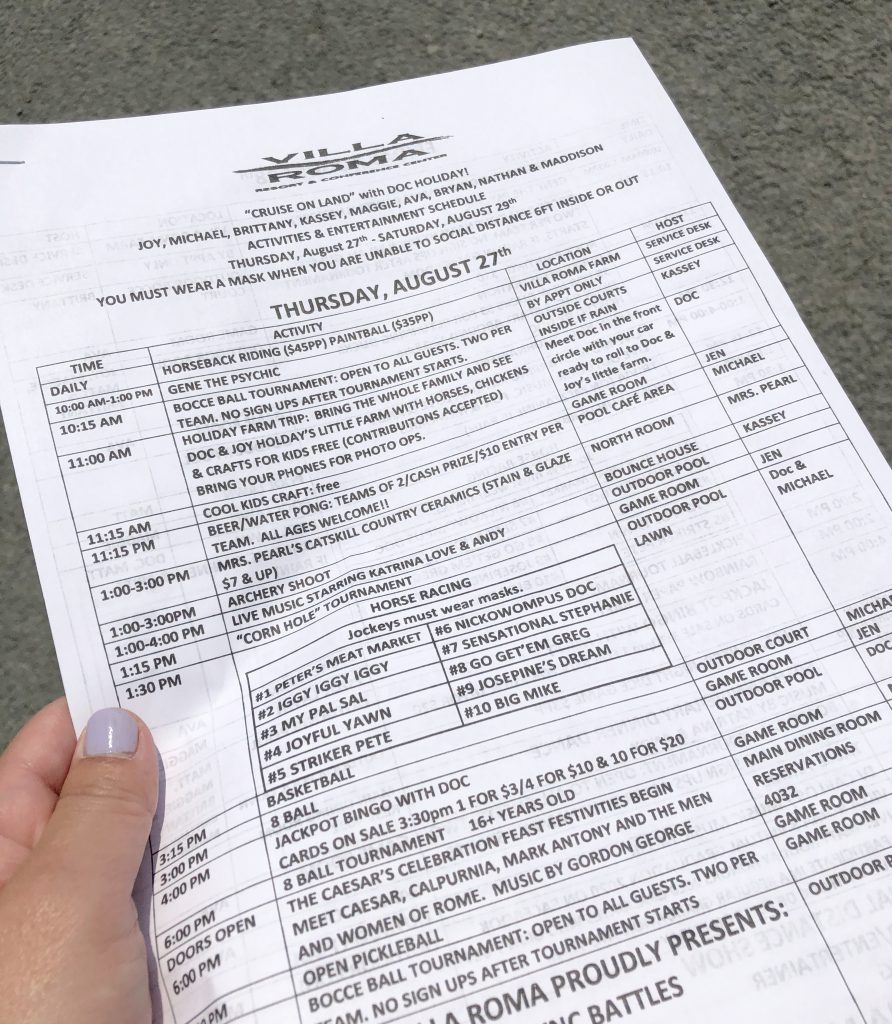 Villa Roma dubs their entertainment as a "Cruise on Land" with Doc Holiday. Each day they have a schedule of activities that includes arts and crafts, Bingo, Horse or Turtle Racing and various types of competitions (Corn Hole, Bocce Ball, Ping Pong and more).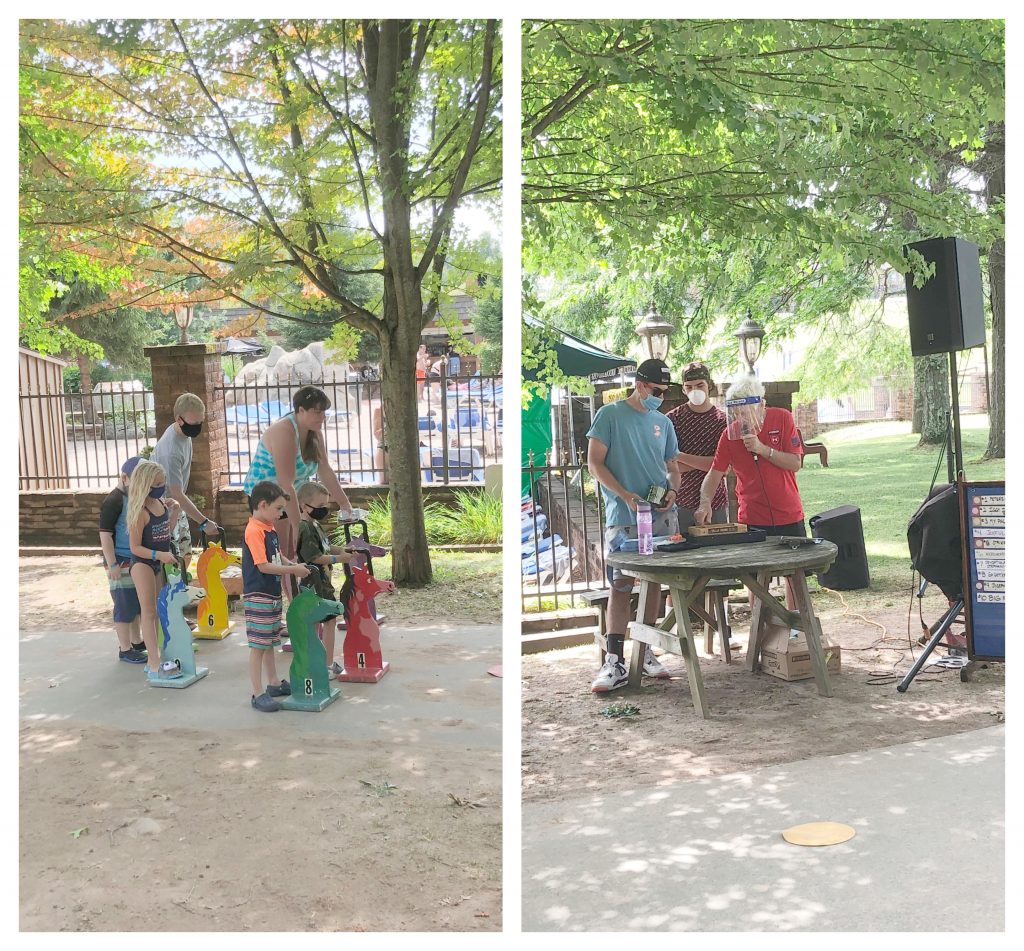 While we didn't participate in any of the scheduled activities, we did watch a couple of rounds of horse racing. Guests can bet $1 on a horse. Special dice are rolled and the horses move up positions based on the dice roll. Winning bets earn money, with payouts based on the number of bets per horse.

If scheduled group fun isn't your thing, there are many other activities to keep you busy. It's important to check the weekly information sheet, as the times of the below activities vary by day. They also close certain attractions for cleaning during select hours.

Guests can purchase an unlimited fun package when they book their reservations. The band is not available for purchase once you arrive at the resort. The activities marked with an asterisk below are included in the unlimited fun package. Otherwise, these activities do have additional fees fee. Tickets are $2 each and most activities require at least 3 tickets per person to participate.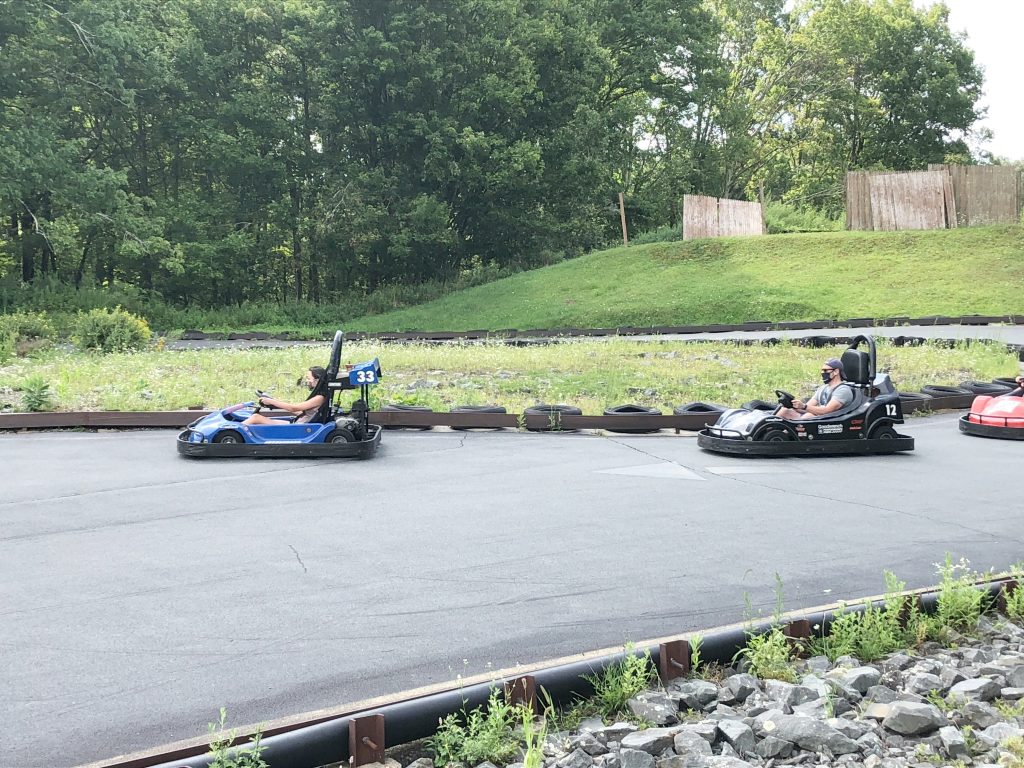 Go Karts* – This was the first time that the kids and I ever drove a go kart. While I'm happy to be able to cross that off my bucket list, once was enough for me. However, the kids loved driving the go karts. There are six single go karts and two doubles. I recommend getting to the go karts early. When we arrived at 12 PM we waited almost an hour to ride. The next day we arrived a little after the 10 AM opening and waited less than 10 minutes. Closed-toe shoes are required to ride the Go Karts and guests must be 56 inches to drive in a single car. Children have to be at least 44 inches to ride in a double car with an adult.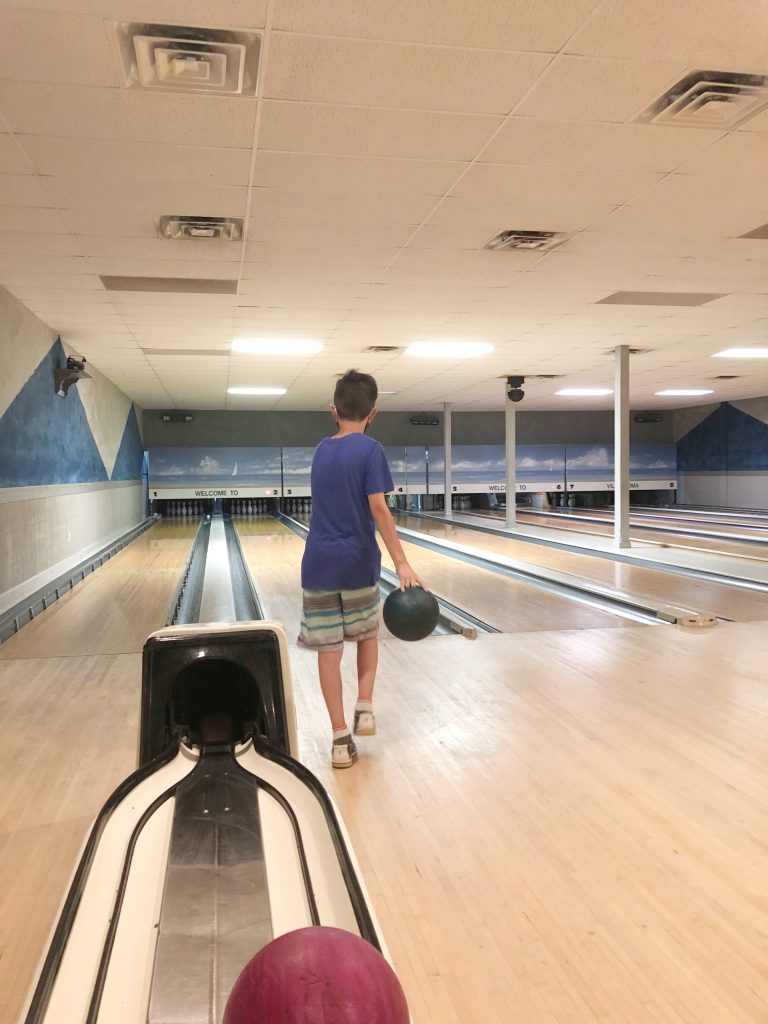 Bowling* – The resort has an 8 lane bowling alley in the Sports Complex. To maintain a safe environment during COVID, they are only running 4 lanes at a time. They do not take reservations and are running on a first come, first serve basis. They give you bowling shoes and have paper and pencil scoring.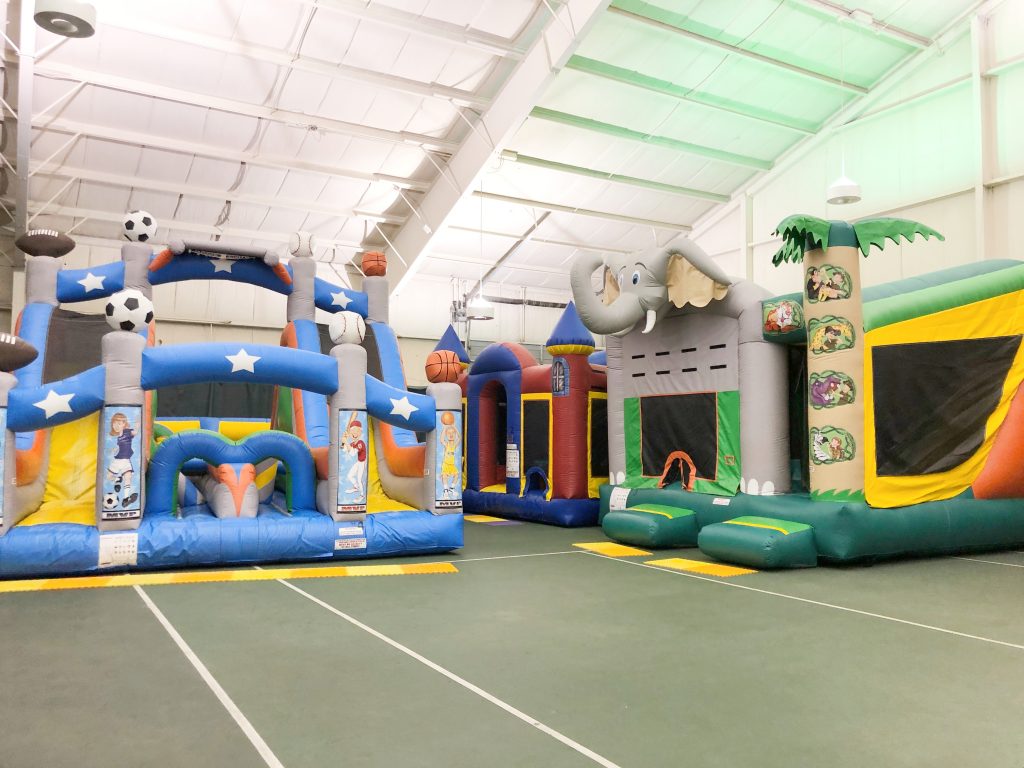 Indoor Fun Park* – There are a variety of bounce houses for younger kids.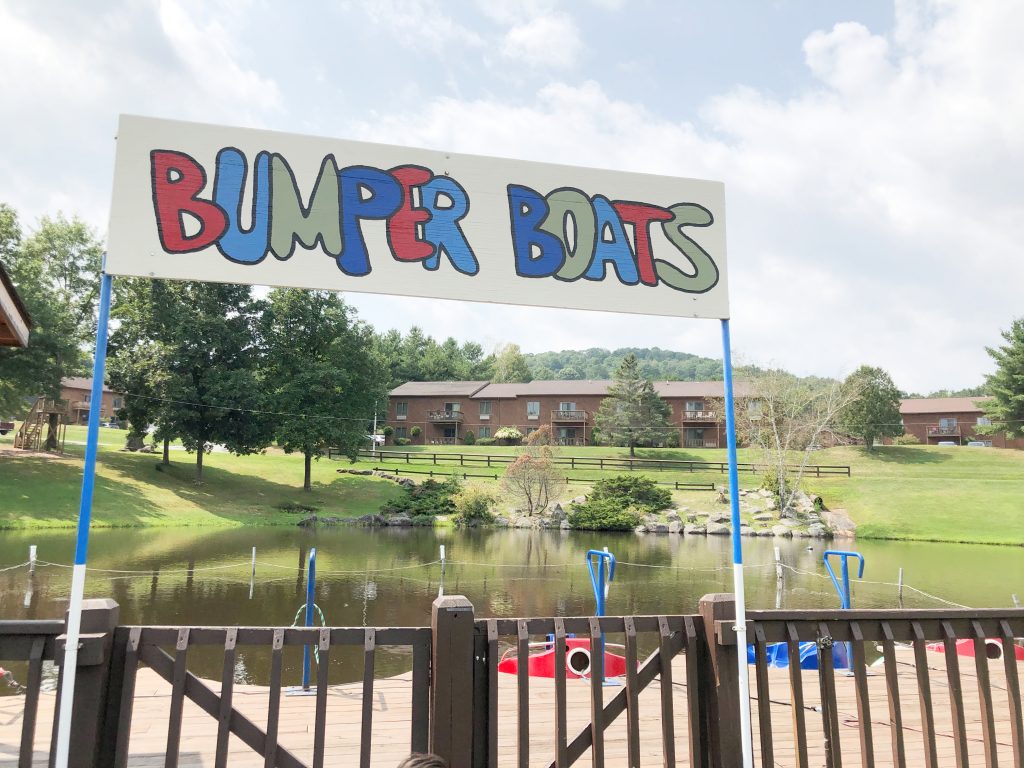 Bumper Boats* – During our visit, only three of the four bumper boats were in operation. Each bumper boat can hold three people, so my daughter and I rode together.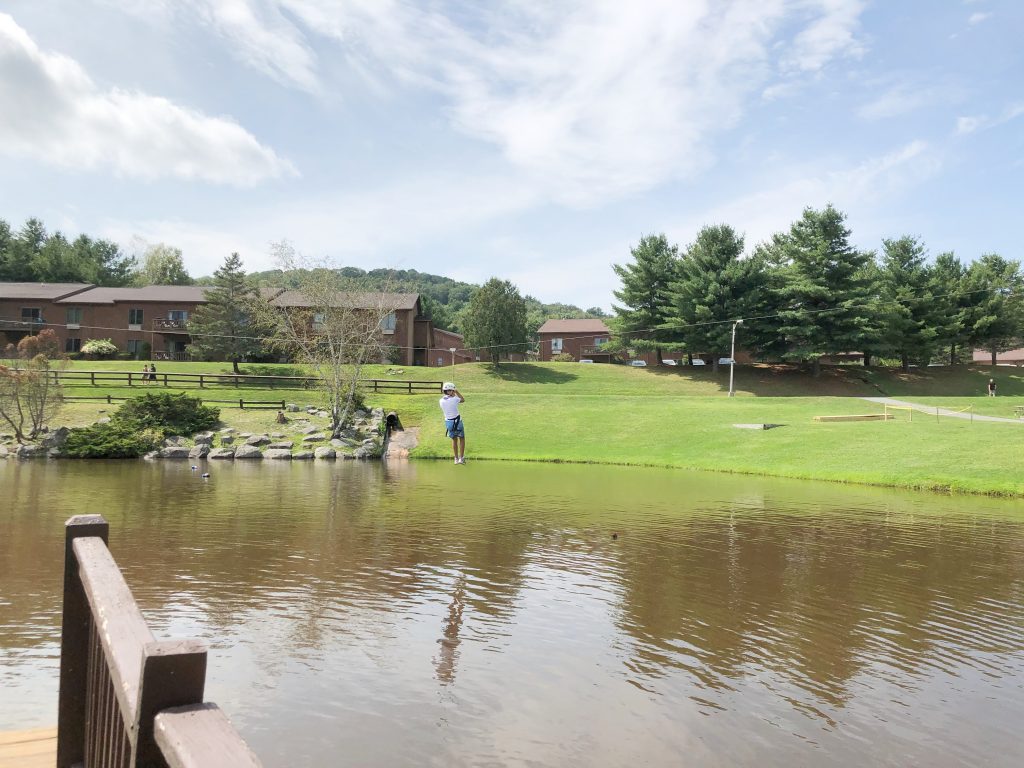 Zip Line* – This is one activity that we did not try. Some activities, like the zip line are only available during select times. When we arrived, the line was long and we wanted to head out.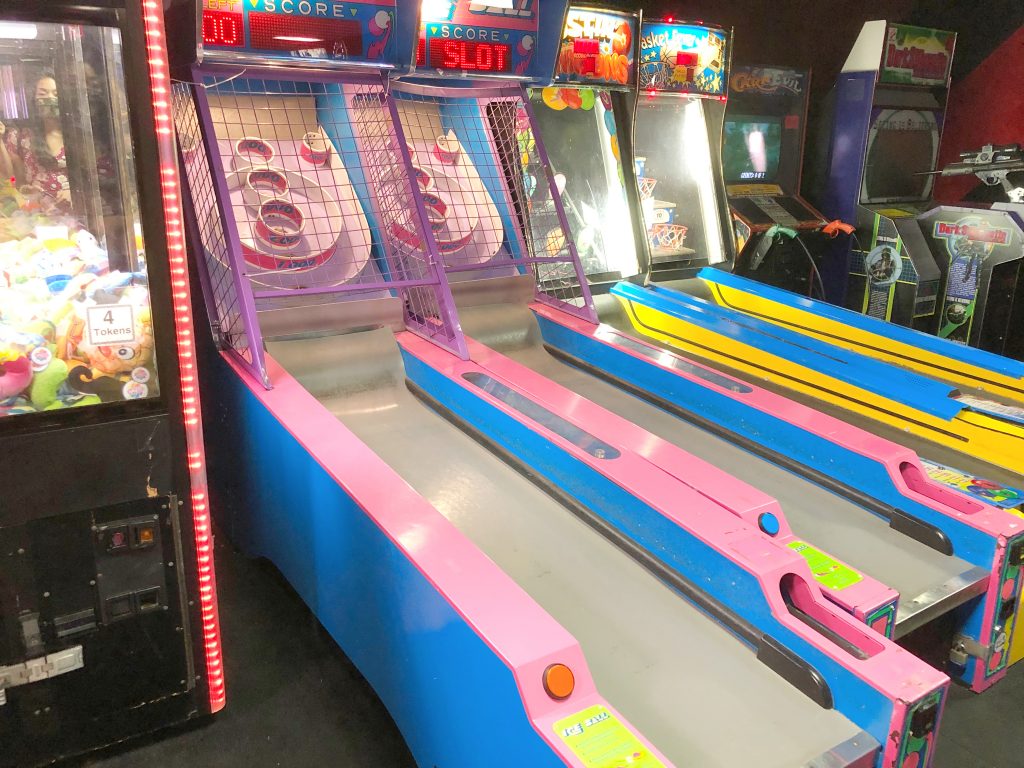 Game Room & Arcade – The game room has ping pong tables, pickleball courts, pool tables and more. Plus, there's an arcade with a variety of games.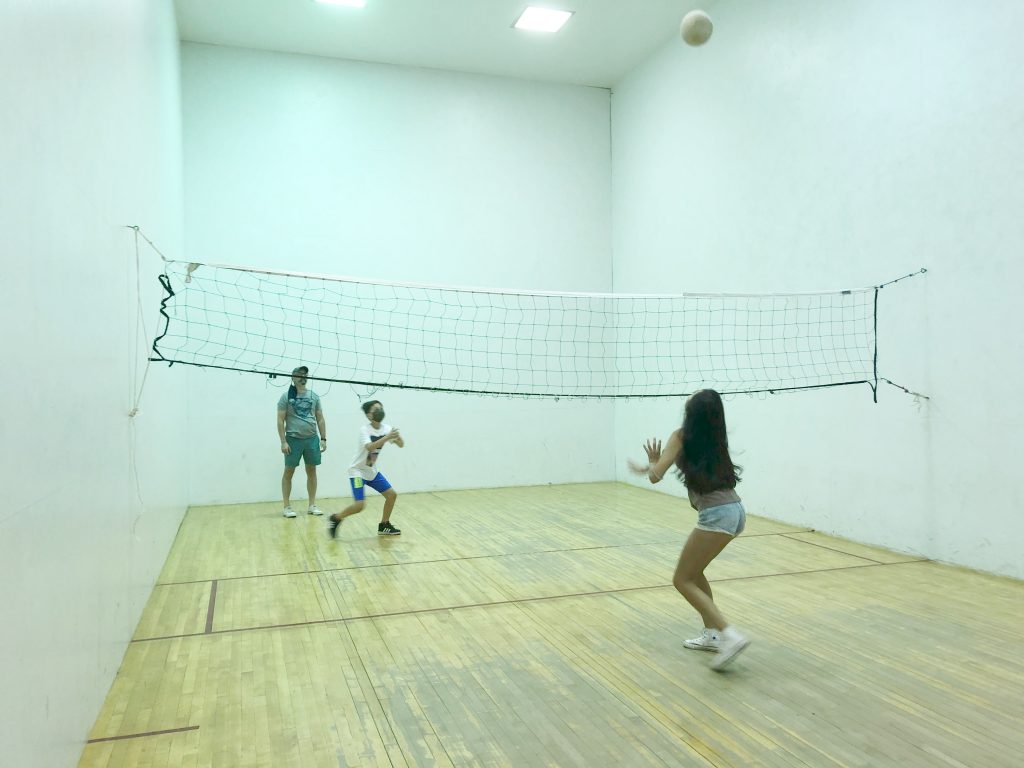 Sports Courts – Inside the Sports Complex, one racquet ball court had a volleyball net set up and one had a basketball hoop. My son requested that we all play volleyball.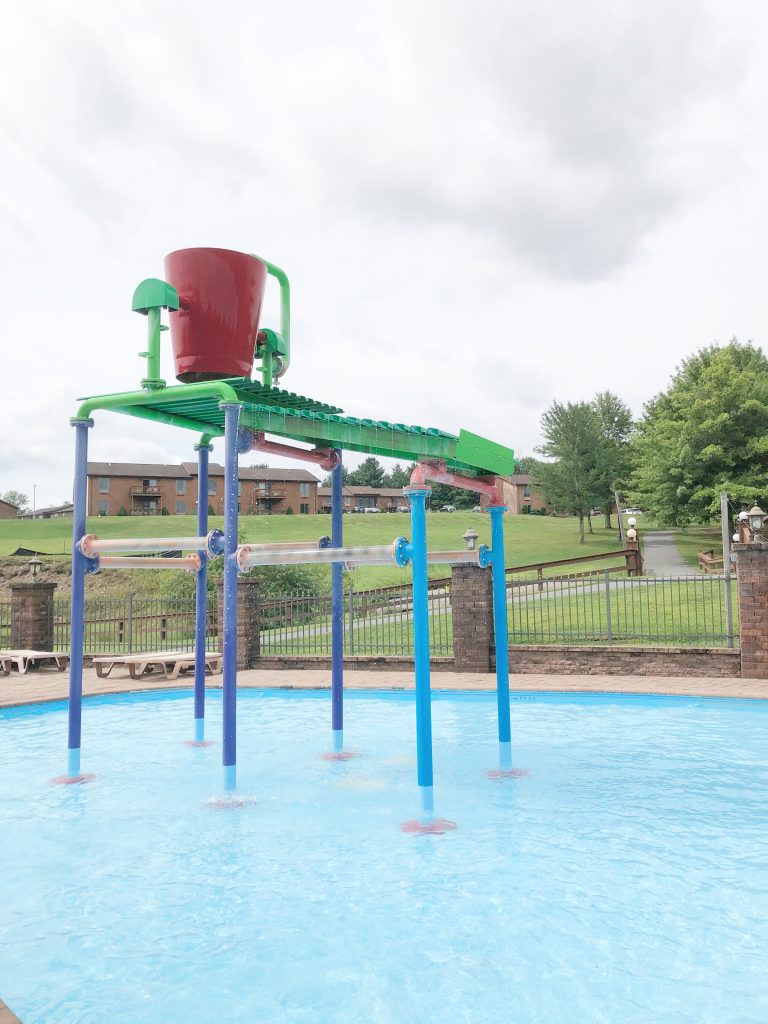 Pools – There are three outdoor pools. One is a zero entry with play features and a water bucket.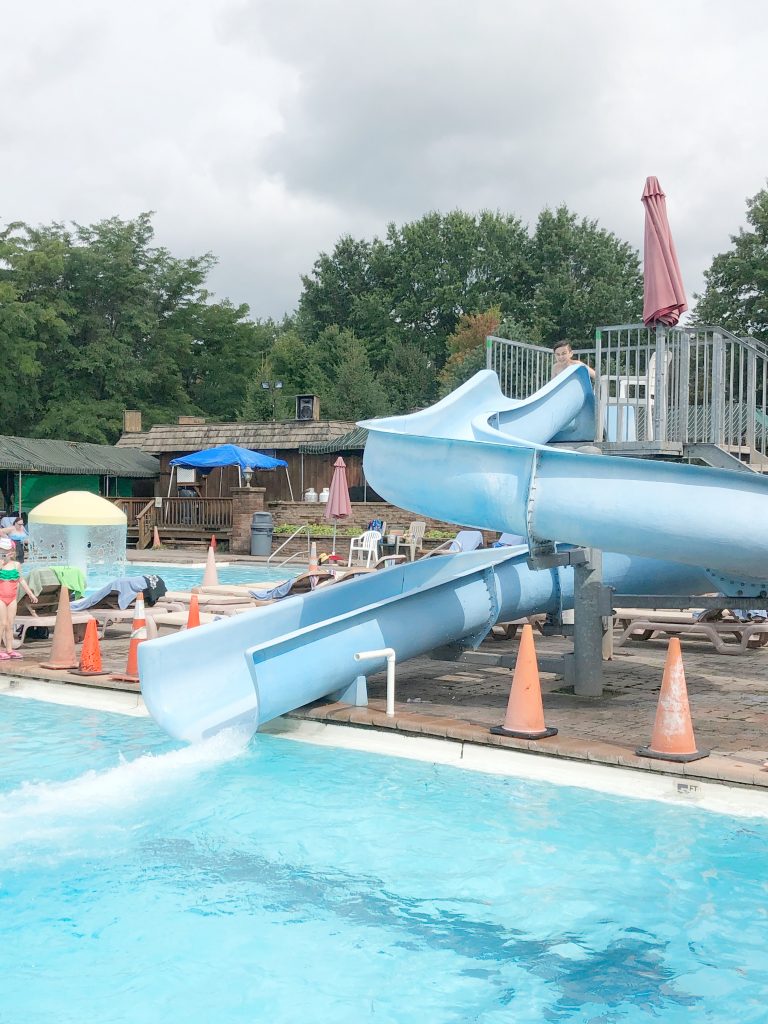 One pool has a water slide and the other is a swimming pool.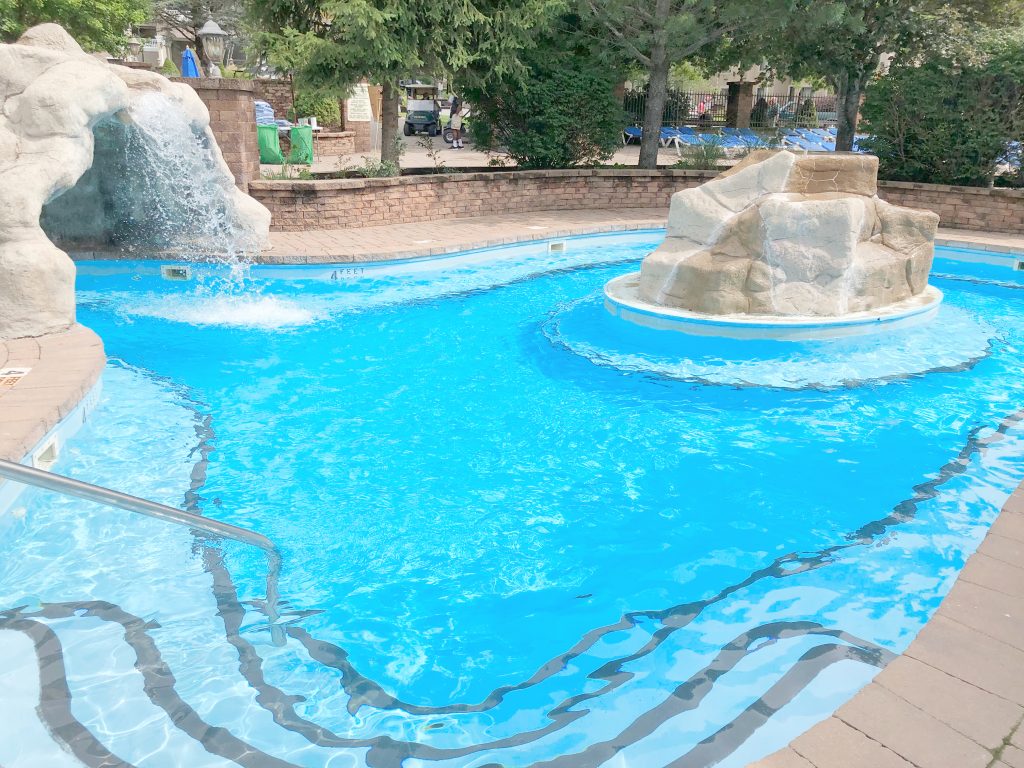 There is also an adults only jacuzzi hot tub with a waterfall which is where I hung out! When we arrived at the pool area at 11 AM, almost every lounge chair was "taken" with a towel. However, there was hardly anyone in the pool area at that time. We were fortunate to find a table and chairs where I could sit to keep an eye on my son, who went swimming. There are lifeguards supervising all pool areas, including the hot tub.

Due to COVID, the gym and indoor pool were closed during our visit. For an additional cost, visitors can enjoy horseback riding and paintball.

Nightly Entertainment: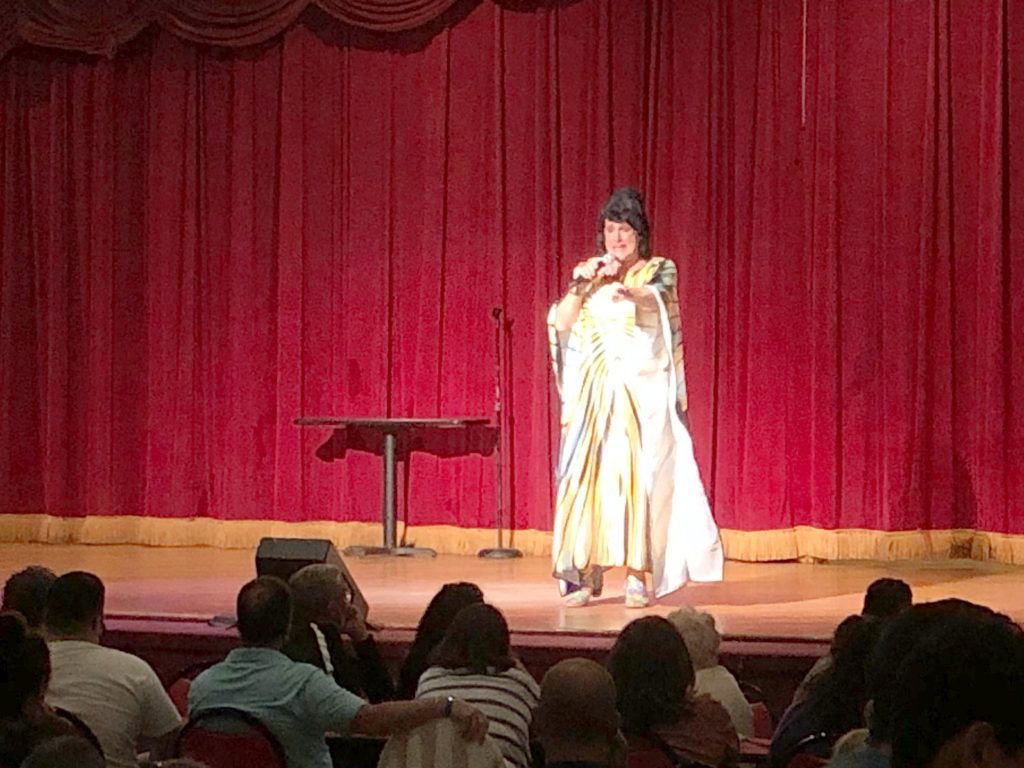 Every night there is some type of evening entertainment. There may be bonfires, dance parties, and, on the night of our visit, a lip sync battle. The event was hosted by Mama Villa Roma, a Villa Roma favorite. Due to the inclement weather, the entertainment was held in the Forum Night Club.
Food: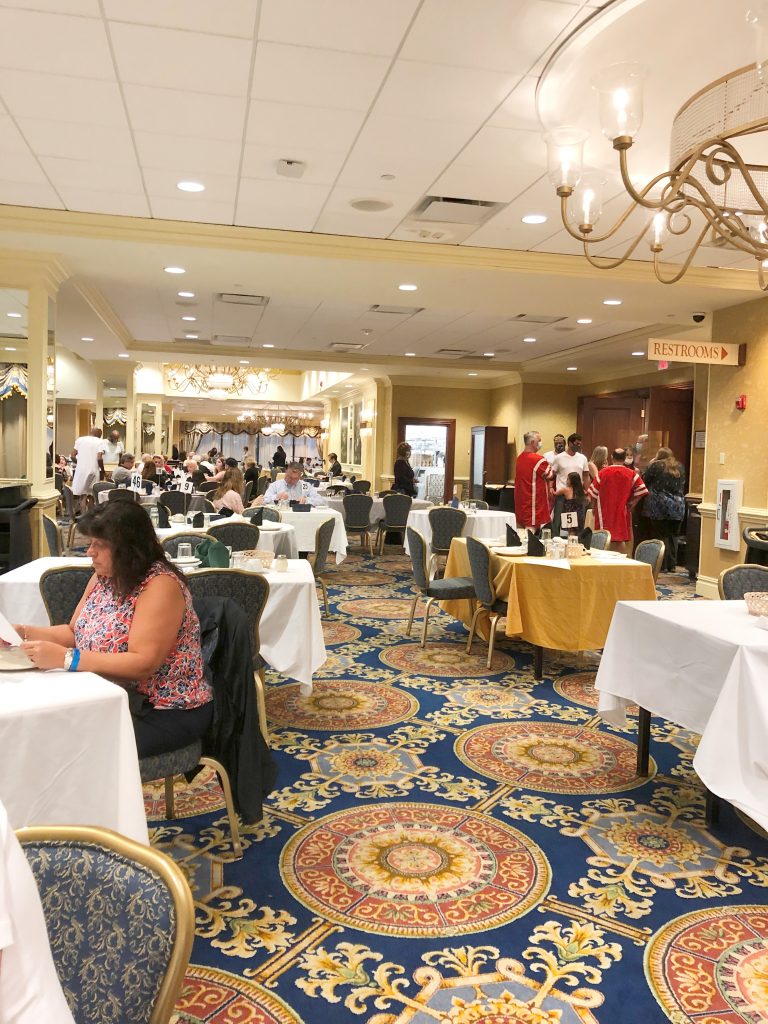 When you stay at Villa Roma, depending on the meal package you select, dinner and breakfast are included in the price of your stay. You are assigned a table in the main dining room and eat dinner and breakfast at the same table, with the same wait staff, the duration of your visit.

Dinner is served 6:30 PM – 8 PM and reservations are required. Menus may change based on the season and day of the week, but offer an appetizer, choice of soup or pasta, salad, entree and dessert. Thursday evenings feature a special Caesar's Night seven course menu. Since we have two vegans, a vegetarian and a meat eater in our family, I made sure to notify them when I made our 6:30 PM dinner reservations.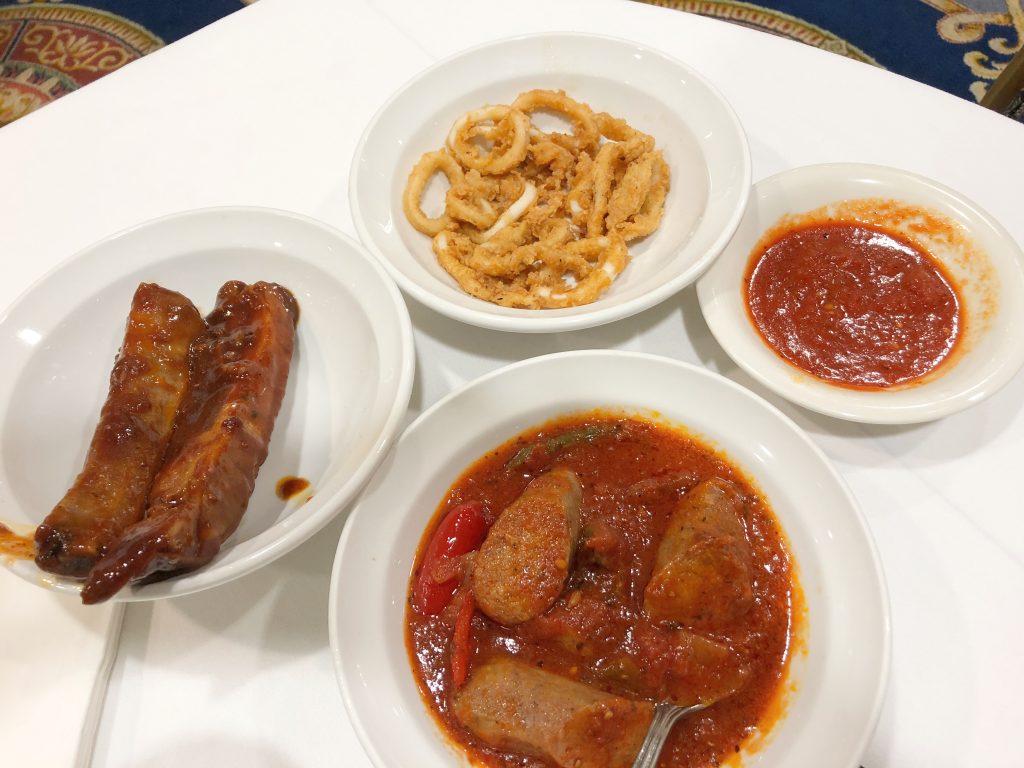 My son enjoyed the seven course feast that included a variety of appetizers (fried calamari, sausage and peppers and spare ribs), plus ravioli, a Caesar salad and his entree, the Dill Butter Salmon Fillet.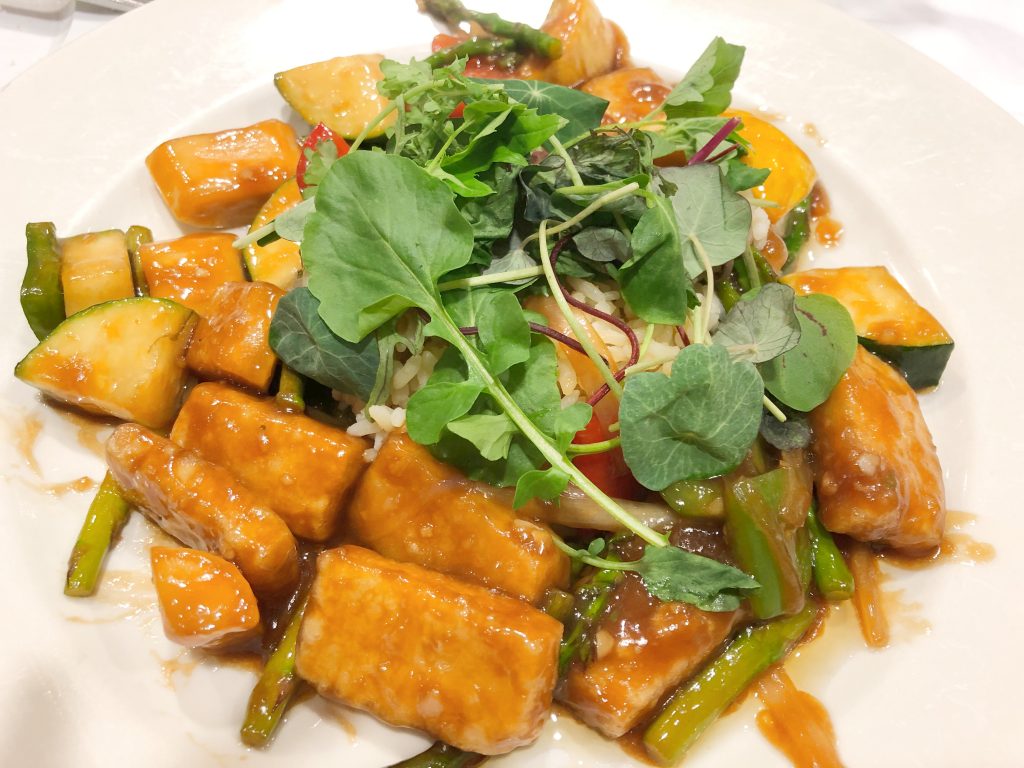 Meanwhile, the kitchen was able to make a tofu and vegetable stir fry with rice for the three of us, which was delicious!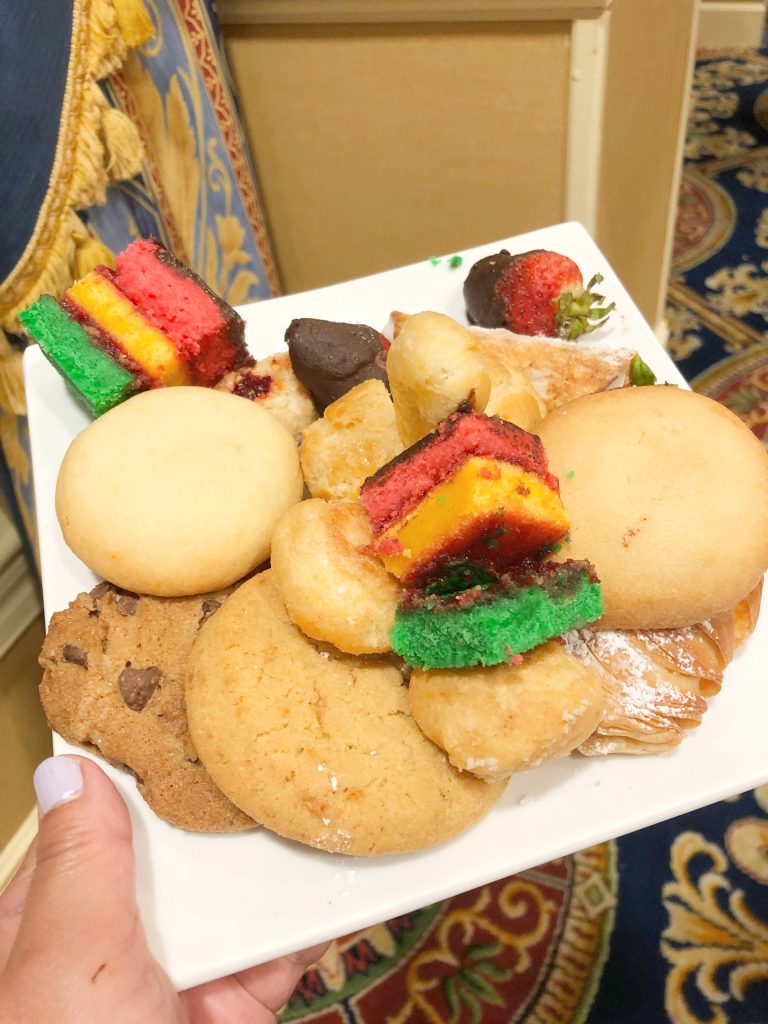 And look at this platter of Italian pastries that they served. My son is now a fan of Italian rainbow cookies!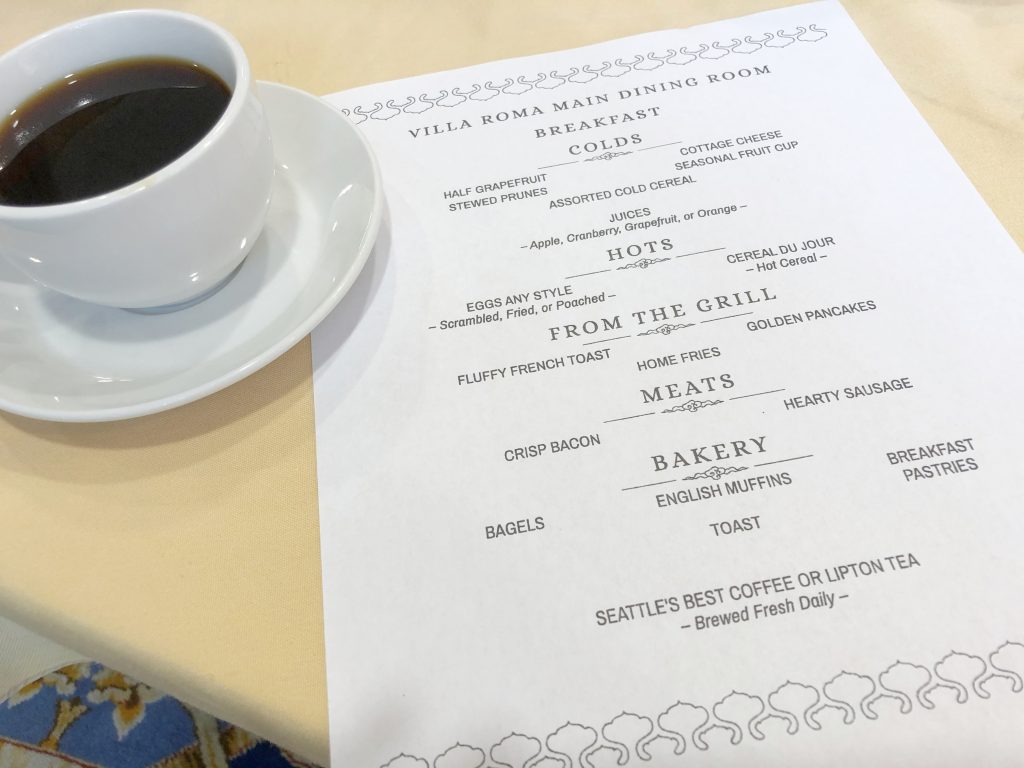 Breakfast is served 8:30 AM – 10:00 AM daily. They offer a variety of different dishes including eggs, french toast, pancakes, cereal, bagels, fruit and more.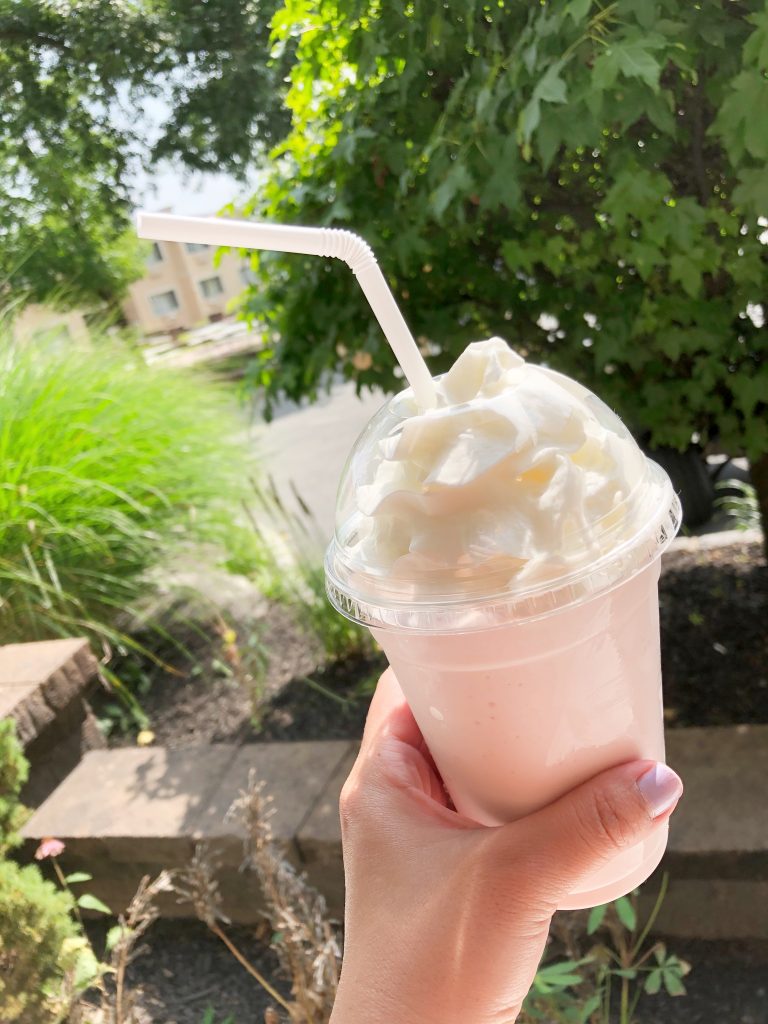 There are several other food options for lunch, snacks and breakfast and dinner, if you choose not to participate in the dining plan. I enjoyed a strawberry milkshake at the Cappo Dolce Coffee & Ice Cream Parlor.

COVID and Safety Measures: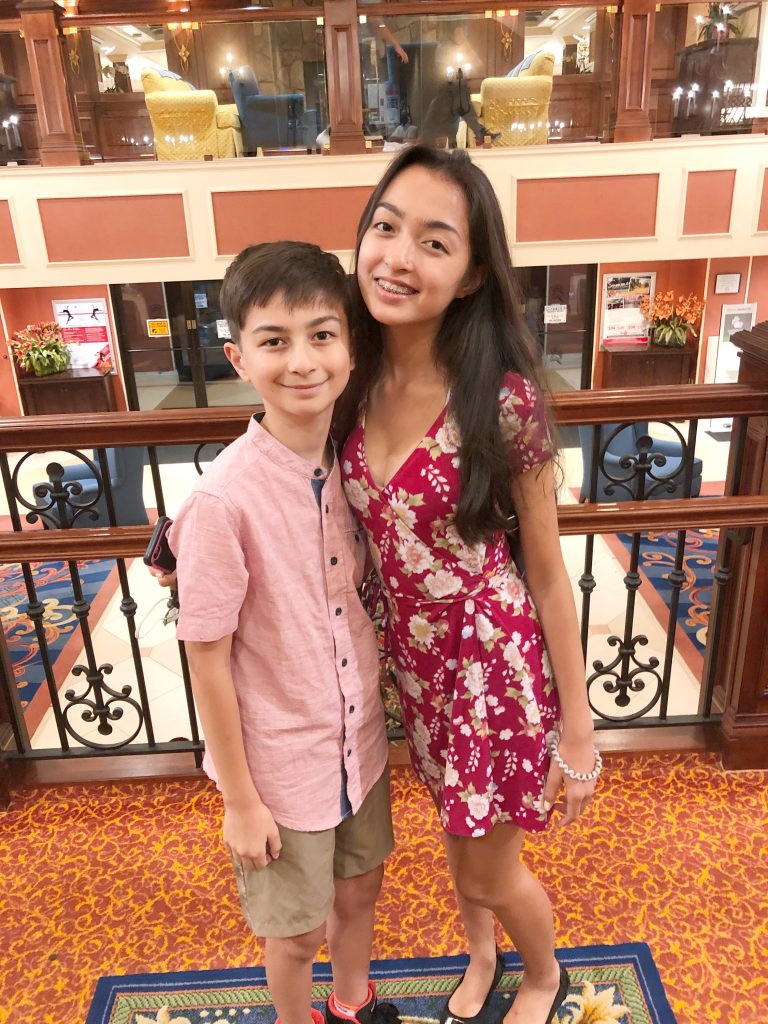 Villa Roma is doing a great job with their safety measures. They have signs up throughout the resort noting that masks must be worn. During all activities that we visited, mask wearing was enforced, even when go karting. Hand sanitizer stations are located throughout the resort and throughout our stay we saw staff in the public common areas cleaning.

We walked by the pool area the first afternoon of our visit and were surprised at the number of people in the pool area and that few, if any were wearing masks. Obviously masks cannot be worn while swimming. But the number of people not wearing them while sitting in the chairs around the pool area made us uncomfortable. So, we visited the pool earlier the next day when it was less crowded and we were more comfortable.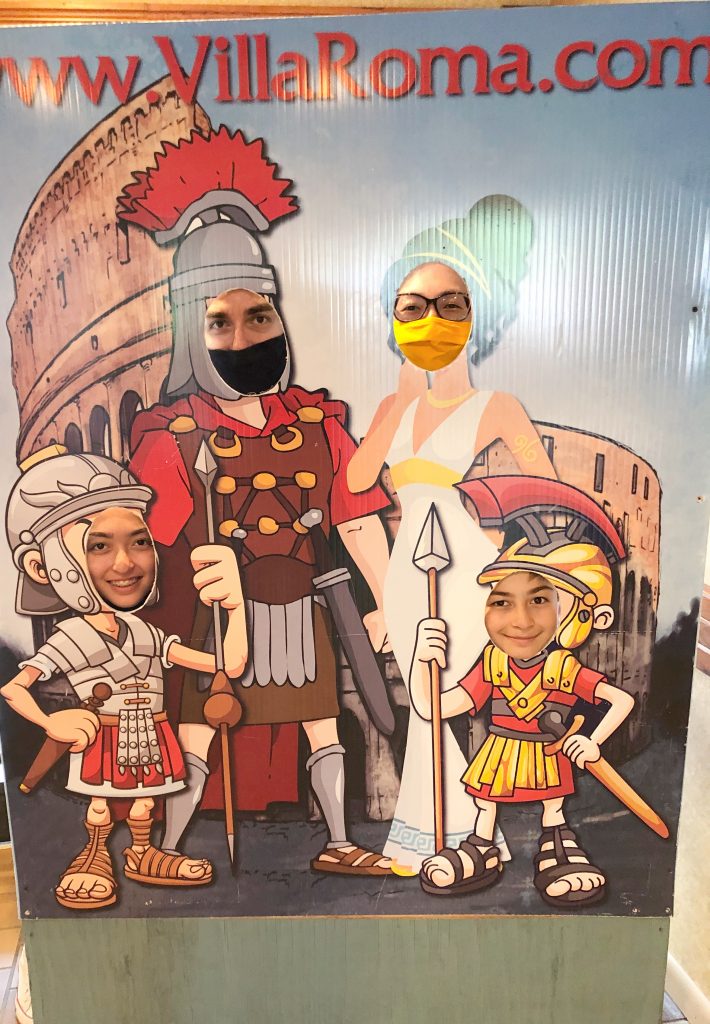 Villa Roma caters to all types of visitors. We saw many families during our visit as well as couples of all ages. Many of these couples and families have been visiting Villa Roma for years! A couple of days at Villa Roma Resort was just what our family needed. It was nice to disconnect and enjoy some quality family time. There was enough to do to keep our 14 and 12 year-old entertained over our two day stay.

If you are looking for a family getaway, close to home, check out Villa Roma Resort in the Catskills!

The Details:
Villa Roma Resort
356 Villa Roma Road
Callicoon, NY 12723
1-800-533-6767

*Be sure to check the website for promotions and special offers

*If you are staying in a room with a refrigerator/kitchen, stock up on snacks and drinks.

*Get to attractions with limited hours like the Go Karts, bowling and the zipline before or close to opening, to avoid long waits.

*Semi-casual attire is recommended for dinner and men are requested to wear collared shirts. However, a dress code is not enforced and we saw people wearing everything from tank tops and jeans to men in collared button down shirts and slacks and women in sun dresses.