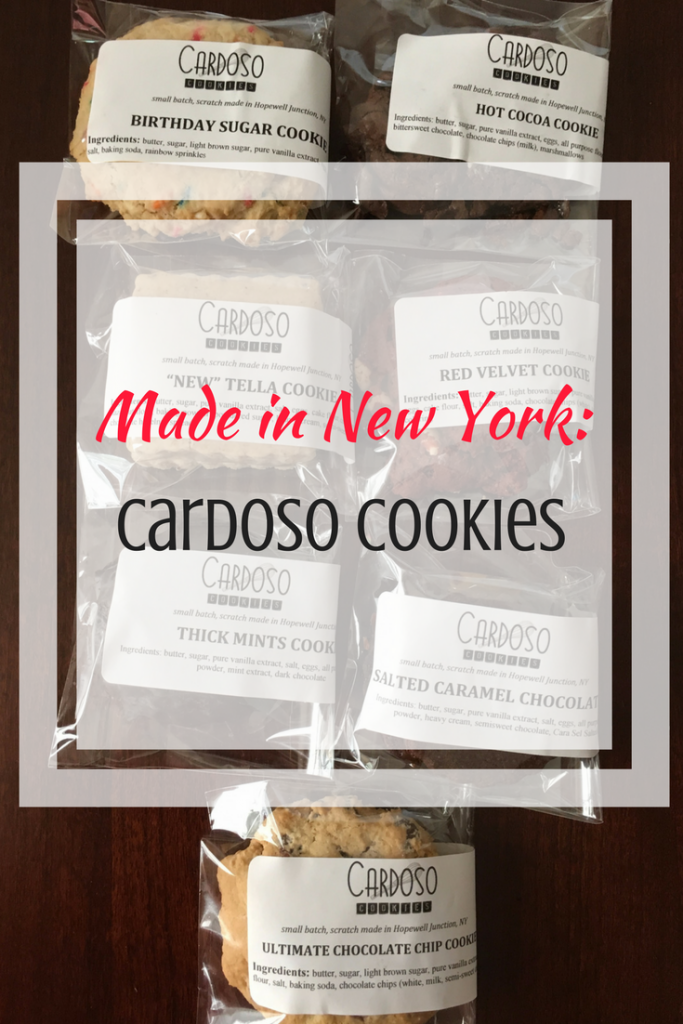 I recently attended the Fall Hudson Valley Restaurant Week kick-off event at the Culinary Institute of America.  By now, you know I'm attracted to all things sweet and I was compelled to stop by the Cardoso Cookies table.  There, I had the pleasure of meeting founder Anthony Cardoso.  He graduated from the Culinary Institute in 2002 so you can bet he's qualified to make a good cookie!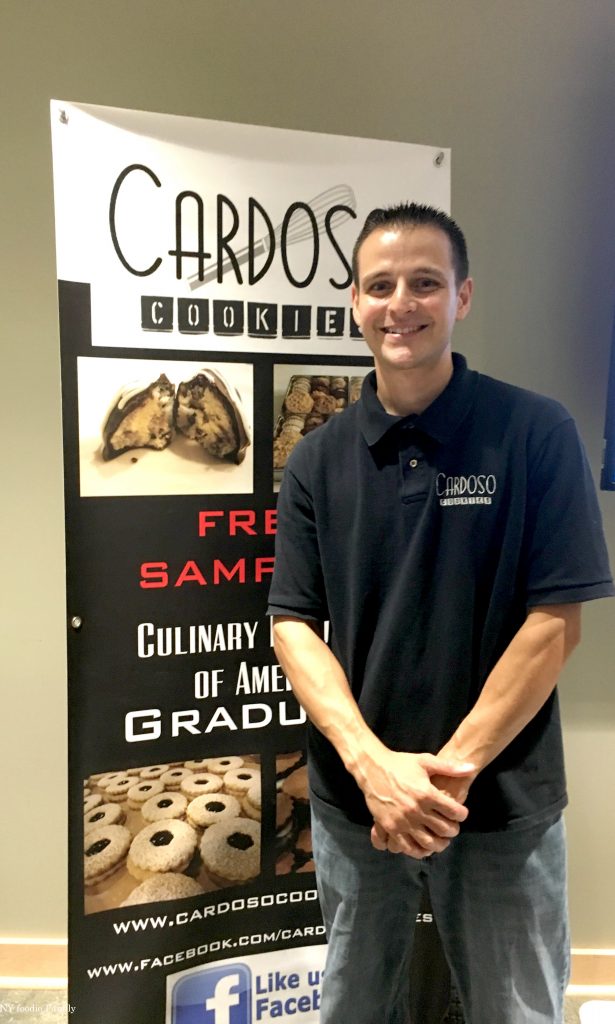 What was his motivation for starting Cardoso Cookies?
Anthony wanted to start a food business where the primary focus was on producing a consistent, high quality, and fresh (made to order & from scratch) product. He didn't want a brick and mortar storefront or a food truck (at the time it was too big of an investment). While visiting the Rhinebeck Farmers Market, he realized that there was a lack of sweet options.  This helped him narrow his focus down to cookies.  The following months included lots of recipe development, package testing, and test shipments all over the nation to friends and family. Cardoso Cookies was launched on August 1, 2015.
Based out of Hopewell Junction, Cardoso Cookies are primarily available for purchase online. Orders can be placed through the company website and  shipped anywhere in the United States.  Once an order is placed, the cookies are baked to order and usually shipped or delivered the next day. He even offers free local delivery if you happen to live near Hopewell Junction! Additionally, Anthony sells his products at local events and markets to grow a following.  Past events have included the Hudson Valley Wine and Chocolate Festival, the Stormville Flea Market and the Fishkill Farmer's Market.  You can also purchase his cookies at Crown Maple, in Dover Plains or North River Roasters in Poughkeepsie.
I asked Anthony which was his most popular selling cookie.  He said it's the Ultimate Chocolate Chip Cookie. That's not terribly surprising but it also happens to be his favorite, too!  What sets their chocolate chip cookie apart from a classic chocolate chip is the inclusion of 4 different types of chocolate chips (milk, semisweet, bittersweet, and white).  As a bittersweet chocolate lover,  Anthony also really enjoys the Bittersweet Brownie cookie. The bittersweet chocolate batter and semisweet chocolate chips make it a rich and delicious cookie.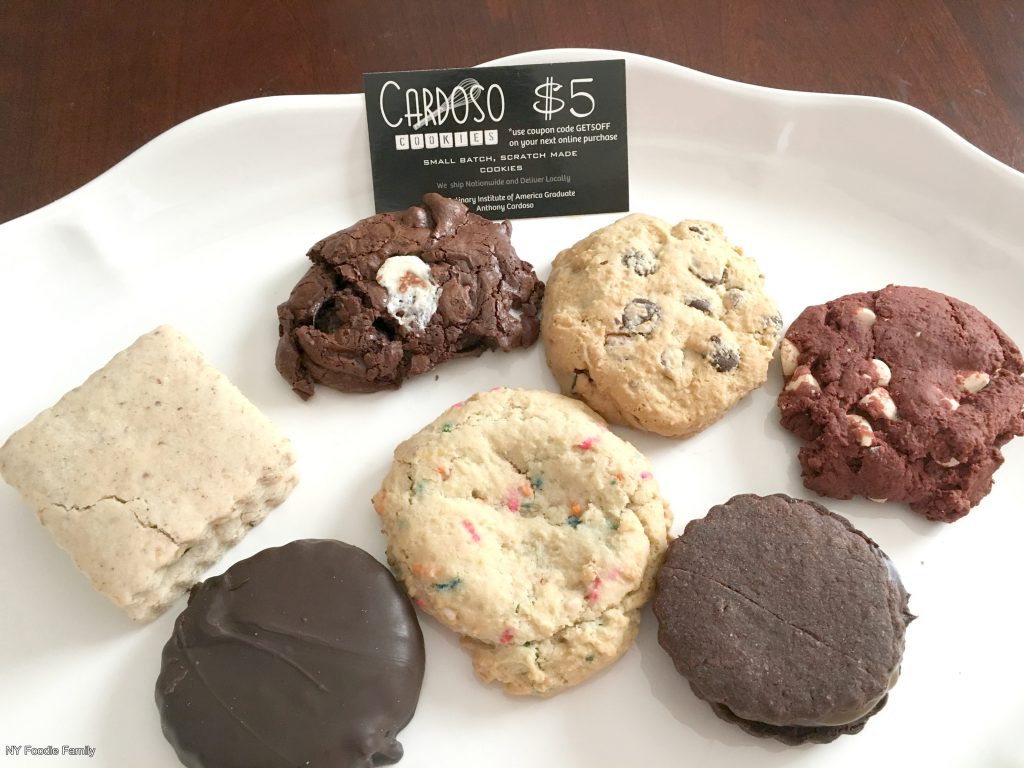 But how do they taste?!
Anthony was offering samples of many of the different cookies he makes and sells.  I took him up on his offer to bring a selection of cookies home to share with the family.  As a family lifestyle blogger, I seek to highlight family-friendly products in my "Made in New York" feature.  I try to have everyone in the family sample and give opinions on the products.  Cookies definitely qualify as family-friendly in my house and my kids were super excited to be cookie taste testers.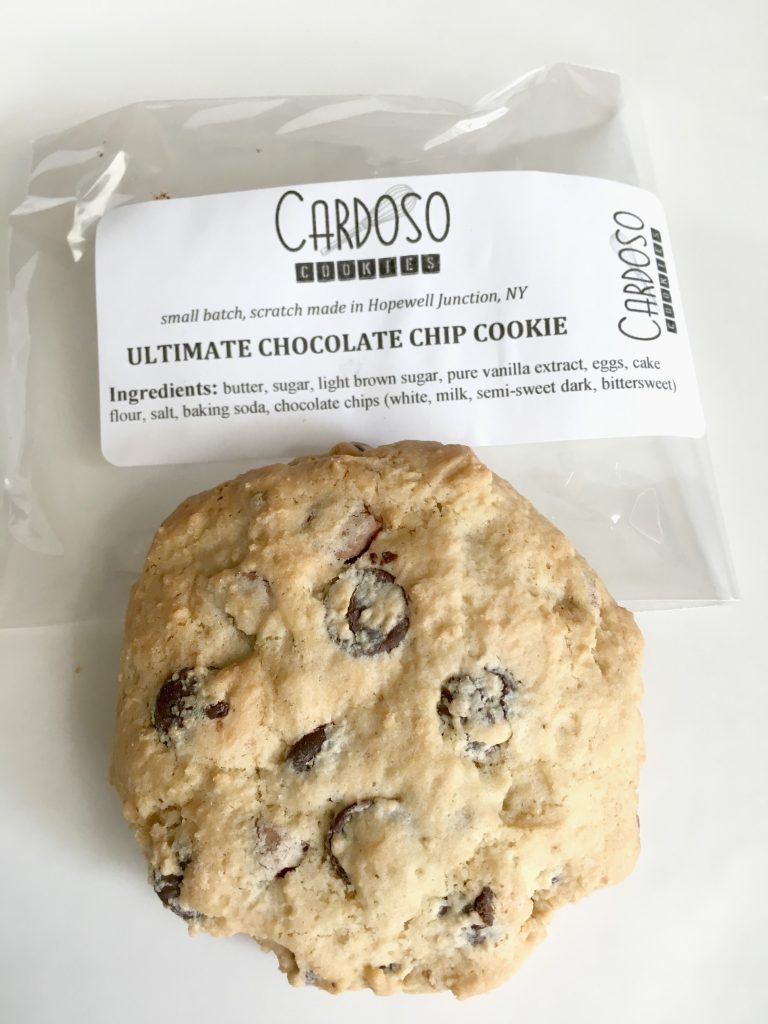 Of course, I had to try the famous Ultimate Chocolate Chip Cookie although I was a bit more intrigued by some of the other variety of cookies that we sampled.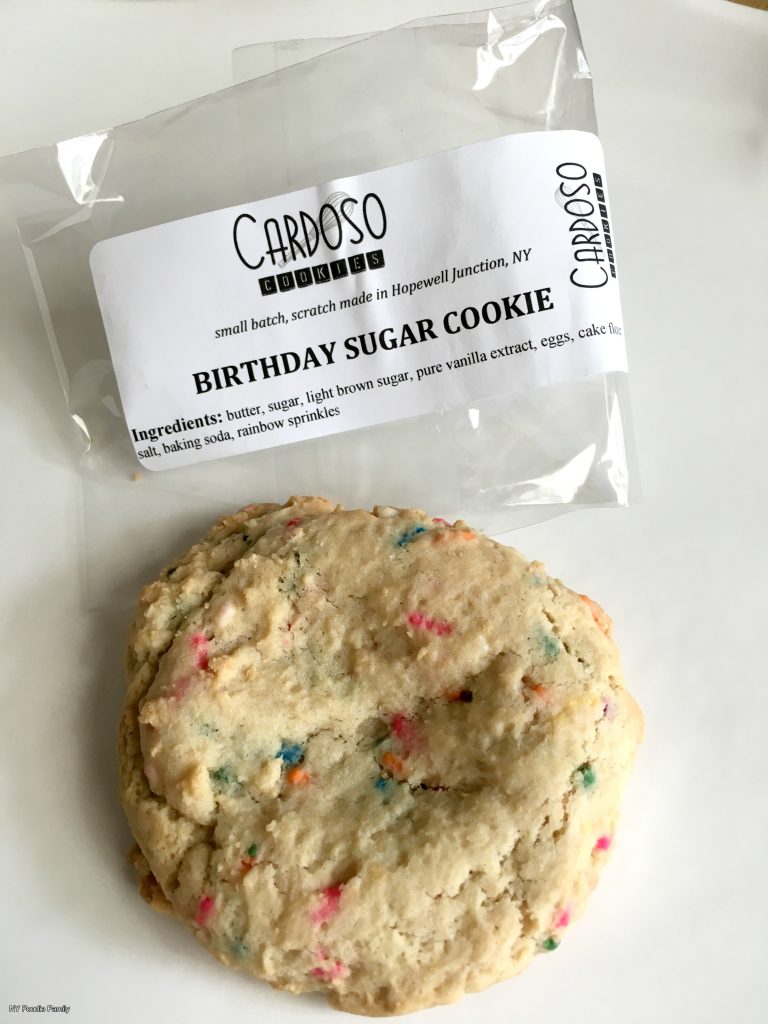 Birthday  Sugar Cookie – This is a sugar cookie filled with sprinkles.  I liked the soft chewiness the most.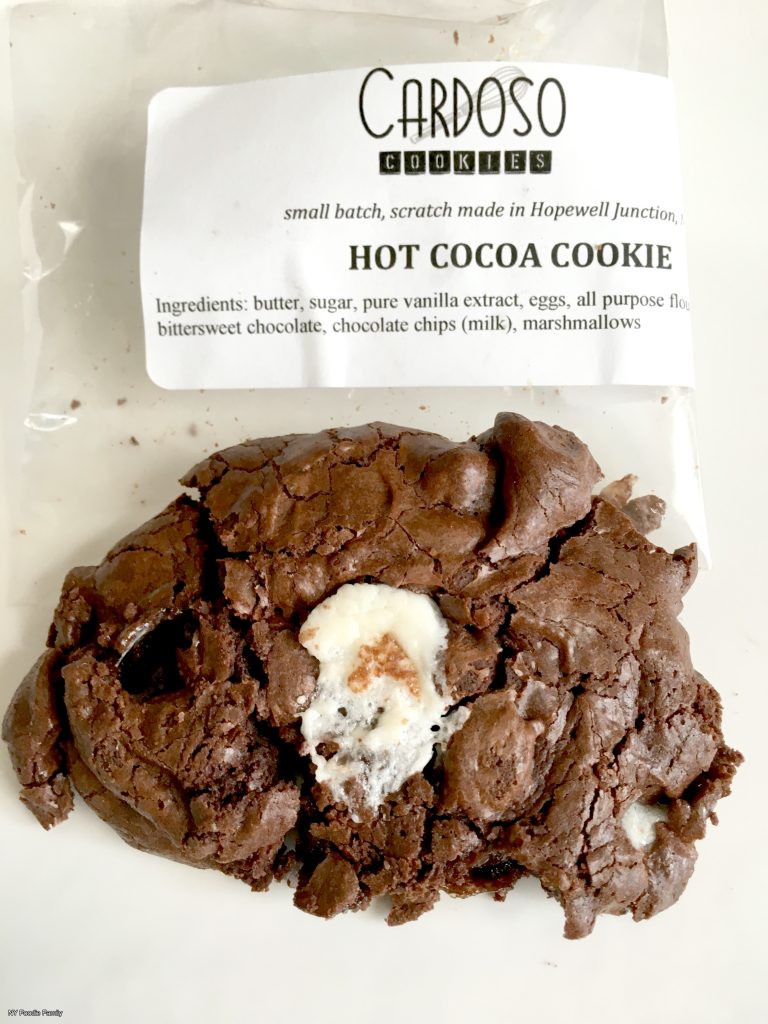 Hot Cocoa Cookie –  This is a dark chocolate cookie with milk chocolate chips and marshmallows.  This was a soft cookie and one of the more fragile ones.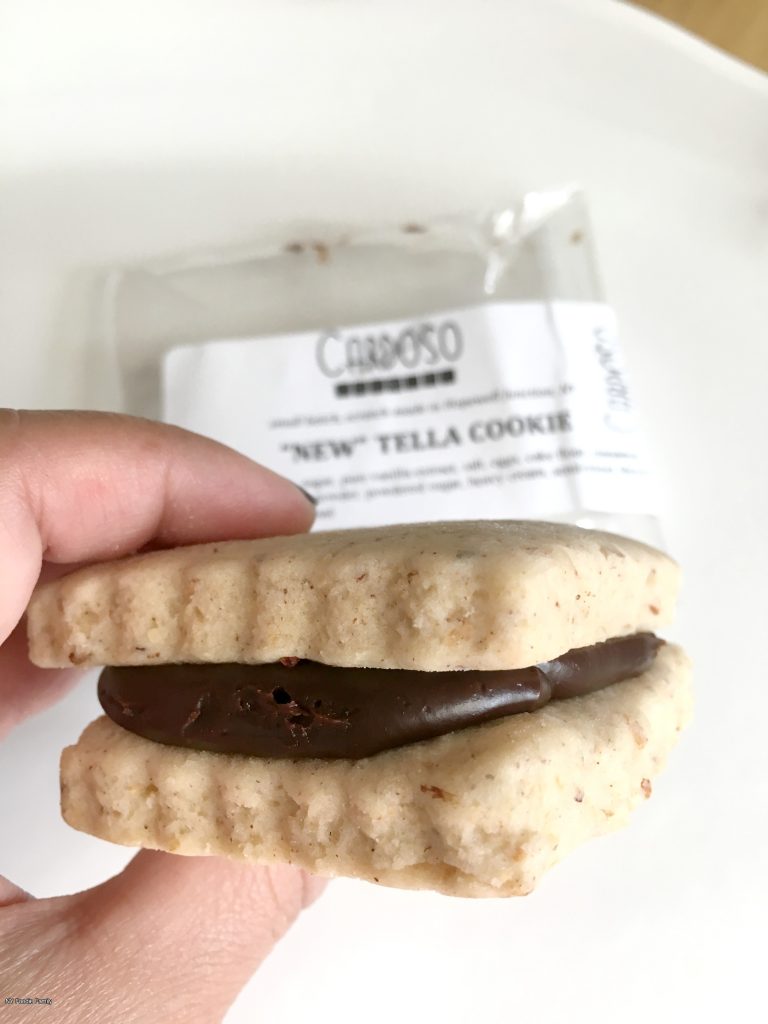 "New"Tella Cookie – This is a thick sandwich cookie filled with Callebaut chocolate ganache and chocolate hazelnut spread filling.  I wasn't expecting the cookies to have a cinnamon flavor and, although they were tasty, I think I'd prefer them with a plain butter cookie.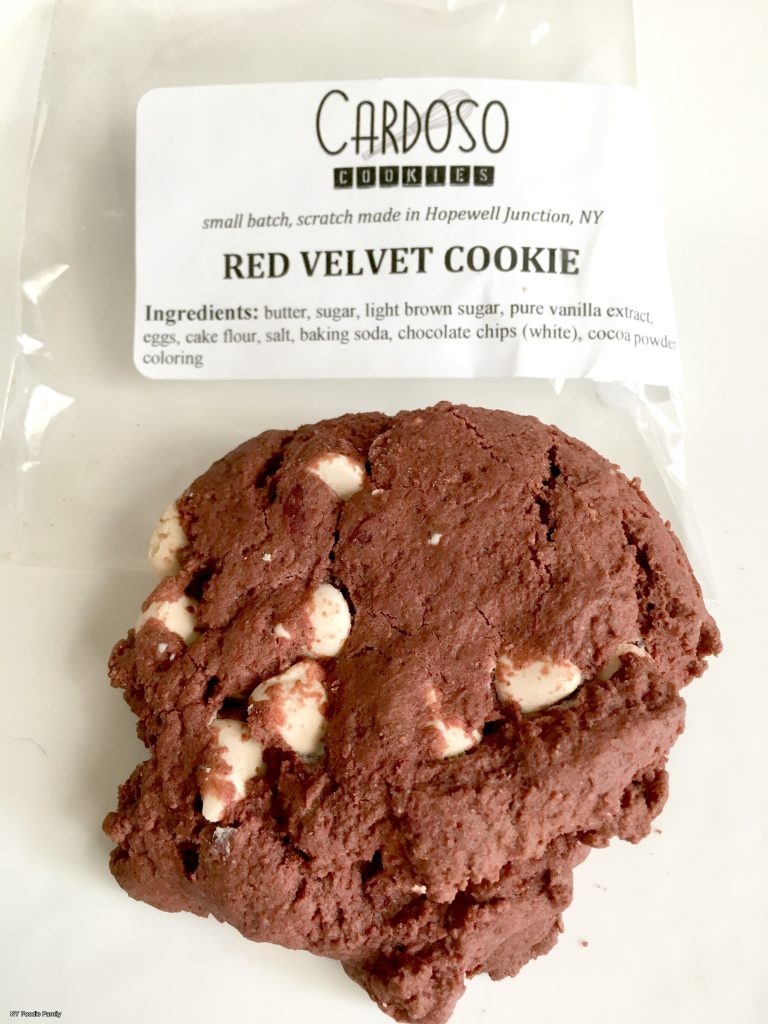 Red Velvet Cookie – This is a classic red velvet cookie with white chocolate chips.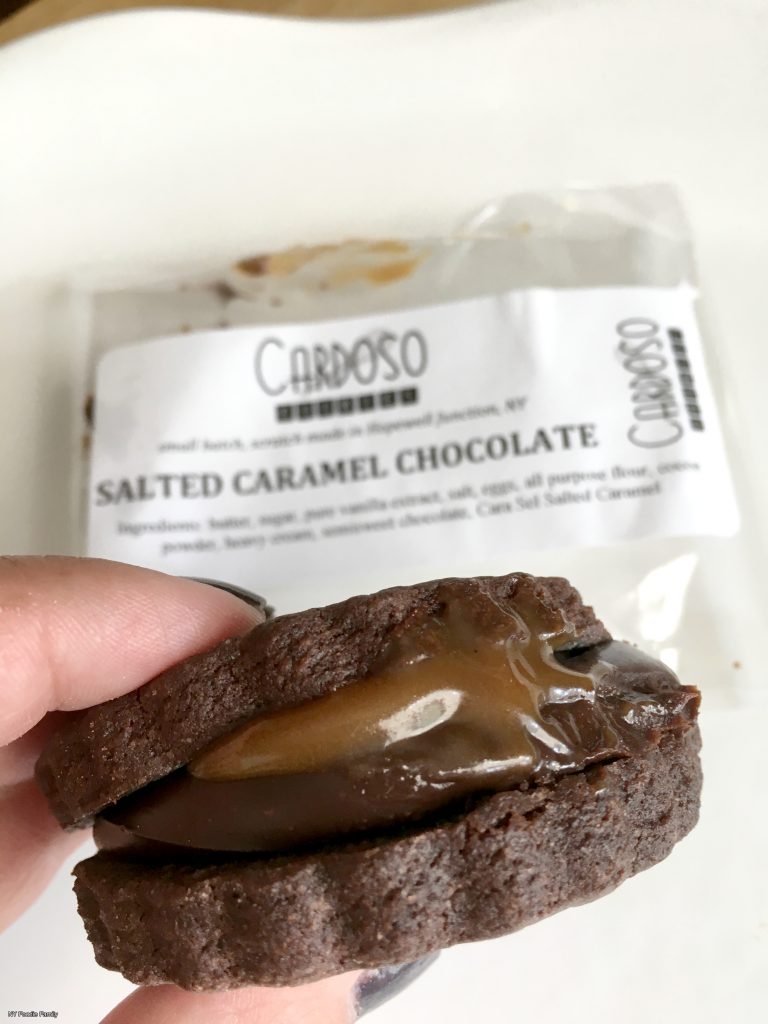 Salted Caramel Chocolate – This is another delicious sandwich cookie.  A thick chocolate filling and local Hudson Valley-made Cara-Sel Salted Caramel are sandwiched between two chocolate cookies.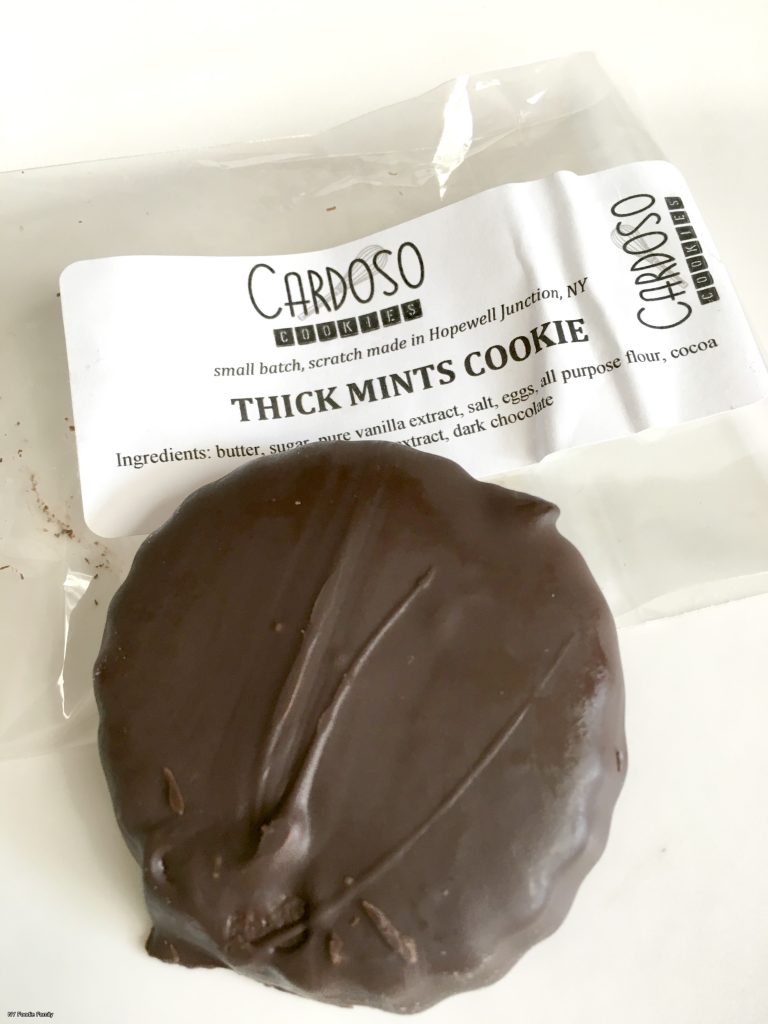 Thick Mints Cookie – This is a super thick, chocolate and mint flavored cookie, covered in a chocolate coating.
All of the cookies were delicious.  However, the unanimous family favorite was the Hot Cocoa Cookie.  Although I didn't try them myself,  Anthony had other varieties available to sample including the Brookie (1/2 chocolate chip, 1/2 brownie), Bittersweet Brownie, and Apple Oatmeal.  He also sells Maple Doodles, Peanut Butter cookies, Peanut Butter Cup cookies, Oatmeal Raisin, White Chocolate Macadamia Nut, and a S'mores cookie.  He even sells a vegan chocolate chip cookie.
As you can see from the labels, these cookies are made with all natural ingredients.  Because there are no preservatives, these cookie are best eaten with a week. You probably won't have to worry about that because there's no way they'll be sitting around uneaten! If you're planning to save some cookies for a future date, though, they can be frozen for up to three months.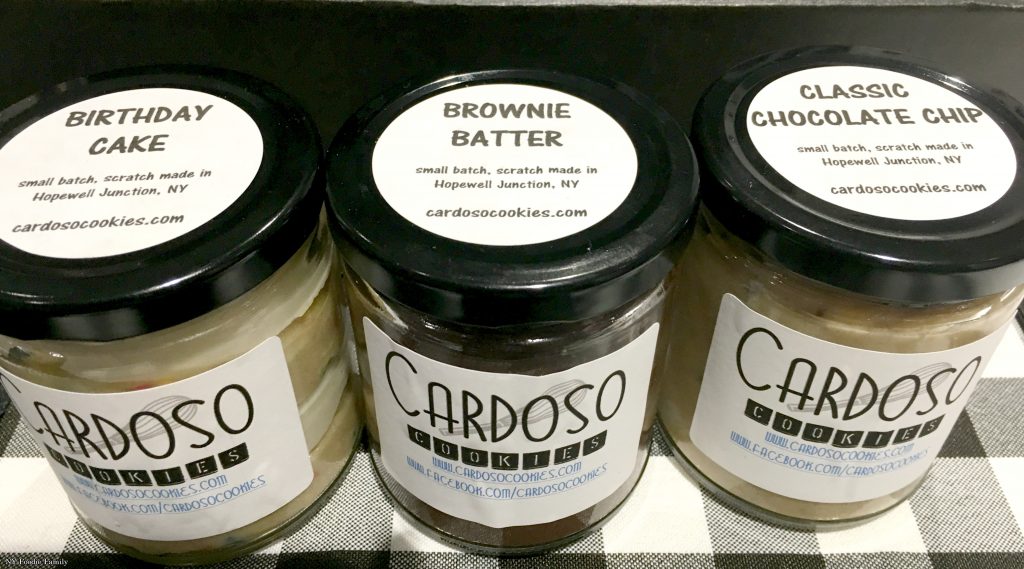 Besides cookies, Cardoso Cookies also sells edible cookie dough. The dough contains no eggs or egg products and is ready to eat.  The 3-pack sampler contains 10 oz. jars of Classic Chocolate Chip, Birthday Cake and Brownie Batter.
The cookies and cookie dough make great gifts and party favors.  Gift tins and boxes are available and would make great holiday gifts or a tasty treat for a dinner party.  His prices are quite reasonable too.  Small gift tins of 6-8 cookies start at $12.99.  A (21-24 count) sampler pack of 3 different cookies of your choice is $36.99.
Be sure to follow Cardoso Cookies on Instagram and Facebook to stay up-to-date on where they are selling.  They will also soon be offering special deals for social media fans.