We are always on the lookout for new snacks and thought that we would occasionally showcase some recent ones that we have tried.  Nowadays, there are an infinite number of snacks in a myriad of different flavors on grocery store shelves.  And more are constantly being added!  On our quest to find new and interesting snacks we have been frequenting Marshalls of all places.  Their specialty and gourmet food selection is surprisingly large and constantly being updated with new and interesting products!
Today we are featuring Lesser Evil brand Super 4 Snacks. The name is a mouthful:  White bean, Quinoa, Lentil Chia snacks.  We tried the Cheesy Nacho flavor but they also come in two other flavors, Kale & Roasted Garlic and Roasted Red Pepper.  Before I told the kids what these were I had them try them.  Taking after their mother, neither can say no to salty, crunchy chip-like foods!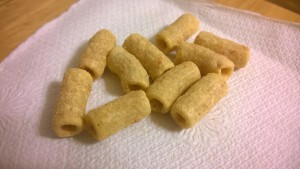 I wasn't surprised when they liked them!  I then told them the name and they kind of shrugged.  I know if I had told them prior to eating they would tell me that they don't like those things.  The Lesser Evil brand company headquarters is located in Danbury, Connecticut, which is only about an hour away from us.  By purchasing these, I feel like we're supporting a semi-local company.  We also like that these snacks contain no GMOs, preservatives, or refined sugars.  While we are attempting to eat somewhat healthier, I cannot give up my salty, crunchy snacks.  I am always on the lookout for healthier alternatives that will fill my snacking needs and these Lesser Evil Super 4 snacks fit the bill!   You can check out the official Lesser Evil site here.  I am excited to see that the company also makes other snacks including popcorn and Baked Bean Chia Crisps.