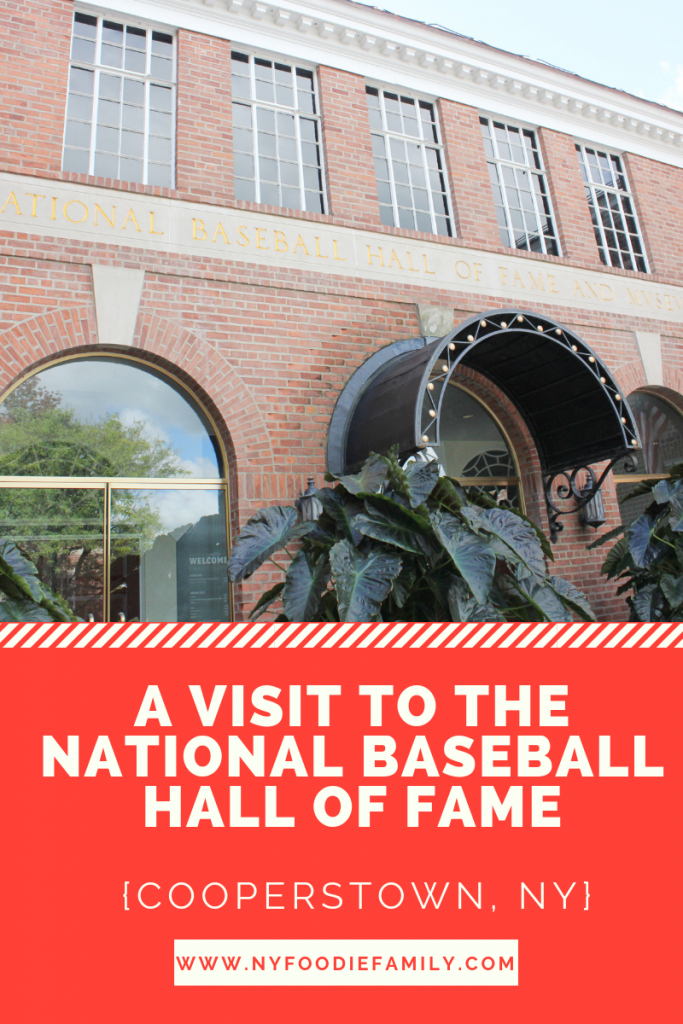 Most people automatically associate Cooperstown, NY with the National Baseball Hall of Fame and rightly so.  The little town attracts big crowds of baseball fans from all over the country.  Since 1939, the Hall of Fame has been showcasing its extensive collection baseball memorabilia and housing stories of baseball's greatest legends.  But, as you will see, you don't have to be a die-hard baseball fan to get caught up in the excitement!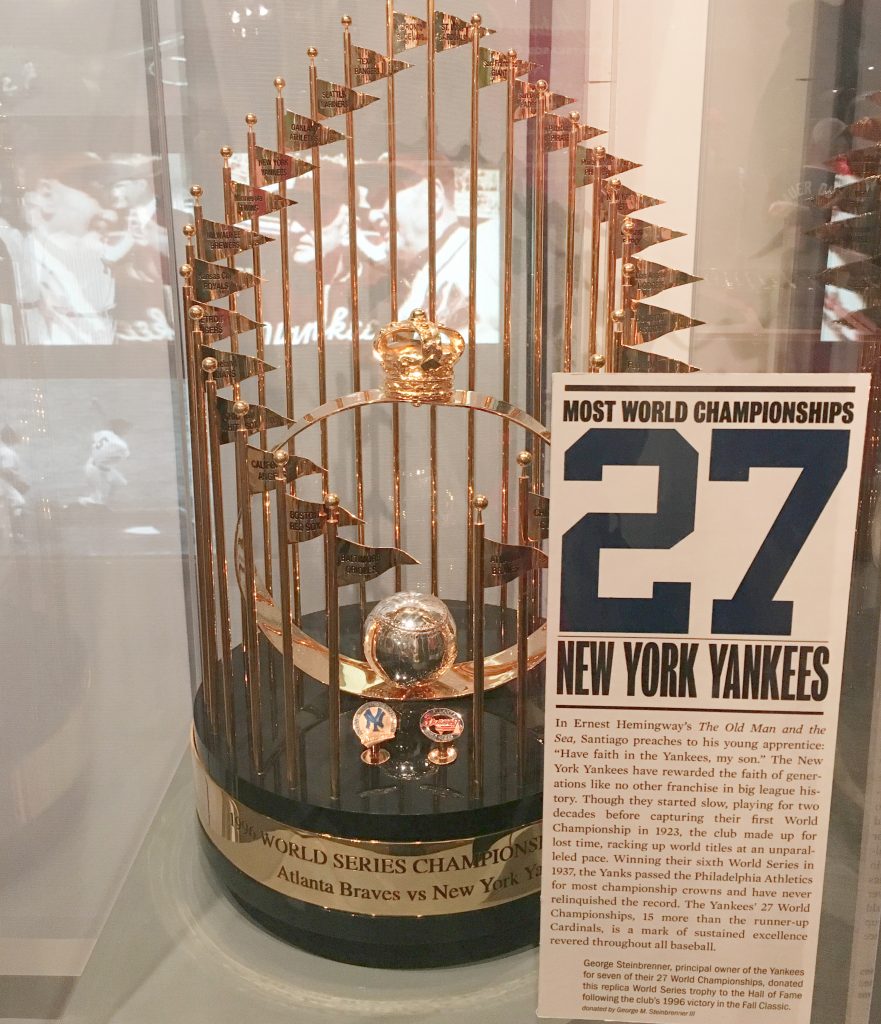 Full disclosure: I'm not a mega baseball fan but I've been to my fair share of games.  I was raised as a Yankees fan and it was fun to see so much historic Yankee memorabilia on display.  My parents and in-laws are on opposing sides for a Subway Series (Yankees vs. Mets fans) and my kids aren't really loyal to either team.
But what do you do when you visit the museum with two tweens who also aren't big baseball fans, but you have a husband who is?  You split up.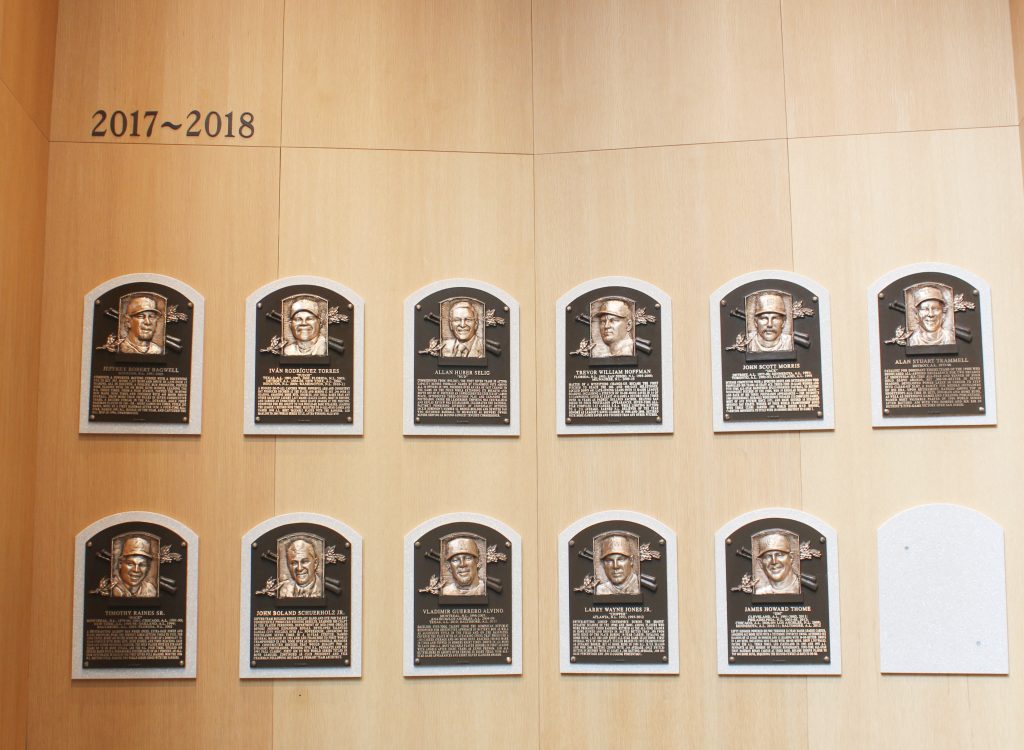 We arrived right before the 11 AM guided tour of the Plaque Gallery, which my husband joined, and met up with him in the gallery at the end of the tour so we could walk around.  This is really a sight to see, where plaques featuring the greatest baseball players of all time, hang on the walls.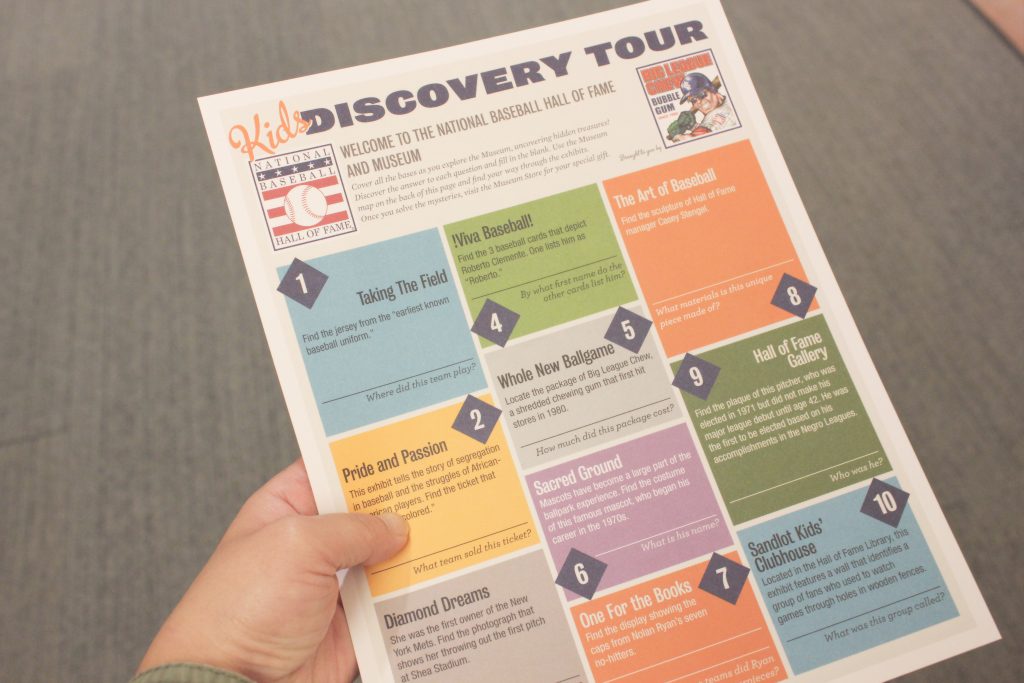 While my husband was taking the tour, the kids and I were working on completing the scavenger hunt.  I love it when museums have these for kids to do.  It helps them focus on some of the major exhibits and forces them to stop and read some information.  It also helped that there's a prize offered once it's completed.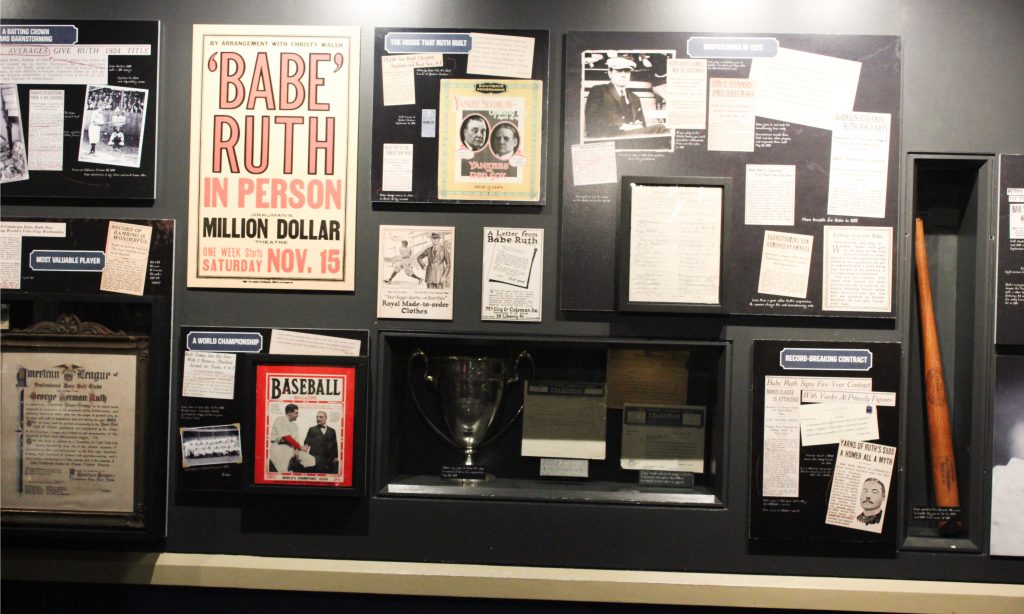 Beginning with the exhibit Taking the Field:  The 19th Century, visitors are led through a timeline of baseball's history.  Other major exhibits in the timeline include: Babe Ruth: His Life and Legacy, Diamond Dreams: Women in Baseball, Pride and Passion: The African-American Baseball Experience, Viva Baseball! (focused on baseball in the Caribbean Basin countries) and ending with Whole New Ballgame, which details baseball from the 1970's to present day.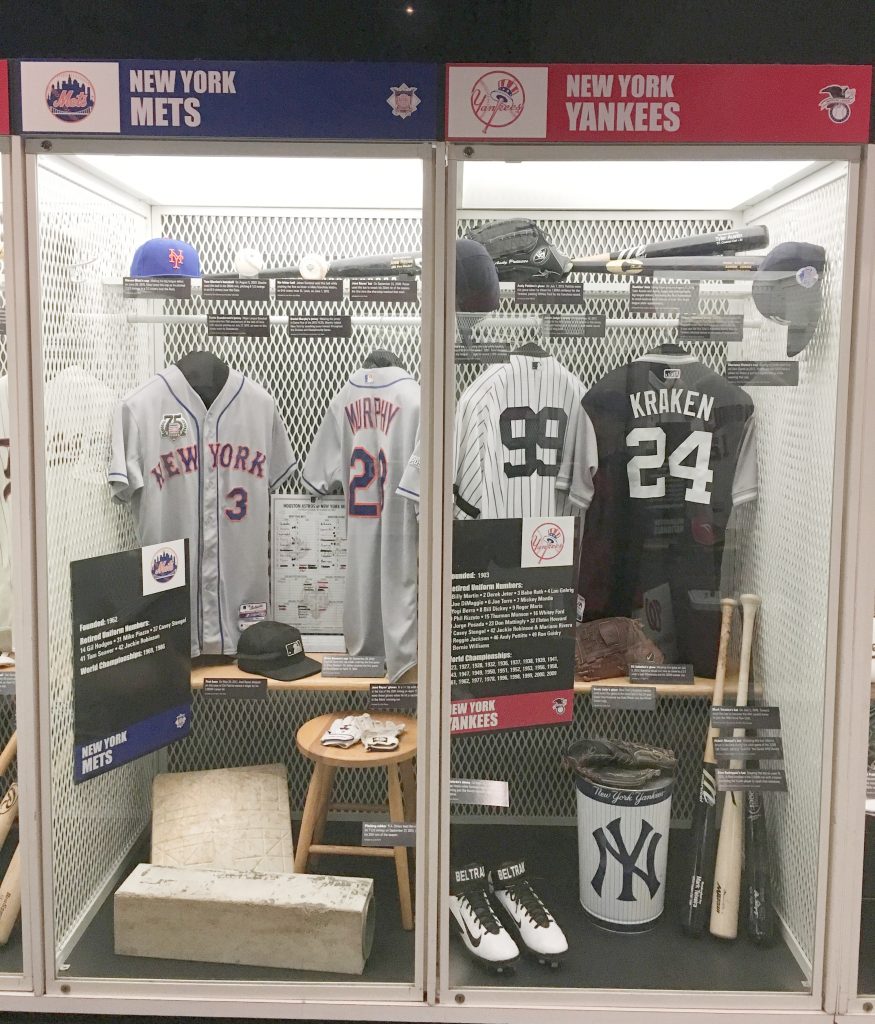 It was fun to walk through The Locker Room and see all the Major League Baseball teams' recent uniforms and equipment.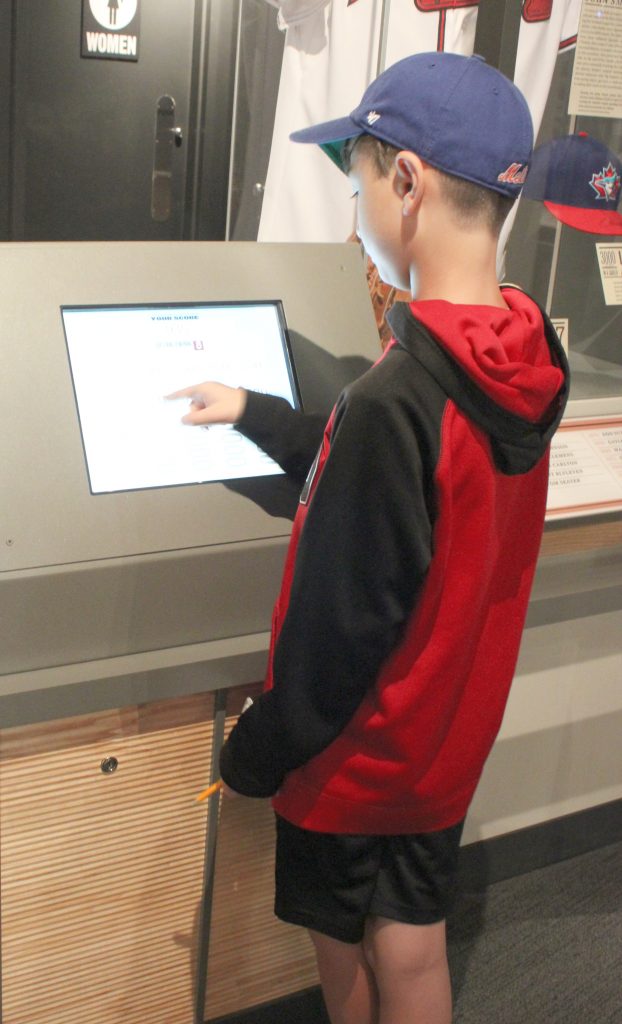 Fans of all ages will enjoy testing their baseball knowledge with the baseball quiz kiosks located on the third floor.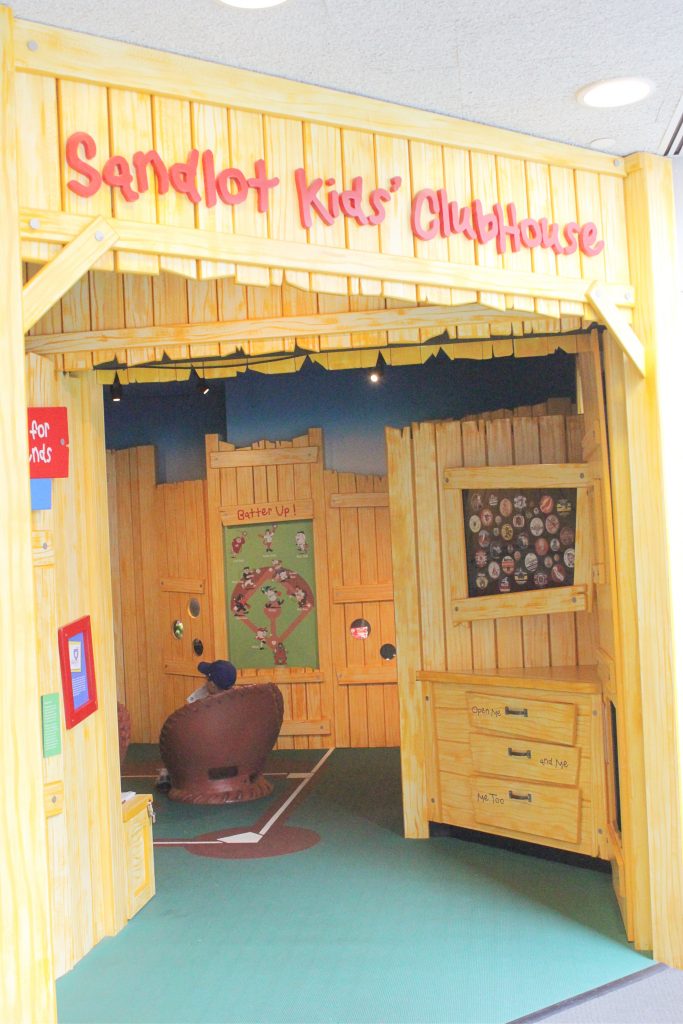 Families with young kids will enjoy making a stop at the The Sandlot Kids' Clubhouse.  This room has books, television shows playing (including a Dora the Explorer baseball-themed episode) and other fun activities for little ones.  Even my older kids loved the baseball mitt seats!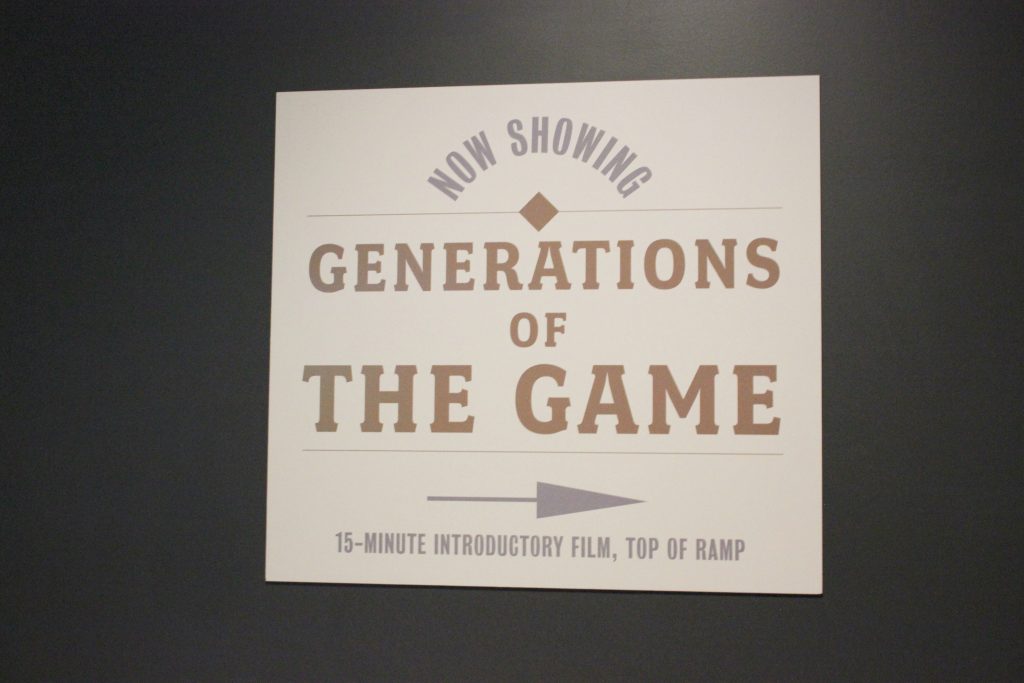 You must be sure to watch the film Generations of the Game.  Located on the second floor of the museum, the film plays every hour, on the hour.  Did I mention that I'm not really a baseball fan?  This film had me tearing up!  You get to see some of the highlight moments of some of the Hall of Famers.  Their love and passion for baseball is truly inspiring.
Every July, during Hall of Fame Weekend, new members are inducted into the Hall in a special ceremony.  The special weekend also includes an awards ceremony and a Parade of Legends, among other festivities.  This past July, new inductees included Chipper Jones, Vladimir Guerrero, Jim Thome, Trevor Hoffman, Jack Morris and Alan Trammell.  It was interesting to learn that there's not a set number of inductees each year.  From a ballot of recently retired players, four different voting panels choose the inductees.
I'm glad that our family was finally able to make a visit to the National Baseball Hall of Fame.  As a New Yorker, it seems only fitting to visit this iconic museum that's really not too far from home.
The Details:
National Baseball Hall of Fame
25 Main Street
Cooperstown, NY 13326
1-888-HALL-OF-FAME
Hours:  Open 7 days a week (except Thanksgiving, Christmas and New Year's Day)
Labor Day – Memorial Day:  9 AM – 5 PM  Extended Hours Memorial Day – Labor Day
Admission: $23/adults, $15/seniors, $12/children (7-12) & veterans, Free/children (6 and under) & active/career retired military

Parking:  Paid parking in nearby lot.  Free parking available in three lots throughout Cooperstown with Trolley service ($2/per rider per day).
Tips:
*Food is not served at the museum.  There are plenty of restaurants and cafes along Main Street, where you can go for lunch or dinner. When you leave you can get your hand stamped so you can return during the day.
*Expect to spend a minimum of 3 hours at the museum. Baseball fans will probably spend a lot more time!