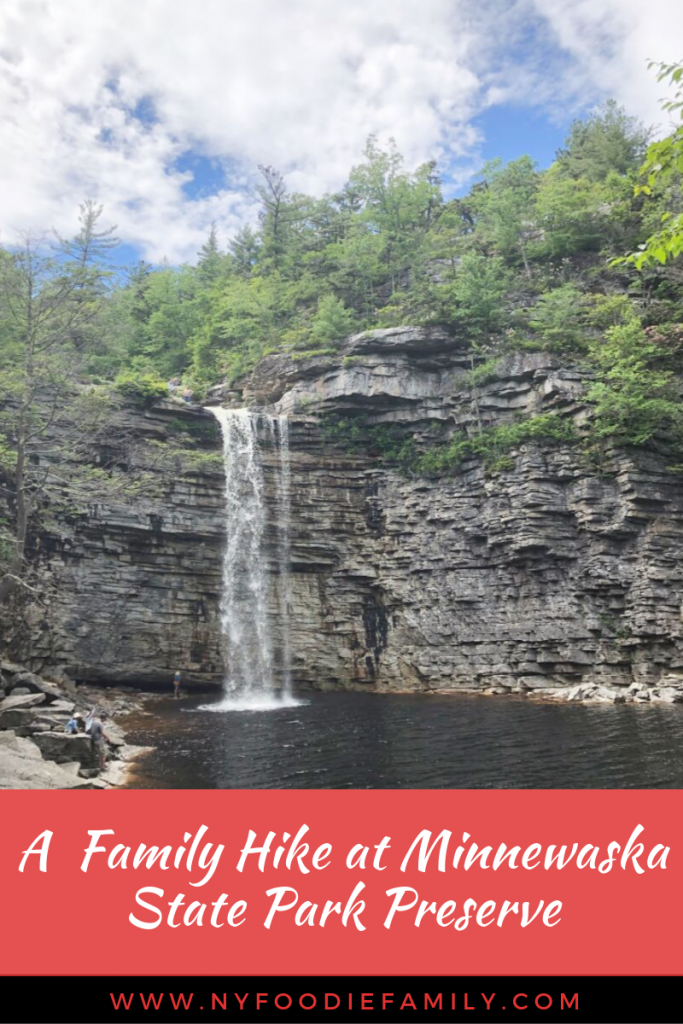 We have not been hiking or doing many outdoor activities with the recent heat waves. But we know that fall will be here before we know it, bringing some cooler weather. Therefore, we want to post about our recent hikes so you can start to plan some outdoor family activities for when the weather gets a little more comfortable. A great family hike can be found at Minnewaska State Park Preserve.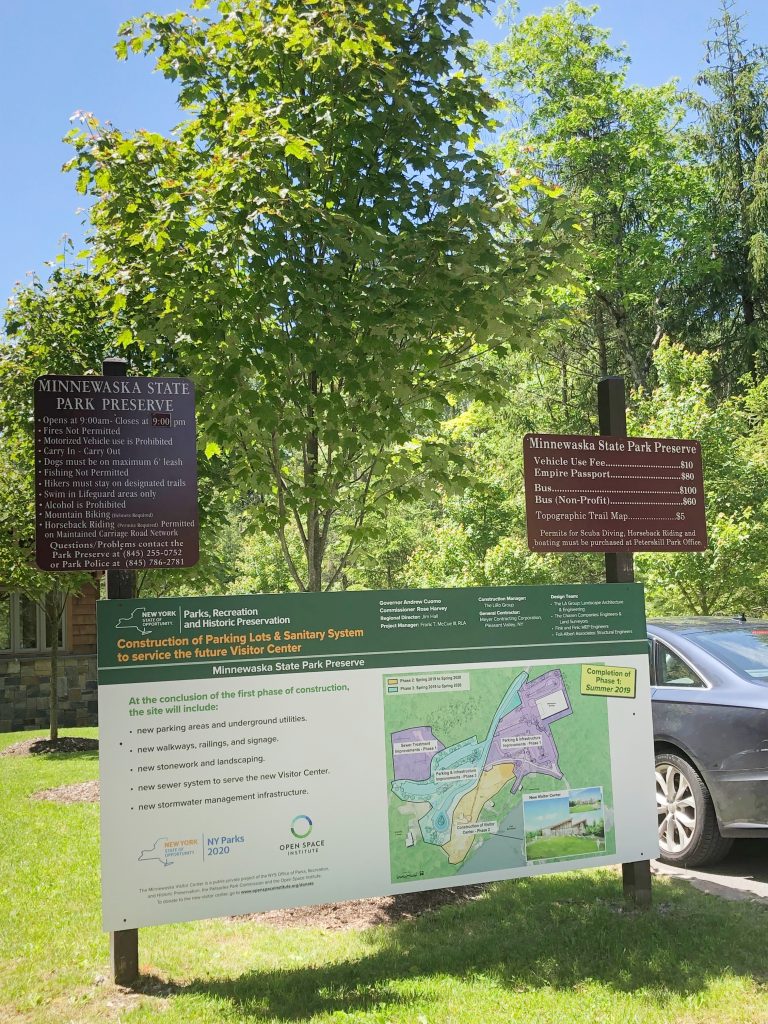 Minnewaska State Park Preserve is located in Kerhonkson, New York (Ulster County) and is about an hour and fifteen minute drive from northern Westchester County. Warning, this is a very popular state park! On a beautiful day in mid June, we had to wait about fifteen minutes just to enter the park, since the parking lots were full.
The Preserve is over 22,000 acres with over 50 miles of hiking trails. You will not be able to see it all in a day! I am a waterfall lover and I wanted to visit Minnewaska State Park Preserve after hearing about Awosting Falls.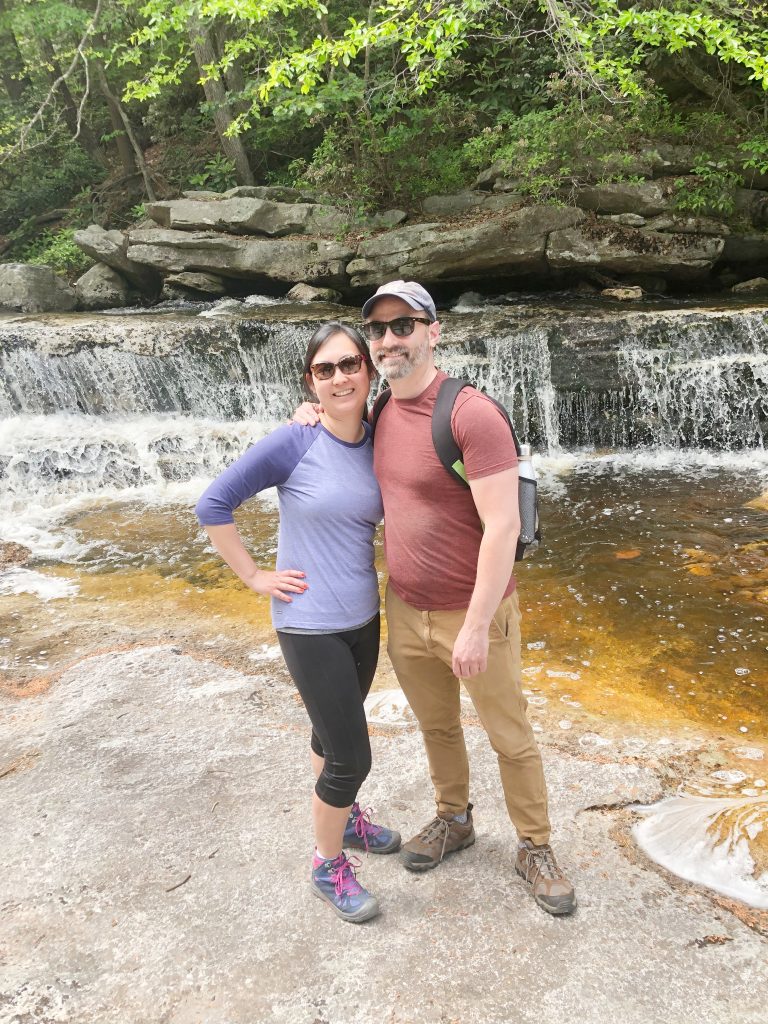 From the parking lot it's a short walk to get to the trail heads. We first started on the Awosting Falls red-blazed trail which lies adjacent to the Peter Kill stream. There are a series of smaller waterfalls, that of course we had to photograph! As you walk further down the trail there's even a spot where you can stand above Awosting Falls.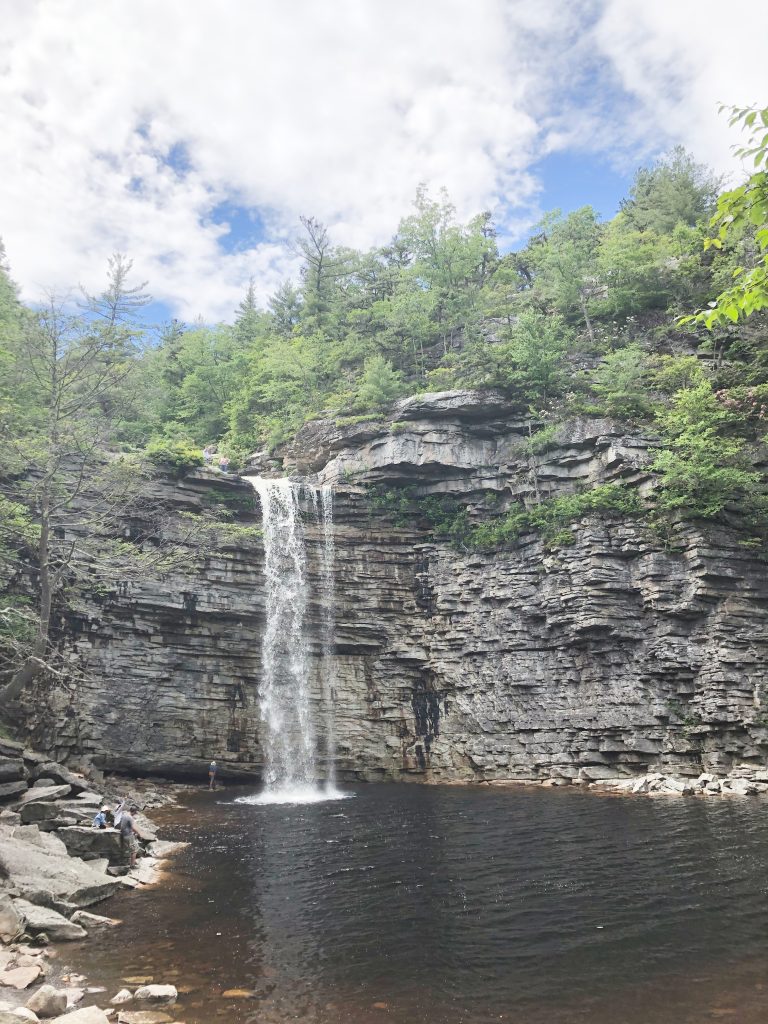 The trail heads downhill into the woods before you arrive at the bottom of Awosting Falls. The falls are 60 feet tall and plunge into a large, clear pool. The amount and strength of the falls depends on the rainfall. Fortunately, the day of our visit there was a rewarding waterfall.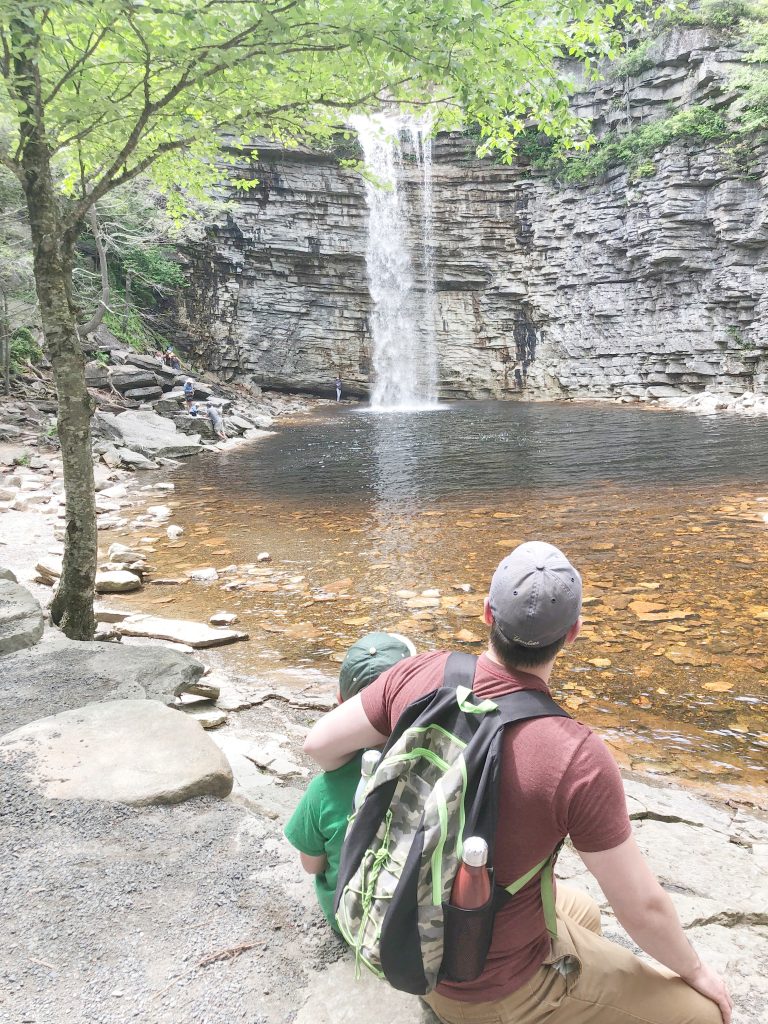 After spending some time taking in the beauty of the falls we continued our hike. We returned back up the way we came to the beginning of the red trail. We then switched to the orange-blazed Sunset Carriageway Trail towards Lake Minnewaska. This was about a 20 minute uphill hike to the lake.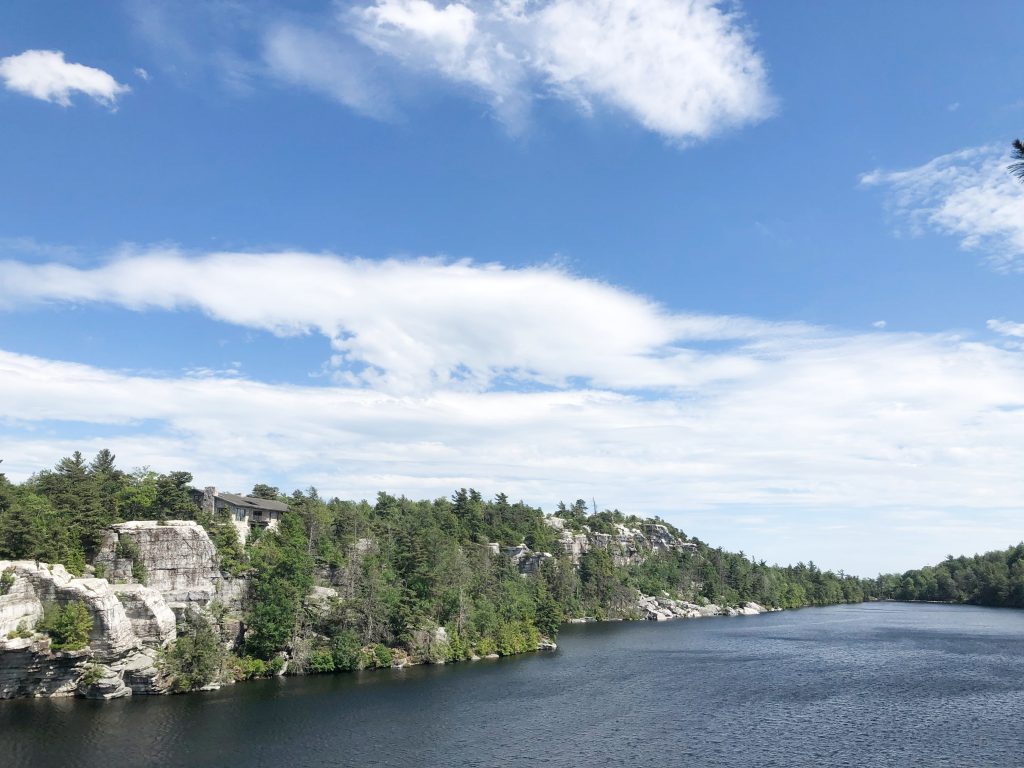 But the views are amazing! And if you really want to, you can drive to the upper parking lot, skipping this hike altogether. Lake Minnewaska is less than one-half mile long and is surrounded by white cliffs. If you're feeling really ambitious you can hike around the lake. We weren't feeling very ambitious…..or more like our children weren't feeling it.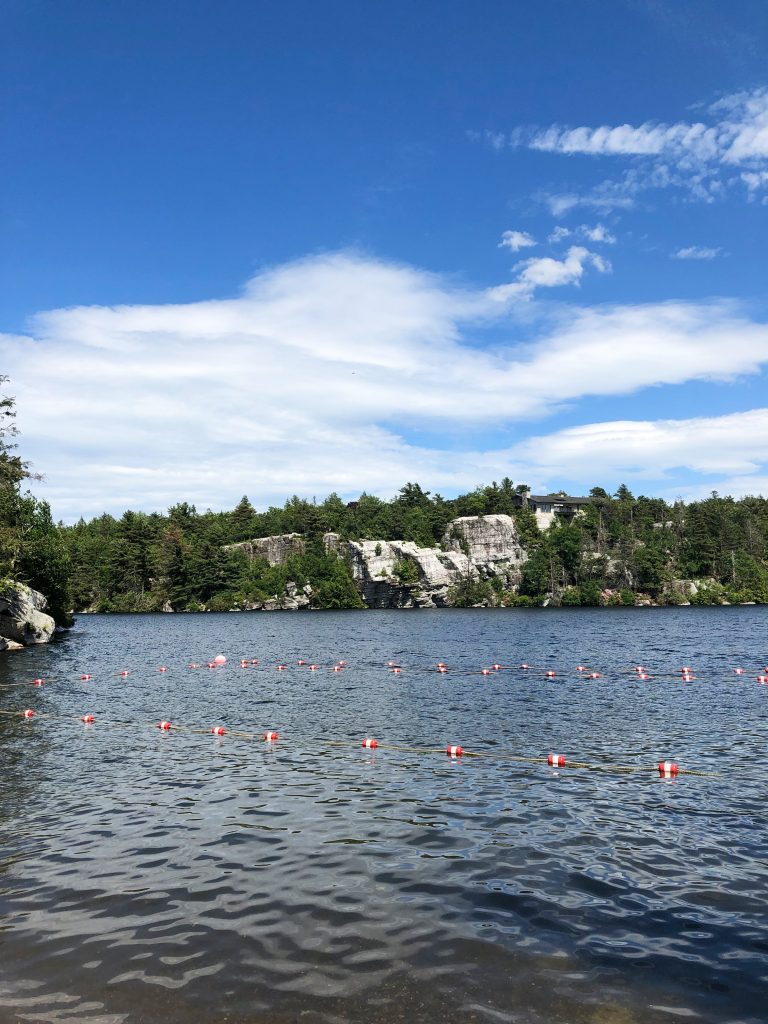 I didn't realize that visitors can swim in Lake Minnewaska, or I would have had the kids wear their bathing suits. The swimming area is roped off and staffed by lifeguards. Luckily, it wasn't super hot the day that we visited, so we sat on the dock and enjoyed a snack and water break. There's also a bathroom across from the lake if you need a rest stop. After our snack break we continued on the red trail until we reached the start of the blue trail, Castle Point Carriageway. At this point we decided it was a good time to turn around and make our way back to the car.

Like I mentioned, Minnewaska is very popular and was very crowded the day we went. Trails were filled with hikers, dogs, (SO many dogs! We felt a little left out that we didn't have a dog to hike with) and mountain bikers. Although horseback riding is allowed on the trails, that is one thing we didn't see on our hike.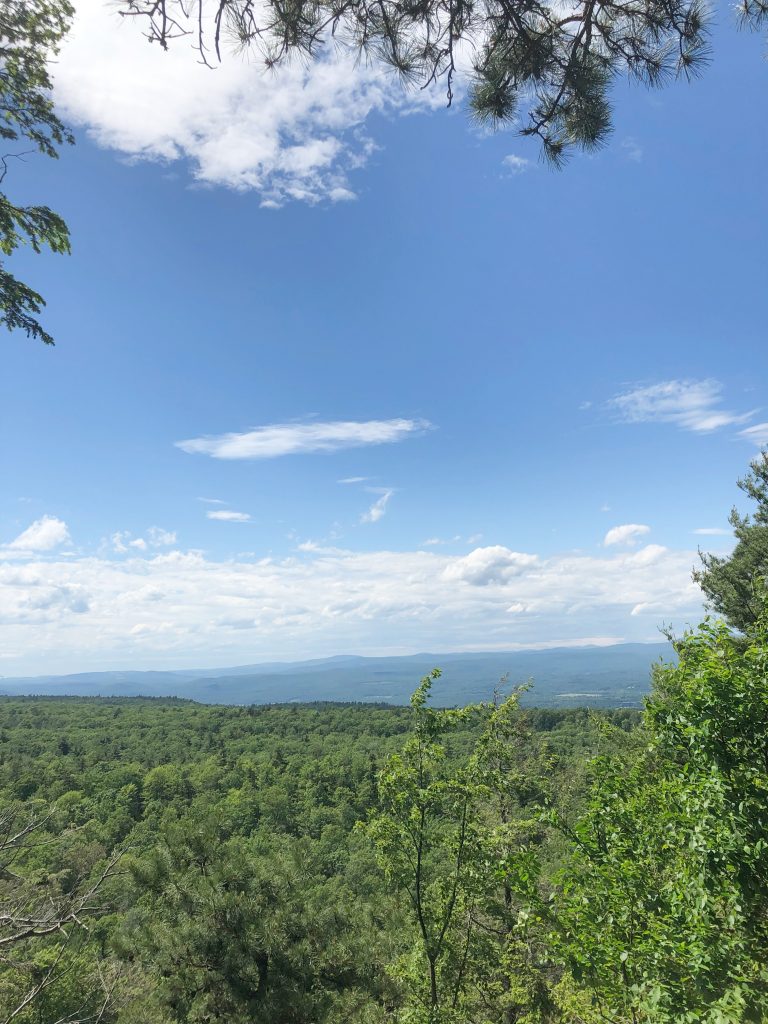 The Preserve is located on the Shawangunk ("Gunks" to the locals) Mountain ridge, which is more than 2,000 feet above sea level. Altogether we hiked about four miles and saw some beautiful views. However, we never made it to the peaks of any mountains. For more serious hiking and trail tips, I highly recommend checking out Hike the Hudson Valley's write up on the park. Mike writes super informative hiking guides for trails throughout the Hudson Valley, which we have referenced many times!
We didn't get a chance to visit the Nature Center or to see Lake Awosting, another lake in the Preserve, where swimming is also allowed. Plus, with all of the hiking trails available, there are plenty of reasons for us to make a return trip.
The Details:
Minnewaska State Park
5281 Rt. 44-55
Kerhonkson, NY 12446

Hours: Park hours vary by season. Please check out the website for the most up-to-date information.

Parking: $10 per vehicle or free with the Empire Pass

Notes:
*There is a Nature Center that is open on weekends and holidays from Memorial Day through Columbus Day. Hours are 10 AM – 12 PM and 1 PM – 4 PM.

*If you are visiting the park to go swimming, park in the upper parking lot, or you will have a decent hike ahead of you to get to the lake.
*Again, check out Hike the Hudson Valley's guide to Minnewaska State Park Preserve for information on hiking the trails!
*Minnewaska State Park Preserve has a carry in, carry out policy. Make sure if you are bringing food in to also bring a bag to store your garbage.