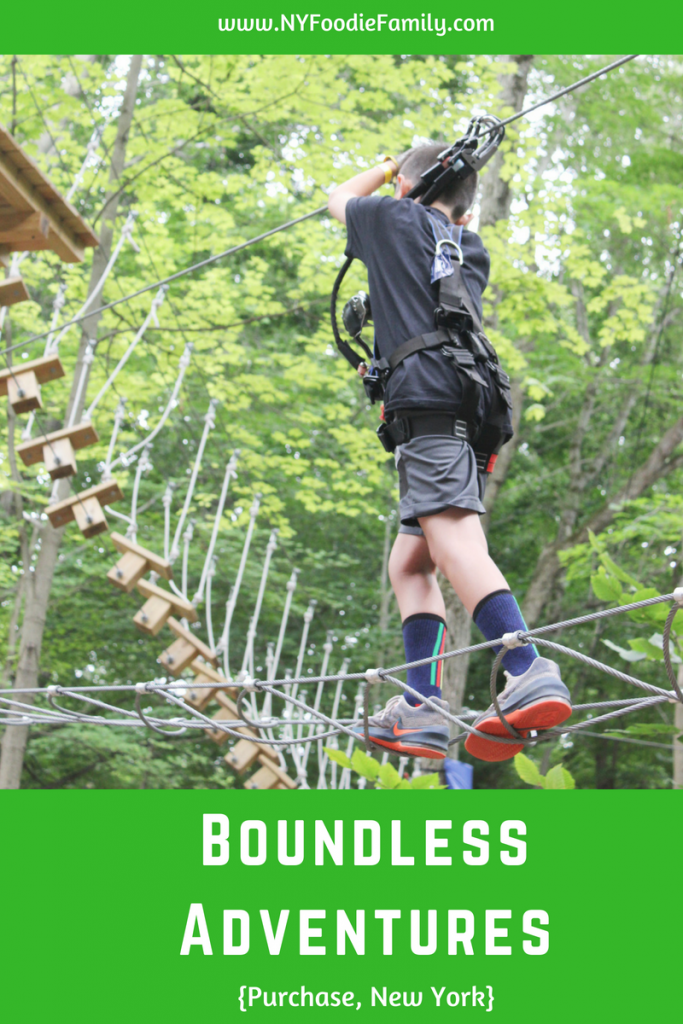 (Thank you to Boundless Adventures for hosting NY Foodie Family.  As always, all opinions are our own.)
I'm always on the lookout for fun, new experiences for our family.  When I heard that Boundless Adventures recently opened in Purchase, this sounded like something we would enjoy. My kids, especially my daughter, love to try new things and are pretty adventurous.  Boundless Adventures was a perfect family day out!
So, what exactly is Boundless Adventures?
Boundless Adventures is a treetop adventure park.  It consists of 4 different types of courses that are all developed to  "test your boundaries."  Local owners Brian and Lorrie Funtleyder's mission is, "to empower and inspire people to challenge themselves both mentally and physically.  With challenge comes greater self-confidence and achievement."
What should I expect when I visit Boundless Adventures?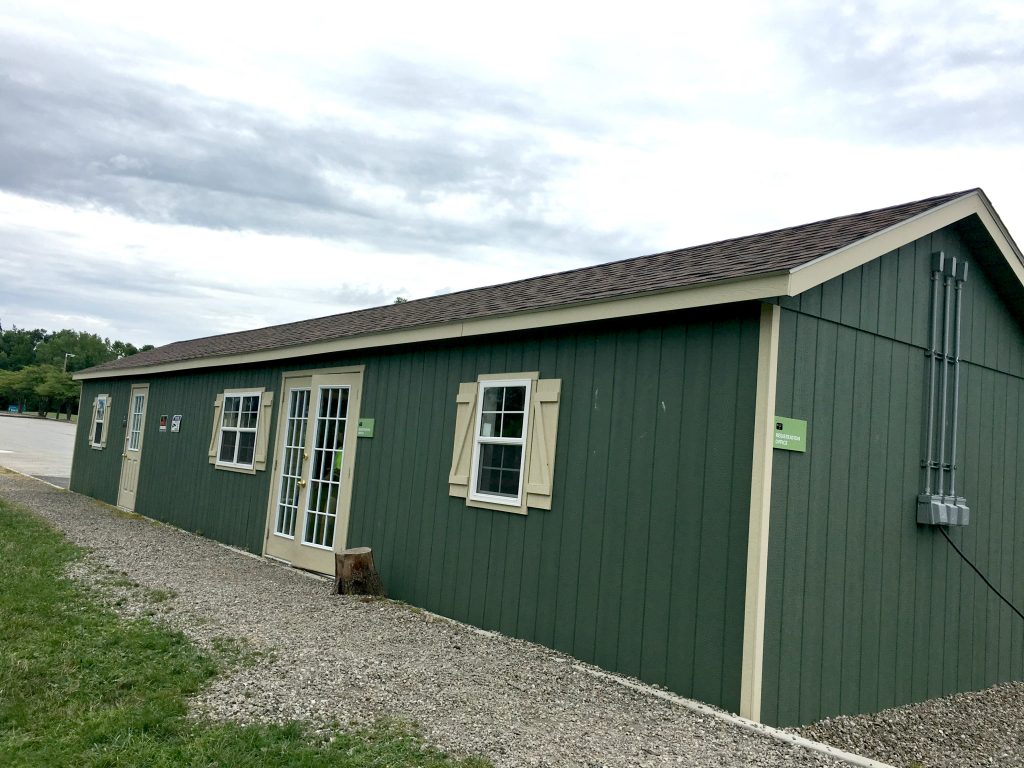 When you arrive on the Purchase College campus, follow the signs to Boundless Adventures.  You will arrive at the parking lot and registration building.  Although reservations are not required, they are recommended.  The park can get busy and a reservation ensures that you have a harness ready for your arrival.  At the registration building you will check-in and sign waivers, if you haven't already done so prior to your arrival.  I didn't realize that you can pre-sign your waiver online.  All climbers also get a wrist band.  Since there are age requirements for the different courses, they write the age of each child on their wrist band.  There are bathrooms at the registration area, which I recommend using before you head to the courses as you'll be harnessed for up to 3 1/2 hours.  They also sell snacks, beverages, and branded apparel here.  Once your wrist band is on, you're ready to head to the course.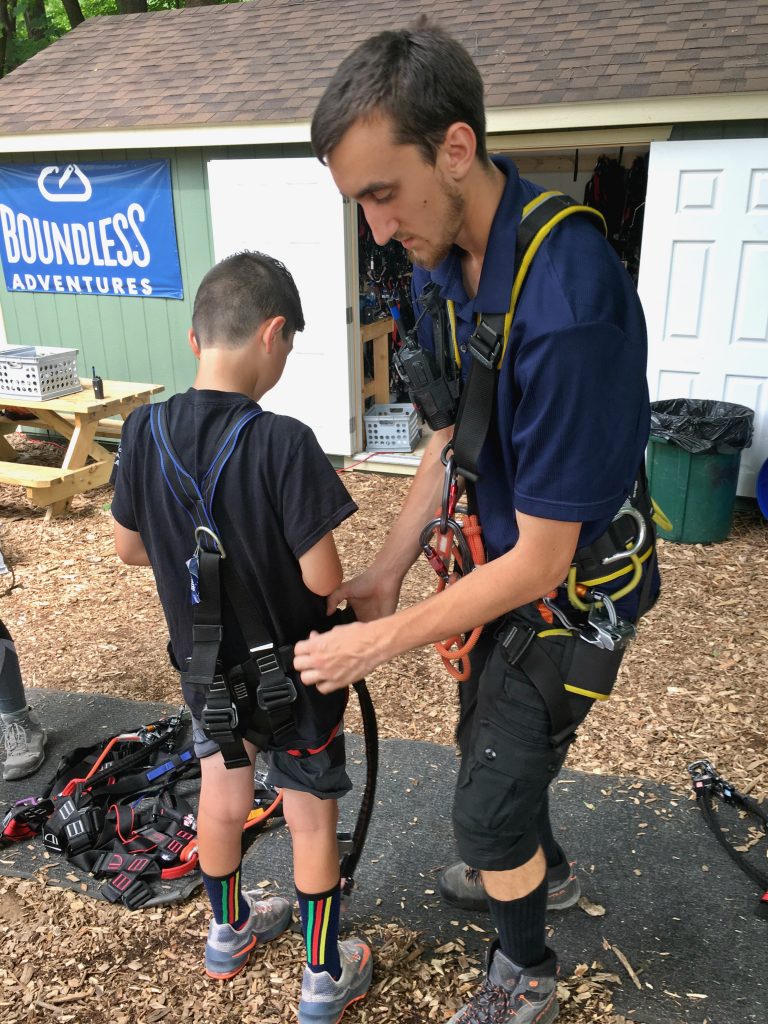 The park is located across the street from the parking lot.  When you arrive, you will first get harnessed up with the assistance of a staff member and get a pair of protective gloves to wear.  The harness is full-body with a special carabiner safety system.

You will then stop at the Briefing Station for a 15-20 minute tutorial on how to use the safety system. Then you use the Practice Lines to ensure you can use the system properly.  I highly recommend paying close attention to the briefing session.  We found that the two-carabiner system with the tweezle safety measure does have a bit of a learning curve.  Your instructor will also teach you how to properly use the zip line attachment and how to slow it down, if needed.  Although you may be anxious to get out on the course and climb, this is the time to ask all your questions and make sure that you can properly use a tweezle to unlock your carabiner.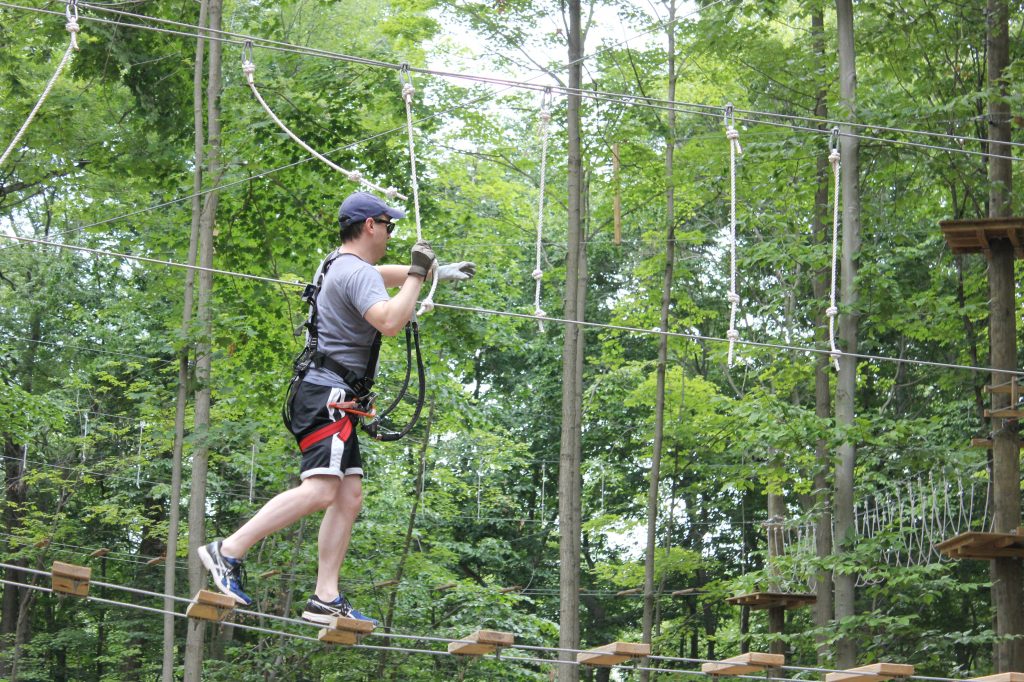 Once you have completed your briefing session you are ready to climb.  You are given 3 hours, starting at the end of your briefing session, to enjoy the courses.  Although there are plenty of staff on the ground to assist you, you complete the courses on your own.  There are 9 courses in four levels of difficulty: 3 Exploration courses (Beginner-Yellow), 3 Motivation Courses (Intermediate-Green),  2 Strength Courses (Advanced-Blue) and 1 Conqueror Course (Expert-Black).  Each course is made up of multiple elements including bridges, beams and zip lines.  Only one person is allowed to be on an element at a time, while up to three people can stand on the waiting platforms between elements.  All courses begin at the main starting platform but end up in various places throughout the park.  You must follow walking trails back to the beginning to start a new course.
My husband and kids started out on a yellow course while I took some photos. The yellow courses are 10 feet above the ground and feature low-speed zip lines and easier bridges.  I have to admit I was a bit hesitant to try the courses.  I'm not afraid of heights, but psychologically, standing so many feet above the ground, trying to transverse moving logs is a bit scary.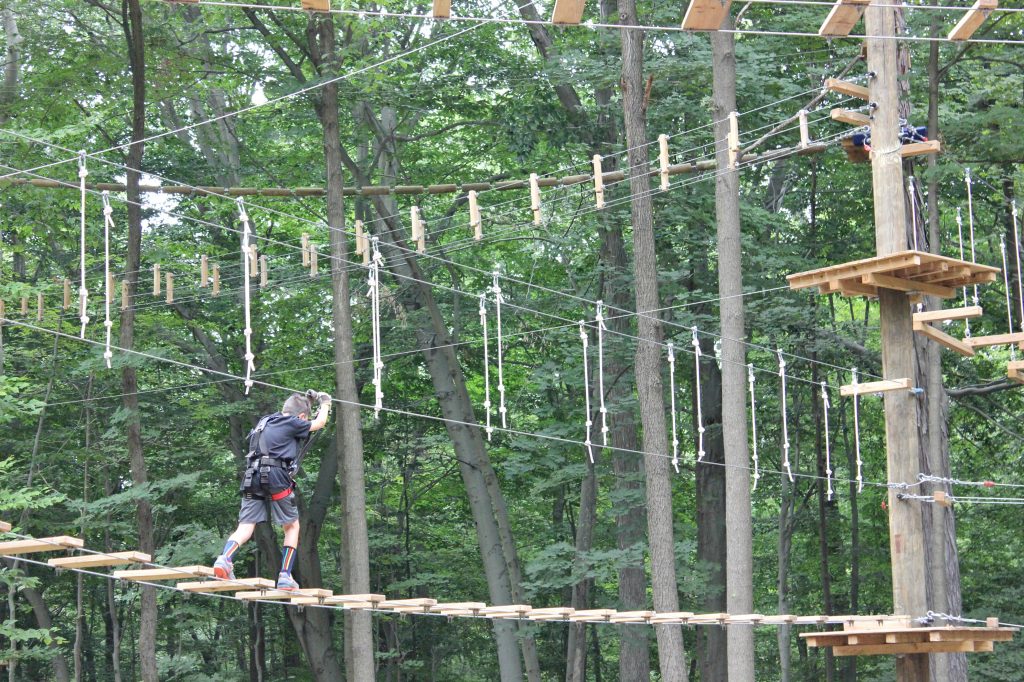 My son and I completed all three yellow courses together and then moved on to complete two of the green courses.  The green courses are 15 feet above the ground and include longer zip lines and more challenging, rolling elements.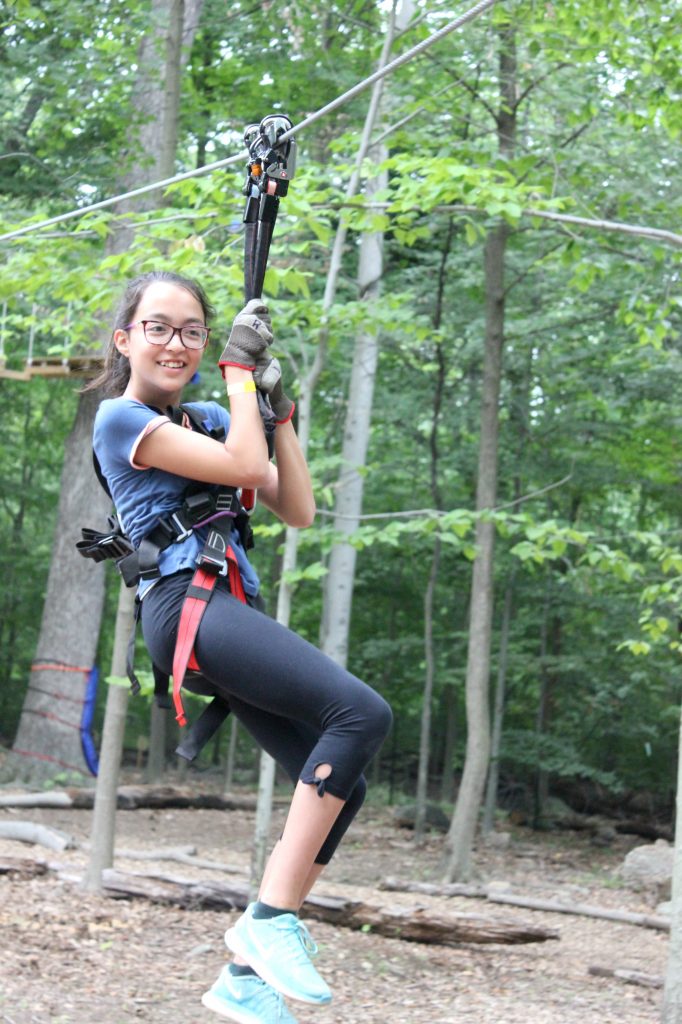 My daughter, the adventure-seeker, quickly moved from yellow to green to the blue courses with my husband.  These are 22-26 feet above the ground and really test your strength with harder elements.  My husband noted that she wasn't afraid of any of the elements and was even excited to do the ending "leap of faith."  Yes, on one of the blue courses, you need to literally  jump off a platform (while you are attached to a safety belay system) to get to the ground .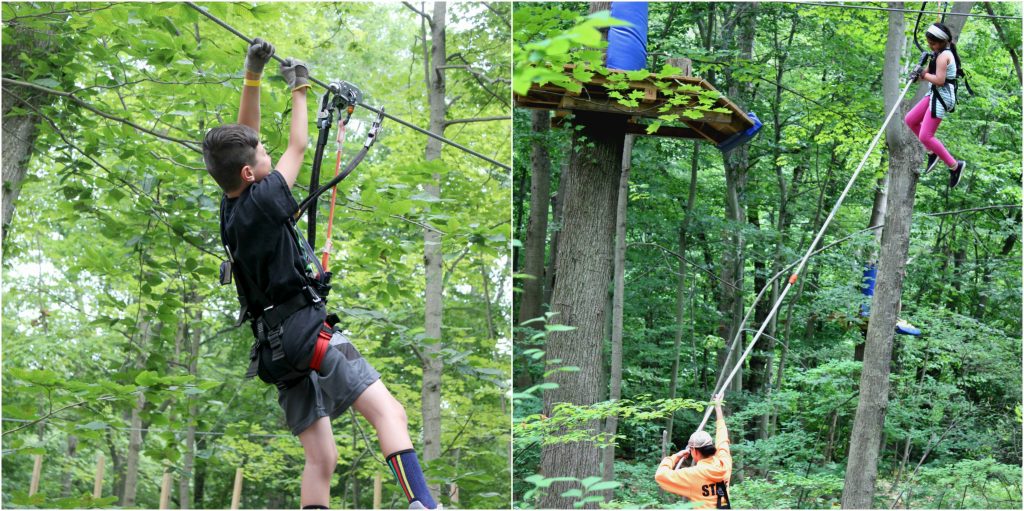 My son quickly learned how to properly use his zip line attachment (make sure both carabiners are resting in notches of the zip line attachment) after getting stuck in the middle of the first zip line.  What happens if you get stuck?  Well, you can either use your muscles and monkey pull yourself backwards to the platform like my son did.  Or, staff members can come assist you, like this girl I saw who needed rescuing.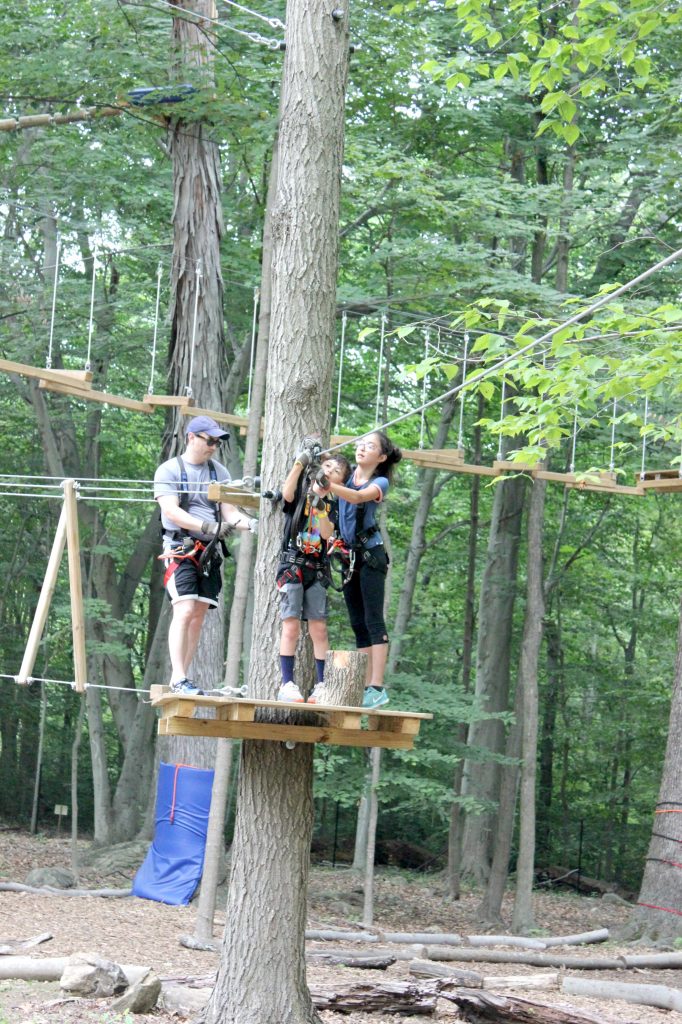 What was the experience like? 
Our family had such a great time at Boundless Adventures.  Before my husband and daughter went off on their own, I saw the kids working together, helping each other with their carabiners.  I also found such a camaraderie among guests.  When a woman was having trouble with her carabiner, my daughter jumped right in to assist her.  When I was having difficulty with one of the elements, another guest stepped in to help.  And, of course, the staff members also came to the rescue, like when I got stuck on the zipline!
It was a great bonding experience as well for us.  My husband and daughter went off together and my son and I teamed up.  He enjoyed not being rushed by his sister.  I loved that, when I was having a bit of difficulty, my 10-year-old would yell words of encouragement.  Leaving the park, we were all commenting on how accomplished we felt and how proud we were of ourselves for completing the various courses.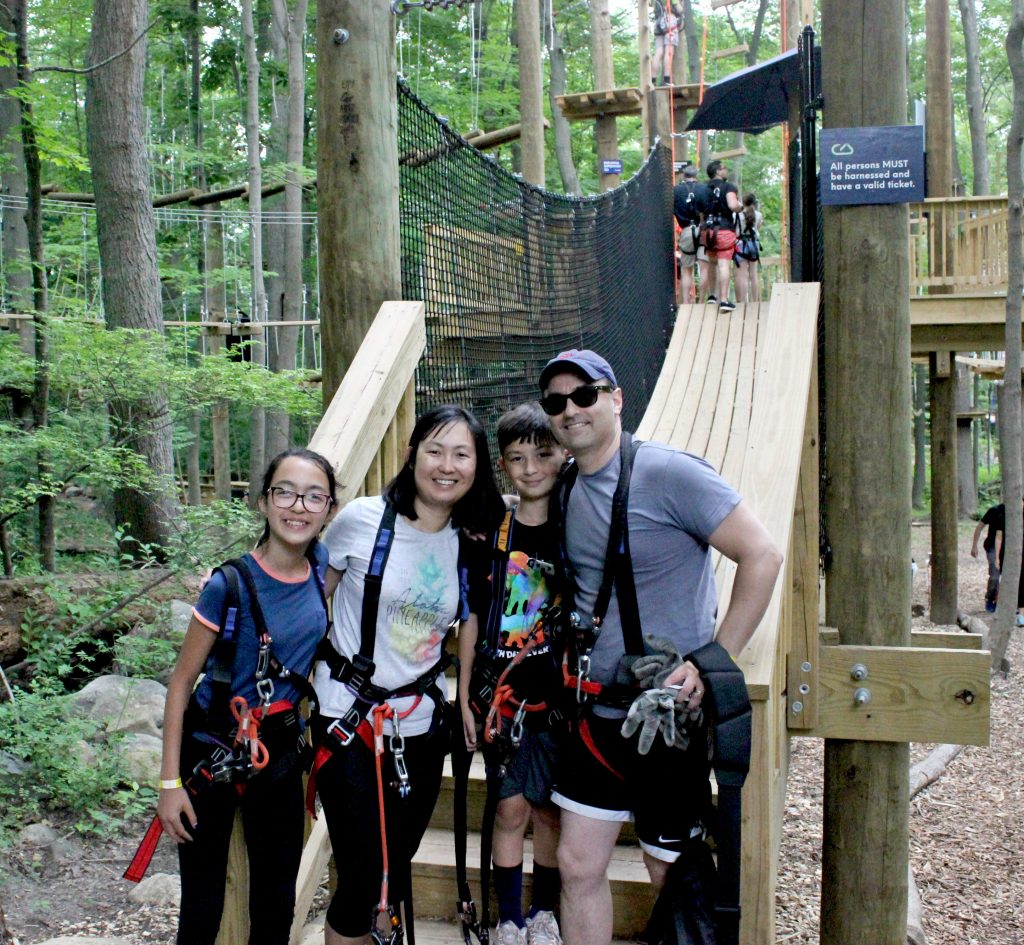 Enjoy an adventurous day of family fun at Boundless Adventures! 
The Details:
Boundless Adventures
735 Anderson Hill Road
Purchase, NY 10577
(914) 893-4550
Hours:  Dates and times vary by season.  Check the website for the most up-to-date information.
Parking: Free parking in lot E2.
Admission: Adults (ages 12+)/$59, Youth (7-11)/$54  (Ticket includes 30 minute orientation and 3 hours of climbing)
Tips:
*You must wear close-toed shoes on the course.  I recommend wearing comfortable clothing as you will be climbing and crawling.
*The courses are strenuous and will tire you out!  There are water dispensers and a supply of paper drinking cones in the park but you may want to bring your own water.
*Picnic tables are scattered throughout the park for family members who are not climbing and want to watch.  You can also bring snacks and food into the park and enjoy them at these tables.
*If you have a 10-11 year-old child who is adventurous and will likely want to try the blue courses, make sure you have an adult with them that is climbing.  Children this age cannot climb the blue courses without an adult with them.  Similarly, children ages 12-13 who may want to try the black course needs an adult as well.