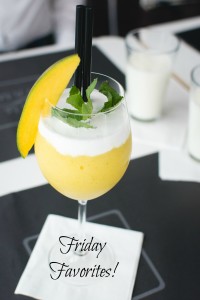 I know I'm probably saying this every Friday, but where did the week go?!  Last weekend flew by with my sister and her family visiting from out of state.  Having Monday off seemed to throw off our entire schedule.  But here we are again, having survived another week!  Some favorites of this past week:
1. Apple picking – Even though my son went apple picking yesterday on a class trip, we still decided to make a quick trip to a local orchard.  We went while my sister was up visiting and our kids loved picking apples with their cousins.  And of course it wouldn't be apple picking without stopping for some cider doughnuts and apple cider.  It was ridiculously crowded and we waited in line for over an hour to get doughnuts.  They were good, but they weren't even hot!  Definitely not worth the long wait with antsy children.  We have been enjoying eating the apples, which are almost all gone.  I'm hoping to bake some type of treat with a few of the ones we have left.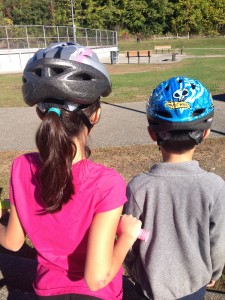 2.  Bike Riding – Our son, who has been fighting learning to ride his bike for what feels like forever, finally learned to ride his bike!  We all had off from school and work on Columbus Day, so the Weekend Chef had wanted the family to go on a hike.  The kids were not into it at all and our daughter suggested instead that they go bike riding (since the Weekend Chef and I don't own bikes!).   We have a local park near us that has a track that is perfect for bike riding.  After a couple of shaky laps, our son finally got the hang of it and was riding like a pro!  It was very exciting.  And of course, the boy who complained about not wanting to go bike riding didn't want to leave to go home!
3. Favorite bookmarked recipe of the week – This Buffalo Chicken Shepherd's Pie from Cupcakes and Kale Chips.  I think I've mentioned a few times that I love all things buffalo chicken.  This sounds like a perfect cold weather comfort dinner that will be making it onto our weekly meal plan soon.
4.   Netflix – The Weekend Chef and I have just finished watching the last episode of The Killing on Netflix this past week.  I know I've mentioned in previous Friday Favorites that we've enjoyed this show.  This show kept us up much later than I had planned on several nights because an episode would end on a big cliffhanger and we'd have to start the next episode to see what happened next.
5. NYCC – a.k.a. New York Comic Con.  My brother-in-law's company is in the process of creating two comic book series.  He was in town with my sister and her kids since he had a booth at Comic Con to promote the comic books.  He had an extra ticket, so the Weekend Chef spent pretty much all day Saturday in the city, helping at the booth.  He did get a chance to walk around a bit and saw lots of people in costume and displays like the ones pictured above.
I'm linking up with Tif @ Bright on a Budget, Amanda from Meet @ The Barre and Andrea @ Momfessionals!  Have a great weekend!