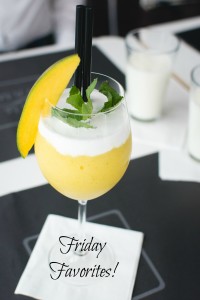 Happy Friday!  This was the kids' last week of camp and then we have a couple of weeks home together before the big Disney trip.  Summer is almost over!  Here are some of this week's favorites: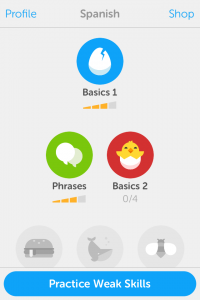 1.  Duolingo – I found this app and now the whole family has it!  It's a free way to learn a language.  As seen above, I am attempting to learn some Spanish.  Seeing that the five years of high school French that I took have been pretty useless, I figured it was time to learn a little Spanish.
2. Neighbors with pools – Last Saturday one of our neighbors had a BBQ, inviting a couple families from our street over for a potluck dinner.  The kids spent the majority of the time in their pool.  Sunday, the kids were invited back to go swimming.  While our yard is not big enough to have a pool, the Weekend Chef and I both have said we wouldn't want a pool, even if we could have one.  Yeah for our neighbors who are always inviting us over to swim!
3.  Favorite bookmarked recipe of the week – I bookmarked these Grilled Mesquite Pork Tacos with Apple Glaze.  The pork with the diced apple make me think of fall.  While I'm not trying to rush the rest of the summer, these might be making an appearance on one of our September or October weekly meal plans.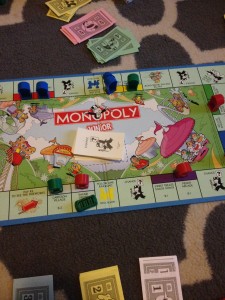 4.  Impromptu game night – The other night after dinner the kids wanted to play a game.  After much debate, they finally agreed upon Monopoly Junior.  Luckily, Monopoly Junior games don't last as regular Monopoly games!
5.   Crossy Road – If you are looking for a mindless, time-wasting game, download this app and then thank my son!  He's had this game for awhile and since then has convinced the Weekend Chef, my daughter and finally myself to get it.  It's a never-ending time wasting game reminiscent of the arcade classic Frogger.
Hope you have a great weekend!  Linking up with Tif @ Bright on a Budget, Jennie from The Diary of a Real Housewife and Andrea from Momfessionals.