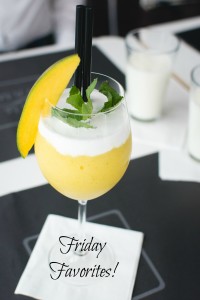 Happy Friday and last day of July!  It's sad that the summer is officially half over, as the kids start back at school on September 1st.  We are planning to make the most of it though and have lots of fun stuff planned for August! Here are this past week's favorites: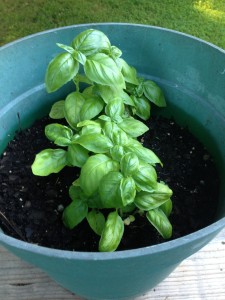 1.  Our basil plant – If you follow on Instagram, you may have seen this picture already of our basil plant.  I thought there was no hope of us having any basil since we planted the seeds ages ago and didn't see any growth.  It's finally grown enough that we were able to use some fresh basil in a recipe this week.  It sure beats buying a small little bunch for $4 at the grocery store!
2. Netflix – Somehow, this week I have been sucked into binge-watching Revenge.  I never watched the show when it was on but it's been keeping me hooked.  Since the Weekend Chef and I watch so many shows together (Orange is the New Black, House of Cards, Breaking Bad, The Killing), I've had to find some shows that I can watch on my own.
3.  Favorite bookmarked recipe of the week – I found a new recipe link-up swap called "Tuesday's Recipe Swap" hosted by Green Fashionista and Martinis & Bikinis.  I bookmarked this Summer Pasta from Green Fashionista and have already planned to make it for dinner next week.  I even get to use some of the basil from my plant!
4.  Mommy Dates – I was lucky enough this week to have a dinner date and a lunch date with friends.  Somehow, life has been pretty busy and I hadn't seen these girls in months.  It was great getting to catch up.  The Weekend Chef and I also got to go out to eat with another couple from Supper Club last weekend and got to enjoy some good eating and drinking!
5.  Currently Reading – Not a favorite book, but I'm currently reading The Knockoff by Lucy Sykes and Jo Piazza.  I'll be finishing this book today and will be giving it 3 out of 5 stars.
Hope you have a great weekend!  Linking up with Amanda at Meet @ The Barre, Andrea from Momfessionals and Tif from Bright on a Budget!