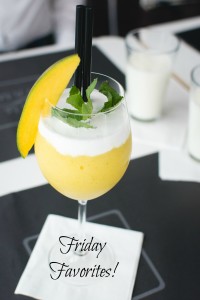 This was a three-hour delay and two snow day kind of week in these parts.  I've discovered how difficult it can be to try to get work done with the kids home all day!  We are ending things off with a Cub Scout Pinewood Derby tonight and a visit to the in-laws on Sunday.  Anything exciting plans for you this weekend?  Here are this week's family favorites:
1.  Favorite new food product tried this week:    If you follow me on Instagram you might have seen this picture the other night.  While we recently tried the Spectacular Speculoos cookie core, we (meaning the Mr. and I) weren't huge fans of the ice cream.  But we had the Boom Chocolatta! cookie core and we liked it!  I pretty much enjoy anything mocha…because coffee and chocolate…..do I have to say anything else?  But then you add in chocolate cookie pieces and a chocolate cookie core and yes…..it's pretty good.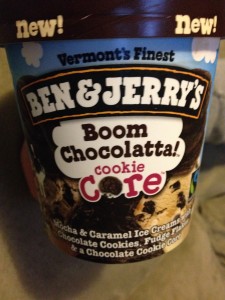 2.  Favorite recipe bookmarked to try:  This Reuben Casserole from blog Melanie Makes.  I normally make Corned Beef and Cabbage on St. Patrick's Day because it's tradition….not because it's my favorite.  Now this casserole sounds so much more tasty!
3.  Favorite Netflix Binge Watch:  This one is all mine….the Mr. has not been watching this with me.  I don't know why I started Season 1 of the 187 episode show on Netflix.  It has sucked me in!  I tried to figure out how I missed this when it first came out in 2003, but the Mr. reminded me that we were watching the O.C. I guess I could only handle one high school drama at a time!
4.  Favorite Kids Read:  My six year old son has been reading through this series non-stop.  Every week when we go to the library he takes several of these or the sister series, Thea Stilton, out to read.  The book series is about a mouse who works as a journalist for the newspaper The Rodent Gazette.  The books are fun to look at, with different colors and fonts.  There are also maps, diagrams and colorful illustrations.  These are chapter books with over 150 pages and a lot of text and are aimed more towards 3rd graders and up.  I admit that I haven't read any of these books, although there's always a bunch lying around the house.  My almost nine year old daughter will pick them up and read them as well…..so maybe they're worth checking out?!!
5. Favorite Healthy Breakfast: Steel Cut Oats are a much tastier alternative to packets of flavored instant oatmeal. It is typically sold in tins or canisters and require a bit of effort before it is edible. Unlike quick or instant oats, there is minimal processing on the raw oats. They are only broken into small pieces with steel cutters, hence the name. So they need to be simmered and stirred in water for about 30 minutes. The Mr. makes enough for the week because it's a bit of a pain effortwise. The reward is a much nuttier and richer oatmeal that goes well with brown sugar, dried fruit like raisins and maybe some chopped nuts. Try it once, you won't go back to packets!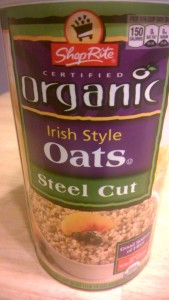 Have a great weekend!
Linking up with Amanda @ Meet @ the Barre,  Andrea @ Momfessionals, Tif @ Bright on a Budget, and Michael @ Rattlebridge Farm.