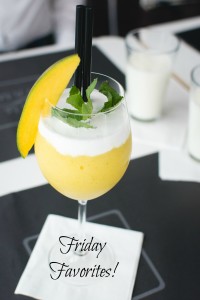 Happy Friday!  With summer in full swing, the kids and I are enjoying their vacation!  This week the kids weren't in camp so I got to enjoy some quality time with the two of them!  Here are some of this week's favorites:
1.  Rainbow loom – My daughter has had her rainbow loom since it was "the big thing" a couple of years ago.  It's been sitting in her closet collecting dust but out of the blue she recently took it out and has gotten back into it.  Her favorite thing to do now is watch YouTube videos on making charms.  She's made all of the charms pictured above by watching videos.  It's hard to tell from the picture but she's made the letter "A," a sword, a rainbow with clouds, a bowtie, a popsicle and a gnome.  She has also taught her brother how to make regular bracelets (he made the ones picture above).  She's been rainbow looming non-stop!
2. Favorite bookmarked recipe of the week –  These Barbecue Bacon Peach Chicken Turnovers from blog Melanie Makes.  Barbecue, Bacon, Peach and Chicken are all ingredients my kids love.  These will surely be a hit with them!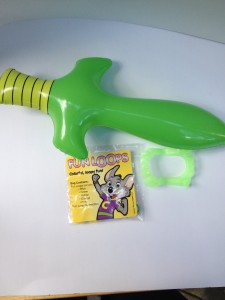 3. Chuck E. Cheese – I can't remember the last time that we took the kids to Chuck E. Cheese.  When I asked them if they wanted to go, of course they said yes!  The smiles on their faces were priceless.  Then my daughter asked, "but why?"  I told her "Just for fun?!!!"  And fun we all had!  It was even Carnival Day at the Chuck E. Cheese and in the parking lot there were a couple of games that the kids could play to win free tokens, candy and prizes.  And after what felt like hours of playing games, they had enough tickets (351 tickets to be exact) for a blow-up sword, some vampire teeth and some Chuck E. Cheese Fun Loops.  Plus, we have enough tokens left over for another trip so the Weekend Chef can join in on the fun!
4. $1 Movies –  Yesterday we headed down to Yonkers to the Alamo Drafthouse Cinema.  They have "Kids Camp" Monday through Thursday where each week they show a different movie at 11 AM and you can choose to pay $1-$3, with all ticket proceeds going to a local nonprofit.  We saw Muppets Most Wanted, which we hadn't seen when it was in theaters last year.  I am very happy that I only paid $1 to see it!  Although the movie had several stars including Ricky Gervais and Tina Fey, we've seen much better children's movies!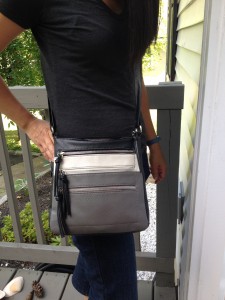 5.  My Apt. 9 Zipper Crossbody Bag –  This purse from Kohls is an oldie but goodie (similar one on sale for $11.70!).  It's been super convenient this week when going out with the kids.  It's nice not having my big purse that keeps sliding off my shoulder.  Plus, my hands were free to play some skee ball at Chuck E. Cheese!   This will definitely be coming to Disney with me in August….although I just read in the latest issue of Glamour that fanny packs are making a comeback?!!!  Not sure I can pull that one off……..
Linking up with Tif @ Bright on a Budget, Amanda at Meet @ The Barre and Andrea @ Momfessionals!  Have a great weekend!