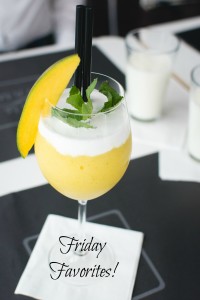 Happy Friday everyone!  If you've noticed, except for the daily food news, it's been a little quiet here on the blog these past couple of days.  This week has been quite a stressful one for my family.  My father had open heart surgery on Tuesday to replace a valve and on Wednesday, I had laparoscopic surgery.  Both my surgery and my father's surgery went well, though he will have several long weeks of recovery.  So, all ended well!  However, I am spending the next couple of days basically lying on the couch recuperating.  Kudos to my mother and the Weekend Chef who have stepped in and have been making everything run as smoothly as possible.
This week, I am sharing five videos that I've found via Facebook and YouTube that I thought were worth sharing!
1.
Castaways, "a documentary series chronicling the successful rehabilitation program of inmates training unwanted dogs for re-introduction or adoption, while highlighting the plight that both prisoners and dogs face and how an unlikely union brings out a change in character of both man and beast- Each trying to save and serve one another."   So touching!

2. Not sure how I feel about this trailer for Jem and the Holograms.  I grew up watching the cartoon and now they're bringing it to the big screen?!!

3. I LOVE Anna Kendrick and Ellen.  On a recent episode they played a game of "Oh Caption, My Caption."

4.  Did I mention I love Anna Kendrick?!!  She's been on  a lot of talk shows promoting Pitch Perfect 2, but she's also a great sport, as seen in this clip of her playing Egg Russian Roulette with Jimmy Fallon.

5. I know this isn't brand new, but the new Madonna song "Ghosttown" isn't overplayed yet that I am still enjoying it!
I hope everyone has a great weekend!  Just a lot of rest and recuperation on the schedule for me.
Linking up with Tif @ Bright on a Budget,  Amanda from Meet @ The Barre,  Andrea from Momfessionals and Jennie from The Diary of a Real Housewife.