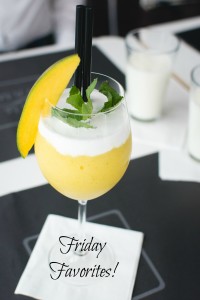 Happy Friday everyone!  And welcome May!  School isn't over until the end of June, but we have a super busy month with the kids' activities.  Luckily, this weekend isn't too jam-packed and we'll hopefully have some relaxing, family time!
This week's favorites include: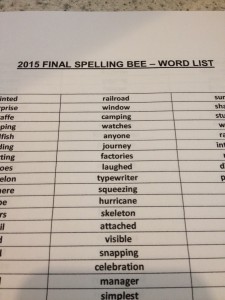 1.  Our daughter made it to the final round of the 3rd and 4th grade spelling bee at her school!  We are so proud of her!  She's pretty shy, so for her to want to participate and then make it to the finals was a big deal!  We will see how she does next week as one of six participants.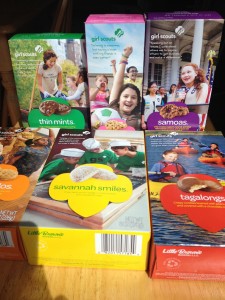 2.  Girl Scout Cookies – They've been sorted and delivered and now we've been eating ours non-stop.  We have yet to try the new Rah-Rah Raisins, but Samoas are my fave.  I really liked the Thank You Berry Munch cookies but they discontinued making them a couple of years ago.    Do you have a favorite?!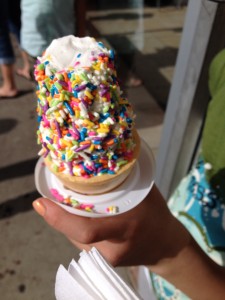 3.  Carvel Free Cone Day!  – Yesterday we went straight from my daughter's tennis lesson to Carvel to get our free cones.  It was crazy trying to get into the parking lot the place was so packed!  Unfortunately, by the time we got there they were already out of the new Nutella soft serve…..so, we'll just have to make another trip there soon!  The kids saw some of their friends there and had a good time.  I won "Best Mom" title for giving them ice cream before dinner!
4. Favorite Bookmarked Recipe of the Week:  This Thin Mint Mocha Frappe recipe from blog The Mad Mommy.  Honestly, I bookmarked this back in February, when she posted it, but pulled it out now as a reminder that our Girl Scout cookies have arrived and need to make this before we eat all of our Thin Mints!
5.  House of Cards – I'm a little late in watching this show.  I had first tried watching this when I was binge watching Scandal.  In comparison to Scandal's drama and fast-pace, I found this show too slow and couldn't get into it.  Since I'm missing this season of Scandal and have to wait for it to come to Netflix, I just started getting into House of Cards.  I've only watched 5 episodes so far, but it's now holding my interest.  I know lots of people who enjoy it so I'm going to try to stick with it!
Linking up with Andrea @ Momfessionals, Jennie @ The Diary of a Real Housewife, Tif @ Bright on a Budget and Amanda from Meet @ The Barre.  Have a great weekend!