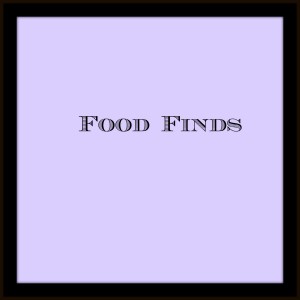 Here's a look at some recent food finds that we've tried.  I have to admit, most of them are junk food and snacks, as most of these were bought and tried before I decided that I needed to start eating healthier.  Be on the lookout for some "healthier" selections in the next Food Finds post!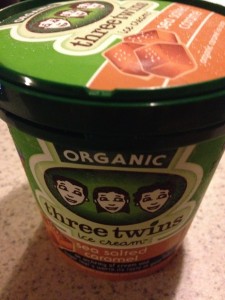 three twins organic ice cream:  sea salted caramel – Founded in 2005, three twins ice cream is a California-based ice cream company that uses only certified organic ingredients.  I love all things salted caramel, so when I saw this flavor in the freezer case of my local Shoprite I knew I had to try it.  This ice cream was super creamy and smooth.  It wasn't overly sweet and had a hint of salty caramel.  The Weekend Chef and I were both fans of this!  Other interesting three twins ice cream flavors include Chocolate Orange Confetti and Dad's Cardamom. For additional information, check out the three twins site here.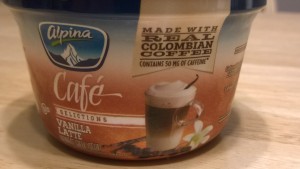 Alpina Café  Selections:  Vanilla Latte yogurt – Oh, how I had high hopes for this yogurt.  This line of Greek yogurts is the first to be infused with real coffee.  The cup of yogurt has 30-50 mg of caffeine, which is equivalent to approximately a half a cup of coffee.  I can't eat dairy first thing in the morning on an empty stomach, so having this for breakfast was out.  The Weekend Chef and I decided to share it for dessert one night, though I was a bit hesitant, since I can be sensitive to caffeine and didn't want to be up all night!  Well, after one bite of this yogurt I didn't need to worry, since I really didn't like it.  The yogurt itself was creamy and the coffee taste evident.   However, both the Weekend Chef and I found the taste to be bitter and unenjoyable.  There are too many other yogurts that we enjoy out there.  For additional information, check out the Alpina US site here.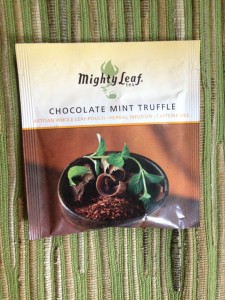 Mighty Leaf Chocolate Mint Truffle Tea – I don't remember where I received a free sample of this tea from.  I much prefer coffee over tea.  However, this tea is caffeine free and was perfect for a recent relaxing night of Netflix viewing.  While I normally add sugar to my tea, I didn't with my mug of this.  The chocolate and mint flavor was very mild and barely noticeable.  I was hoping for a more pronounced flavor.  For additional information, check out the Mighty Leaf website.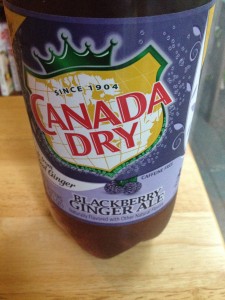 Canada Dry Blackberry Ginger Ale – I have really tried to cut back on my soda consumption.  However, when I see something new I have to give it a try.  We only let the kids drink caffeine free, regular soda on special occasions or when we go out to eat.  They both have started liking ginger ale so we all tried this blackberry ginger ale.  We all liked it, though it had more of a grape taste than a blackberry taste.  I would definitely pick this up again. For more information check out the Canada Dry website.
Lay's Kettle Cooked Greektown Gyro Potato Chips – Our daughter had us enter the Lay's flavor contest.  We didn't win, but these Greektown Gyro flavored chips were a finalist, along with Southern Biscuits and Gravy, New York Reuben, and West Coast Truffle Fries.  So far, we've only tried these and weren't impressed.  They had a weird, lab-dill flavor that wasn't very appealing.  Definitely not a fave.  Still have some other flavors to try though!
Have you tried any of these?  Do you have any recent food finds that we should try?!