Happy Friday!  Don't forget to "spring ahead" this weekend and set your clocks an hour forward Saturday evening (Sunday at 2 AM if you want to be technical!).  It doesn't feel like spring around here.  The kids have a snow day today since we received some snow last night and it's supposed to continue until the afternoon!  We're also expecting another 3-5 inches on Tuesday! I'm so over winter!  We don't have too much planned this weekend.  My daughter is going on a Girl Scout overnight camping trip tonight. Basketball season ended last weekend and we have a few weeks off before soccer starts up again.  Tomorrow night we'll be going to the elementary school musical production and as of now Sunday is open.  Here is a look at five from this week:
1. Reading – I am currently reading Maybe In Another Life by Taylor Jenkins Reid.  After rave reviews of this author's books on the Show Us Your Books link I've been slowly making my way through them all.
2. Eating – This week was a good week.  It's currently restaurant week here in the Hudson Valley so I enjoyed both a 3-course lunch and dinner this week at area restaurants. My favorite lunch dish was this homemade pasta appetizer with crab, roasted yellow tomatoes and Calabrian chile from Chef Michael Psilakis' MP Taverna.  My favorite dinner dish was this appetizer from The Cookery.  This doughnut filled with pork, BBQ onions and basil and topped with a spicy maple sauce was amazing!
3. Watching – I finally watched The Girl on the Train.  I read and enjoyed the book and was excited to watch the movie since most of it was filmed right here in Westchester County!  Overall though I found the movie to be "eh" and second-guessed why I had liked the book so much.
4. Bargain shopping – I've been trying not to do too much shopping.  However, when I get a 30% off coupon from Kohls I have to shop.  This week I went and was able to buy the kids' winter coats for next year on clearance and an additional 30% off.  I also got my son a pair of Columbia boots for next winter as well.  I may have also bought a couple of shirts for myself!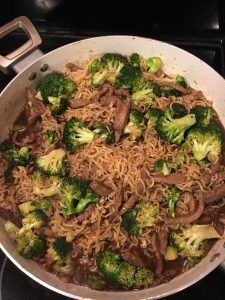 5. Cooking – My life basically revolves around food.  Yes, I'm one of those people who while eating one meal is deciding what I'm going to eat for my next meal!  So besides eating out this week I was also cooking some quick and easy dinners.  Check out my weekly meal plan on Monday for the recipe for this Beef and Broccoli Ramen Stir Fry and more!
ICYMI this week on the blog:
Monday I shared our weekly meal plan.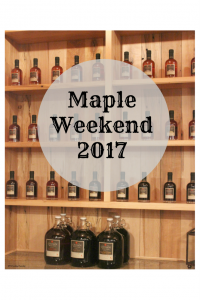 Wednesday I wrote about Maple Weekend 2017 here in New York.
I'm linking up with Katie, Andrea and April!  Have a great weekend!