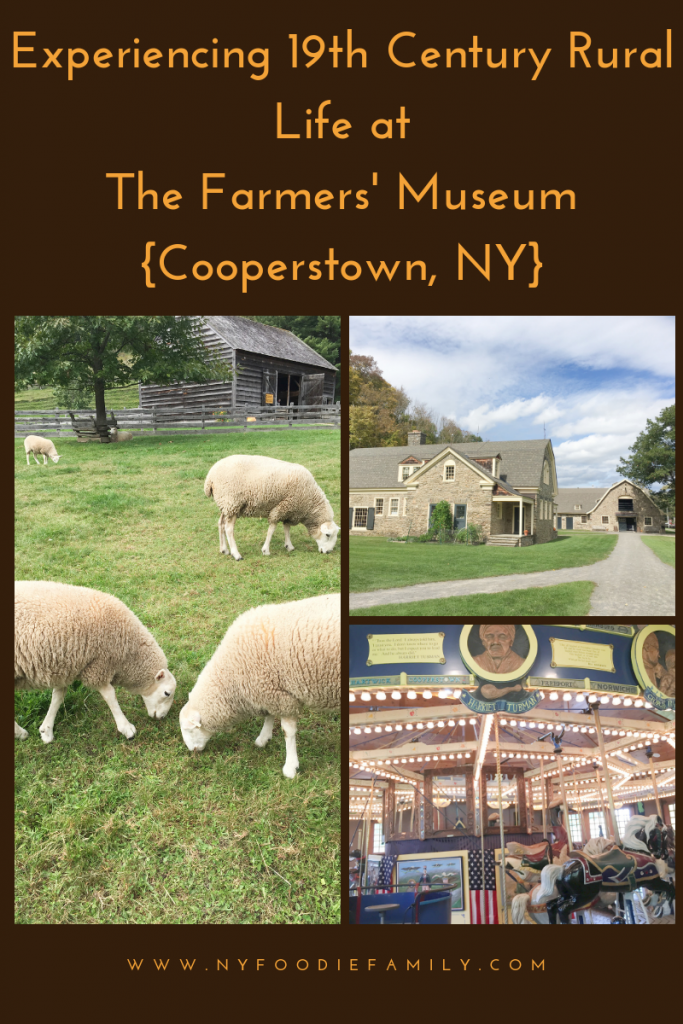 (Thank you to The Farmers' Museum and Go Cooperstown for hosting NY Foodie Family.  As always, all opinions are our own.)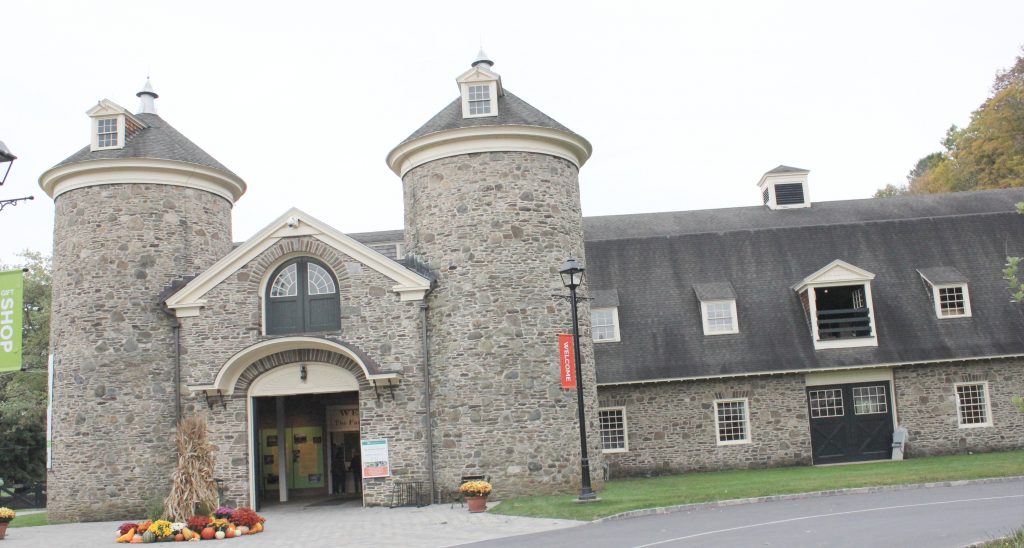 Founded in 1943, The Farmers' Museum in Cooperstown, New York is one of the oldest rural life museums in the United States.  When visiting Cooperstown, a trip to this museum will be a fun and educational experience. Visitors get an opportunity to experience rural life of the 19th-century through exhibitions, interpreters, demonstrations and more.  Be sure to check out the Daily Activities schedule on the day of your visit, to enjoy special demonstrations, tours and hands-on activities.
You enter the museum through the Main Barn.  The exhibitions change in this space, but currently on view is Barns: Cathedrals of the Countryside and Grow: An Exhibit to Get You Gardening.  There are hands-on activities in the Grow exhibit for young children to interact with.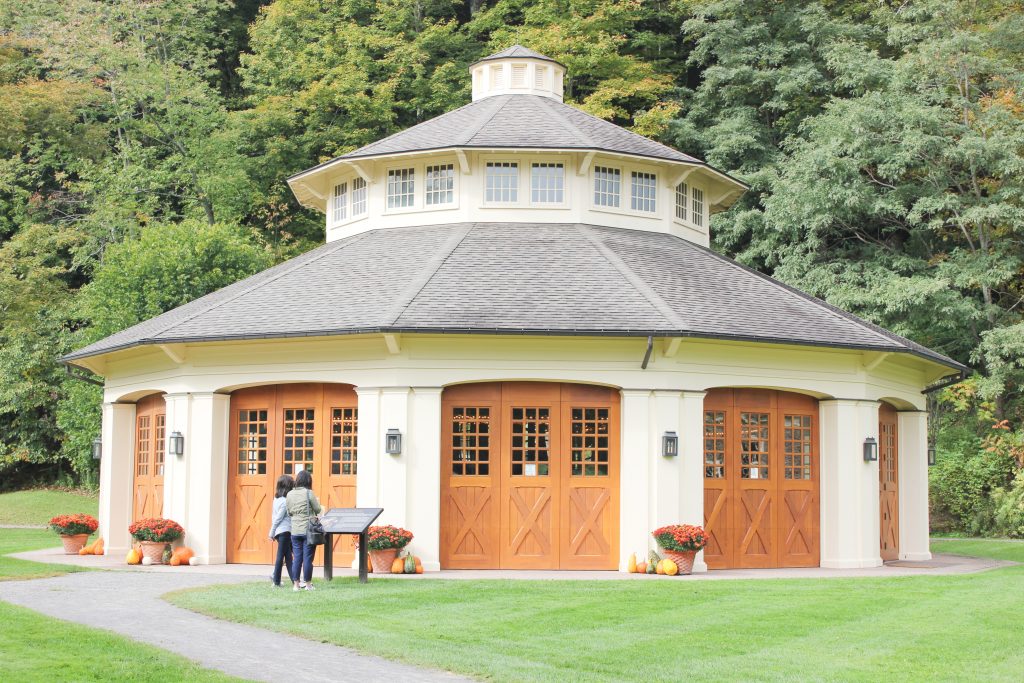 After you exit the Barn you will see the Empire State Carousel.  Our family visited and rode on many carousels last summer, traveling around New York State.  The Empire State Carousel is, by far, my favorite carousel of all time.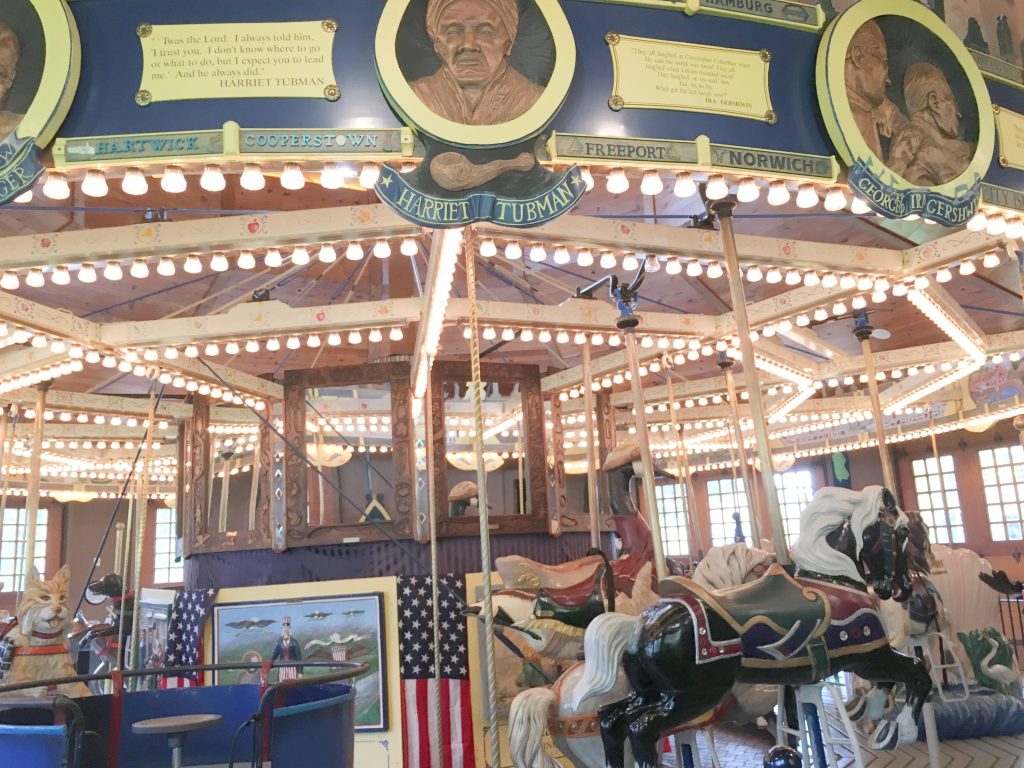 The Empire State Carousel was opened in 2006.  Known as the "museum you can ride on", this carousel pays tribute to everything New York State.  Almost 1,000 volunteer artists and artisans contributed to this carousel, which includes canopy murals, hand-carved mirror frames, quilted banners and over 25 hand-carved carousel creatures to ride. You can literally spend hours just walking around the carousel and taking in all the intricate art that details the people and places important to our state.  Each of the unique carousel figures also portrays a state significance. for example, the rabbit my daughter rode on represents the NYC Easter Parade.  Carousel rides are $1 per rider.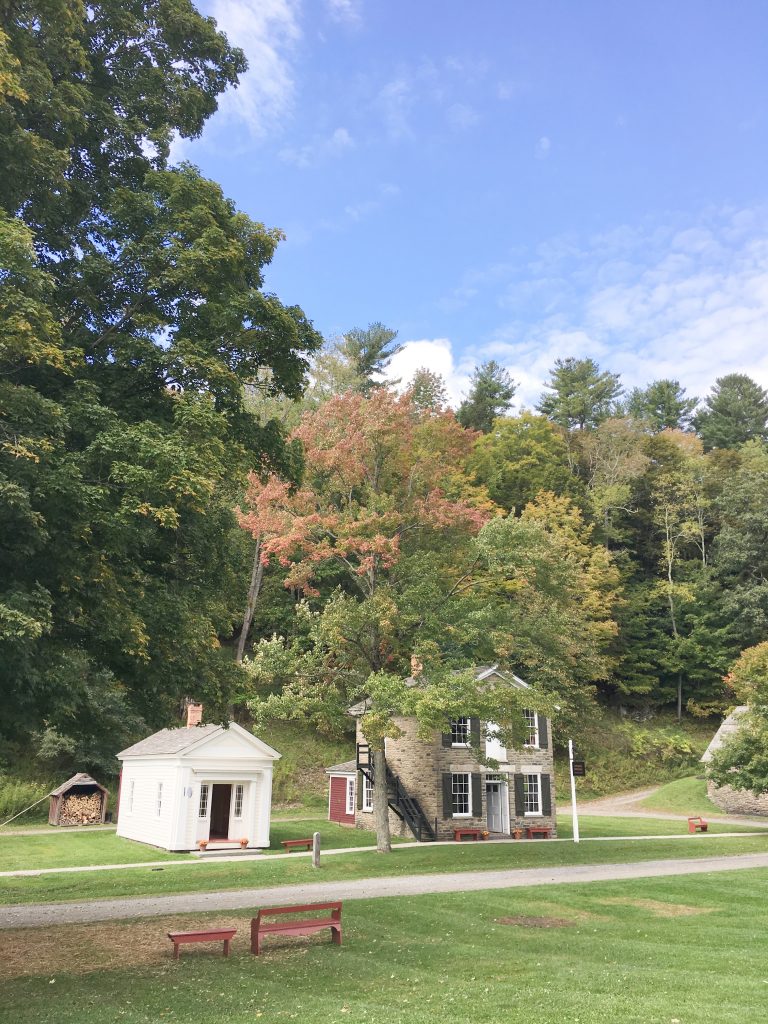 After visiting the carousel, we walked through the Historic Village.  The Village is comprised of over 20 different buildings, including a blacksmith shop, a tavern, a printing shop, a general store, pharmacy and more. More detailed information about each building and its provenance can be found on the museum's website. Each building has been relocated from rural areas throughout New York and has been restored.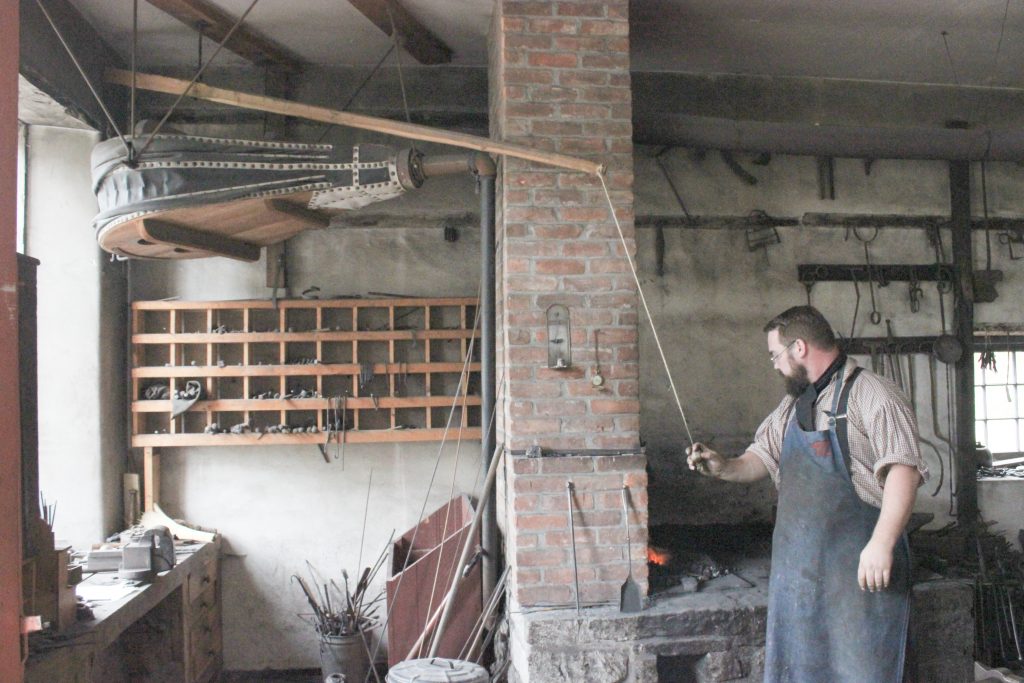 Many of the buildings have historic interpreters that will answer questions and demonstrate their crafts.  We enjoyed watching the blacksmith make needles the day of our visit.  We also got to see the printer make a flyer at the print shop.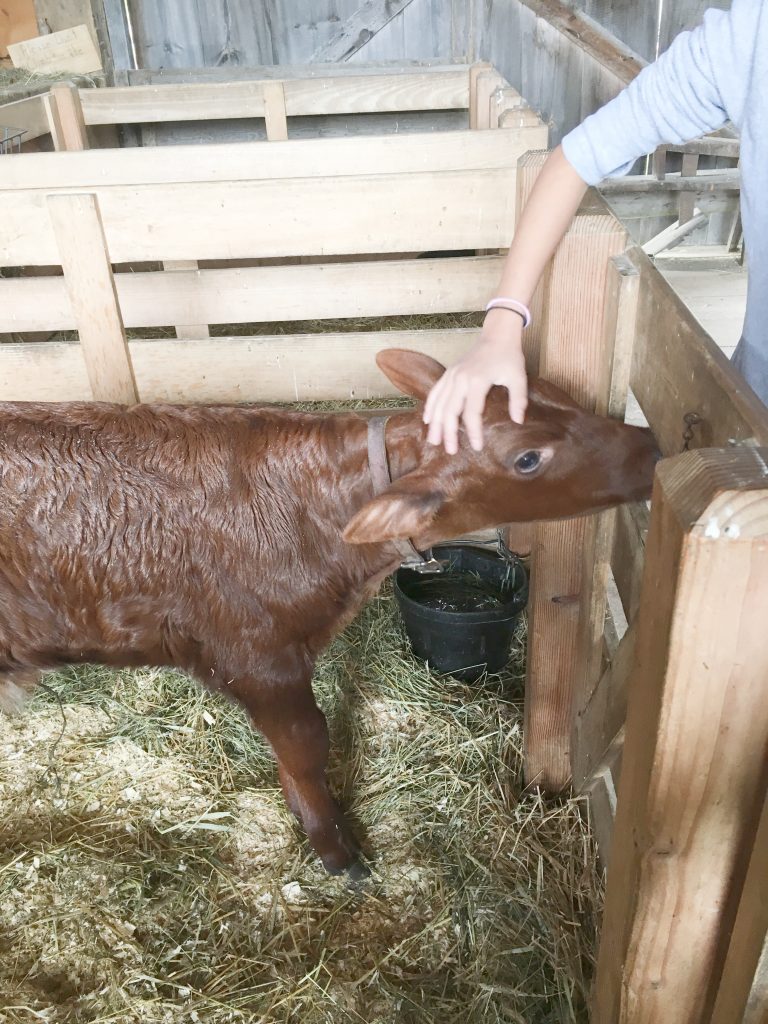 The kid's favorite part of the Farmer's Museum was the Lippitt Farmstead.  This living farm includes two barns, six outbuildings, a smokehouse and the family house.  My kids LOVE animals and visiting the Children's Barnyard was such a treat.  They got to meet Bear, a calf who wasn't quite two weeks old the day of our visit.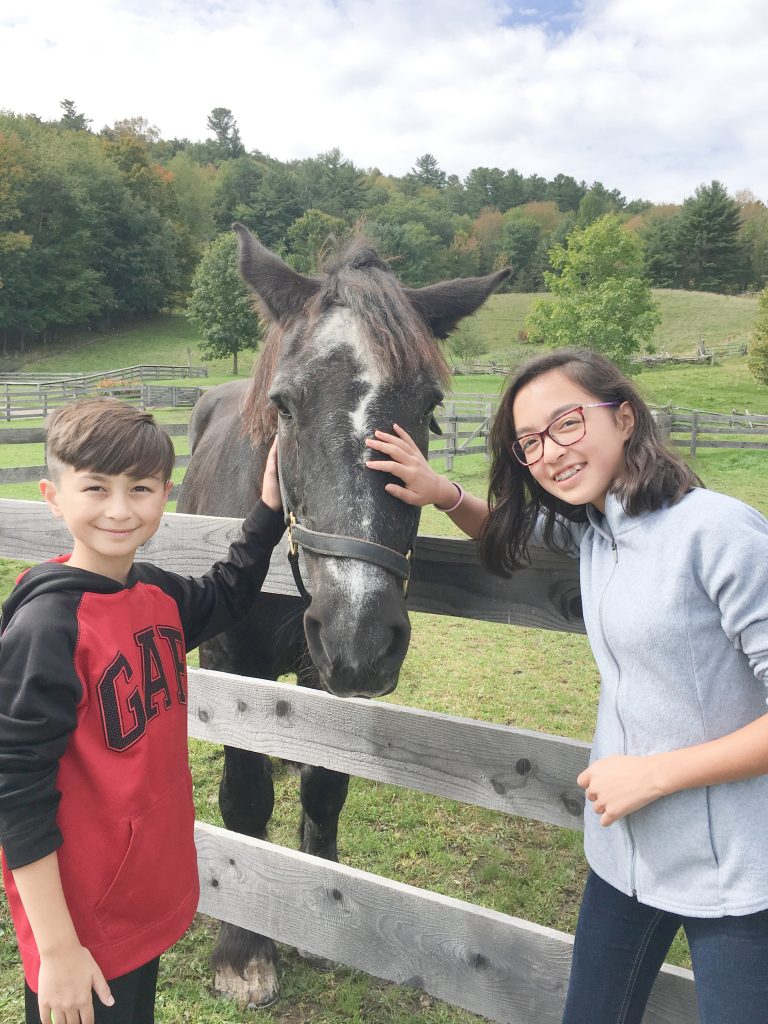 They also loved seeing the chickens, turkeys, sheep, pigs and horses that live on the farm.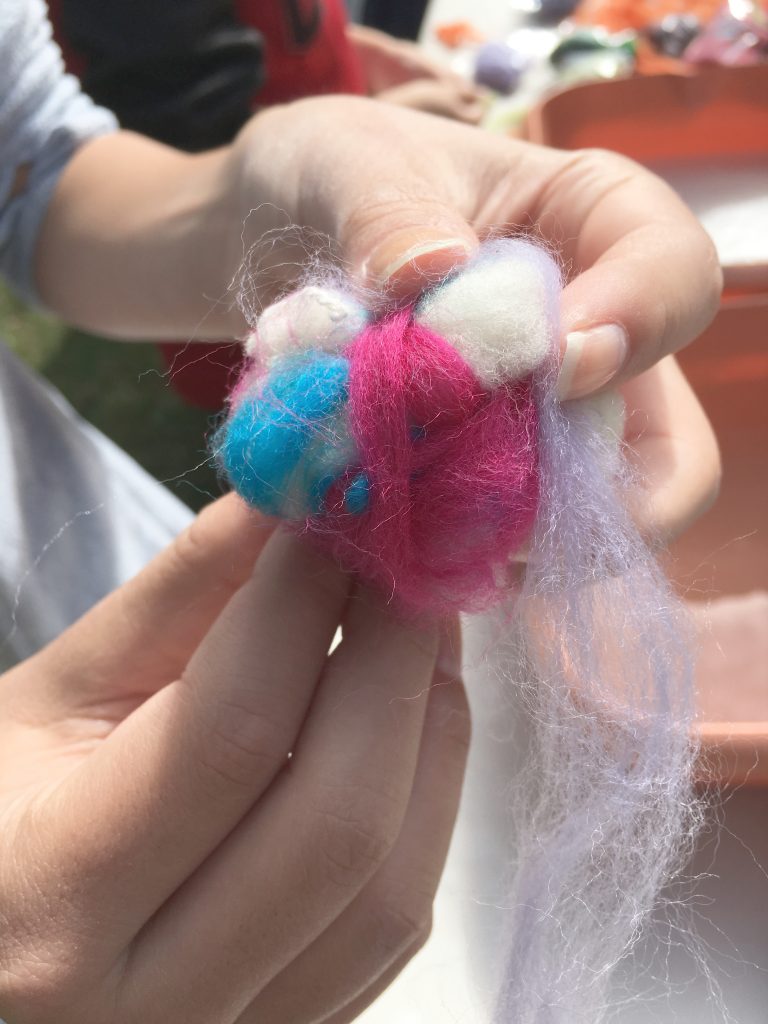 The weekend of our visit was Fiber Arts Weekend at the Farmers' Museum.  This weekend is focused on exploring the world of natural fibers through demonstrations, mini-exhibits and hands-on activities.  The kids had a fun time making felt balls, which would have been a toy for young children in the 19th century.  Throughout the year, the Farmers' Museum has seasonal events for an additional charge. Upcoming programs include Ghost Tours, Thanksgiving at the Farm, Candlelight  Evening and a theatrical production of "A Christmas Carol".
The Details:
The Farmers' Museum
5775 State Highway 80
Cooperstown, NY
website
Hours:
March 31 – May 7
Open Tuesday – Sunday 10 a.m. – 4 p.m. Closed Mondays. Limited buildings open.
May 8 – October 8 (Columbus Day)
Open Daily 10 a.m. – 5 p.m.
October 9 – October 30 
Open Tuesday–Sunday, 10 a.m.–4 p.m. Closed Mondays. Limited buildings open.
October 31 – March 31
Closed for winter except for special programs and events.
Admission:
$12/Adults and Juniors (13-64), $10.50/Seniors (65+), $6.00/Juniors (7-12): $6.00, Free/Children (6 and under) Admission is also free for active military and retired career military personnel.
Parking: 
Free parking is available in the lot on the property.
Tips:
*Food is available for purchase at the Crossroads Cafe.  Soup, chili, drinks, baked goods and more are sold here.  You an also opt to walk across the street to the Fenimore Art Museum and have a meal, while enjoying beautiful views of Otsego Lake, at the Fenimore Cafe.
*Our family spent approximately 2 1/2 hours here during our visit, which included making felt balls during Fiber Arts Weekend.