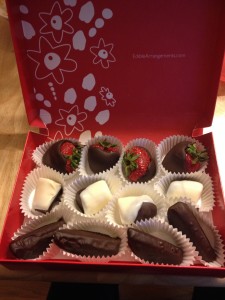 Last week I had laparoscopic surgery.  The day after my surgery I received a flower delivery from a friend and the edible arrangement, pictured above, from my nieces.  This box contained four chocolate covered strawberries, bananas and green apple slices.  The strawberries and apple slices are dipped in semisweet chocolate and the bananas are dipped in a semisweet/white chocolate combo.  Chocolate-covered fruit is best eaten in a day or two, as the strawberries can get a bit juicy/mushy.  There are four of us in the family so we each got to try one piece of fruit (even though when I called my sister to thank her, she told me to hurry up and eat them before the kids got home!) and finished the box in two days.  The fruit was fresh and sweet.  This box was a perfect, "Get Well Soon" gift that didn't cost a fortune.   Many people who are ill or have had surgery like myself, are either on special diets or often just don't have their normal appetites.  While those giant edible fruit arrangements look beautiful and are tasty, they may not get eaten if sent as a "Get Well" present.  Those large arrangements need to eventually be taken apart.  Cut fruit must be stored in the refrigerator and does not have a very long shelf-life.  So, maybe save those larger arrangements for family gatherings (a graduation or large birthday celebration?) where they will get eaten!
Even though my sister lives in Maryland, she was able to place the order and have a local franchise deliver it to my house.  Edible Arrangements creates fruit arrangements that can range anywhere from $29, like the box I received, to  arrangements that cost almost $700!  They have special kids themed arrangements including Disney, SpongeBob and Hello Kitty and can create arrangements for any special occasion or holiday.  Edible Arrangements is a franchise operation, with over 1,200 stores in 12 different countries around the world.  For additional information or to place an order check out the Edible Arrangements site.
*I was not compensated for the following review.  I received the Edible Arrangement box from a family member as a gift.  I enjoyed the product and wanted to share a review with you.