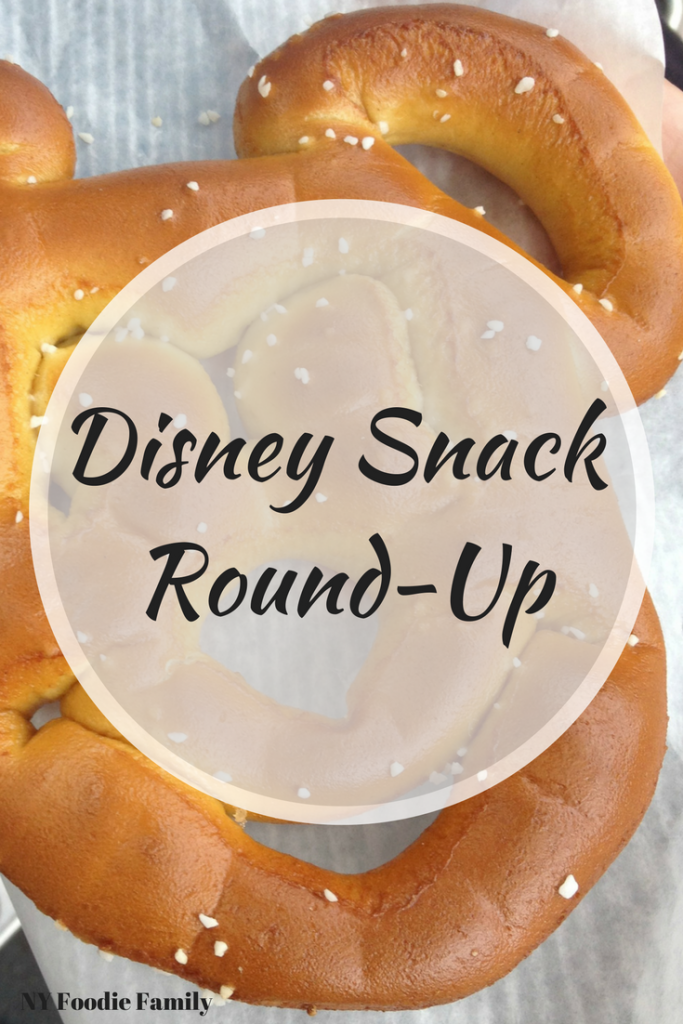 As you know we recently returned from a week long trip to Disney World, which you can read about here.  While we enjoyed the rides and meeting the characters,  my husband and I were probably most excited about the food!  We purchased the basic Disney Dining Plan which includes one quick service meal, one sit-down restaurant meal and one snack per person, per day.  What counts as a "snack" credit differs by park and includes everything from bottled water, a bag of chips or all of the items featured below.  When looking at each kiosk's menu, the items that can be used with a snack credit have a Disney Dining purple and white square symbol next to it.   Below is our Disney Snack Round-Up of the snacks and desserts that we ate on our trip!  Please note that the four of us SHARED all of these treats.  This sometimes meant just a bite or two of something.  I did not gorge on all of these snacks by myself (though sometimes, I really wanted to)!
Note:  *It is no secret that counter service restaurants and kiosks will provide you with a cup of ice water at no charge.  It was super hot while we were in Disney  and we took full advantage of this!  However, the water at Magic Kingdom had a funny taste to us and we did not like it at all!  I recommend bringing water with you to this particular park.  All of the other parks had water that tasted fine!
ANIMAL KINGDOM: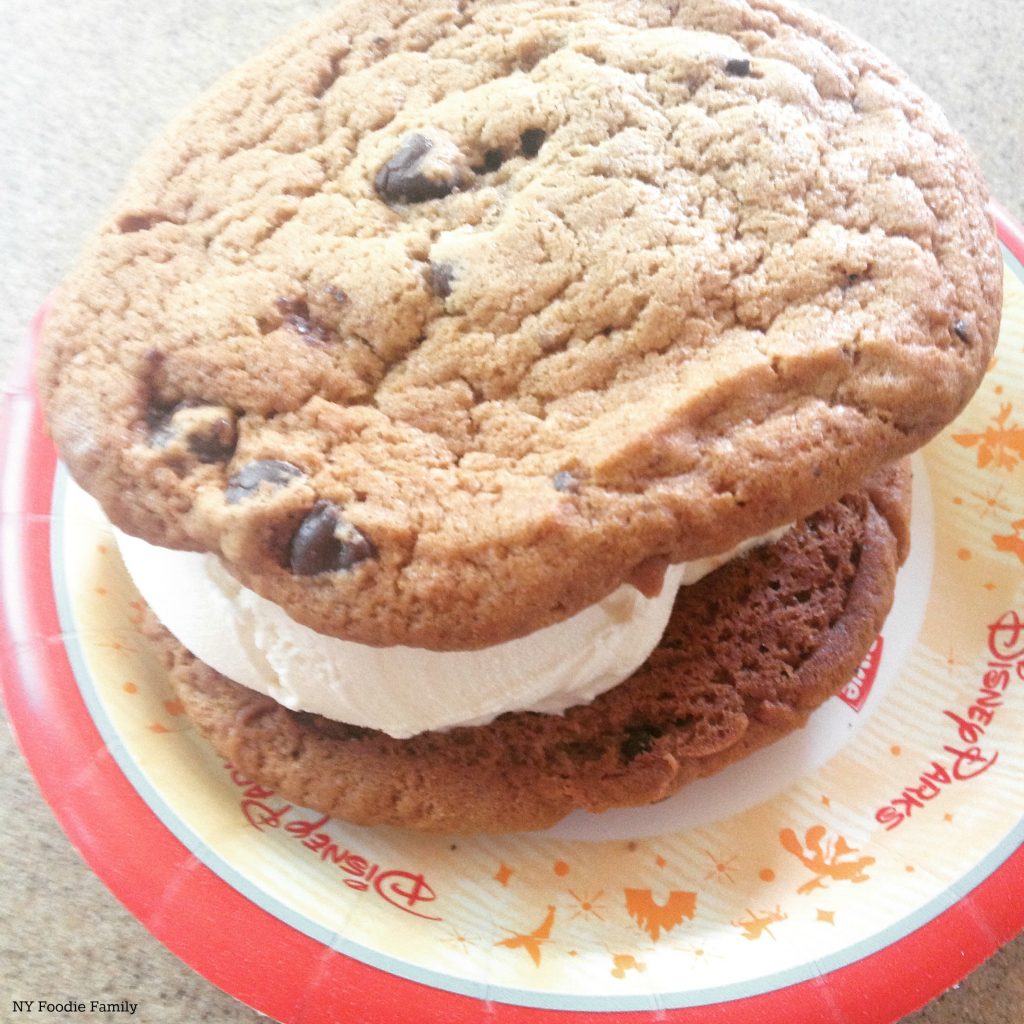 We got this Chocolate Chip Cookie Vanilla Ice Cream Sandwich from Dino Bites at Dinoland in Animal Kingdom.  This cookie sandwich is gigantic!  A huge scoop of vanilla ice cream sandwiched between two large, soft chocolate chip cookies = deliciousness!
EPCOT: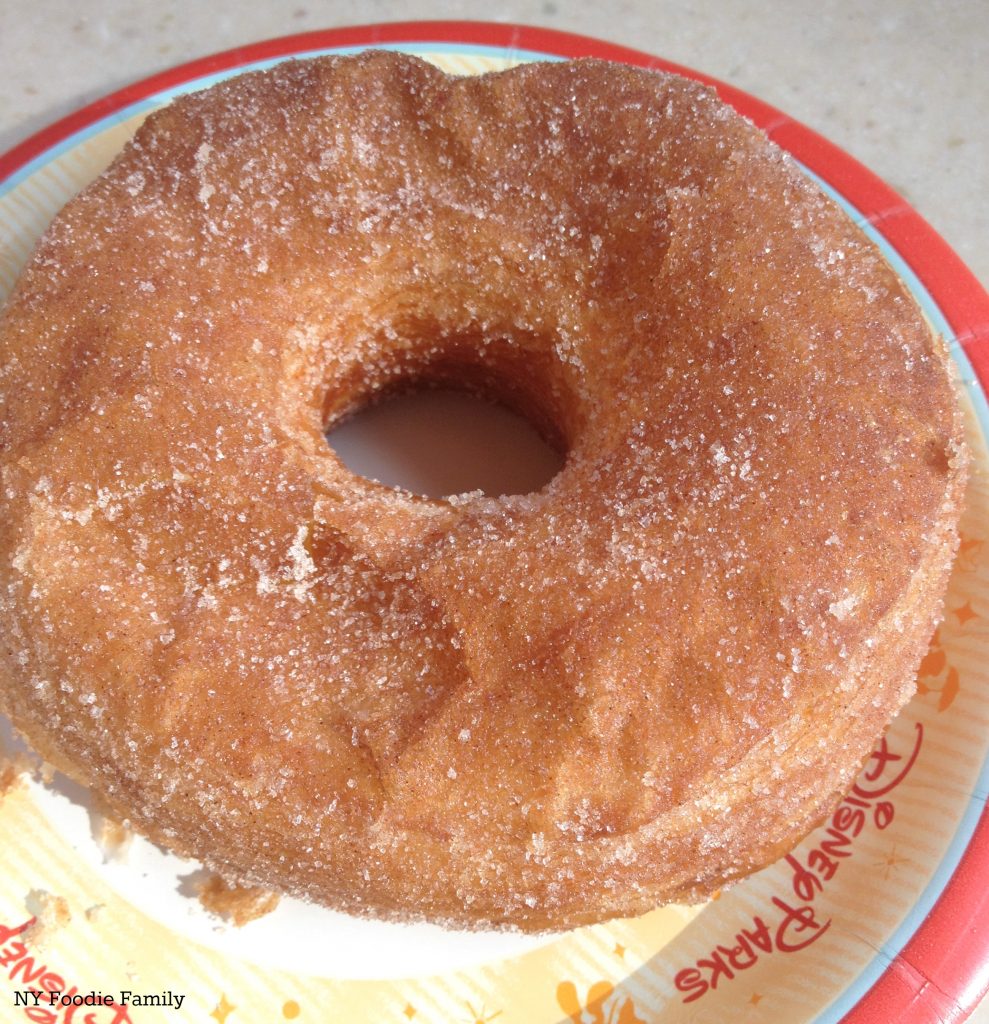 Now, we have not tried the famous Cronut from Dominique Ansel in NYC.  However, we picked up this Croissant Doughnut at the Refreshment Port near Canada in Epcot.  It's covered with cinnamon sugar and was delicious!  Sweet on the outside and soft, pastry-like layers on the inside.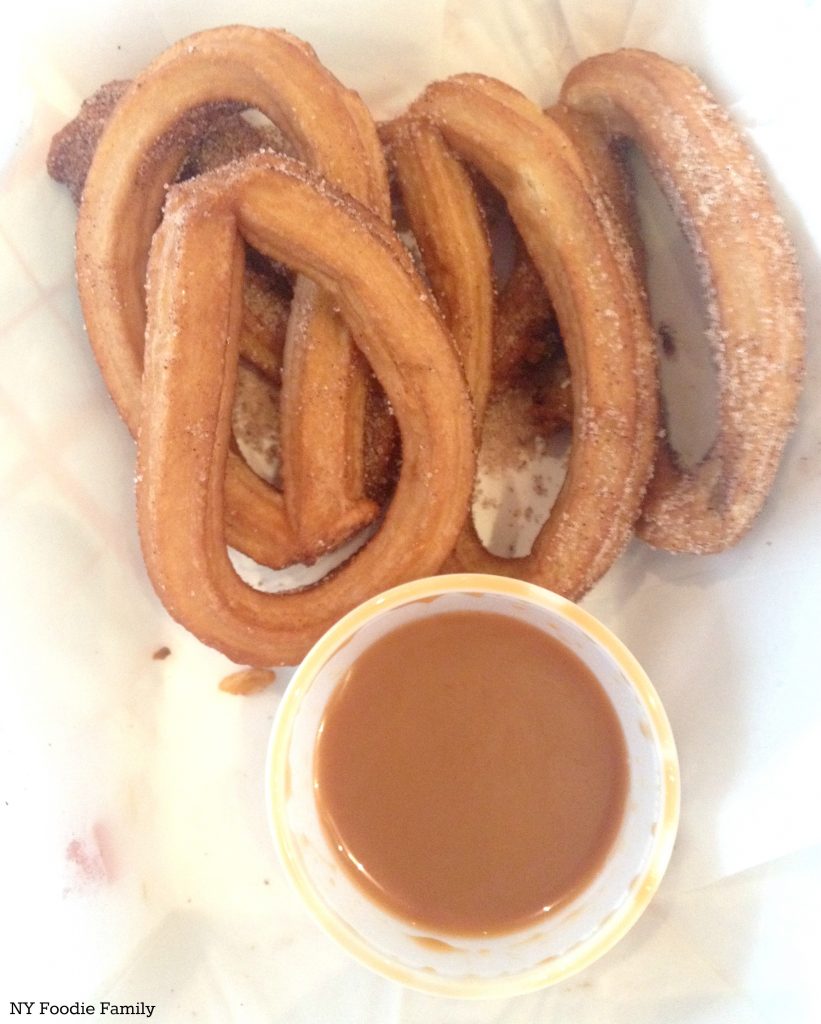 We had these Churros con Cajeta as the dessert selection for one of our quick service lunches at La Cantina de San Angel in the Mexico section of World Showcase at Epcot.  However, these can be purchased using a snack credit.  They were sprinkled with cinnamon and come with a caramel dipping sauce.  They are served hot, but by the time we got around to eating them they were warm and had lost their crispiness.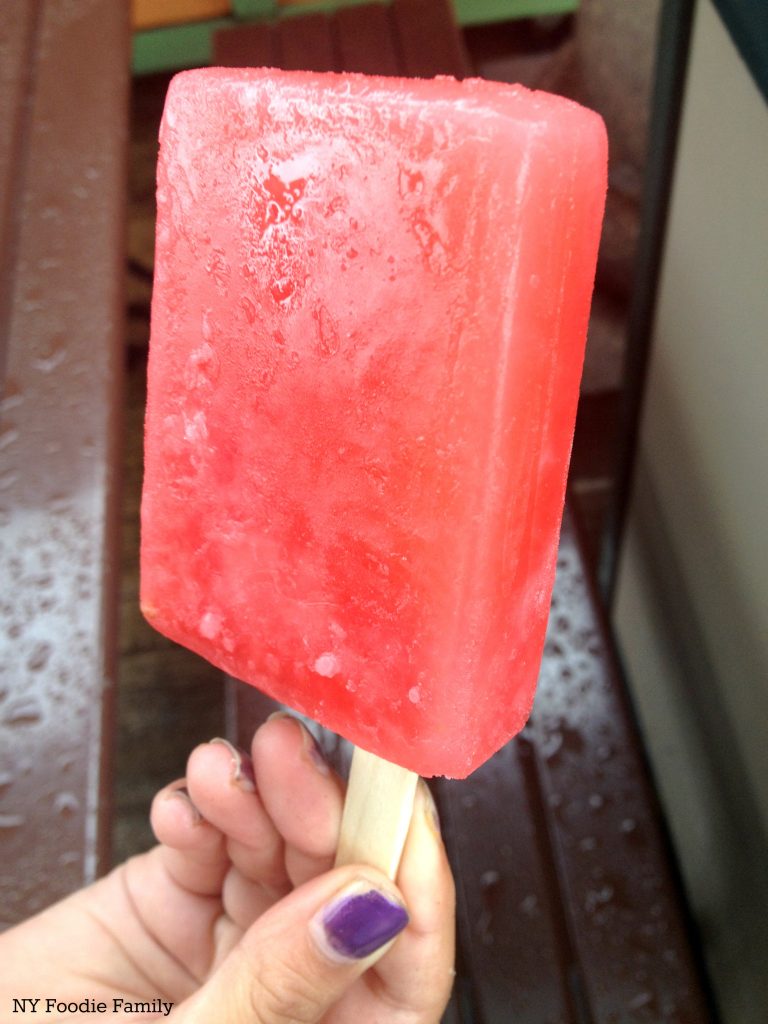 This Watermelon Paleta was our second quick service dessert selection from La Cantina de San Angel.  This also can be purchased using a snack credit.  These Mexican ice pops comes in other flavors including Mango, Lime and Coconut. This was a nice refreshing treat on a hot day!  It wasn't super sweet and you can taste the watermelon.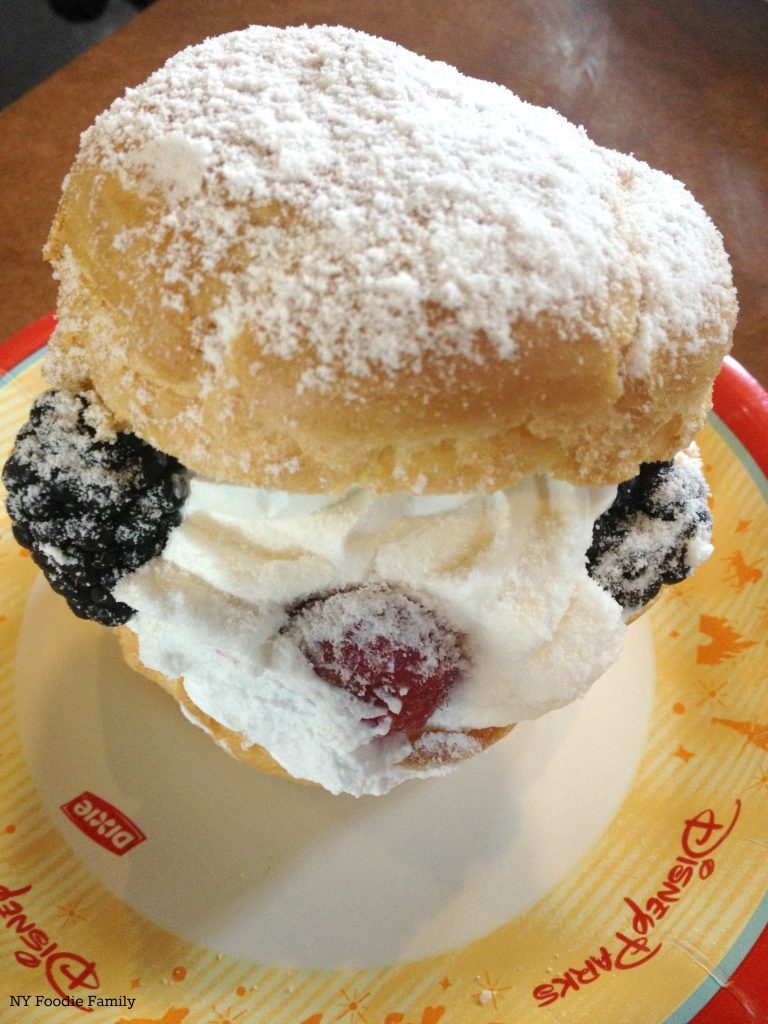 We got this Berry Cream Puff at the Kringla Bakeri og Café in Norway at the World Showcase.   This was a giant cream puff with fresh berries (blackberries, raspberries and a strawberry).  The cream was not too sweet and we really enjoyed this.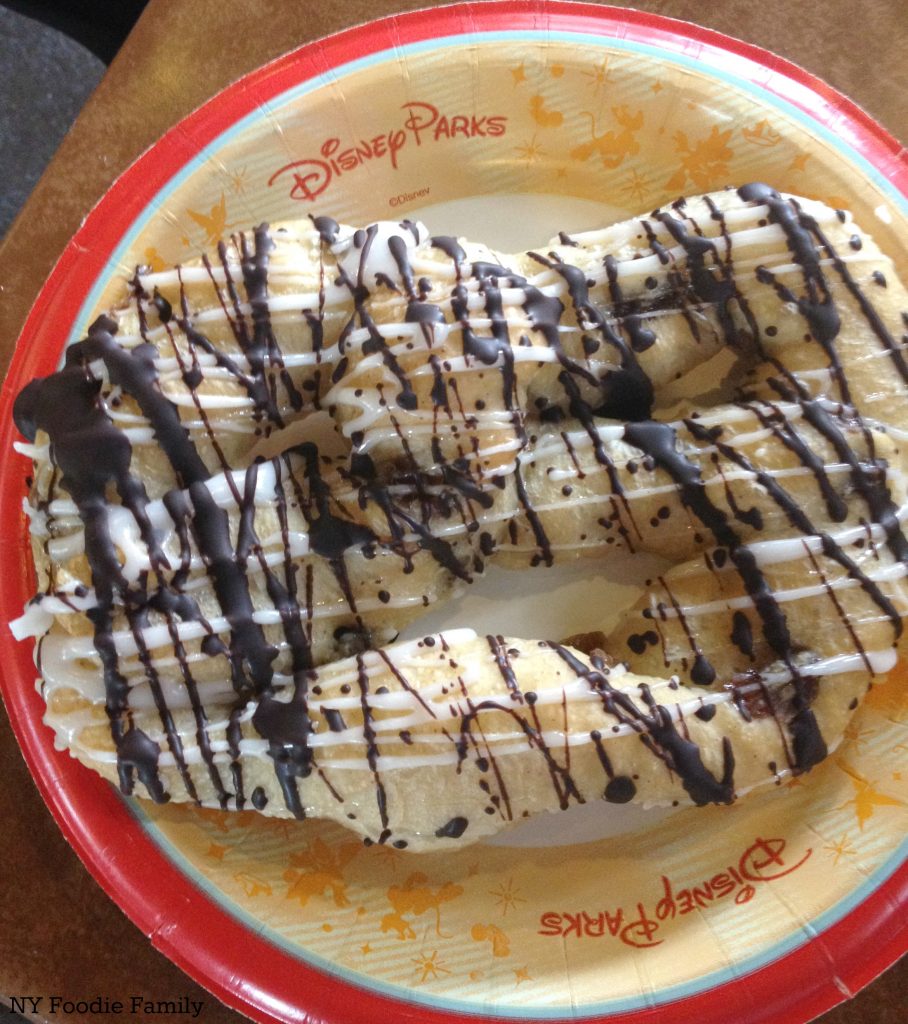 We also got this Kringla Sweet Pretzel with Chocolate at the Kringla Bakeri og Café.  I have to say that this pretzel looks better than it tastes.  This pretzel is not a traditional tasting pretzel (like the Mickey pretzel), but is more pastry-like.  It's a sweet raisin pretzel topped with icing and a chocolate drizzle.  I found this pretzel to be a bit dry and wasn't the biggest fan.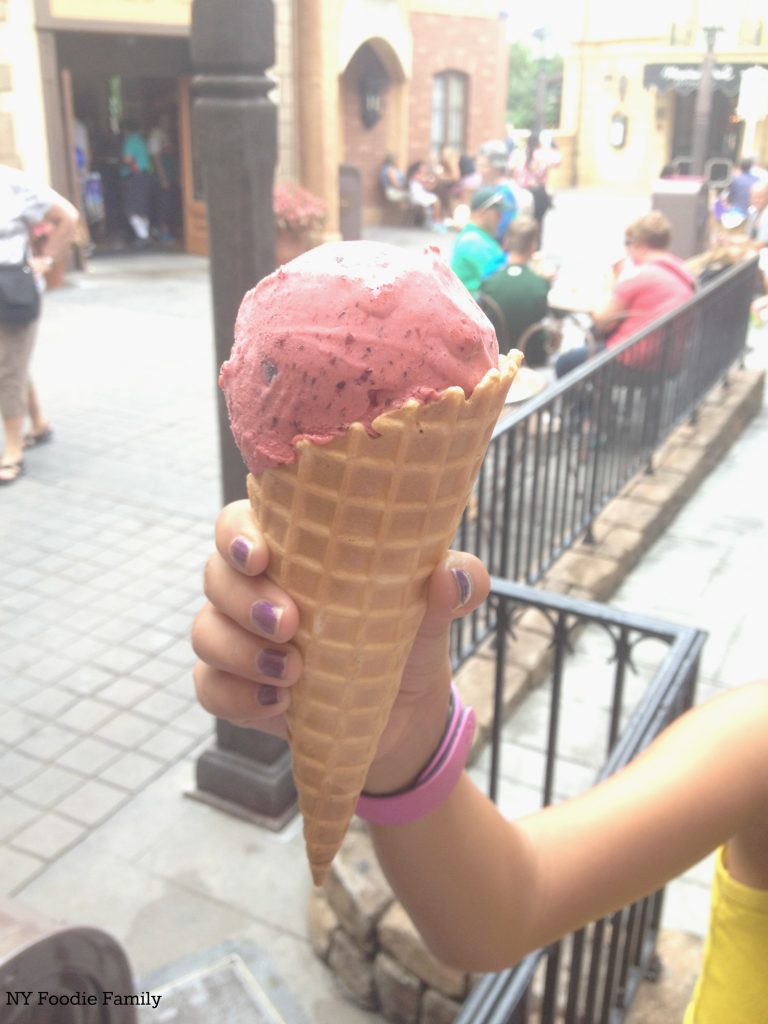 We stopped at L'Artisan des Glaces in France at the World Showcase and the kids ended up choosing this Mixed Berries Sorbet Waffle Cone to share. This French ice cream shop sells 16 different flavors of ice cream/sorbet so there's sure to be a flavor to please everyone!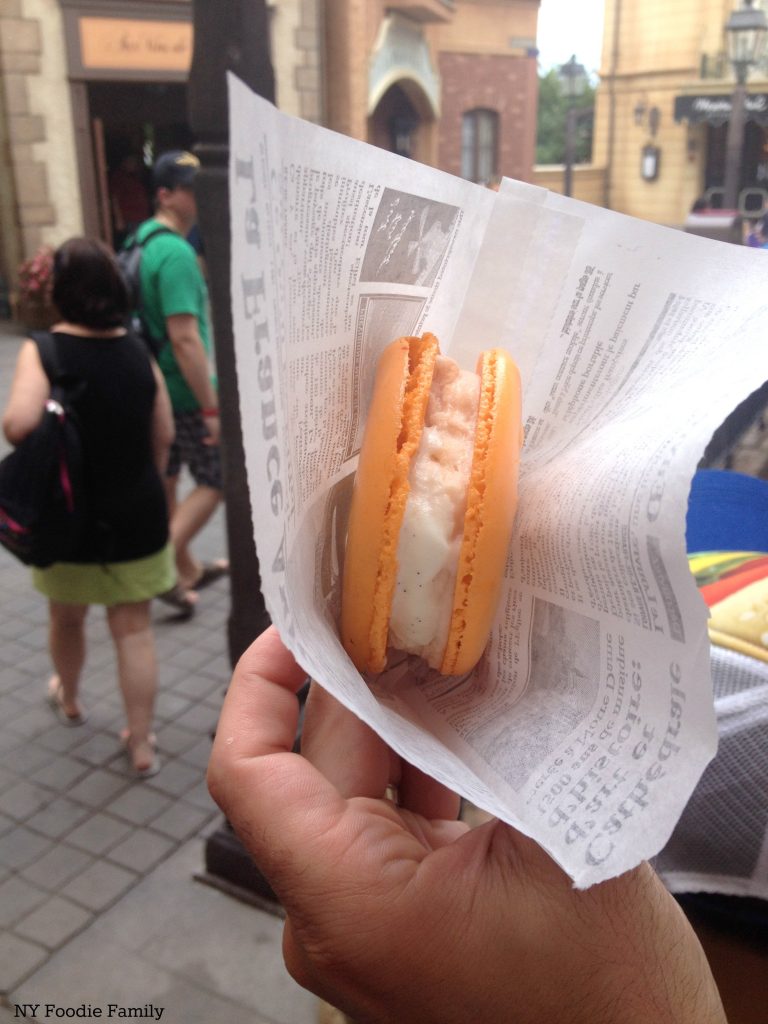 My husband and I shared this Peaches & Cream Macaron Ice Cream Sandwich from L'Artisan des Glaces.  The macarons were larger than the typical size, but not huge and I found them to be a bit on the sweet side.  Not my favorite dessert, but it was cool and refreshing on a hot day!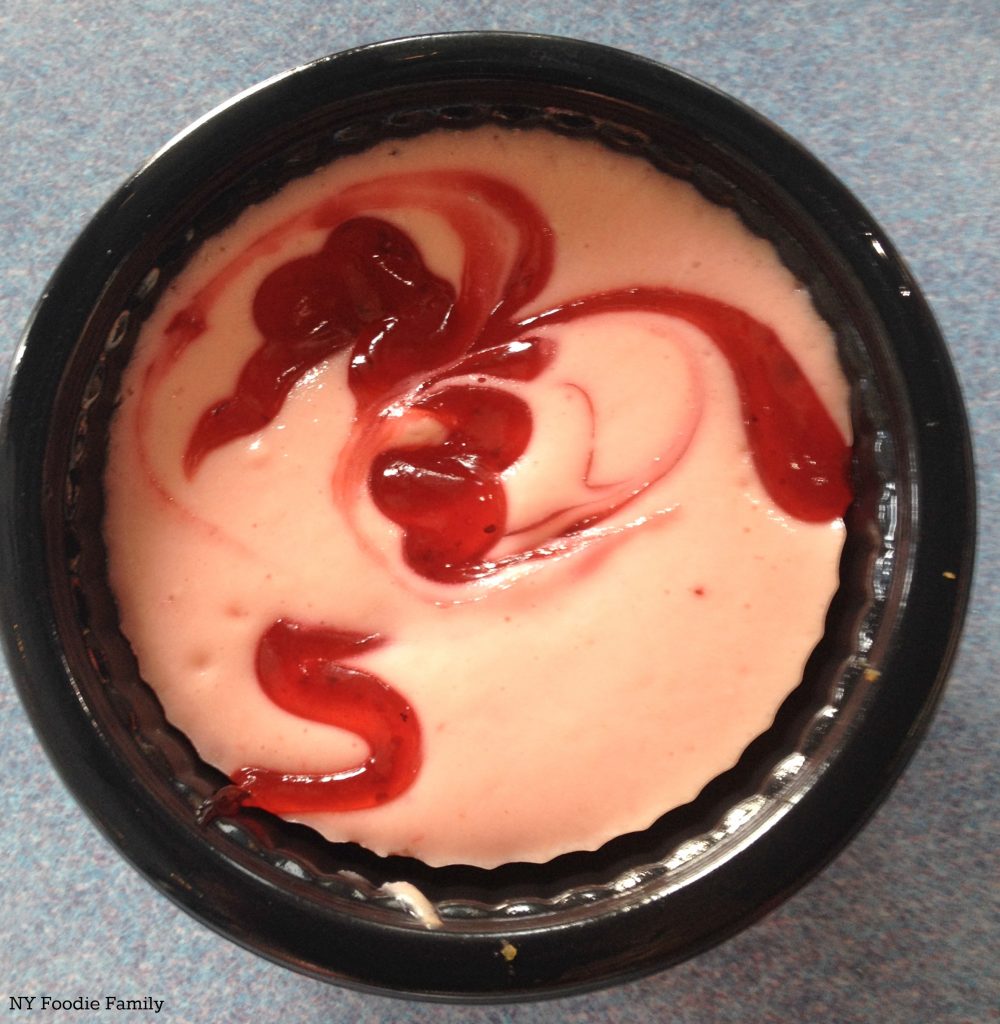 We ate a quick dinner at the Electric Umbrella in Future World at Epcot and were able to choose two desserts as part of our quick service meals.  The first one we chose was this Strawberry Cheesecake.  There's a thin graham cracker crust layer on the bottom.  This was a creamy cheesecake and the kids loved the strawberry gel swirls.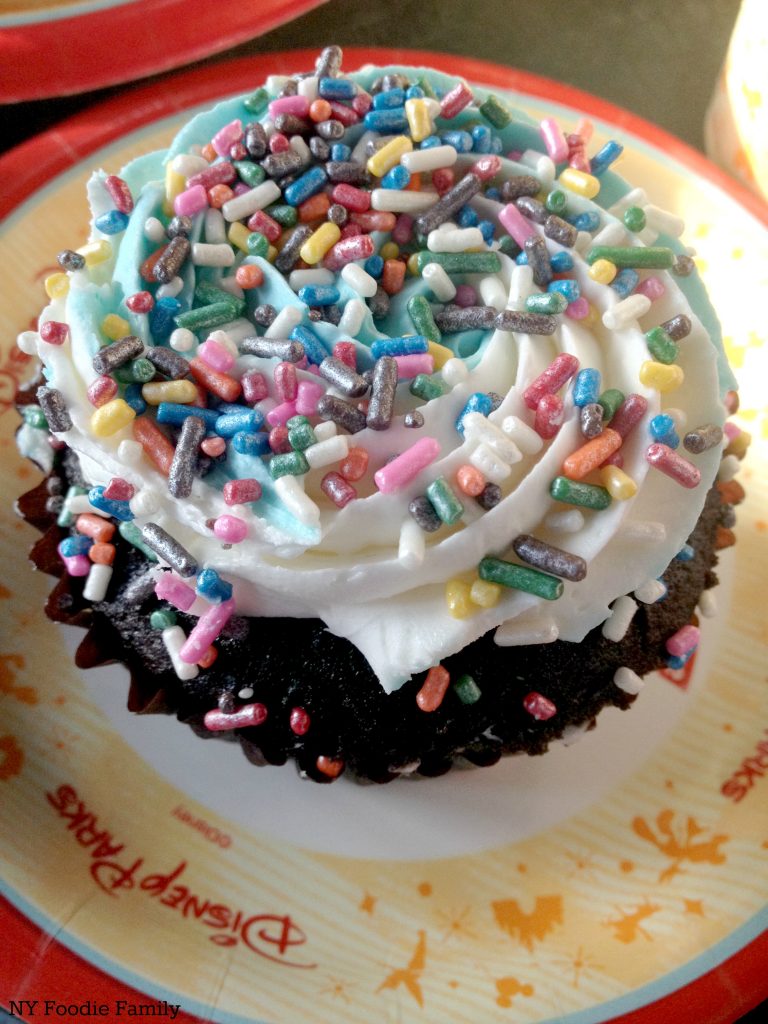 There were pretty slim pickings, dessert-wise to choose from at the Electric Umbrella.  The second dessert we chose was this Chocolate Cupcake topped with vanilla icing and sprinkles.  The icing was a bit on the sweet side but the cupcake itself was moist and chocolate-y.
*Not pictured:  We stopped by Karamell-Kuche in Germany at the World Showcase in Epcot.  There we bought a large bag of Caramel Popcorn as well as a Caramel and Peanut Covered Apple that we brought home with us.  The person helping us had cut the apple into four pieces for us.  When we got home, we realized that we shouldn't have had her cut it, as the apple turned brown.  It still tasted really good though!  The popcorn was really tasty and addicting as well!
HOLLYWOOD STUDIOS:
I had read about and was really looking forward to having a seasonal milkshake at Min and Bill's Dockside Diner.  When I found out the seasonal milkshake flavor was blue raspberry, I opted to pass. A blue raspberry milkshake did not sound at all appetizing to me!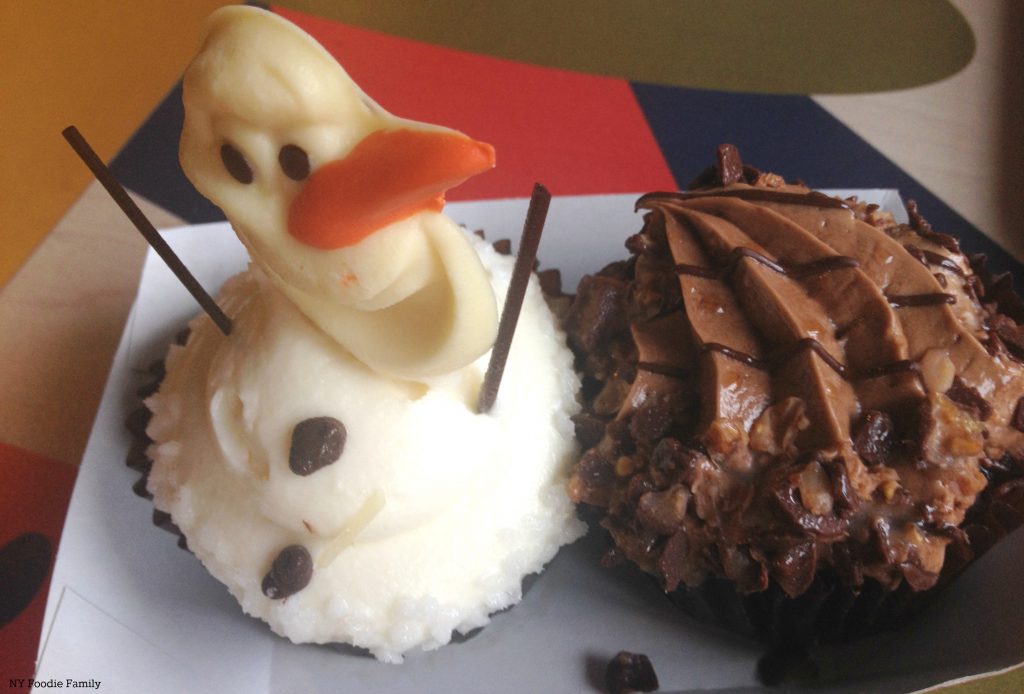 We had a late lunch at Pizza Planet and chose these two cupcakes as our dessert choices with our quick service meals.  The Olaf Cupcake was a carrot cake cupcake.  It had cream cheese icing and little white candy sugar crystals.  The Cappuccino Cupcake was a chocolate cupcake with a mocha chocolate icing.  We loved the toffee bits that decorated the outside of this cupcake.  These were both really good!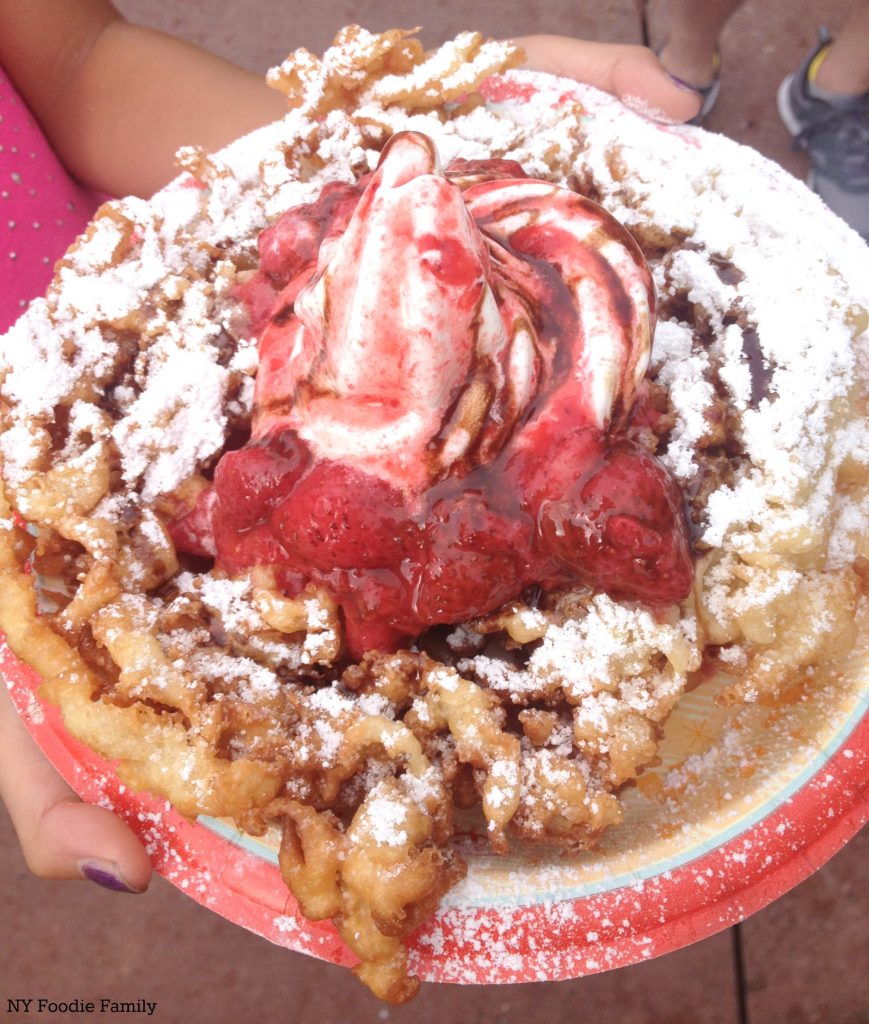 This Funnel Cake with Soft Serve Vanilla Ice Cream, Strawberry Topping and Chocolate Sauce was our "best-bang-for-your-snack-credit" find!  We found this gem at the Oasis Canteen located near the entrance to the Indiana Jones Stunt Show Spectacular.  Yes, this can be all yours for ONE snack credit!  Out-of-pocket this costs over $8!  Ice cream on funnel cake….the hot with the cold…. I cannot believe we had never seen or heard about this until now! This was so good!
MAGIC KINGDOM: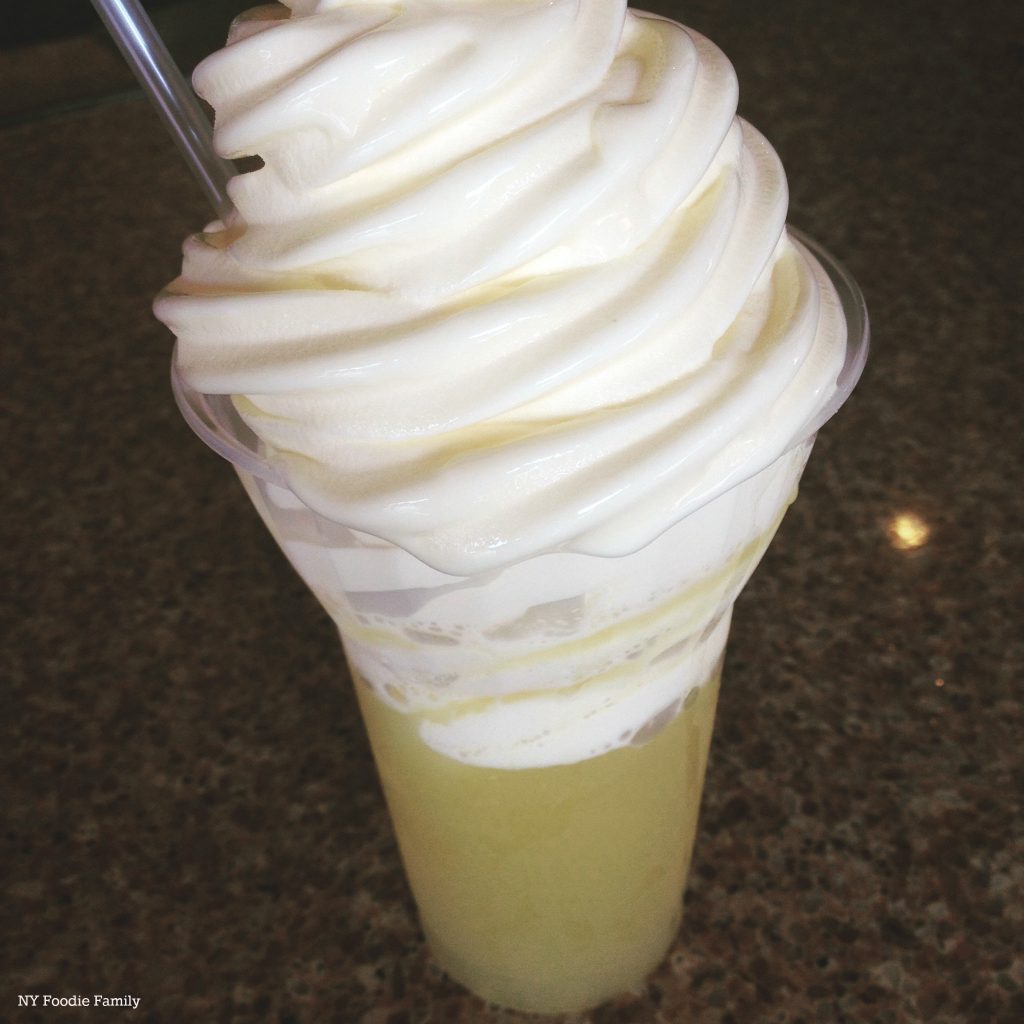 By far, one of our favorite Disney snacks is the Dole Whip Float.  This tasty treat is found at Aloha Isle in Adventureland.   Pineapple soft serve is swirled into cold pineapple juice for a cold, tasty and refreshing treat!  Dole Whip Floats can also be found at Disney's Polynesian Resort.  The Pineapple Whip soft serve is also available at Tamu Tamu Refreshments in Animal Kingdom and can be ordered with Coconut or Dark Rum over it (but not available as a snack credit!).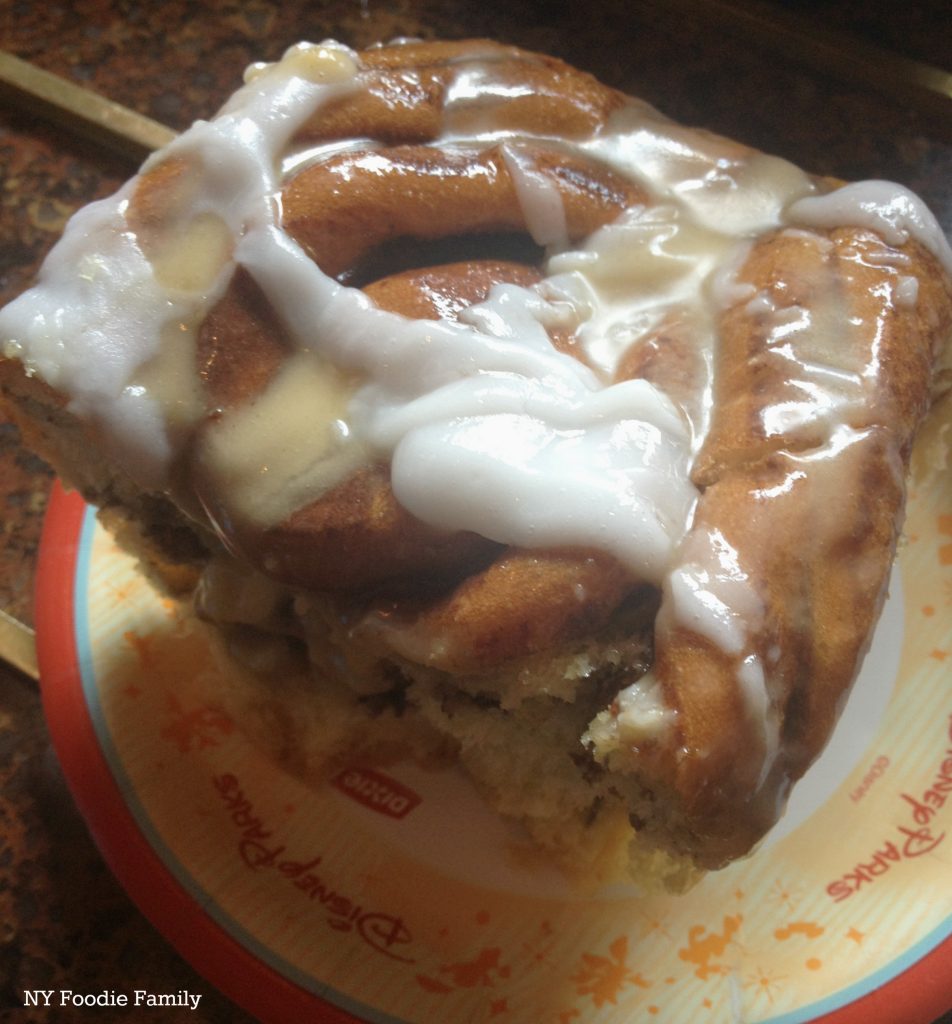 We got this Cinnamon Roll at Gaston's Tavern, but it's also available at the Main Street Bakery.  I had read about this snack before traveling to Disney and was excited to try it.  I found it to be a bit dry though and wasn't very impressed.  My husband reminded me too late that the secret is to ask for extra icing!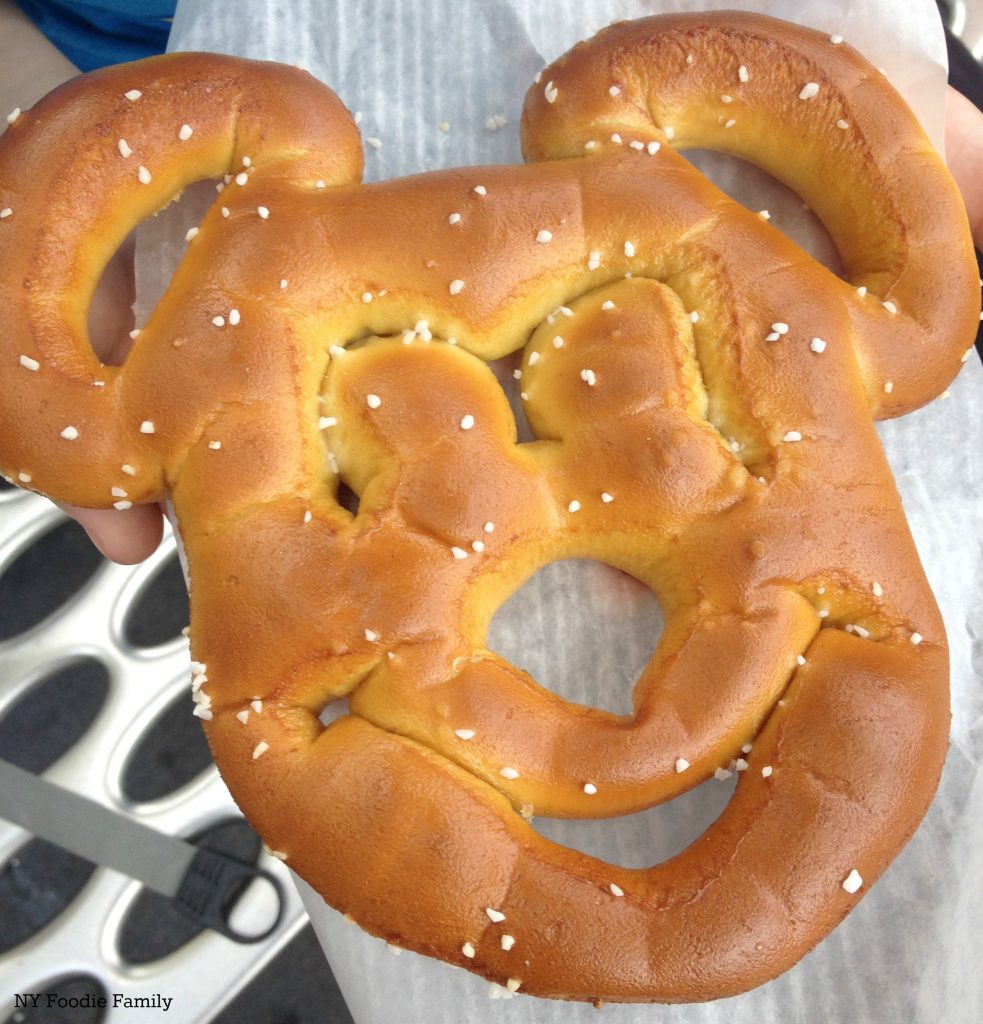 We got our Mickey Pretzel at the Lunching Pad in Tomorrowland, but they are available throughout the park.  A Sweet Cream Cheese pretzel is also available.  This is your classic soft pretzel, an amusement park staple!
POP CENTURY RESORT: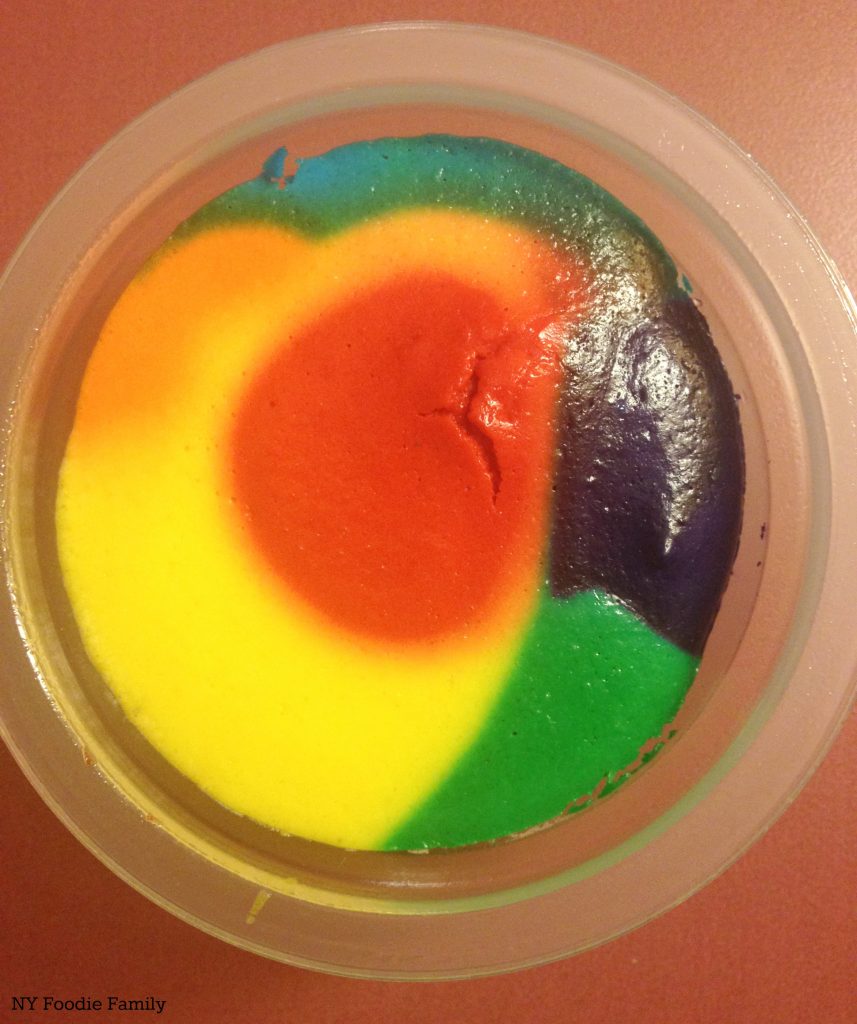 We only had one quick service dinner at the Pop Century Resort where we stayed.  This was a late after 9 PM meal after a very long day at Hollywood Studios.  We weren't impressed with the dessert selection but after seeing a picture of this Tie Dye Cheesecake on a poster every time we went in the elevator, we decided we had to try it.  This was a single serving, small, round container with a very thin cake layer bottom and a cheesecake top.  It tasted like regular cheesecake and wasn't bad.  We've had better and worse, as far as cheesecake goes.
What are your favorite Disney snacks?